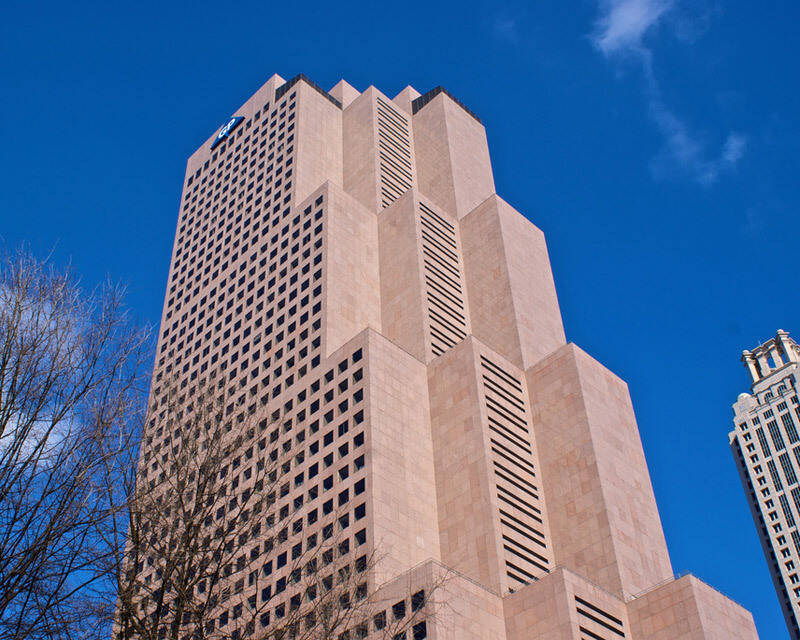 In Octo­ber 2012, In These Times revealed that the Koch broth­ers had instruct­ed 45,000 employ­ees of Geor­gia-Pacif­ic, a paper com­pa­ny owned by Koch Indus­tries, to vote for Mitt Rom­ney in the upcom­ing pres­i­den­tial elec­tion. But even as the Kochs took advan­tage of expand­ed free speech rights for cor­po­ra­tions under the Supreme Court's Cit­i­zens Unit­ed rul­ing, Geor­gia-Pacif­ic was busy cir­cu­lat­ing a strict pol­i­cy that pro­hib­it­ed work­ers from speak­ing poor­ly of the com­pa­ny or its offi­cers on social media. Thanks to a new decree by the Nation­al Labor Rela­tions Board, how­ev­er, employ­ees can now feel free to post about their jobs to Face­book or Insta­gram with­out fear of retribution.
Georgia-Pacific's now-defunct social media pol­i­cy, which it imple­ment­ed in
2011
,
warned,
​
"
Even if your social media con­duct is out­side of the work­place and/​or non-work relat­ed, it must not reflect neg­a­tive­ly on GP's rep­u­ta­tion, its prod­ucts, or its brands."
Many employ­ees took this to mean that they could not post any­thing crit­i­ciz­ing the com­pa­ny on social media.
Greg Palle­sen, vice pres­i­dent of the Asso­ci­a­tion of West­ern Pulp and Papers Work­ers (AWP­PW), which rep­re­sents work­ers at Geor­gia-Pacif­ic paper plants in the Pacif­ic North­west, says that the pol­i­cy was emblem­at­ic of the Koch broth­ers' hypocrisy when it comes to work­ers' rights.
​"It all ties back into the last round of pol­i­tics," he says. ​"On one hand [the Kochs] say they believe and want free speech [for them­selves], but on the oth­er hand, they don't allow their employ­ees to have free speech."
Though labor law does not unequiv­o­cal­ly pro­tect work­ers' free speech on the job, it does give employ­ees the right to advo­cate on behalf of their co-work­ers. With this in mind, in July 2012, AWP­PW filed charges with the NLRB argu­ing that Geor­gia-Paci­fic's over­ly broad social media pol­i­cy inter­fered with employ­ees' abil­i­ty to speak out about work­ing con­di­tions there. AWP­PW also alleged that the com­pa­ny should have includ­ed the pol­i­cy, as well as parts of the Employ­ee Code of Con­duct, in the union's con­tract nego­ti­a­tions as a manda­to­ry sub­ject of bargaining.
In Decem­ber 2013, after a year and a half of inves­ti­ga­tion, the NLRB reached a set­tle­ment with Geor­gia-Pacif­ic requir­ing the com­pa­ny to rescind the pol­i­cy and to post a state­ment in all its facil­i­ties assur­ing work­ers of their rights under fed­er­al labor law. The state­ment will read, ​"WE WILL repeal our social media pol­i­cy and WE WILL NOT issue poli­cies that inter­fere with your right to share infor­ma­tion relat­ing to wages, hours, and oth­er terms and con­di­tions of employ­ment, includ­ing on social media."
Under the terms of the agree­ment, Geor­gia-Pacif­ic must also now allow employ­ees to use the com­pa­ny email sys­tem to share infor­ma­tion about work­ing con­di­tions. In addi­tion, the cor­po­ra­tion revoked the por­tions of its Code of Con­duct that for­bade employ­ees from ​"shar­ing per­son­al employ­ee or com­pen­sa­tion infor­ma­tion with oth­ers"—a ban express­ly pro­hib­it­ed by fed­er­al labor law.
Greg Guest, spokesper­son for Geor­gia-Pacif­ic, said in a state­ment, ​"Geor­gia-Pacif­ic worked coop­er­a­tive­ly with the Nation­al Labor Rela­tions Board to bet­ter under­stand its posi­tion on employ­ees' rights, includ­ing employ­ee rights in the social media space, and we are pleased that we were able to find a com­pro­mise that worked for both parties."
Despite Guest's talk of com­pro­mise, how­ev­er, Palle­sen feels the set­tle­ment is a clear vic­to­ry for AWP­PW and Georgia-Pacific's workers.
​"It was a good win for us. It slows the com­pa­ny down on just imple­ment­ing things, which they tend to do. This forces them to come to us to nego­ti­ate pol­i­cy," says Palle­sen. ​"Instead of the employ­er hav­ing 100 per­cent of the con­trol of speech in the work­place, this gives employ­ees some pro­tec­tion when it comes to ​'pro­tect­ed and con­cert­ed efforts' [to orga­nize at work]."