So Long, NUMMI, and Thanks for All the Jobs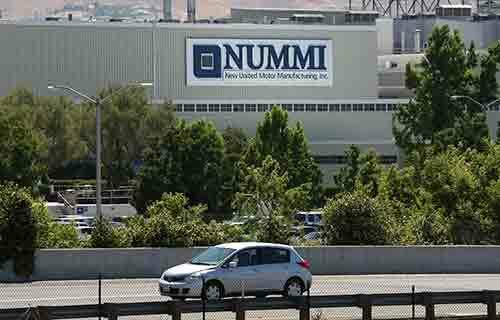 Five thousand people are jobless and that's no joke this April Fool's Day.
It's a post-NUMMI world now in Northern California, as the final day of work at the car plant came to a close and the last Toyota Corolla rolled off the line.
Almost 5,000 workers lost their jobs at New United Manufacturing Inc. But that's not counting the impact the plant closure has on the supporting businesses such as restaurants and suppliers and manufacturing jobs.
Much of those indirect losses affect the Central Valley, already hard-hit by unemployment there — which tops 18 percent south of Sacramento, as well as Alameda County, which will lose more jobs than any other county. It has 31 NUMMI suppliers.
Plants like Pacific Coast MS Industries in Tracy will close its doors. The plant makes air ducts and fuel and brake lines for NUMMI. Pacific Coast employs 130 workers. They will lose their jobs.
Kyoho Manufacturing in Stockton makes stamped and welded body parts. 154 workers there will lose their jobs.
Mountain Valley Express in Manteca is a distribution company. Jobs lost: 43.
Arvin Sango in Merced makes engine exhaust components. Jobs lost: 53.
Amtex in Manteca makes seat covers. Jobs lost: 97. Trim Masters in Modesto makes door panels. Jobs lost: 186.
There are many more company closures to take place (this list comes from the Sacramento Bee).
Jeff Michael of the University of the Pacific, according to the Sacramento Bee, estimates a total statewide job loss at 20,000 due to jobs that will go away because of the ripple effects of the plant closure.
The closure is devastating.
The plant manufactured Toyota Tacomas and Toyota Corollas, one of the top selling cars in the nation.
"We are telling people to stay positive about this," Sergio Santos, president of United Auto Workers Local 2244 told the San Jose Mercury News.
The plant was a joint venture established in 1984 between General Motors and Toyota Motor Corp.
Many of the workers had been there for decades. Now they will join the ranks of an already swollen unemployment line.
UAW Local 2244 negotiated a final severance package for 3,700 workers. The average settlement amount based on 15 years of service is about $53,000. The minimum severance: $21,175 – the 300 workers on disability.
To be eligible for the biggest chunks of the $281 million package, the 4,700 employees at the factory were required to be on the job every day.
For the workers out on disability, the problem had become that their ailments were preventing them from physically being present at the factory. If they were not at work, they were not eligible to get a bonus.
After auto sales fell last year, production at NUMMI fell by 25 percent. And when GM pulled out of the joint venture following bankruptcy reorganization, Toyota made the decision to close the plant.
UAW leaders have said they felt boxed in with few alternatives but to accept the deal. Toyota said it just wasn't economically viable. Many workers suspect it had to do with the fact that it was a union plant.
Now Toyota, the world's largest carmaker, has retrenched itself in the non-union manufacturing base in several Southern states and Canada.
It's not the first time an auto plant has pulled out of the area. GM pulled out of Fremont in 1982. Ford pulled out of Milpitas just 10 miles away. GM closed Oakland, and in Southern California — Van Nuys and South Gate.
No other auto plants exist in California today.
For an excellent documentary on NUMMI and its demise take a listen to Frank Langfitt on This American Life on NPR.
Rose Arrieta
was born and raised in Los Angeles. She has worked in print, broadcast and radio, both mainstream and community oriented — including being a former editor of the Bay Area's independent community bilingual biweekly El Tecolote. She currently lives in San Francisco, where she is a freelance journalist writing for a variety of outlets on social justice issues.