Meet the Grassroots Organizers Who Stood Up Against ICE's 7-Eleven Raids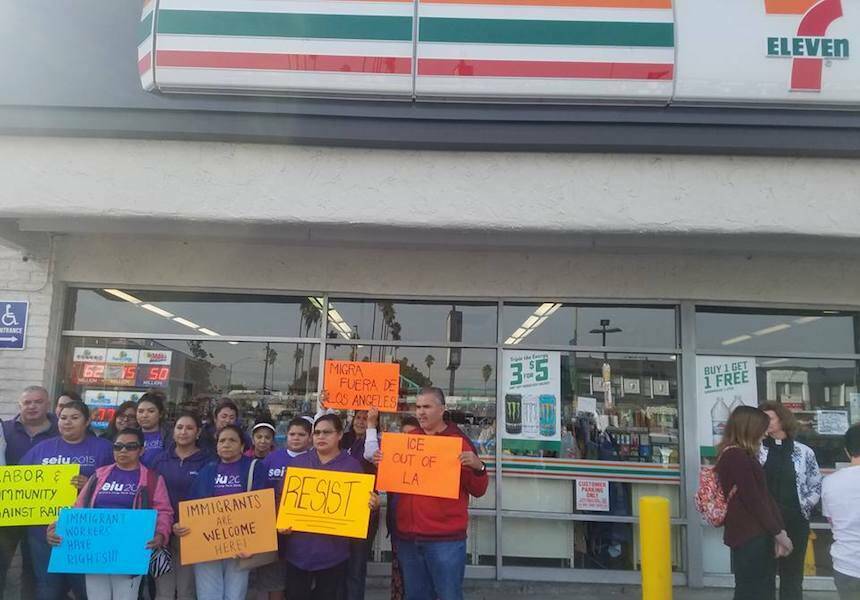 The knocking began just before dawn, startling the sleeping family inside this home in Koreatown, a neighborhood in central Los Angeles where a majority of the population was born outside of the United States.
"¿Quién es?" a frightened woman asked from behind the door. The banging only got louder, two mustachioed law enforcement agents shouting, ​"Police! Open up!"
But these men were not police — they were immigration agents, who often claim to be police—and the door remained closed. Inside, another family member grabbed a phone and, panicked, dialed a number she'd seen on a flyer. After a few rings someone picked up.
"Hello, this is the Rapid Response Network."
Fortunately, the agents — and their outsized mustaches — were fake: This was just a skit, part of a January 21 training session at the Pilipino Workers Center led by volunteers with the Koreatown Popular Assembly, a grassroots neighborhood council founded after Donald Trump became president. On this particular Sunday afternoon, around 30 people spent nearly four hours learning how to become first responders — not to put out fires or conduct CPR, but to protect their neighbors from Immigration and Customs Enforcement (ICE), an organization that, in the first nine months of Trump's presidency, has arrested 43 percent more people than in the same period a year before.
"Our goal," as one slide put it, ​"is an ICE-free community, so if ICE shows up we want to be there to encourage them to leave."
The response network only launched this year, but about two weeks in the promise was on display. On January 16, word spread that ICE was raiding local 7-Eleven convenience stores in search of undocumented workers. The network sent out a blast alert, and Irma and other volunteers rushed out to a nearby location they heard was being targeted, joining others mobilized by groups such as the Coalition for Humane Immigrant Rights of Los Angeles and the Koreatown Immigrant Worker Alliance, which advocates of behalf of the neighborhood's low-wage employees.
At this point, the intent primarily is to document and inform; to gather evidence, in the form of video and interviews with eyewitnesses, that can be used both in court and to influence the court of public opinion, and to remind people they have rights — even as immigrants, and even under Trump.
Calls to the KPA 24-hour rapid response line are answered by one of 40 dispatchers. After some basic questions, and a reminder not to open the door until one sees an actual warrant signed by a judge, that dispatcher then sends a text alert out to these volunteer first responders, who rush to the scene to confirm that an immigration enforcement action is in fact being carried out. Once confirmed, another alert is sent out to a broader list with the intent of mobilizing the broader community.
"When Trump got elected, a bunch of us were freaked out — scared," says Irma, a KPA volunteer who declined to give her last name. A 17-year resident of Koreatown, she said she heard about the KPA thanks to a call put out by the National Day Laborer Organizing Network, which hosted trainings for communities across LA on setting up democratic, neighborhood assemblies. The consensus in Koreatown, she said, is that its many undocumented residents needed protection from the federal government.
"They wanted to be able to alert people when things are happening," she said.
David Abud, an organizer with NDLON who helped lead Sunday's training session, says he'd like to get to a point ​"where we can be intervening and stopping deportations and dearresting people."
It's important, he believes, to have ​"a model that people can replicate, so people can see we're doing this here and doing it with very little if any funding."
But he's more ambitious than that. ​"The ultimate goal," he says, ​"is to stop relying on the instruments of violence that we're told are the things that keep us safe — so like the police and ICE — and to be able to say, ​'You know what? We're actually going to develop our own ways of responding to the emergencies that are happening in our community.' "
Indeed, the intent is not to replicate what traditional left-of-center nonprofits and immigrant advocacy groups have done, says Sebastian Sanchez, an attorney with Bet Tzedek, which provides free legal services to low-income individuals. Those groups do valuable work, he said, helping draw media and political attention to the demands of immigrant communities. KPA's rapid response network, by contrast, is focused on direct action from the bottom up.
"We're focused more on your neighbors being attacked," Sanchez explains. ​"We want to be there to support them, and we want to organize block by block, apartment by apartment."
Immigrants are not passive beneficiaries of this work, either. They are its leaders.
"In Mexico, we're used to abuse of power. That is [what] we are born into," says Armando, a volunteer, who declined to give his last name because ​"even legal immigrants with this government — we are very vulnerable." There are, he said, ​"two ways you can respond: You can go with the system and say, ​'Well, that's Mexico,' or you can oppose it and try to change it." He elected to oppose.
"You make networks," he said. ​"Back in the day, I'm talking about the ​'80s, we were using bells or whistles [to say] there is a raid going down; we'd just whistle to let the barrio know that people are coming for us. … Now, we can do it with cell phones."
"We came to America," he continued, ​"and eventually things evolved into this, which is very similar to Mexico. However, we learn how to oppose it — basically, you find the cracks."
It's not much, perhaps, but people filming immigration enforcement actions — identifying agents; putting them on notice that their actions are being monitored, and that their presence is unwelcome — is ​"a little dent in their armor," Armando says. He hopes it will lead to the exposure of ICE as a ​"force of intimidation," ruining lives to score political points with racists. ​"If ICE is recognized as that, and eventually dismantled, that would be our goal."
Charles Davis
is a journalist published by outlets such as Al Jazeera, The Intercept, The Nation and The New Republic. Follow him on Twitter:
@charliearchy
.