President Trump Is Just What the Private Prison Industry Ordered
The president-elect's policies will help not only private prison companies but, as a new report explains, the banks that help finance them.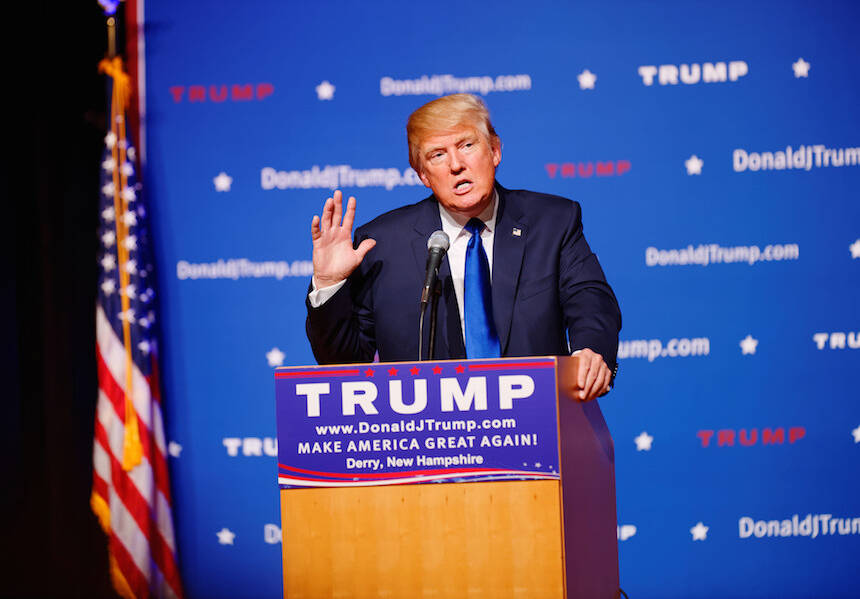 Pres­i­dent-elect Don­ald Trump was typ­i­cal­ly vague, but to those who prof­it from mass incar­cer­a­tion the mes­sage was unam­bigu­ous: Under a Trump admin­is­tra­tion you will prof­it even more.
Kicking millions of people out of the country will require corporate assistance.
"I do think," Trump said at a town hall this spring, ​"we can do a lot of pri­va­ti­za­tions and pri­vate pris­ons. It seems to work a lot better."
But on August 18, Obama's Depart­ment of Jus­tice (DOJ) announced it was going the oth­er way, issu­ing a memo argu­ing that pri­vate pris­ons ​"do not save sub­stan­tial­ly on costs" and ​"do not main­tain the same lev­el of safe­ty and secu­ri­ty." They should, there­fore, be phased out.
The pri­vate prison indus­try, dom­i­nat­ed by just two firms, was shak­en. The DOJ's order wouldn't have affect­ed the pri­vate immi­gra­tion deten­tion facil­i­ties that have sprung up under Oba­ma, who has deport­ed more peo­ple than any pre­vi­ous pres­i­dent (though lat­er that month, the Depart­ment of Home­land Secu­ri­ty said it would review whether to con­tin­ue using pri­vate deten­tion facil­i­ties for migrants). Nor would it have direct­ly affect­ed the use of pri­vate pris­ons at the state lev­el, where most of the busi­ness is done. But it did sig­nal, from the top, that the future of the indus­try was in doubt.
Fol­low­ing the DOJ's memo, GEO Group, which pulled in $1.84 bil­lion in rev­enue in 2015, and Cor­rec­tions Cor­po­ra­tion of Amer­i­ca, which fin­ished a close sec­ond with $1.79 bil­lion—both up from the year before — saw their stocks hit record lows. In 2015, about half of the industry's busi­ness came from con­tracts with the fed­er­al gov­ern­ment: 51 per­cent for CCA and 45 per­cent for GEO. This was, a Bloomberg head­line declared, ​"the End."
"The momen­tum was going in that direc­tion," Ben­jamin Davis, a research and pol­i­cy ana­lyst at the non­prof­it In the Pub­lic Inter­est, tells In These Times.
"Then Trump was elect­ed, and he said pri­vate pris­ons are a good thing and he says he's plan­ning to deport two to three mil­lion immi­grants. … Unfor­tu­nate­ly, it looks like the momen­tum has swung back in the direc­tion of pri­vate prisons."
Now the com­pa­nies' stocks are back from the dead. GEO Group's share price soared 31 per­cent in the week after Trump's Novem­ber 8 vic­to­ry, while CCA (which rebrand­ed itself as ​"Core­Civic" short­ly before the elec­tion) saw the price of its shares rock­et up by more than 46 per­cent. Cou­ple Trump's renewed push for pri­va­ti­za­tion with his call for more and faster depor­ta­tions — build­ing on the infra­struc­ture pro­vid­ed by Oba­ma, includ­ing dubi­ous­ly legal pri­vate pris­ons for immi­grant fam­i­lies — and an indus­try that a few months ago was in jeop­ardy could see record prof­its in its core area of busi­ness: hold­ing human beings behind bars.
Prof­its Over People
"I am dis­heart­ened, stressed, anx­ious, and at a loss," says Mer­cedes Castil­lo, an immi­gra­tion and crim­i­nal defense lawyer from East Los Ange­les, when asked what the elec­tion result has meant to her. ​"Right now, after sev­er­al of my clients have called, texted, emailed, Face­booked — sat in my office and cried— I have noth­ing to say but, ​'I will fight for you and with you.' "
She doesn't expect that fight to be easy.. ​"I hope that I am wrong, but I believe [Trump's win] means that more for-prof­it pris­ons will be built in remote loca­tions, hous­ing more and more nonci­t­i­zens, under deplorable con­di­tions — with less access to lawyers, doc­tors, fam­i­ly — prompt­ing them to give up their legal rights in exchange for release."
In Castillo's expe­ri­ence vis­it­ing clients in Cal­i­for­nia, gov­ern­ment facil­i­ties are bad enough — but strict­ly for-prof­it ones are even worse. Guards are often ​"over-worked and under­paid, which con­tributes to low morale," she says. This lends itself to "[its] own share of human rights vio­la­tions." The com­pa­nies, mean­while, don't have any real incen­tive to care: They're ​"mak­ing mon­ey from heads in beds," as Castil­lo puts it. Cor­po­ra­tions seek to max­i­mize quar­ter­ly prof­its, not human hap­pi­ness — much less the hap­pi­ness of the 2 to 3 mil­lion non-cit­i­zens the pres­i­dent-elect says he wants to imme­di­ate­ly deport.
As the com­pa­nies tell it, it's just a hap­py coin­ci­dence that the new régime in Wash­ing­ton is plan­ning to enact an agen­da favor­able to their interests.
"As a mat­ter of long­stand­ing pol­i­cy, our com­pa­ny does not take a posi­tion on or advo­cate for or against crim­i­nal jus­tice or immi­gra­tion poli­cies," reads a state­ment from GEO Group pro­vid­ed to In These Times. ​"We look for­ward to work­ing with both the new admin­is­tra­tion and the new Con­gress in con­tin­u­ing our long­stand­ing part­ner­ship with the fed­er­al government."
Jonathan Burns, a spokesper­son for Core­Civic, tells In These Times his com­pa­ny has a ​"long­stand­ing pol­i­cy" not to take posi­tions on pro­pos­als ​"that deter­mine the basis or dura­tion of an individual's incar­cer­a­tion." In oth­er words, they lob­by for the use of their ser­vices — the com­pa­ny has spent $1.89 mil­lion on these efforts in the last two years — and leave it to those they lob­by to con­nect the dots. At the same time, they give mon­ey to politi­cians who say what they like to hear.
Accord­ing to the Cen­ter for Respon­sive Pol­i­tics, CoreCivic's Polit­i­cal Action Com­mit­tee dropped more than $104,000 on fed­er­al con­gres­sion­al can­di­dates in 2016, 84 per­cent of whom were Repub­li­cans. Its employ­ees also gave over $117,000 to Repub­li­cans (com­pared to $11,000 for Democrats).
The GEO Group's PAC spent more than $138,000 to help elect its pre­ferred con­gres­sion­al can­di­dates this cycle, 87 per­cent of whom were Repub­li­cans. It's also spent just over $1.1 mil­lion in lob­by­ing over the last two years, while in 2016 its employ­ees backed Repub­li­can con­gres­sion­al can­di­dates with more than $195,000 in donations.
A day after DOJ's phase-out memo, the GEO Group direct­ed $100,000 to Rebuild Amer­i­ca Now, a pro-Trump super-PAC, Moth­er Jones report­ed.
The Wall Street Connection
In Jan­u­ary 2017, a then-Pres­i­dent Trump will go to work with Repub­li­can majori­ties in both the House and Sen­ate. That'll be good news not just for the pri­vate prison indus­try, but for the banks that enable pri­vate prison firms to exploit tax laws and expand their businesses.
"An analy­sis of finan­cial doc­u­ments filed with the U.S. Secu­ri­ties and Exchange Com­mis­sion (SEC) over the past 10 years shows that six Wall Street banks" — Bank of Amer­i­ca, JPMor­gan Chase, BNP Paribas, Sun­Trust, U.S. Ban­corp and Wells Far­go — ​"play large roles in financ­ing CCA's and GEO Group's debts," states a report released today by In the Pub­lic Inter­est, a group that advo­cates for pub­lic con­trol over state ser­vices. That debt financ­ing is impor­tant: Both prison com­pa­nies are, for tax pur­pos­es, formed as real estate invest­ment trusts — their real estate being deten­tion facil­i­ties that house well over 100,000 people.
To main­tain this advan­ta­geous tax sta­tus (GEO paid just $7.4 mil­lion in for­eign, fed­er­al and state income tax­es last year on its $1.84 bil­lion in rev­enue), they must lim­it how much cash on hand they can have at any time, with 90 per­cent of their income required to be passed on to investors — and that's where the banks come in. Each com­pa­ny has a syn­di­cate of at least a half-dozen finan­cial insti­tu­tions pro­vid­ing them with access to a com­bined $1.8 bil­lion in always-avail­able cred­it, which is what enables them not only to exist, but to expand.
"Addi­tion­al­ly," the report states, ​"by col­lect­ing inter­est and fees on out­stand­ing debt, the banks are com­plic­it with CCA and GEO Group in prof­it­ing from mass incar­cer­a­tion and the crim­i­nal­iza­tion of immigration."
Bat­tling the Chumps
There's a poten­tial upside from the industry's prof­itable depen­dence on debt financ­ing, how­ev­er: Unlike, pre­sum­ably, a Trump admin­is­tra­tion, the banks may be recep­tive to pub­lic pres­sure. In Port­land, Ore., the City Coun­cil is expect­ed to vote this month on divest­ing from Wells Far­go over its role in for-prof­it pris­ons. At some point, if oth­er cities and advo­ca­cy groups keep pres­sur­ing the banks, the banks could decide that this tiny part of their over­all busi­ness isn't worth the has­sle. This could hin­der not just the pri­vate prison indus­try but the planned depor­ta­tion of mil­lions: Over 60 per­cent of the at least 34,000 beds that Immi­gra­tion and Cus­toms Enforce­ment has avail­able for detained migrants are owned by pri­vate com­pa­nies, accord­ing to a report by the Cen­ter for Amer­i­can Progress. Kick­ing mil­lions of peo­ple out of the coun­try will require cor­po­rate assistance.
"One thing is cer­tain under a Trump Pres­i­den­cy: We will no longer even have the veneer of rely­ing on the fed­er­al gov­ern­ment to pro­tect immi­grant and refugee com­mu­ni­ties," says Aman­da Aguilar Shank, deputy direc­tor of immi­gra­tion and anti-incar­cer­a­tion advo­ca­cy group Enlace, which has been pres­sur­ing cities like Port­land to divest from the pri­vate prison indus­try and the banks that finance it. ​"To pro­tect our­selves," she tells In These Times, ​"we have to use the pow­er we have at the local lev­el, and the pow­er of our dollars."
Of the six banks chiefly respon­si­ble for financ­ing pri­vate pris­ons, only Sun­Trust respond­ed to a request to com­ment on how fund­ing the indus­try com­ports with their stat­ed com­mit­ment to cor­po­rate respon­si­bil­i­ty. ​"We do not com­ment on client rela­tion­ships," spokesper­son Thomas Crosson wrote in an email.
With Wash­ing­ton and Wall Street stand­ing to prof­it polit­i­cal­ly and finan­cial­ly from putting mil­lions of nonci­t­i­zens through a mon­ey-mak­ing deten­tion sys­tem, sol­i­dar­i­ty backed by mean­ing­ful action is need­ed now or nev­er. The last eight years have been espe­cial­ly hard for immi­grants, with refugees from Cen­tral Amer­i­ca — many of them chil­dren — stashed in deten­tion cen­ters and sent back to the coun­tries from which they fled. That, under a lib­er­al Demo­c­rat. But things can get worse, many are real­iz­ing, and some are prepar­ing for it.
Castil­lo, the immi­gra­tion attor­ney, says the first thing we need is ​"more col­lab­o­ra­tion" — more inter­sec­tion­al­i­ty, not atom­istic left­ism where indi­vid­ual strug­gles remain divorced from each oth­er. ​"If we call for protests, boy­cotts, etc., it would only work if the major­i­ty of us — 11 mil­lion undoc­u­ment­ed and their allies — work togeth­er. That will be the chal­lenge in the upcom­ing weeks." She's pre­pared to fight, but as she tells In These Times, she and her clients will need all the help they can get ​"as we bat­tle it out with the chumps."
Charles Davis
is a jour­nal­ist pub­lished by out­lets such as Al Jazeera, The Inter­cept, The Nation and The New Repub­lic. Fol­low him on Twit­ter:
@charliearchy
.