The Pope May Speak About Climate Justice, But in L.A., the Church Leases Land to an Oil Company
Oil and holy water don't mix.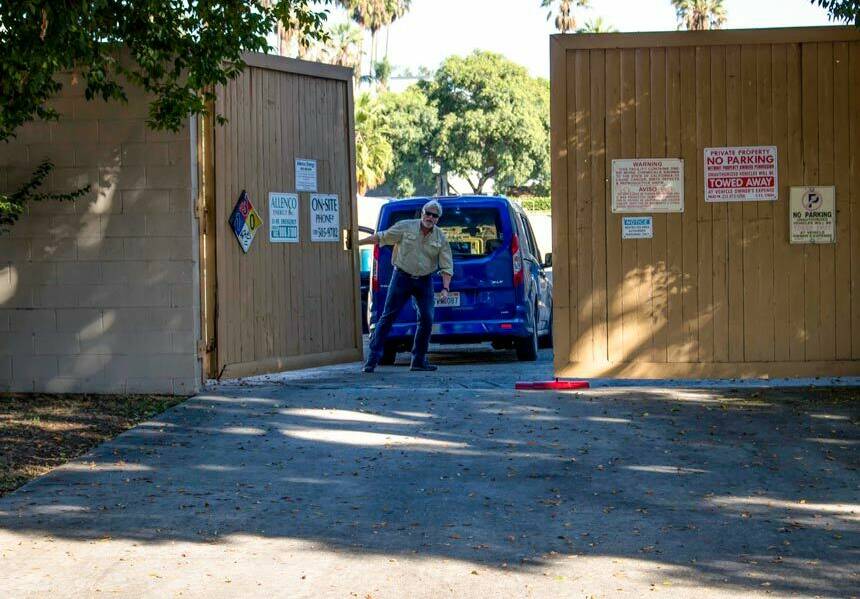 LOS ANGE­LES — Most peo­ple don't even know they're there, hid­den behind a 10-foot wall in the mid­dle of one of the most dense­ly pop­u­lat­ed neigh­bor­hoods in Los Ange­les: 21 oil wells with the capac­i­ty to pump out more than 58 bar­rels a day.
Allenco is working to clear a few last regulatory hurdles and reopen the site for drilling. Local residents are calling on the archdiocese to keep the site closed.
The oil field is locat­ed in Uni­ver­si­ty Park, a low-income, mul­tira­cial neigh­bor­hood in which Lati­nos make up near­ly 50 per­cent of the pop­u­la­tion. The land is owned by the Arch­dio­cese of Los Ange­les. The com­pa­ny oper­at­ing the wells, Allen­co, vol­un­tar­i­ly shut them down amid crit­i­cism and health con­cerns in 2013. On a recent Fri­day after­noon, only one employ­ee could be seen milling about the site.
But now, Allen­co is work­ing to clear a few last reg­u­la­to­ry hur­dles and reopen the site for drilling. Local res­i­dents are call­ing on the arch­dio­cese to keep the site closed.
Art Gomez, stand­ing a block away in the dri­ve­way of his elder­ly mother's home, remem­bers when the wells were active. ​"There was a foul smell," he says, scrunch­ing his nose.
In 2013, after years of com­plaints from locals, inspec­tors from the Envi­ron­men­tal Pro­tec­tion Agency decid­ed to check for them­selves. It sick­ened them.
"I've been to oil and gas pro­duc­tion facil­i­ties through the region, but I've nev­er had an expe­ri­ence like that," said Jaren Blu­men­feld, then EPA region­al admin­is­tra­tor for the Pacif­ic South­west, as report­ed in the Los Ange­les Times. ​"We suf­fered sore throats, cough­ing and severe headaches that lin­gered for hours."
Soon after, Allen­co closed the site vol­un­tar­i­ly under pres­sure from Sen. Bar­bara Box­er (D) and oth­ers, and Allen­co was hit with a law­suit from Los Ange­les City Attor­ney Mike Feur, accus­ing the com­pa­ny of ignor­ing air qual­i­ty reg­u­la­tions. Reg­u­la­tors found that the odor cre­at­ed a ​"pub­lic nui­sance," and that equip­ment was releas­ing smog-form­ing compounds.
The com­pa­ny set­tled that law­suit in 2016, agree­ing to pay out $1.25 mil­lion in civ­il penal­ties. As part of the set­tle­ment, it must come into com­pli­ance with envi­ron­men­tal reg­u­la­tions. Once it does so, it can open again.
Hold­ing her daughter's hand just out­side the oil field, Tania Velásquez says she moved to the neigh­bor­hood just six months ago. She's heard about what it used to be like here, and wor­ries that if the site reopens, ​"It's going to be bad for my child." STAND‑L.A., a coali­tion of com­mu­ni­ty groups opposed to urban oil drilling, is cam­paign­ing to keep the site closed. It wants Allenco's land­lord, the Catholic Church, to stop allow­ing fos­sil fuels to be extracted.
"You've got a ten­ant [Allen­co] on this prop­er­ty that's a known law­break­er," says orga­niz­er Eric Romann, ​"and you've got an activ­i­ty that's known to cause harm to the sur­round­ing com­mu­ni­ty." The arch­dio­cese, he says, ​"should ter­mi­nate the lease … and make sure the site nev­er reopens." Res­i­dents ral­lied in front of the archidoces's office Octo­ber 4.
Short­ly after Pope Fran­cis released his 2015 encycli­cal on cli­mate change, which declared ​"tech­nol­o­gy based on the use of high­ly pol­lut­ing fos­sil fuels … needs to be pro­gres­sive­ly replaced with­out delay," Uni­ver­si­ty Park res­i­dents sent him a video plead­ing their case.
Some Catholic insti­tu­tions seem to have tak­en the encycli­cal to heart: In ear­ly Octo­ber, more than 40 Catholic orga­ni­za­tions, rep­re­sent­ing investors worth $5.5 tril­lion, announced they were divest­ing from any com­pa­nies that extract gas, oil or coal.
But the church has not act­ed in Los Ange­les. In addi­tion to the Allen­co site, the arch­dio­cese leas­es to Freeport McMoran Inc., which oper­ates 22 oil wells, prompt­ing sim­i­lar com­plaints of tox­ic odors and demands that it be shut down.
In a state­ment to In These Times, the arch­dio­cese says it is ​"work­ing with the mayor's office, the Petro­le­um Admin­is­tra­tor for the City of Los Ange­les and Allen­co to explore pos­si­ble alter­na­tive uses for the site in our con­tin­ued com­mit­ment to the health and well-being of the entire com­mu­ni­ty." It declined to elab­o­rate as to what those alter­na­tives were.
Ulti­mate­ly, local cam­paign­ers want the city to ban urban oil drilling alto­geth­er. Accord­ing to a 2015 report from the Lib­er­ty Hill Foun­da­tion, a local social jus­tice non­prof­it, ​"Los Ange­les is the largest urban oil field in the coun­try," with near­ly 5,200 active wells, 70 per­cent of which are with­in 1,500 feet of a home, school or hospital.
In the mean­time, advo­cates want the arch­dio­cese to accept respon­si­bil­i­ty for extend­ing the life of an indus­try that the head of their church has labeled a threat to the planet.
As Pope Fran­cis once post­ed on Twit­ter, ​"The earth, our home, is begin­ning to look more and more like an immense pile of filth." For now, at least, his church is still play­ing a role.
Charles Davis
is a jour­nal­ist pub­lished by out­lets such as Al Jazeera, The Inter­cept, The Nation and The New Repub­lic. Fol­low him on Twit­ter:
@charliearchy
.