U.S.-led Airstrikes Have Allegedly Killed Over 850 Syrian Civilians. So Where Is the Outrage?
The U.S. apologizes for bombing unintended targets when it's politically expedient—otherwise, it prefers to remain silent.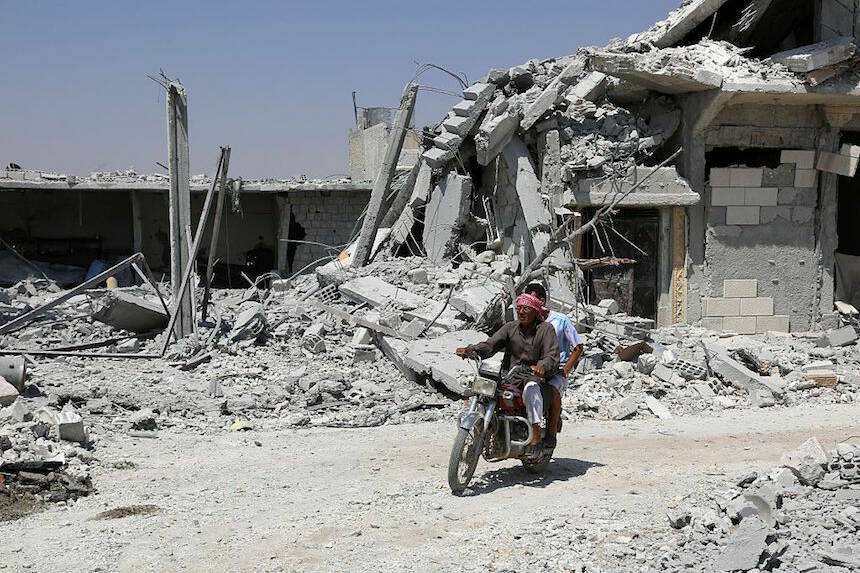 A local activist described it as a ​"mas­sacre." Men, women and chil­dren, Ahmad Moham­mad told The Dai­ly Beast, either burned to death or were buried alive inside their own homes as bomb­ings shook the com­mu­ni­ties in and around the vil­lage of Tokhar, near the town of Man­bij. The alleged death toll, as report­ed by var­i­ous human rights orga­ni­za­tions and on-the-ground activists, ranged from a few dozen to well over a hun­dred inno­cent civil­ians poten­tial­ly killed by U.S.-led airstrikes, rain­ing down on the area as part of an offen­sive by the Syr­i­an Demo­c­ra­t­ic Forces, a U.S.-backed alliance of Kur­dish and oth­er fight­ers, to take back Man­bij from the Islam­ic State. That was July 19, and the Unit­ed States has yet to pub­licly acknowl­edge the alleged deaths of these civil­ians, although the U.S. has con­firmed airstrikes in the region and has said it would inves­ti­gate the claims of casualties.
The U.S. is prioritizing its war on terror over non-government Syrian lives.
The U.S. was not done alleged­ly killing unin­tend­ed tar­gets in Syr­ia, how­ev­er. In Sep­tem­ber, the U.S. and its coali­tion part­ners car­ried out a series of airstrikes out­side of Deir Ezzor, a city near the Iraqi bor­der held in part by ISIS and in part by the Syr­i­an gov­ern­ment. Accord­ing to the Russ­ian mil­i­tary, the Bashar al-Assad régime's pri­ma­ry ally, these strikes killed over 60 people.
But this lat­ter airstrike was dif­fer­ent: The dead were gov­ern­ment sol­diers, not civil­ians, and Russia's reports of their deaths were imme­di­ate­ly met with apolo­gies at the high­est lev­el. While the Syr­i­an gov­ern­ment alleges the attack was inten­tion­al and sig­nals lack of Amer­i­can com­mit­ment to the war on ISIS, U.S. offi­cials main­tain they thought they were hit­ting ISIS tar­gets, and halt­ed the strikes as soon as Rus­sia informed them they were hit­ting gov­ern­ment forces.
"We did it," U.S. Sec­re­tary of State John Ker­ry said at a U.N. Secu­ri­ty Coun­cil meet­ing. ​"A ter­ri­ble acci­dent. And with­in moments of it hap­pen­ing, we acknowl­edged it," he not­ed. We ​"apol­o­gized and we tried to find out how that happened."
U.S. Air Force Col. John Thomas like­wise told reporters that, this inci­dent aside, ​"We nev­er have struck régime tar­gets dur­ing this con­flict." He added, ​"We wouldn't, we didn't intend to at the time and we won't in the future." Accord­ing to a CNN cor­re­spon­dent, one U.S. offi­cial even said the U.S. would con­sid­er con­do­lence pay­ments to the fam­i­lies of killed Syr­i­an sol­diers, some­thing it has pre­vi­ous­ly offered rel­a­tives of those killed by its airstrikes in Afghanistan. (The U.S. Defense Depart­ment did not reply to request for comment.)
It's a dif­fer­ent sto­ry for oth­er Syr­i­ans — includ­ing the unarmed men, women and chil­dren killed in their own homes.
Mas­sacres, plural
The July 19 strike was not an anom­aly, accord­ing the mon­i­tor­ing group Air­wars, which tracks for­eign gov­ern­ments' airstrikes in Syr­ia. The U.S.-led coali­tion has car­ried out more than 5,300 airstrikes in Syr­ia since Sep­tem­ber 2014, like­ly killing at least 850 civil­ians, accord­ing to Air­wars, and poten­tial­ly over 1,200. But the Unit­ed States has admit­ted to killing just 33 civil­ians, Air­wars reports.
When asked about the Man­bij inci­dent, Neil Sam­monds, a researcher at Amnesty Inter­na­tion­al, replies, ​"Which one?" There was a string of high-casu­al­ty events through­out sev­er­al weeks of U.S. air sup­port for the Syr­i­an Demo­c­ra­t­ic Forces' cam­paign to lib­er­ate the city from ISIS. In the July 19 Tokhar inci­dent alone, Sam­monds says, ​"it is like­ly 73-plus civil­ians were killed, based on all the evi­dence we have looked at, includ­ing a video clip of a grave." Over­all, he says, over 200 civil­ians were like­ly killed in the Man­bij area.
ISIS fled the city in August 2016.
Accord­ing to Chris Woods, direc­tor of Air­wars, ​"While the Coali­tion was able to admit its error with­in 24 hours after Assad's troops were killed … (and offer com­pen­sa­tion as well), very dif­fer­ent rules appear to apply when civil­ians are affect­ed" — a dis­crep­an­cy Sam­monds calls ​"curi­ous."
"The aver­age delay between a civil­ian being killed by the U.S.-led alliance and any pub­lic admis­sion is present­ly six months," Woods tells In These Times. ​"And to the best of our knowl­edge, no com­pen­sa­tion has been paid out to any affect­ed non-combatant."
Sam­monds adds that ​"in the vast major­i­ty of inci­dents [pub­lic admis­sion] does not come at all," and that Amnesty ​"will short­ly be rais­ing [con­cerns over civil­ian casu­al­ties] with U.S. officials."
Not all Syr­i­ans are equal in the eyes of all the states that are now bomb­ing Syr­ia. As Col. Thomas' com­ments sug­gest, gov­ern­ment sol­diers are strict­ly off lim­its when it comes to U.S.- and Rus­sia-led death from above, but Syr­i­an civil­ians are a dif­fer­ent mat­ter: Under the Oba­ma administration's rules of engage­ment in the war against ISIS, ​"there are sev­er­al tar­get­ing areas in which the prob­a­bil­i­ty" — not just the chance —"of 10 civil­ian casu­al­ties are per­mit­ted," as USA Today revealed in April 2016.
No fam­i­lies of slain civil­ians have been com­pen­sat­ed. ​"Under appro­pri­ate cir­cum­stances, com­mands may con­sid­er pro­vid­ing sola­tia pay­ment as expres­sions of sym­pa­thy to those injured or the fam­i­lies of the deceased," U.S. Air Force Capt. Michele Rollins, a press offi­cer with U.S. Cen­tral Com­mand (CENT­COM), tells In These Times. ​"These pay­ments are not intend­ed to serve as com­pen­sa­tion for the loss or injury. At this time, there have been no requests for sola­tia pay­ments in Syria."
But has the U.S. actu­al­ly reached out to any rel­a­tives of those it has alleged­ly killed? ​"The cur­rent envi­ron­ment in Syr­ia makes inves­ti­gat­ing these alle­ga­tions extreme­ly chal­leng­ing," Rollins says. ​"Tra­di­tion­al inves­tiga­tive meth­ods, such as inter­view­ing wit­ness­es and exam­in­ing the site, are not typ­i­cal­ly avail­able in Syr­ia. There­fore, we are unable to iden­ti­fy and locate fam­i­ly mem­bers in Syr­ia." This is despite the fact that U.S. Spe­cial Oper­a­tions forces have been on the ground in Man­bij and oth­er parts of north­ern Syria.
Still, CENT­COM main­tains it is either inves­ti­gat­ing what hap­pened at Man­bij or has already done so. ​"In accor­dance with our com­mit­ment to trans­paren­cy," Rollins says, find­ings from that inves­ti­ga­tion will be released ​"as soon as pos­si­ble." Rollins also says the Sep­tem­ber 17 inci­dent out­side Deir Ezzor involv­ing Syr­i­an gov­ern­ment forces ​"will be inves­ti­gat­ed," though — unlike with Man­bij — the U.S. has already apologized.
Even Afghan civil­ians have it a lit­tle bet­ter: When the U.S. kills them or destroys their homes, it some­times offers com­pen­sa­tion — up to $2,500 for most cas­es, and up to $10,000 for oth­ers, accord­ing to ProP­ub­li­ca, meant to bring ​"a com­pas­sion­ate face to the U.S. mil­i­tary." Not much, but some­thing. Syr­i­an lives, appar­ent­ly, are not only worth less than Afghan lives, but less than dam­aged prop­er­ty. Win­ning ​"hearts and minds" is not part of the U.S. strat­e­gy in the war against ISIS, premised on the notion that extrem­ism can sim­ply be bombed away. And while Air­wars reports that civil­ian deaths from U.S. airstrikes are sig­nif­i­cant­ly down since the cap­ture of Man­bij, with­out a fun­da­men­tal change in strat­e­gy the deaths of inno­cents will like­ly jump back up with the start of the next U.S.-backed offensive.
Civil­ians cast aside
Unlike Syr­i­ans in uni­form, Syr­i­an civil­ians do not have a pow­er­ful state advo­cate on their side. No gov­ern­ment, not even their own, cares to make an issue of Syr­i­ans killed by airstrikes in ter­ri­to­ry con­trolled by rebels or ISIS. The state-owned Syr­i­an Arab News Agency did not even note the reports of mass civil­ian casu­al­ties in Man­bij, the largest alleged inci­dent of U.S.-wrought ​"col­lat­er­al dam­age" in Syr­ia to date.
"Sad­ly, [Assad's] Syr­i­an Army is backed up by Rus­sia and we are not backed up by any­one," says a com­man­der with the anti-Assad Free Syr­i­an Army (FSA). Orig­i­nal­ly from Man­bij, the com­man­der request­ed anonymi­ty because he works with the U.S. in North­ern Syr­ia as part of the fight against ISIS and does not want to jeop­ar­dize that relationship.
He claims to have seen mass graves out­side Jarablus, a Syr­i­an town lib­er­at­ed from ISIS as part of a Turk­ish-backed offen­sive in August, con­tain­ing the vic­tims of U.S. airstrikes in the area. But he's not seen any evi­dence the U.S. is seri­ous about get­ting to the bot­tom of what hap­pened in the July Man­bij bomb­ing. Despite a promised inves­ti­ga­tion, ​"noth­ing has hap­pened," he says, at least as far as he can see.
"It seems like we are backed by the Amer­i­cans," the com­man­der con­tin­ues, ​"but we are not."
The con­trast in reac­tion to civil­ian and sol­dier deaths is ​"a sign of Oba­ma's craven appease­ment of Rus­sia and Iran, and there­fore of Assad, and of his total lack of con­sid­er­a­tion for the inter­ests of the Syr­i­an peo­ple," says Robin Yassin-Kassab, the British-Syr­i­an coau­thor of Burn­ing Coun­try, a book on Syria's rev­o­lu­tion and the non-vio­lent rev­o­lu­tion­ar­ies still seek­ing to keep its demo­c­ra­t­ic, non-sec­tar­i­an spir­it alive. ​"It is remark­ably short-sight­ed in many ways," he tells In These Times, ​"not least because it boosts the anti-West­ern nar­ra­tive of the jihadists."
That nar­ra­tive amounts to, essen­tial­ly, ​"Who else you got?" To many Syr­i­ans, the Assad régime is unac­cept­able, and there is a grow­ing per­cep­tion that the U.S. is resigned to Assad remain­ing in pow­er. When the U.S. focus­es its ener­gies on extrem­ists per­ceived as a direct threat to the West, and only apol­o­gizes when gov­ern­ment sol­diers are killed, the jihadists' nar­ra­tive becomes more com­pelling. Your lives, extrem­ists can say, are worth less to the U.S. than its war on terror.
The ​
"

War on Ter­ror" makes for unlike­ly allies

"The [Man­bij] inci­dent shows … the increas­ing align­ment of the U.S. and the Assad régime as they step up coop­er­a­tion for the ​'War on Ter­ror,' " says Leila Al-Sha­mi, a British-Syr­i­an left­ist who coau­thored Burn­ing Coun­try. ​"Any hopes Syr­i­ans once may have had for the U.S. being an ally in their strug­gle for free­dom, or [their] pro­tec­tor, have cer­tain­ly vanished."

Loub­na Mrie, a Syr­i­an activist who was in Man­bij back in 2014, before ISIS kicked out the FSA, has come to the same con­clu­sion: that the U.S. is pri­or­i­tiz­ing its war on ter­ror over non-gov­ern­ment Syr­i­an lives. ​"Rus­sians have been tar­get­ing U.S. allies for the last year and the Amer­i­cans aren't doing any­thing about it," she says. In June, for instance, Russ­ian clus­ter bombs were dropped on the New Syr­i­an Army, a small U.S.-backed group that exclu­sive­ly fights ISIS in Syria's east­ern desert. Rus­sia has killed rough­ly twice as many civil­ians as the U.S. in half the time, accord­ing to Air­wars.

The U.S. response to all this has been to pur­sue a joint bomb­ing agree­ment with Rus­sia: Ear­li­er in Sep­tem­ber, the two states pro­posed a (now unrav­el­ing) plan that would have lim­it­ed Assad's air force in cer­tain oppo­si­tion areas but then pur­sued joint airstrikes against ISIS and for­mer al-Qae­da affil­i­ate Jab­hat Fateh al-Sham.

"They care about their rela­tion­ships with the Rus­sians and the Syr­i­an gov­ern­ment," Mrie argues. The pub­lic rhetoric of top U.S. offi­cials may be bleed­ing-heart lib­er­al inter­ven­tion­ist, ever-so-con­cerned with the plight of bombed and besieged Syr­i­ans — and thus, to many on the Left, it reeks of the ​"régime change" strat­e­gy put to such ill effect in Iraq and else­where. But the actu­al pol­i­cy appears to be shaped by cold-heart­ed real­ists who have long pre­ferred régime preser­va­tion to régime change — strong­men and spheres of influ­ence to the desta­bi­liza­tion wrought by rev­o­lu­tions and democ­ra­cy. Hence apolo­gies for bomb­ing sol­diers but silence for the rest of the country.

One can debate the Unit­ed States' goals and tac­tics in Syr­ia, but many Syr­i­ans them­selves are con­vinced of at least one thing: ​"Amer­i­cans," Mrie says, ​"don't care about civilians."
Charles Davis
is a jour­nal­ist pub­lished by out­lets such as Al Jazeera, The Inter­cept, The Nation and The New Repub­lic. Fol­low him on Twit­ter:
@charliearchy
.