Why Syriza Hasn't Threatened to Leave the European Union—Yet
Greece's newly elected radical left coalition is playing the long game.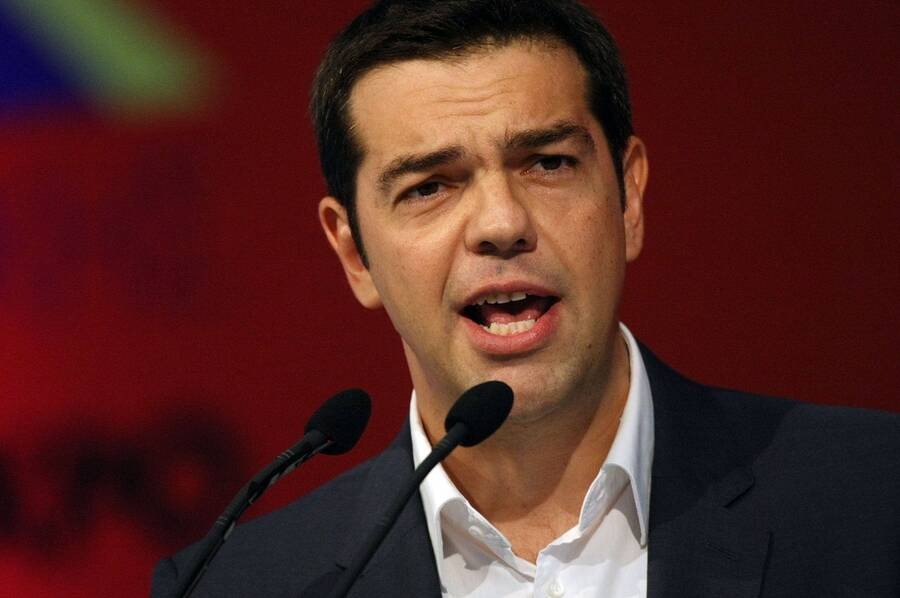 These are des­per­ate times for the peo­ple of Greece.
Syriza sees a way out of the Eurozone paradox.
Head­ing into a fren­zy of meet­ings with Eurogroup finance min­is­ters and heads of state this week, the Syriza gov­ern­ment is prepar­ing for all sce­nar­ios and devel­op­ments. On Tues­day, Greek finance min­is­ter Yanis Varo­ufakis told the mem­bers of par­lia­ment that Greece is enter­ing the post-bailout era. Mean­while, his Ger­man coun­ter­part, Fed­er­al Min­is­ter of Finance Wolf­gang Schäu­ble, com­ment­ed lat­er in the day that no nego­ti­a­tion would hap­pen. The future is still indiscernible.
With an emer­gency meet­ing of Eurogroup finance min­is­ters this past Wednes­day, a full sum­mit yes­ter­day, and a sched­uled meet­ing of finance min­is­ters on Mon­day that coin­cides with the dead­line for extend­ing the bailout, what isn't being said by Greece's Syriza gov­ern­ment may be more impor­tant than what is. The out­come of the talks will deter­mine which is real­ized: the will of the Greek peo­ple or the Troika.
State of Affairs
On Sun­day, Prime Min­is­ter Alex­is Tsipras vowed to con­tin­ue fight­ing for debt rene­go­ti­a­tions while pri­or­i­tiz­ing the ​"human­i­tar­i­an cri­sis" brought on by years of harsh aus­ter­i­ty. He also sig­naled that fru­gal­i­ty would be best exem­pli­fied on the gov­ern­men­tal lev­el by sell­ing off half of the government's lim­ou­sines and a jet. He did not, how­ev­er, men­tion any plans to lead Greece out of the Eurozone.
With all the talk of a ​"Grex­it," it's impor­tant to note that Syriza has yet to threat­en a Greek depar­ture from either the Euro­pean Union or the Euro­zone. Yet Euro­pean offi­cials, and even the defrocked high priest of free mar­kets, Alan Greenspan, have been warn­ing of Greek exit from the Euro­pean Union.
So why isn't Syriza cur­rent­ly threat­en­ing to leave the Eurozone?
Well, first there is the ques­tion of pub­lic opin­ion. Recent opin­ion polls indi­cate that as many as 70% of Greeks hope to remain with­in the cur­ren­cy union. The under­tak­ing of any rad­i­cal steps by Syriza will require build­ing long-term polit­i­cal sup­port on the home front by stick­ing to the demo­c­ra­t­ic will. That means a Euro­zone exit while the coun­try over­whelm­ing­ly oppos­es such an exit must be off the table — at least for the time being.
Syriza, lead­ing a frag­ile coali­tion gov­ern­ment, appears to be plan­ning for all con­tin­gen­cies. The rad­i­cal left coali­tion under­stands that nego­ti­a­tions with the Troi­ka (the Euro­pean Cen­tral Bank, the Euro­pean Com­mis­sion and the Inter­na­tion­al Mon­e­tary Fund) have broad impli­ca­tions on the long-term health of the E.U. as well as glob­al trade treaties favored by the Unit­ed States.
Syriza holds two man­dates. First, it must end the social cat­a­stro­phe that many Greeks blame on E.U.-imposed aus­ter­i­ty. Sec­ond, it must appear com­mit­ted to keep­ing Greece with­in the Euro­pean Union. In some ways the two seem anti­thet­i­cal, but Syriza believes they aren't.
To achieve the first, Syriza needs debt restruc­tur­ing or for­give­ness, a reformed tax­a­tion scheme and con­tin­ued fund­ing for social pro­grams. In short, it needs the Euro­pean Union, as such tasks prob­a­bly can­not be car­ried out with­out it. But the Troi­ka holds that no restruc­tur­ing is pos­si­ble and that Greece must stick to its com­mit­ments or leave the cur­ren­cy union.
If the polls are to be believed, had Syriza begun nego­ti­a­tions with Euro­pean offi­cials by threat­en­ing to leave the E.U., it would have faced a polit­i­cal dis­as­ter on the home front.
That may be why last week, the gov­ern­ment sent its eco­nom­ics pro­fes­sor-turned-finance min­is­ter Yanis Varo­ufakis on a mul­ti-nation tour in hopes of win­ning sup­port for his ​"mod­est pro­pos­al to save Europe." Varo­ufakis' pro­pos­al includes a bridge agree­ment that would hold Greece over for a few months until a new agree­ment can be worked out.
The night before his meet­ing with Schäu­ble, the Ger­man finance min­is­ter, the Euro­pean Cen­tral Bank announced it would no longer accept Greek gov­ern­ment bonds as col­lat­er­al for loans to Greek banks. And as expect­ed, Schäu­ble reject­ed any talk of restruc­tur­ing the Greek debt.
Despite warm recep­tions for Syriza offi­cials in Italy and France last week, those gov­ern­ments held the E.U. par­ty line and backed the Ger­man and Troi­ka offi­cials' insis­tence that Greece remain on the pro­gram of bailout, aus­ter­i­ty and debt payments.
But this, too, is polit­i­cal­ly unten­able in Greece, where the aus­ter­i­ty-crip­pled pop­u­la­tion strong­ly favors end­ing a pro­gram that has seen sui­cides, home­less­ness and pover­ty skyrocket.
A Way Out By Stay­ing In
Syriza sees a way out of this paradox.
Con­sid­er the state­ments by the party's oth­er promi­nent econ­o­mist, Costas Lapavit­sas, in the Guardian: ​"First, the forces of aus­ter­i­ty cur­rent­ly stran­gling Europe should not be allowed to crush the Syriza exper­i­ment, or turn it into a moth-eat­en com­pro­mise; sec­ond, Syriza should make sol­id and metic­u­lous prepa­ra­tions for all even­tu­al­i­ties, a point that is well under­stood by many with­in it."
Hav­ing expect­ed harsh resis­tance and an onslaught of veiled threats from the finan­cial com­mu­ni­ty, it would be naïve to imag­ine Syriza hasn't pre­pared for this exact sce­nario. If Varo­ufakis' pro­pos­als, which are viewed as rea­son­able by most Greeks, are reject­ed by E.U. offi­cials, more Greeks will con­sid­er leav­ing the Euro­pean Union a nec­es­sary evil.
At that point, if a Syriza gov­ern­ment still exists, Greece can threat­en to leave the union. (It should be not­ed that in his book Cri­sis in the Euro­zone, Lapavit­sas has sup­port­ed a Greek exit from the Euro­zone and has argued that aus­ter­i­ty through­out Europe has been coun­ter­pro­duc­tive.) That's when the Ger­man government's met­tle will be test­ed. Can the Euro­pean Union afford a ​"Grex­it" and its poten­tial impli­ca­tions for Spain and oth­er aus­ter­i­ty-rav­aged countries?
A Syriza gov­ern­ment that remains in the union pos­es a prob­lem for Ger­many and the Unit­ed States on anoth­er front. Syriza has made it clear that it will veto any attempt to rat­i­fy the Trans-Atlantic Trade and Invest­ment Part­ner­ship, an inter­na­tion­al trade agree­ment that both Ger­many and the U.S. want rat­i­fied urgently.
At that point, does the E.U. want Syriza to capit­u­late on a debt if it means the loss of the TTIP? Per­haps a Greek exit ben­e­fits the E.U. on that front. But can the E.U. afford to let Greece out if it means desta­bi­liz­ing the cur­ren­cy union further?
The future of Greece and that of oth­er aus­ter­i­ty-sacked coun­tries in the E.U. is affixed to the demo­c­ra­t­ic will of the peo­ple, the ratio­nale of finance, and the geopo­lit­i­cal aims of U.S. hege­mo­ny. A way out — or a way to remain in — will rely on alter­na­tive solu­tions and com­mit­ment on the part of Syriza.
The ancient trage­di­an Euripi­des tells us, ​"I have been versed in the rea­son­ings of men; but Fate is stronger than any­thing I have known." To the ancients, fate was always a thing of mys­tery, unknow­able to mor­tals, but per­haps alter­able by our actions. Faced with a bleak future of aus­ter­i­ty and debt pay­ments, Syriza rep­re­sents the will of the Greek peo­ple to take fate into their own hands.
Alexan­dros Orphanides
is a New York City-based free­lance jour­nal­ist, researcher and teacher of Greek-Cypri­ot and Hon­duran descent. He writes on polit­i­cal, social and cul­tur­al issues with an empha­sis on mar­gin­al­ized com­mu­ni­ties. Fol­low him on Twit­ter: @subsentences.