Green Hot American Summer
Late July brings a wave of climate demonstrations.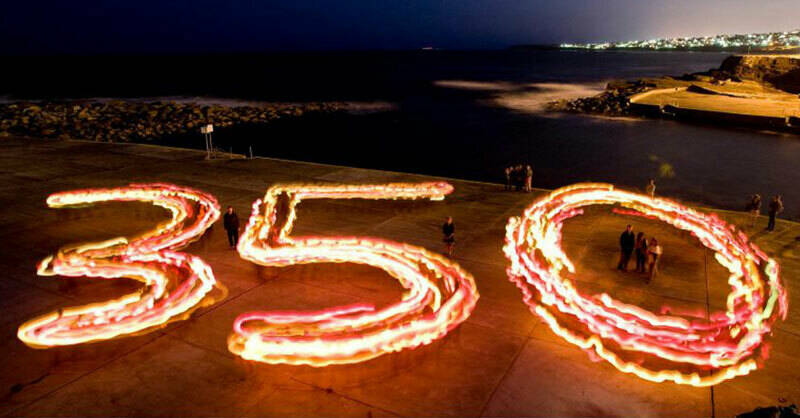 ​"As the tem­per­a­ture ris­es, so do we." That's the slo­gan behind cli­mate orga­ni­za­tion 350.org's new cam­paign to turn up the heat on the fos­sil fuel indus­try. The group is focus­ing on the hottest stretch of the sum­mer — the last two weeks in July — to stage mass protests against both dirty ener­gy com­pa­nies and the Oba­ma administration's bro­ken promis­es for envi­ron­men­tal action.
While 350​.org applaud­ed Obama's June 25 guar­an­tee to halt the Key­stone XL pipeline if it would sig­nif­i­cant­ly increase pol­lu­tion, the orga­ni­za­tion called Obama's cli­mate plan "[not] near­ly ambi­tious enough."
In May, the amount of car­bon in the atmos­phere exceed­ed 400 glob­al parts per mil­lion. 350​.org aims to low­er the atmos­pher­ic car­bon to below 350 parts per mil­lion — the upper thresh­old of what many sci­en­tists cite as safe for the planet.
To that end, 350.org's ​"Sum­mer Heat" cam­paign will stage 11 demon­stra­tions through­out the Unit­ed States. Begin­ning July 19, a week­long ​"March for our Grand­chil­dren" will trav­el from Camp David to the White House, implor­ing the pres­i­dent to push for envi­ron­men­tal pol­i­cy change. In the last weeks of July, vol­un­teers in Nebras­ka will raise a solar barn and wind tur­bine in the pro­posed path of Key­stone XL as a chal­lenge to fos­sil fuel companies.
Vis­it join​sum​mer​heat​.org for more information.