Green Hot American Summer
Late July brings a wave of climate demonstrations.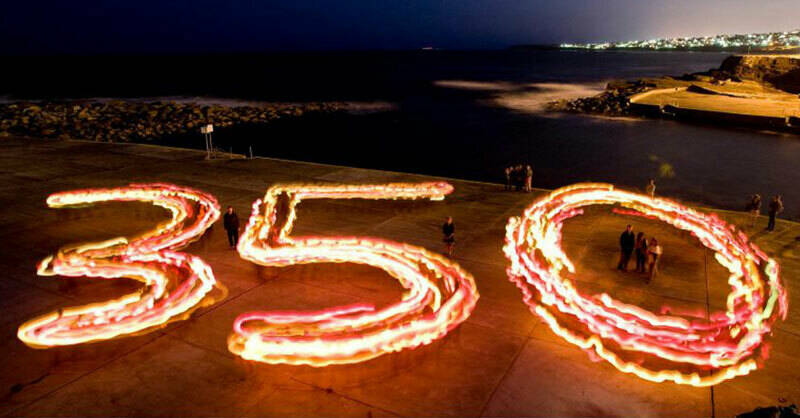 We wanted to make sure you didn't miss the announcement of our new Sustainer program. Once you've finished reading, take a moment to check out the new program, as well as all the benefits of becoming a Sustainer.

​"As the temperature rises, so do we." That's the slogan behind climate organization 350.org's new campaign to turn up the heat on the fossil fuel industry. The group is focusing on the hottest stretch of the summer — the last two weeks in July — to stage mass protests against both dirty energy companies and the Obama administration's broken promises for environmental action.
While 350​.org applauded Obama's June 25 guarantee to halt the Keystone XL pipeline if it would significantly increase pollution, the organization called Obama's climate plan "[not] nearly ambitious enough."
In May, the amount of carbon in the atmosphere exceeded 400 global parts per million. 350​.org aims to lower the atmospheric carbon to below 350 parts per million — the upper threshold of what many scientists cite as safe for the planet.
To that end, 350.org's ​"Summer Heat" campaign will stage 11 demonstrations throughout the United States. Beginning July 19, a weeklong ​"March for our Grandchildren" will travel from Camp David to the White House, imploring the president to push for environmental policy change. In the last weeks of July, volunteers in Nebraska will raise a solar barn and wind turbine in the proposed path of Keystone XL as a challenge to fossil fuel companies.
Visit join​sum​mer​heat​.org for more information.
Become a Sustainer
We surveyed thousands of readers and asked what they would like to see in a monthly giving program. Many of you expressed interest in magazine subscriptions, gift subscriptions, tote bags, events and books —and we've added all of those. Some of you said that cost was an issue, so we've kept our starting tier at just $5 a month—less than 17 cents a day.

Now, for the first time, we're offering three different levels of support, with unique rewards at each level, for you to choose from. Check out the new Sustainer program.