On Sacred Ground: Native Occupation of Calif. Cove Ends After Tribes' Victory (UPDATED)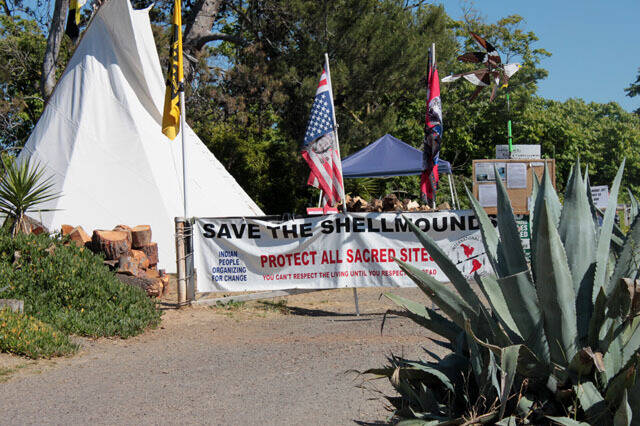 Updated with details of settlement reached with Yocha Dehe and Cortina tribes on July 20
After 98 days of a land occupation/​prayer vigil, a major victory has been announced over the protection of Sogorea Te/​Glen Cove sacred burial grounds in Vallejo.
A cultural easement and settlement agreement was reached with the Yocha Dehe and Cortina tribes, the City of Vallejo and the Greater Vallejo Recreation District (GVRD).
The agreement, announced Wednesday, July 20, sets a legal precedent for granting Native people jurisdiction over their sacred sites and ancestral lands.
It is seen as a ​"significant step" toward enacting tribal sovereignty because it is the first cultural easement to be negotiated at the city and recreational district level under CA Senate Bill 18. The bill gives native tribes more protection over their sacred sites on public land and extends to both federal recognized and unrecognized tribes. It requires local governments to notify tribes about possible future development.
According to a statement released by the Committee to Protect Glen Cove, the cultural easement forever guarantees that the Yocha Dehe and Cortina tribes will have legal oversight in all activities taking place on the sacred burial grounds of Sogorea Te/​Glen Cove.
A plan to install a restroom facility has been scrapped, and a parking lot will be relocated to an area that has been tested to confirm there are no human remains or cultural remnants.
Said Corrina Gould (Chochenyo/​Karkin Ohlone), ​"We appreciate and are humbled by the vast support that we have received in protecting our ancestors. It is our responsibility to continue to do the work to make certain that all of our sacred sites are protected."
The resistence, stamina and conviction of the people who stayed on the land and protected it paid off. It convinced the city and recreation department to reconsider what at first was a stubborn reluctance not to negotiate at all.
A core of people from the Committee to Protect Glen Cove was there through the biting cold, chill rains, high hot windy days.
They remained not knowing whether they would be jarred awake by the sounds of bullhorns and bulldozers. The good hearts of their supporters — who were numerous and from all around the world — brought food, blankets, prayers, water, and helped maintain the vigil and keep these warriors strong.
Labor comes in many different forms. The kind of labor required to defend one's land is uniquely voluntary— and was apparent in Vallejo, Calif., where a group of native people and their supporters occupied the land at Glen Cove more than three months to stop development in an area that once contained ancient shellmound burial sites.
Background
On April 14 the group — Ohlone and Miwok activists and their supporters — began occupying the 15-acre area north of Oakland where the City of Vallejo and the Greater Vallejo Recreation District (GRVD) want to build bathrooms, a hiking trail and a parking lot on land known to contain shellmound burial grounds and Native American villages dating back to 1,000 A.D.
Native people, who are seeking permanent legal rights from the city to protect the land, refer to the area as ​"Segorea Te," its traditional name in the language of Karkin Ohlone. Hundred of visitors, including nearby residents, have come to Glen Cove offering gifts, food, help with keeping the grounds tended, and prayers to the sacred fire that has burned continuously since the occupation began in April.
This pristine area sits on a cove where cool waters wash over rocks and into the Carquinez Bay. Willows, alder trees and tule shade the land near a fresh water creek. Fishermen ply the shore. The quietness belies the fight waging between indigenous people and GVRD and the City of Vallejo.
On Tuesday, July 12, the Vallejo City Council held a closed meeting to discuss an agreement that would fully protect all 15 acres of Glen Cove. The agreement announced Wednesay is the outcome of that meeting.
In April, The Sacred Site Protection and Rights of Indigenous Tribes (SSP&RIT), a Native American organization based in Vallejo, filed a civil rights suit with California's attorney general against the City of Vallejo and GVRD for ​"discriminating on the basis of race in threatening to destroy and desecrate significant parts of the Glen Cove Shell Mound and burial site and in effectively excluding American Indians from their right to full participation in the decision-making process regarding this project."

Corrina Gould of the Karkin/​Chochenyo Ohlone Nation, who is a co-founder of Indian People Organizing for Change, said at a public meeting recently: ​"It wasn't like … all of a sudden a group of us decided to pop it in our heads that we wanted to take over and occupy the land in a prayer vigil. This has been an ongoing thing that's been happening."
Not a new issue
Many people started working on saving the parcel 12 years ago, when they found out that development plans were underway to further dig up the area, of which parts had already been dug up by another developer years earlier.
Shane McAffee, general manager of the Greater Vallejo Recreation District, told KQED public radio: ​"The GVRD went through the appropriate local, state and federal process to secure development of the site. We are trying to come up with a project that takes in everybody's concerns. We developed a Master Plan and this project represents the culmination of that Master Plan."
There are over 425 shellmounds in the Bay Area. A map created in the early 1900s by a Berkeley archeologist Nels Nelson pinpointed over 400 prehistoric shellmounds. His work remains a standard reference for Bay Area archeologists. Almost all of the shellmounds he mapped are ​"capped" now.
"When they talk about capping, they talk about putting maybe a foot of soil over the top of it. But many times what we find is that, like in the city of Emeryville, the ​"cap" is a huge mall on top of it. In the City of Oakland, there's a library on top of one of our village sites, on another, there's a bar at Jack London Square," said Gould. ​"Here at Segorea Te, we can touch the ground, not asphalt, and say our prayers and offer them to the sky like we're supposed to."

​"This was a village site that was thriving, … it was a beautiful place," said Gould, adding, ​"It was one of the last strongholds for Ohlone people — the last places of the Ohlone people to live as they had lived before the [Spanish Catholic] missions pulled us all in."

Since April, the group has pulled 500 pounds of trash from the area, an area that was supposed to be maintained by GVRD. ​"It's our responsibility to take care of those freshwater creeks down there, to make sure that plant life is OK. And it's our responsibility to clean up this strait," says Gould.
Fred Short, Ojibwa, the Spiritual Leader of the American Indian Movement in California, has been at Sogorea Te every day. ​"What gets me is trying to negotiate with the Vallejo City Council and GVRD. Why would they come in and disturb a sacred burial site? This is not a park, this is a sacred burial shellmound site that is 4,000 years old. There's been a lot of destruction here already and we're here to say that we don't want anything more to take place here."
Due to an editing error, the original version of this story stated that representatives of the Cortina and Yocha Deh tribes were part of the July 12 Vallejo City Council meeting. In fact, while the city council did negotiate a settlement with those tribes, their members were not part of that closed meeting. In These Times regrets the error.
Rose Arrieta
was born and raised in Los Angeles. She has worked in print, broadcast and radio, both mainstream and community oriented — including being a former editor of the Bay Area's independent community bilingual biweekly El Tecolote. She currently lives in San Francisco, where she is a freelance journalist writing for a variety of outlets on social justice issues.