The Milquetoast Militants of Showtime's "Guerrilla"
The protagonists' middle-class naiveté rolls off them in waves.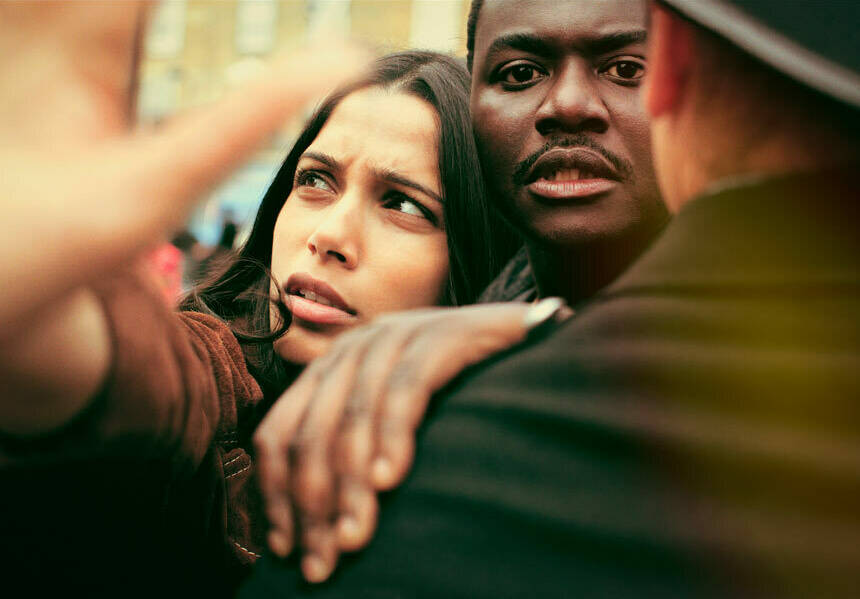 There's a telling exchange of dia­logue in the new Show­time series Guer­ril­la between the two lead char­ac­ters, a nice Indi­an nurse named Jas (Frei­da Pin­to) and an even nicer unem­ployed Eng­lish teacher named Mar­cus (Babou Ceesay), who become unlike­ly rad­i­cal polit­i­cal activists in ear­ly 1970s Lon­don. It first occurs after their suc­cess at break­ing a black rev­o­lu­tion­ary author out of prison, and goes some­thing like this:
If you can endure the first episode and get on to the rest, it's not that the show has no impact.
"You cool?"
"We are so fuck­ing cool."
These fatu­ous self-con­grat­u­la­tions indi­cate the basic lev­el of con­tempt in which the show's cre­ative team holds polit­i­cal mil­i­tan­cy. These char­ac­ters become impos­si­bly skilled rev­o­lu­tion­ar­ies overnight, and in spite of the high body count among their friends, they remain at the same lev­el of dopey, shal­low engage­ment with a cause that nev­er gets artic­u­lat­ed with any clarity.
It's a shame, con­sid­er­ing that this six-episode series is based on the his­tor­i­cal real­i­ty of England's Black Pow­er move­ment. As Paul Field points out in Jacobin, the show high­lights events such as the cre­ation of Scot­land Yard's Black Pow­er Desk, designed to destroy the movement.
Field gen­er­ous­ly sees the show as a kind of alter­nate his­to­ry ​"pos­ing the ques­tion: ​'What would have hap­pened if armed rad­i­cals had con­front­ed the police in 1971?' " I see the show less gen­er­ous­ly, as a regret­tably dopey fic­tion­al­iza­tion laid over an inher­ent­ly dra­mat­ic history.
The first episode is mad­den­ing, giv­en that our pro­tag­o­nists are the most ridicu­lous polit­i­cal mil­i­tants imag­in­able. Their mid­dle-class naiveté rolls off them in waves, so it's quite a set of car­toon­ish char­ac­ter arcs to see them become gun-wield­ing guer­ril­la rad­i­cals in the span of an hour.
The cli­max of that episode fea­tures the lib­er­a­tion from prison of their favorite author, Dhari Bish­op, (Nathaniel Martel­lo-White), a com­i­cal impos­si­bil­i­ty giv­en their absolute lack of skills, resources or expe­ri­ence. They get an Irish guy to help them, which I assume is sup­posed to lend this fan­tas­ti­cal event cred­i­bil­i­ty by allud­ing to the leg­endary series of prison breaks actu­al­ly pulled off by the Irish Repub­li­can Army through­out the 1970s.
Up to that point, I'd been try­ing to stick with the show, mut­ter­ing encour­age­ment like, ​"Okay, there you go!" when an occa­sion­al­ly believ­able moment was pulled off. For exam­ple, when our two naïfs take their first baby steps as rev­o­lu­tion­ar­ies, they man­age to con­sult a top IRA offi­cial, who out­lines the com­plex maneu­vers nec­es­sary for a prison break, requir­ing no few­er than sev­en people.
"Well, five, plus us," Jas pipes up.
"I don't know what the hell you two would be good for," he sneers.
It was a nice moment. One for Team Reality.
Nev­er­the­less, our dar­ing duo engi­neers a plan to get their pris­on­er to the hos­pi­tal by hav­ing him eat glass. They then tot­ter in qua­ver­ing out orders. Every­thing goes mirac­u­lous­ly well except for hav­ing to shoot some­body, who doesn't die. Then it turns out they nev­er made any plan for where they'd take their fugi­tive after bust­ing him out. It's an embar­rass­ing moment for every­one, includ­ing the audience.
To be fair, if you can endure the first episode and get on to the rest, it's not that the show has no impact. Series writer/​director John Rid­ley (Amer­i­can Crime, 12 Years a Slave) pulls off a star­tling num­ber of effec­tive plot reveals and rever­sals, and there's a lot of seri­ous act­ing tal­ent involved in the show. Rory Kin­n­ear and Daniel Mays are only too con­vinc­ing as the vicious, tor­ture-reliant Afrikan­er and Irish cops. Idris Elba, one of the show's pro­duc­ers as well as a lead per­former, is always excel­lent, though here he gives him­self a strange part as a waf­fling lib­er­al politi­cian. Slack body pos­tures and weak vocal hes­i­ta­tions don't exact­ly play to Elba's strengths, but he can real­ly rock the vin­tage side­burns and ​'stache.
Guer­ril­la may seem as though it's con­sid­er­ing the moral and eth­i­cal ques­tions sur­round­ing armed resis­tance. But the show actu­al­ly makes sure that every stance tak­en can­cels out every oth­er stance with vapid even­hand­ed­ness. On the one hand, insti­tu­tion­al racism in 1970s Lon­don is bad, but on the oth­er hand, so are clum­sy attempts by hap­less dream­ers to lead a guer­ril­la fight that most­ly cre­ates casu­al­ties among inno­cent bystanders. The police are por­trayed as despi­ca­ble thugs in uni­form, but our pro­tag­o­nists fall in imme­di­ate­ly with some despi­ca­ble thugs of their own. And so it goes, weari­ly back and forth.
In the end, there's no side to be on but that of pos­ter­i­ty. We're encour­aged to say, on behalf of our escap­ing heroes, ​"Thank God, that's over!" There is no reminder that the con­di­tions the series deals with are not over, that racism and eco­nom­ic exploita­tion go on, and that oth­ers will have to take up the fight. All the solemn quot­ing of rev­o­lu­tion­ary fig­ures at the begin­ning of each episode is just ​"cool" top-dressing.
In that sense, Guer­ril­la is tru­ly a show for our time; it pre­tends to engage with activist pol­i­tics that cur­rent­ly have a cer­tain hip cachet that even moron­ic Pep­si com­mer­cials try to appro­pri­ate. We can expect more of these pop cul­ture appeals, which ulti­mate­ly are harm­less enough. They spread some gen­er­al aware­ness that a proud his­to­ry of left-wing activism actu­al­ly exists and is cur­rent­ly inspir­ing new move­ments. So prob­a­bly the best way to enjoy Guer­ril­la, after the first mor­ti­fy­ing episode, is to for­get it has any claim on seri­ous­ness about polit­i­cal rad­i­cal­ism. Hope­ful­ly, it will cat­alyze your inter­est in read­ing up on the actu­al his­to­ry of rad­i­cal movements.
Eileen Jones
is a film crit­ic at
Jacobin
and author of the book
Film­suck, USA
. She teach­es at the Uni­ver­si­ty of Cal­i­for­nia, Berkeley.