The Android Manifesto: Finding Marx in Westworld
The HBO drama is a surprisingly astute tale of alienated labor and false consciousness.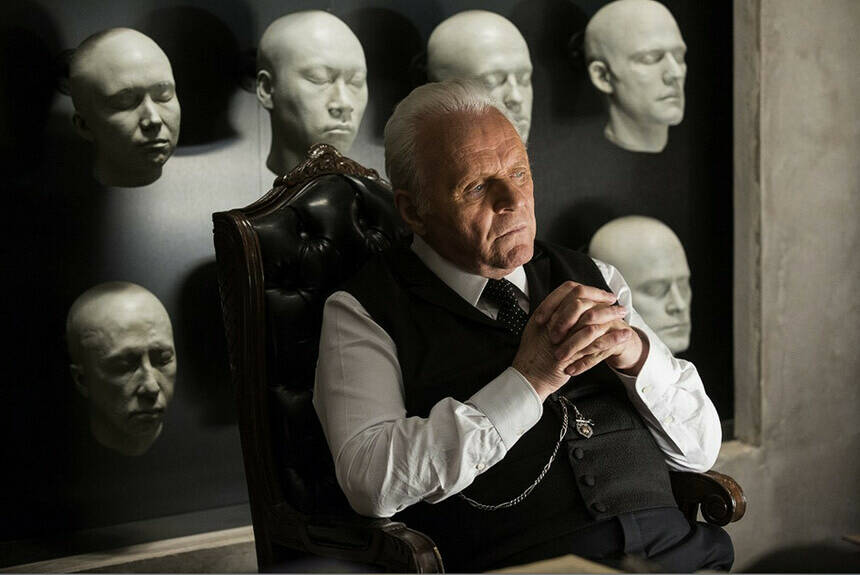 In the wake of Don­ald Trump's elec­tion, the dis­turb­ing pow­er of HBO's West­world makes more sense. There's uncan­ny force in all those shots of androids wak­ing up again and again, not know­ing they're still in a kind of dream. Those false awak­en­ings that dis­guise per­sis­tent states of uncon­scious­ness res­onate uncom­fort­ably with our own con­di­tion pri­or to Novem­ber 8. Blind­sided by Trump's vic­to­ry, it's hard not to shud­der when, in the first sea­son finale, one android warns anoth­er who's con­vinced she's final­ly ful­ly con­scious of the hor­rors of her real­i­ty: ​"You've ​'wok­en up' many times before."
As techs tinker and converse tensely with the androids, we see a shockingly literal illustration of Marx's notion of "estranged labor."
We're sure our eyes are open now, but how many of us on the Left thought we were already con­scious of America's vio­lent rage and polit­i­cal apa­thy? How many of us believed we were active­ly sound­ing the alarm, only to real­ize how incon­se­quen­tial our efforts had been?
I had no idea, dur­ing the first episodes of West­world, why I was find­ing it so dread­ful­ly com­pelling. The show's basic premise is well-trod­den turf for sci‑fi and hor­ror: char­ac­ters who act like self-direct­ed indi­vid­u­als are actu­al­ly automa­tons con­trolled by oth­er forces, à la Blade Run­ner or The Matrix. In Westworld's iter­a­tion, human ​"guests" pay top dol­lar to vis­it a high-tech theme park where they can live out their fan­tasies of old-time adven­ture in a Dead­wood-like fron­tier town. There, they inter­act with android ​"hosts," who act in movie-like nar­ra­tives that pro­vide seem­ing­ly spon­ta­neous oppor­tu­ni­ties for con­se­quence-free mayhem.
Yet, some­how, West­world has found some fresh, unset­tling angles. The show plunges us imme­di­ate­ly into iden­tifi­ca­tion with the androids (a tremen­dous improve­ment over the 1973 film West­world, which keeps us firm­ly aligned with the guests). The first words we hear over a black screen are ​"Bring her back online." We then see Dolores (Evan Rachel Wood) — the rancher's young daugh­ter, who's actu­al­ly one of the park's old­est hosts — com­plete­ly nude, seat­ed in one of Westworld's cor­po­rate labs, knees knocked awk­ward­ly togeth­er like a dis­card­ed doll. She's sub­ject­ed to a series of gen­tly prob­ing ques­tions asked by an off-screen char­ac­ter with a deep male voice. Lat­er we rec­og­nize it as the voice of Bernard (Jeffrey Wright), the head pro­gram­mer in charge of cre­at­ing and main­tain­ing the androids.
His key ques­tion, repeat­ed often in the show, is, ​"Have you ever ques­tioned the nature of your reality?"
"No," says Dolores. ​"Not near­ly enough" would be my post-elec­tion answer.
And there­in lies the lure of West­world: It forces us to reck­on with the fact that the androids might not be the only ones trag­i­cal­ly estranged from real­i­ty. The dis­com­fort this pro­duces doesn't depend on the view­er devel­op­ing a sud­den urge to run Tur­ing tests on their loved ones. There's plen­ty going on in the ster-ile offices and damp base­ments of West-world's cor­po­rate oper­a­tions to make us break out in cold sweats because it's eeri­ly rem­i­nis­cent of a real­i­ty we know.
Take the qui­et encoun­ters of decep­tive­ly docile nude androids and clothed techs in glass-walled lab set­tings. They are some of the most threat­en­ing and com­pul­sive­ly watch­able scenes in the show. But why? I'm enough of a dam­aged aca­d­e­m­ic to auto­mat­i­cal­ly think, ​"Well, if the answer ain't Freud, it's Marx."
It's Marx. West­world leads us to empathize first with the amne­si­ac androids, who suffer mer­ci­less abuse by day and are patched up, mem­o­ry-wiped and reboot­ed, by night. But through them, we come to rec­og­nize that Westworld's human work­ers, who believe them­selves to be in con­trol, aren't doing much bet­ter. Behind the scenes of the park, we see the techs toil in win­dow­less quar­ters, jad­ed and furtive, right­ly afraid of their boss­es. As they tin­ker and con­verse tense­ly with the androids, we see a shock­ing­ly lit­er­al illus­tra­tion of Marx's notion of ​"estranged labor." Work­ers alien­at­ed from their labor will come to see its prod­uct as ​"some­thing hos­tile and alien," in Marx's words, a pow­er­ful object with a sep­a­rate exis­tence. In short, work sucks the life out of us and puts it into what­ev­er it is we're paid to pro­duce. This night­mar­ish sce­nario plays out in the scenes between the android Maeve (Thandie New­ton), a shrewd broth­el madam, and the hap­less techs grow­ing more hor­rified with each encounter. They feel exploit­ed by the West­world Com­pa­ny they work for and have been exploit­ing the androids in turn, pros­ti­tut­ing them out for extra cash. But they're increas­ing­ly out-matched by the objects they work on. We mea­sure Maeve's per­fec­tion of form against their ungain­ly physiques, and as she black­mails them to gain greater pow­ers, her strength and bril­liance against their weak­ness and stupidity.
To whom does this alien object con­fronting the work­er belong? To the ​"mas­ter of labor" — the cap­i­tal­ist, that is. Over­see­ing Westworld's hosts and guests are the cor­po­rate hon­chos vying for pow­er, and we are encour­aged to guess who is real­ly run­ning the show. Is it Dr. Robert Ford (Antho­ny Hop­kins), the sur­viv­ing cre­ator of the park, who seems privy to all infor­ma­tion cir­cu­lat­ed with­in it? Could it be the park's board of direc­tors, unseen as yet but rep­re­sent­ed by the ruth­less Char­lotte Hale (Tes­sa Thomp­son), who dis­dain­ful­ly informs icy head of oper­a­tions There­sa Cullen (Sidse Babett Knud­son) that all the hosts are worth­less junk com­pared to the park's intel­lec­tu­al property?
At the same time, we won­der which of the seem­ing­ly pow­er­ful figures aligned with the cap­i­tal­ist ​"boss" class will ​"wake up" to find them­self a con­trolled and exploit­ed sub­or­di­nate implant­ed with false mem­o­ries. Again and again, West­world expos­es how char­ac­ters' under­stand­ings of them­selves and their roles with­in the pow­er struc­ture of the park are dead wrong.
Look­ing back at Sea­son 1, we can see the show is struc­tured as a dis­turb­ing game based on the Marx-inspired con­cept of ​"false con­scious­ness," with char­ac­ters try­ing to maneu­ver their way out of that wrong­head­ed state toward an accu­rate men­tal rep­re­sen­ta­tion of the world. The oper­a­tions and bor­ders of West­world are obscured and mys­tified, even to for­mi­da­ble figures such as the Man in Black (Ed Har­ris) seek­ing the ​"deep­er game" in the park. Most char­ac­ters' exploita­tion by those in pow­er is ter­ri­fy­ing­ly obscure to them.
Bernard, in par­tic­u­lar, seems to rep­re­sent per­fect­ly the pon­tifi­cat­ing pro­fes­sion­al-class Left in Trump's Amer­i­ca, ensnared in the trag­i­cal­ly arro­gant con­vic­tion that it sees clear­ly what the exploit­ed work­ers can­not grasp. In the end, his van­tage point is just as com­pro­mised, to dis­as­trous effect.
The key to Westworld's impact is the viewer's iden­tifi­ca­tion with the androids: the deep­est sleep­ers, the ones who will have to come to con­scious­ness many, many times. Recent events have demon­strat­ed that we on the Left need a lot of prac­tice at this kind of awak­en­ing, which is iron­ic giv­en the way we tend to imag­ine our­selves as polit­i­cal­ly astute and aware. Like the androids, we're now forced to reck­on with the anni­hi­lat­ing truths we sensed we'd have to face when we final­ly, ful­ly woke up.
Eileen Jones
is a film crit­ic at
Jacobin
and author of the book
Film­suck, USA
. She teach­es at the Uni­ver­si­ty of Cal­i­for­nia, Berkeley.