The Vermont-New York Heroin-and-Guns Carousel That Can Make Dealers a 1,400% Profit
Shooting up in Vermont, shooting up New York.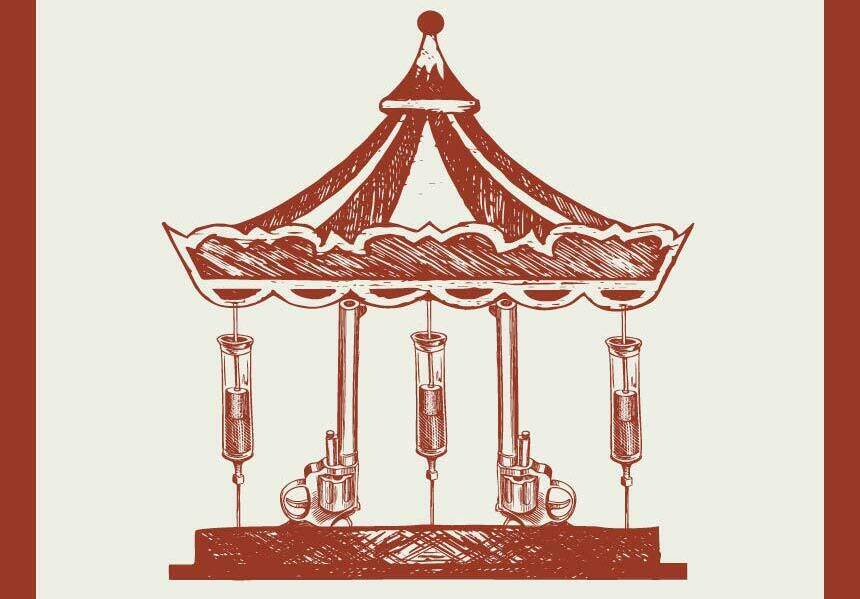 Pssst. Want an unreg­is­tered semi-auto­mat­ic hand­gun, some hero­in and a way to make a 1,400 per­cent profit?
Gun-drug runners are carving a deep, two-way trench down the Northeast, leaving a toxic trail of violence, misery and addiction.
First, the gun. In Ver­mont, you can legal­ly buy it through a ​"pri­vate" sale at a gun show, yard sale, online or from a deal­er. Doesn't mat­ter if you're a con­vict­ed mur­der­er with a his­to­ry of men­tal ill­ness and a restrain­ing order for domes­tic abuse. Any­one 16 or old­er with $600 can, for exam­ple, go to Arm​slist​.com and arrange with a ​"pri­vate par­ty" in Arling­ton, Vt., to pick up a ​"Zas­ta­va M92 PV 7.62 x 39 cal. semi auto pis­tol that has a 10 inch bar­rel, comes with 2 each 30 round clips." The Ser­bian assault weapon is, the ad notes, the ​"very cool … pis­tol ver­sion of the AK-47."
Then, if you are will­ing to break the law, you can dri­ve the weapon to New York, where semi-auto­mat­ic hand­guns are banned, and sell it for triple the Ver­mont price. You can invest the $1,800 in hero­in. Back in Ver­mont, where hero­in is in rel­a­tive­ly short sup­ply, you can resell it for five times the New York cost and gar­ner $9,000 — a quick 1,400 per­cent profit.
Just the facts
Ver­mont is a gun lover's free-mar­ket par­adise. And anti-gun con­trol advo­cates argue that because it has a gold­en tri­an­gle of virtues — loose gun laws, high gun own­er­ship and a low crime rate — the famous­ly safe, lib­er­al state is proof that gun reg­u­la­tions are large­ly irrel­e­vant to crime rates.
Nation­al Review writer Charles C. W. Cooke glee­ful­ly described Ver­mont as hav­ing ​"no gun laws at all," and con­clud­ed that the state does ​"dam­age to the idea that there is an iron­clad link between the avail­abil­i­ty of firearms and crime."
And facts back him up.
FACT NO.1: Ver­mont has some of the loos­est gun laws in the coun­try. You can legal­ly buy 50-cal­iber sniper rifles with scopes, sawed-off shot­guns, semi­au­to­mat­ic pis­tols that can kill a moose, and armor-pierc­ing bul­lets. No back­ground check, no wait­ing peri­od or lim­it on how many guns you can buy or own. You can use a false name and need no iden­ti­fi­ca­tion or reg­is­tra­tion. The mag­a­zine size is not restrict­ed. And you can dis­play the new gun on your hip or stuff it in your under­pants for all the state cares. All legal. And as long as you ​"don't know" the firearms will be used for crim­i­nal pur­pos­es, you can imme­di­ate­ly resell the guns to a 21-year-old with racist insignias on his jack­et, two prison escapees from upstate New York, a whacked-out drug deal­er, a cer­ti­fied para­noid with a tin­foil hat, or a drunk 16-year-old (that's the age to own a hand­gun with­out parental con­sent; there's no age restric­tion on pos­sess­ing a rifle or shotgun).
FACT NO.2: Ver­mont has con­sis­tent­ly the first-or sec­ond-low­est per capi­ta mur­der rate in the coun­try. The state had only eight mur­ders in 2012, only two of which relat­ed to firearms.
"And so we can absolute­ly say," Cooke con­cludes, ​"a) an abun­dance of firearms and a set of loose reg­u­la­tions do not inevitably lead to more crime, and b) that the wide­spread sug­ges­tion that they do is dishonest."
Hmmm, not exact­ly. See­ing the clear links between guns, vio­lence and crime requires a more com­plex view of pub­lic safe­ty and a few more facts.
The big­ger picture
FACT NO.3: We have seen that, like maple syrup, firearms cross state lines. One makes your pan­cakes deli­cious, the oth­er fuels crime and mur­der. ​"Firearm traf­fick­ers trav­el to Ver­mont for the pur­chase of firearms from unli­censed sources and then trav­el back to more restric­tive states," Mass­a­chu­setts Bureau of Alco­hol, Tobac­co, Firearms and Explo­sives (ATF) Spe­cial Agent Christo­pher J. Arone tells In These Times. Ver­mont exports more guns per capi­ta than any oth­er New Eng­land state and ranks 16th nation­wide. Hun­dreds of crime-linked guns orig­i­nal­ly pur­chased there have been recov­ered by out-of-state law enforcement.
FACT NO.4: Vermont's export of guns is neat­ly paired with its imports of hero­in. ​"ATF offices in Ver­mont and Spring­field, Mass., have con­sis­tent­ly seen guns orig­i­nat­ing in Ver­mont used as cur­ren­cy in the inter­state drug trade," Mass­a­chu­setts ATF Agent Deb­o­ra Seifert told the Boston Globe in April 2014.
"It's not so much just firearms traf­fick­ing to make a prof­it [off the guns them­selves]," Ver­mont ATF Agent Jim Mostyn told Ver­mont Pub­lic Radio in 2014. ​"What we're see­ing is the nar­cotics for the guns. Most of the firearms traf­fick­ing, if not all, has a nexus to narcotics."
Which leads to:
FACT NO.5: Ver­mont is in the midst of a hero­in epi­dem­ic. With more than $2 mil­lion in hero­in and oth­er opi­ates flood­ing in every week, the state has the country's sec­ond high­est per capi­ta use of illic­it drugs, exclud­ing mar­i­jua­na. Hero­in-relat­ed deaths in Ver­mont near­ly dou­bled between 2012 and 2013 and there was a 770 per­cent rise in the num­ber of peo­ple treat­ed for addic­tion between 2000 and 2014.
Turns out, cap­i­tal­ism hasn't changed all that much in 300 years. The inter­state gun-drug mer­ry-go-round bears more than a pass­ing resem­blance to the British East India Company's lucra­tive 18th-cen­tu­ry trade route: Pur­chase opi­um in India, trade it in Chi­na for tea, sell the tea in Eng­land, and use the prof­its to buy more opium.
The rest of the story
Today's gun indus­try earns bil­lions of dol­lars a year from con­sumer sales and then fun­nels tens of mil­lions into the cof­fers of the NRA, which lob­bies hard against gun con­trol. Although fed­er­al­ly licensed gun shops across the coun­try impose some hard-won stan­dards (gov­ern­ment-issued pho­to IDs, lim­its on fire­pow­er, back­ground checks, etc.), con­sumers with a crim­i­nal record or oth­er dis­qual­i­fiers can ille­gal­ly skirt these imped­i­ments by using a straw buy­er — a proxy with a clean record. Or, like Dylann Roof, who is accused of mur­der­ing nine peo­ple in a black South Car­oli­na church, they can slip through a flawed bureau­cra­cy. Hav­ing admit­ted drug pos­ses­sion, Roof should have failed his back­ground check and been barred from legal­ly buy­ing the gun used in the attack.
Or like the myr­i­ad gun buy­ers want­i­ng to avoid fed­er­al­ly licensed shops, they can trav­el from states like New York or Mass­a­chu­setts (with stricter-than-fed­er­al regs) to those where restric­tions are vir­tu­al­ly nonex­is­tent. ​"When deal­ing with firearms traf­fick­ing, it's ​'source' ver­sus ​'mar­ket' states," says ATF Agent Arone. ​"The source areas and their non-restric­tive firearm laws make the pur­chas­ing of firearms eas­i­er ver­sus more restric­tive states. It's as sim­ple as that."
So, where bet­ter to shop than Ver­mont? The only prob­lem is that the laid-back pop­u­lace and pleas­ant land­scape seem to lull some traf­fick­ers into such dizzy­ing stu­pid­i­ty that they speed in cars cop-bait­ed with bust­ed tail­lights. Like the Brook­lynites clocked at 109 miles per hour on Inter­state 91 at 12:30 a.m. while haul­ing cocaine, hero­in and 1,200 glas­sine bags. Or the genius with the cracked wind­shield who stashed 740 one-dose bags of hero­in in a deflat­ed spare tire that didn't fit his car.
Dar­win­ian culling aside, gun-drug run­ners are carv­ing a deep, two-way trench down the North­east — and, like the East India Com­pa­ny before them, leav­ing a tox­ic trail of vio­lence, mis­ery and addiction.
The lit­er­al trail is Inter­state 89 and Inter­state 91, which brack­et the length of Ver­mont. They car­ry milk and cheese from organ­ic farms to trendy city shops, Heady Top­per beer to hip­sters, tourists to scenes of pas­toral beau­ty, and drug and gun run­ners high on dreams of big profits.
I‑91, which con­nects to key sta­tions in the ille­gal cir­cuit — New York City and the hard­scrab­ble Mass­a­chu­setts towns of Spring­field and Holyoke — has been dubbed the Iron Pipeline. It joins up with Vermont's oth­er main north­south route, I‑89, which pass­es through Barre, the for­mer ​"gran­ite cap­i­tal of the world" that was once famous for union strug­gles and col­or­ful in-fight­ing between the anar­chists and social­ists who worked its exten­sive stone quar­ries and carv­ing sheds. Today, Barre, like much of Ver­mont, strug­gles with drug abuse rates that owe much to the inter­state gun-drug circle.
The NRA and the Nation­al Review​'s sim­plis­tic argu­ments notwith­stand­ing, Ver­mont is actu­al­ly an exam­ple of the com­plex and exten­sive web of social costs that flow from the bar­rel of unreg­u­lat­ed guns. In an aver­age year, rough­ly 100,000 Amer­i­cans are killed or wound­ed with firearms; an uncount­able num­ber are destroyed by the trade in ille­gal drugs linked to guns.
Turns out guns do kill peo­ple, espe­cial­ly when joined in lethal syn­er­gy with the lures of hero­in and profit.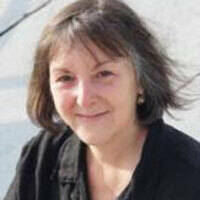 Ter­ry J. Allen
is a vet­er­an inves­tiga­tive reporter/​editor who has cov­ered local and inter­na­tion­al pol­i­tics and health and sci­ence issues. Her work has appeared in the
Guardian, Boston Globe, Times Argus, Harper's
, the Nation​.com, Salon​.com, and
New Sci­en­tist
. She has been an edi­tor at Amnesty Inter­na­tion­al,
In These Times
, and Cor​p​watch​.com. She is also a pho­tog­ra­ph­er. Her por­traits of peo­ple sit­ting in some of the
1900
cars lined up out­side a New­port, Vt., food drop can be seen on www​.flickr​.com/​p​h​o​t​o​s​/​t​e​r​r​y​a​l​l​e​n​/​a​lbums. Ter­ry can be con­tact­ed at tallen@​igc.​org or through www​.ter​ry​jallen​.com.