"You can't just vacuum up all of this data of innocent citizens"
Joel Handley discusses the Chicago Police Department's use of StingRay technology and other high-tech monitoring of people's movements.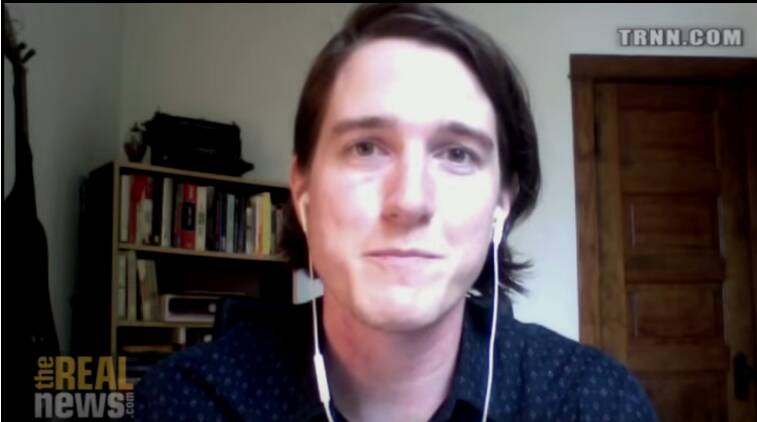 The Chica­go Police Depart­ment (CPD) has been using StingRay tech­nol­o­gy in order to wire­tap cell phones since as ear­ly as 2005 but man­aged to keep the prac­tice entire­ly out of the public's eye for years. These devices can sur­veil cell phone con­ver­sa­tions with­in and around a one-mile radius of the StingRay and, as Joel Han­d­ley report­ed in the May 2015 issue of In These Times, have been used to mon­i­tor the con­ver­sa­tions of #Black­Lives­Mat­ter activists and oth­er movements.
Han­d­ley appeared on The Real News with Sharmi­ni Peries to dis­cuss his sto­ry. He explores not only the dan­gers but also the back­lash against this tech­nol­o­gy led by activists. ​"You can't vac­u­um up all of this data of inno­cent cit­i­zens, or peo­ple sus­pect­ed of no wrong­do­ing," he says. ​"You can't mon­i­tor peo­ple, their move­ments with­in their homes, their move­ments as they go about their dai­ly lives."
Lau­ren Gaynor
is a Sum­mer
2015
In These Times edi­to­r­i­al intern. She is a senior Eng­lish and Pro­fes­sion­al Writ­ing major at Michi­gan State Uni­ver­si­ty and enjoys the­ater, music and every­thing that Chica­go has to offer.