Neil Young: Donald Trump Shouldn't Use My Music. Bernie Sanders Can, Though
Young managed to decry Trump's use of his song, lament rising inequality and endorse Sanders all at the same time.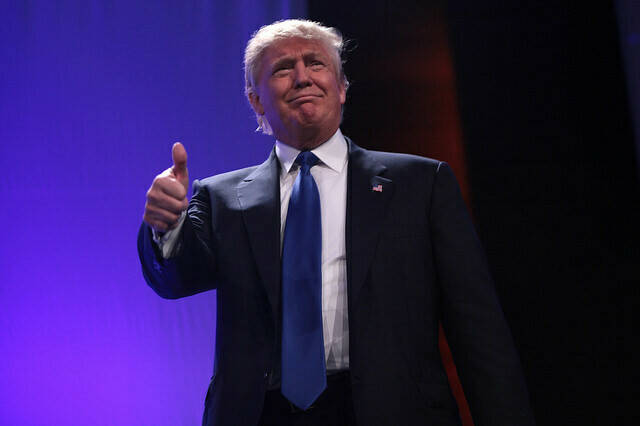 We wanted to make sure you didn't miss the announcement of our new Sustainer program. Once you've finished reading, take a moment to check out the new program, as well as all the benefits of becoming a Sustainer.

Last week Donald Trump launched his presidential campaign. While riding down an escalator into a crowd of supporters — some of whom were paid to be there — Trump chose to play Neil Young's song ​"Rockin' in the Free World" during his entrance.
Neil Young immediately released a statement arguing that Trump did not ask for permission to use the song and even if he had, Young would not have allowed him to use the song. Trump's campaign fought back, claiming that they had paid the ASCAP and BMI rights to use the song.
That didn't placate Young. His manager released a statement to Mother Jones quoting that, ​"Donald Trump's use of ​'Rockin' in the Free World' was not authorized. Mr. Young is a longtime supporter of Bernie Sanders."
Consequently, Sanders used the song as he entered a rally in Denver yesterday and focused his passionate speech on the greed of the ultra-rich. There was an overflow crowd of over 5,000 supporters (none of which seem to have been paid to attend).
Young has long been known to push unabashedly progressive themes through his music and used his statement against Trump to say, ​"Increasingly democracy has been hijacked by corporate interests. The money needed to run for office, the money spent on lobbying by special interests, the ever-increasing economic disparity and the well-funded legislative decisions all favor corporate interests over the people."
Young has always been socially and politically active, even using ​"Rockin' in the Free World" as a criticism of George H. W. Bush. Next week, Young's new album The Monsanto Years will be released, featuring hyper-political critiques of the food industry including Monsanto, Chevron, Starbucks and of course, Walmart.
Become a Sustainer
We surveyed thousands of readers and asked what they would like to see in a monthly giving program. Many of you expressed interest in magazine subscriptions, gift subscriptions, tote bags, events and books —and we've added all of those. Some of you said that cost was an issue, so we've kept our starting tier at just $5 a month—less than 17 cents a day.

Now, for the first time, we're offering three different levels of support, with unique rewards at each level, for you to choose from. Check out the new Sustainer program.
Lauren Gaynor
is a Summer
2015
In These Times editorial intern. She is a senior English and Professional Writing major at Michigan State University and enjoys theater, music and everything that Chicago has to offer.