Neil Young: Donald Trump Shouldn't Use My Music. Bernie Sanders Can, Though
Young managed to decry Trump's use of his song, lament rising inequality and endorse Sanders all at the same time.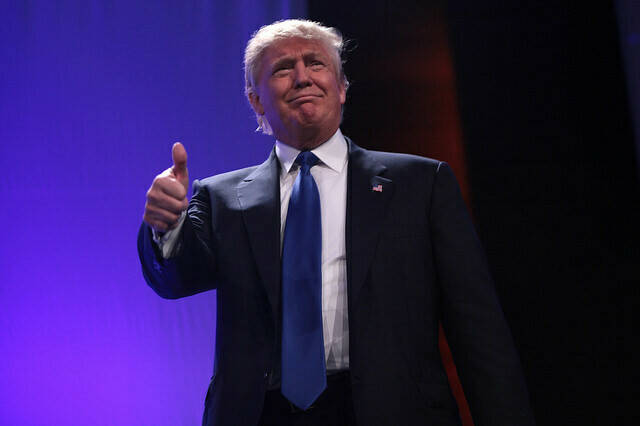 Last week Don­ald Trump launched his pres­i­den­tial cam­paign. While rid­ing down an esca­la­tor into a crowd of sup­port­ers — some of whom were paid to be there — Trump chose to play Neil Young's song ​"Rockin' in the Free World" dur­ing his entrance.
Neil Young imme­di­ate­ly released a state­ment argu­ing that Trump did not ask for per­mis­sion to use the song and even if he had, Young would not have allowed him to use the song. Trump's cam­paign fought back, claim­ing that they had paid the ASCAP and BMI rights to use the song.
That didn't pla­cate Young. His man­ag­er released a state­ment to Moth­er Jones quot­ing that, ​"Don­ald Trump's use of ​'Rockin' in the Free World' was not autho­rized. Mr. Young is a long­time sup­port­er of Bernie Sanders."
Con­se­quent­ly, Sanders used the song as he entered a ral­ly in Den­ver yes­ter­day and focused his pas­sion­ate speech on the greed of the ultra-rich. There was an over­flow crowd of over 5,000 sup­port­ers (none of which seem to have been paid to attend).
Young has long been known to push unabashed­ly pro­gres­sive themes through his music and used his state­ment against Trump to say, ​"Increas­ing­ly democ­ra­cy has been hijacked by cor­po­rate inter­ests. The mon­ey need­ed to run for office, the mon­ey spent on lob­by­ing by spe­cial inter­ests, the ever-increas­ing eco­nom­ic dis­par­i­ty and the well-fund­ed leg­isla­tive deci­sions all favor cor­po­rate inter­ests over the people."
Young has always been social­ly and polit­i­cal­ly active, even using ​"Rockin' in the Free World" as a crit­i­cism of George H. W. Bush. Next week, Young's new album The Mon­san­to Years will be released, fea­tur­ing hyper-polit­i­cal cri­tiques of the food indus­try includ­ing Mon­san­to, Chevron, Star­bucks and of course, Walmart.
Lau­ren Gaynor
is a Sum­mer
2015
In These Times edi­to­r­i­al intern. She is a senior Eng­lish and Pro­fes­sion­al Writ­ing major at Michi­gan State Uni­ver­si­ty and enjoys the­ater, music and every­thing that Chica­go has to offer.