Watch a Very '80s Bernie Sanders Make His Folk Music Album on a Public Access TV Show
A 1987 episode of Sanders's public access television show, Bernie Speaks, provides a look at the presidential candidate's musical side.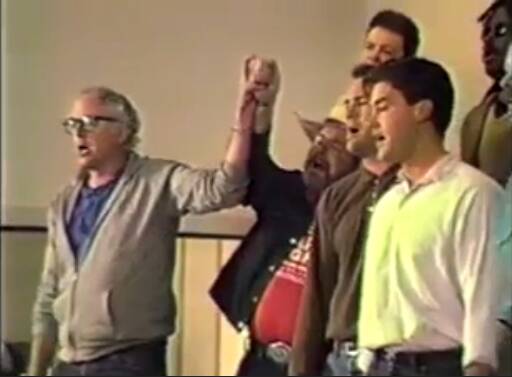 The 1980s were Bernie Sanders's heyday as mayor of Burlington, Vermont. In his free time, he also filmed a public access television show known as Bernie Speaks: The Mayor's Show.
The show, like most public access shows, contains some perhaps unintentional comedy. In 1987, Sanders recorded a folk album and decided to showcase the recording process on an episode of Bernie Speaks. With close up shots of notecards and 1980s animation, the episode opens onto a scene of chorus members with big hair, a producer wearing a hideously ugly sweater and Sanders excitedly running around in a sweatshirt and jeans.
First dug up by Buzzfeed's Andrew Kaczynski, the episode captures Sanders holding hands with one of his fellow chorus members and soulfully recording the track ​"Oh Freedom." We even see Sanders trying his hand at directing the chorus members.
As with most interactions with the socialist senator, the episode does hit a serious note, discussing issues like censorship and inequality. But it also gives a view of a young Sanders joking around while creating something that he believes in.
"When music or poetry comes from people, I think almost by definition, that's good. It seems to me there's very, very little of that is going on today," he says during the episode. The seriousness is diluted by producers joking about his musicality (or lack thereof).
The 30-minute episode comes to an end with Sanders rousingly and passionately proclaiming (while recording the spoken word component of the album), ​"Freedom, dignity, the willingness to stand up against the mighty and the powerful!"
You can watch the episode here.
Support this work
Reader donations, many as small as just $5, are what fund the work of writers like this—and keep our content free and accessible to everyone. If you support this work, will chip in to help fund it?

It only takes a minute to donate. Click here to make a tax-deductible donation.
Lauren Gaynor
is a Summer
2015
In These Times editorial intern. She is a senior English and Professional Writing major at Michigan State University and enjoys theater, music and everything that Chicago has to offer.
Help support this work
As a reader-supported, nonprofit publication, all of the journalism In These Times produces is made possible by readers like you. If you support this work, will you chip in $5 or more to help fund it?