Watch a Very '80s Bernie Sanders Make His Folk Music Album on a Public Access TV Show
A 1987 episode of Sanders's public access television show, Bernie Speaks, provides a look at the presidential candidate's musical side.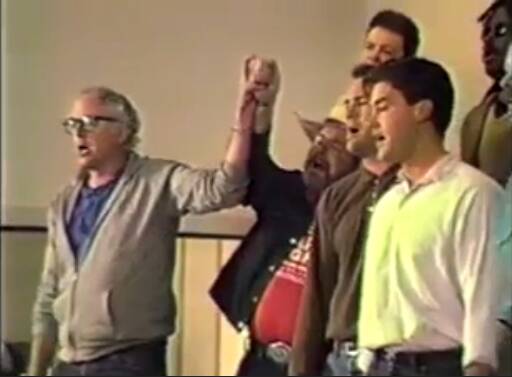 The 1980s were Bernie Sanders's hey­day as may­or of Burling­ton, Ver­mont. In his free time, he also filmed a pub­lic access tele­vi­sion show known as Bernie Speaks: The Mayor's Show.
The show, like most pub­lic access shows, con­tains some per­haps unin­ten­tion­al com­e­dy. In 1987, Sanders record­ed a folk album and decid­ed to show­case the record­ing process on an episode of Bernie Speaks. With close up shots of note­cards and 1980s ani­ma­tion, the episode opens onto a scene of cho­rus mem­bers with big hair, a pro­duc­er wear­ing a hideous­ly ugly sweater and Sanders excit­ed­ly run­ning around in a sweat­shirt and jeans.
First dug up by Buzzfeed's Andrew Kaczyn­s­ki, the episode cap­tures Sanders hold­ing hands with one of his fel­low cho­rus mem­bers and soul­ful­ly record­ing the track ​"Oh Free­dom." We even see Sanders try­ing his hand at direct­ing the cho­rus members.
As with most inter­ac­tions with the social­ist sen­a­tor, the episode does hit a seri­ous note, dis­cussing issues like cen­sor­ship and inequal­i­ty. But it also gives a view of a young Sanders jok­ing around while cre­at­ing some­thing that he believes in.
"When music or poet­ry comes from peo­ple, I think almost by def­i­n­i­tion, that's good. It seems to me there's very, very lit­tle of that is going on today," he says dur­ing the episode. The seri­ous­ness is dilut­ed by pro­duc­ers jok­ing about his musi­cal­i­ty (or lack thereof).
The 30-minute episode comes to an end with Sanders rous­ing­ly and pas­sion­ate­ly pro­claim­ing (while record­ing the spo­ken word com­po­nent of the album), ​"Free­dom, dig­ni­ty, the will­ing­ness to stand up against the mighty and the powerful!"
You can watch the episode here.
Lau­ren Gaynor
is a Sum­mer
2015
In These Times edi­to­r­i­al intern. She is a senior Eng­lish and Pro­fes­sion­al Writ­ing major at Michi­gan State Uni­ver­si­ty and enjoys the­ater, music and every­thing that Chica­go has to offer.