The City of Detroit Withheld Water From 40,000 People–So Activists Tapped the Mayor's Mansion
The action was a bid to draw attention to what the UN has called a violation of human rights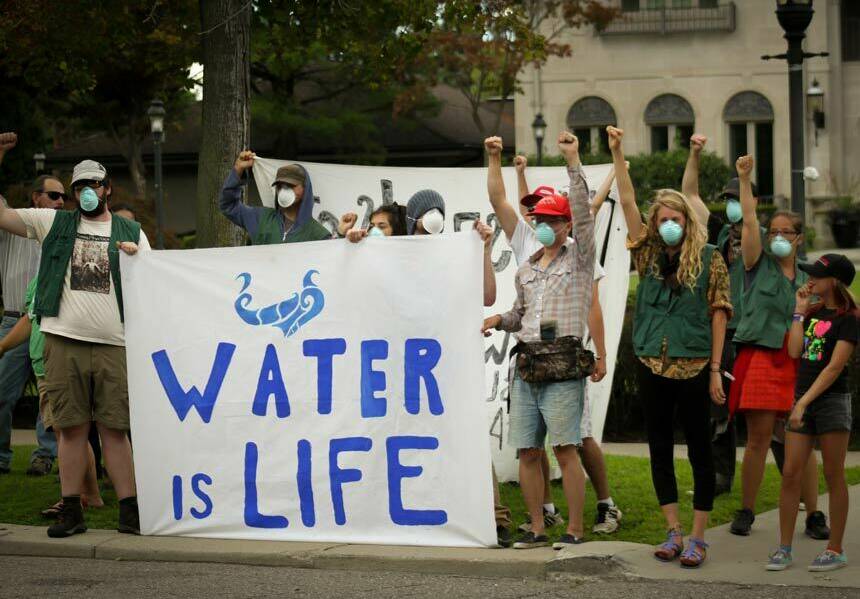 On the morn­ing of August 3, vol­un­teers from the Michi­gan and Detroit Coali­tions Against Tar Sands (MICATS/DCATS) gath­ered at Detroit's Manoogian Man­sion, wear­ing shirts that read ​"Water Is Life" and car­ry­ing large, emp­ty jugs.
'[City officials] are selling this narrative that Detroiters are sitting in their homes with big screen TVs and refusing to pay their water bills. This is just not true. ... These people are living in complete poverty.'
The 4,000-square-foot res­i­dence on the Detroit Riv­er is the home of May­or Mike Dug­gan. The vol­un­teers were there with a sim­ple goal: Force the may­or to share his water with the some 40,000 Detroit res­i­dents whose water has been shut off in the past year because they can't pay their bills.
Because the man­sion is city-owned, they rea­soned, Detroi­ters lack­ing access to water in their own homes should be able to share in its resources. So activists attached hoses to the water taps on the side of the man­sion and began to fill up their jugs, tak­ing about 12 gal­lons in what they hoped would be a wake-up call to the city.
"Deny­ing tens of thou­sands of peo­ple the right to water ought to be crim­i­nal; doing it while liv­ing in a city-owned man­sion is just despi­ca­ble," said orga­niz­er Valerie Jean Blakely.
Detroit's water wars are con­nect­ed to the larg­er fight over con­tro­ver­sial reforms imple­ment­ed in the wake of the city's 2013 bank­rupt­cy. In addi­tion to slash­ing pen­sions and pri­va­tiz­ing sev­er­al key munic­i­pal ser­vices, the city's bank­rupt­cy plan hand­ed con­trol of the Detroit Water and Sew­er­age Depart­ment (DWSD) to a new region­al author­i­ty run by unelect­ed offi­cials. As part of this reor­ga­ni­za­tion, DWSD has inten­si­fied efforts to col­lect debts, announc­ing in March 2014 that it would shut off water ser­vices to 1,500 to 3,000 cus­tomers each week if their bills remained unpaid.
Cor­rup­tion, bad invest­ments and a shrink­ing cus­tomer base have con­tributed to DWSD's grow­ing deficit, which stands at $22 mil­lion, accord­ing to offi­cials. The depart­ment has repeat­ed­ly raised rates in an attempt to pay off its debts, hit­ting res­i­dents with an 8.7 per­cent rate increase for water and sewage in June 2014, fol­lowed one year lat­er by a 7.5 per­cent rate hike. Pri­or to these hikes, the aver­age month­ly water bill in Detroit for a fam­i­ly of four was already near­ly dou­ble the nation­al average.
Envi­ron­men­tal orga­niz­ers say that while Detroit's cit­i­zens suf­fer through a man­made drought, pub­lic resources are flow­ing freely to cor­po­ra­tions. Detroit busi­ness­es such as the Chrysler Group col­lec­tive­ly owe more than $20 mil­lion in back pay­ments to the water depart­ment, but their taps have not been turned off. And Detroit's Marathon Refin­ery received $175 mil­lion in tax breaks from the city for an expan­sion of its oper­a­tions, includ­ing the water-inten­sive process of refin­ing Cana­di­an tar sands oil.
MICATS and DCATS are among dozens of oth­er groups that have sprung up to protest the wave of water shut­offs threat­en­ing Detroit's most vul­ner­a­ble residents.
DeMeeko Williams, co-founder of the Detroit Water Brigade (DWB), a non­prof­it ded­i­cat­ed to pro­vid­ing water access, says the shut­offs are hav­ing anoth­er dev­as­tat­ing effect: They're exac­er­bat­ing the city's fore­clo­sure cri­sis. Many res­i­dents have racked up thou­sands of dol­lars in back pay­ments they must meet in order to get their water turned back on. Some take that mon­ey out of their rent or mort­gage pay­ments. That, in turn, makes them vul­ner­a­ble to los­ing their homes to fore­clo­sure, or if they can't afford upkeep, to condemnation.
So vol­un­teers are tak­ing mat­ters into their own hands. ​"We couldn't let the city go with­out water," says Williams. The DWB has helped thou­sands of res­i­dents access water through a num­ber of inno­v­a­tive schemes. In addi­tion to the relief sta­tions, it has solicit­ed water dona­tions for those in need, dis­trib­uted bar­rels to col­lect rain­wa­ter, and helped cre­ate a water afford­abil­i­ty fund, which cov­ers 10 per­cent of res­i­dents' past-due bills using pri­vate donations.
Blake­ly nar­row­ly escaped hav­ing her own water turned off. Dur­ing a tough win­ter, her fam­i­ly fell more than $1,000 behind on util­i­ty bills. At 7 a.m. on July 14, 2014, a truck oper­at­ed by Hom­rich — a pri­vate con­trac­tor that has been paid as much as $6 mil­lion by the city to con­duct water shut­offs — drove through her neigh­bor­hood and turned off water access in most of the area's homes. For­tu­nate­ly, Blake­ly was awake, and stood on the water access point on her lawn until the truck dri­ver gave up and con­tin­ued on.
That morn­ing, Blake­ly got friends and vol­un­teers togeth­er to pro­vide water, food and san­i­ta­tion kits to peo­ple in need. After the first week of pro­vid­ing these goods to her neigh­bors, Blake­ly says, she felt empow­ered. After the sec­ond week, she felt despair. ​"Even if you gave some­one two gal­lons of water, they would be mak­ing seri­ous life deci­sions with what to do with the water," Blake­ly says. ​"They have to decide if they want to cook, bathe their kids or wash their hands."
Blake­ly and oth­er activists see their work as a stop­gap mea­sure until the city begins tak­ing care of its poor. She's scorn­ful of rhetoric from May­or Dug­gan such as, ​"When some Detroit res­i­dents don't pay their bills, those bills have to be paid by oth­er Detroiters."
She adds that city offi­cials ​"are sell­ing this nar­ra­tive that Detroi­ters are sit­ting in their homes with big screen TVs and refus­ing to pay their water bills. This is just not true," she says. ​"I can tell you that these peo­ple are liv­ing in com­plete poverty."
The shut­offs have drawn a rebuke from the Unit­ed Nations, which says that they are a vio­la­tion of the basic human right: access to clean drink­ing water.
In Octo­ber 2014, Leilani Farha, UN Spe­cial Rap­por­teur on the right to ade­quate hous­ing, made a state­ment urg­ing Detroit's elect­ed offi­cials to take action: ​"Every effort should be made by all lev­els of gov­ern­ment to ensure that the most vul­ner­a­ble are not evict­ed from or lose their hous­ing as a result of water shut­offs or water bill arrears."
Thus far, the city hasn't budged. Though it has thrice imple­ment­ed brief mora­to­ri­ums and tak­en mea­sures such as increas­ing staffing at the DWSD call cen­ter, improv­ing cus­tomer noti­fi­ca­tions of impend­ing shut­offs and cre­at­ing pay­ment plans intend­ed to help cus­tomers stay cur­rent on the bills, activists say these amount to lit­tle more than a Band-Aid. City Coun­cil Pres­i­dent Bren­da Jones did not respond to In These Times​'s request for comment.
So MICATS and DCATS are using direct action to raise a ruckus.
Blake­ly says of tap­ping the mayor's man­sion, ​"It real­ly was a lib­er­a­tion. It might not have been a lot of water but it was in your face. We made a statement."
Lau­ren Gaynor
is a Sum­mer
2015
In These Times edi­to­r­i­al intern. She is a senior Eng­lish and Pro­fes­sion­al Writ­ing major at Michi­gan State Uni­ver­si­ty and enjoys the­ater, music and every­thing that Chica­go has to offer.