We Desperately Need Medicare for All. These 10 Statistics Prove It.
As the House Rules Committee officially begins discussing Medicare for All, here's a reminder of the disastrous state of American healthcare.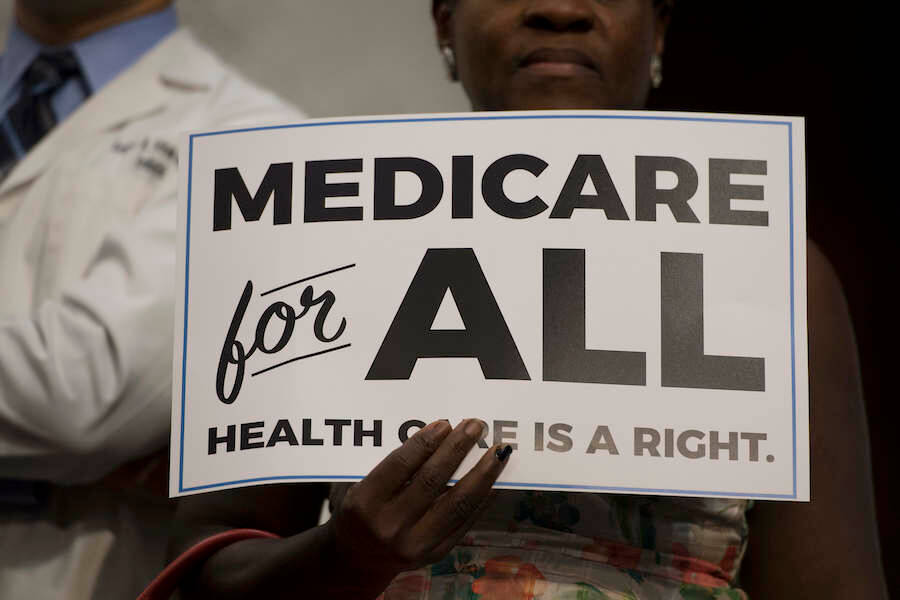 It's a big week for Medicare for All. Today the House Rules Com­mit­tee will hold its first-ever con­gres­sion­al hear­ing to dis­cuss U.S. Rep. Prami­la Jaya­pal's (D‑Wash.) Medicare for All Act of 2019, and on Wednes­day, the Con­gres­sion­al Bud­get Office will release a report address­ing many of the key ques­tions about sin­gle-pay­er health­care. This dis­cus­sion could­n't come soon enough. Here's a sta­tis­ti­cal snap­shot of the grav­i­ty of Amer­i­ca's cur­rent health­care crisis.
28

,

300

,

000

- Peo­ple unin­sured in the Unit­ed States in the first quar­ter of

2018

.

530

,

000

- Esti­mat­ed num­ber of fam­i­lies who file bank­rupt­cy each year due to med­ical issues and bills

44

% - Amer­i­cans who didn't go to a doc­tor when they were sick or injured because of cost, according

34

% - Can­cer patients who bor­rowed mon­ey from friends or fam­i­ly to pay for care in

2016

79

% - Increased death rate for can­cer patients who filed for bank­rupt­cy in

2016

$

75

,

375

- Cost of a heart bypass oper­a­tion in

2016

in the U.S.
$

15

,

742

 — Cost of a heart bypass oper­a­tion in

2016

in the Netherlands
$

1

,

443

- U.S. per capi­ta spend­ing on phar­ma­ceu­ti­cal costs in

2016

, the high­est in the world

840

% - Increase in spend­ing for insulin from

2007

to

2017

on Medicare Part D (Medicare's pre­scrip­tion drug plan)
$

5

,

110

,

000

,

000

,

000

- Esti­mat­ed

10

-year cost sav­ings of the sin­gle-pay­er health­care sys­tem pro­posed in Sen. Bernie Sanders' Medicare for All Act