The Clintons' Dominance of Democratic Politics Is Over—And They Will Not Be Remembered Fondly
Self-inflicted wounds, an out-of-touch candidate and a party more concerned about Wall Street than the working class sealed the Clinton campaign's defeat.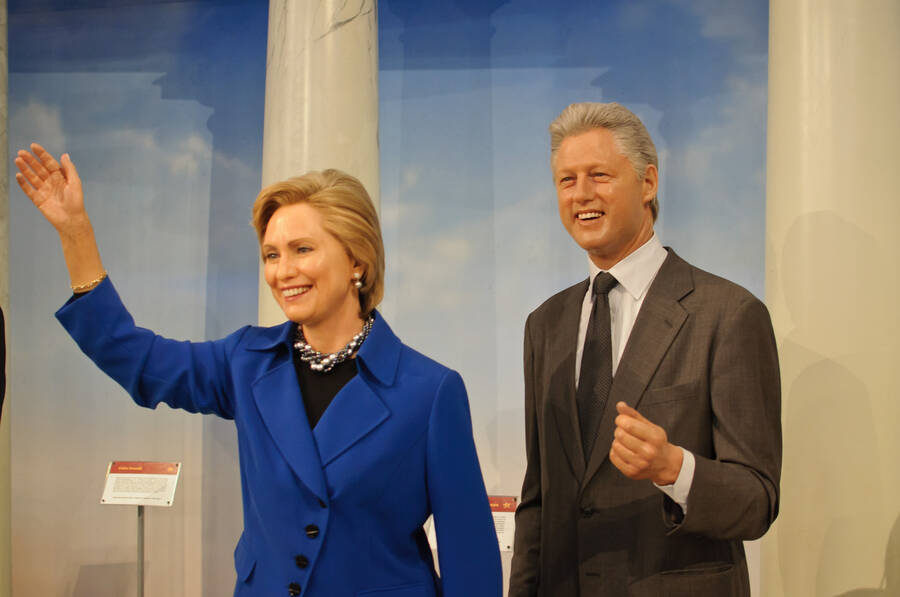 In the after­math of a polit­i­cal cat­a­stro­phe as dev­as­tat­ing of the elec­tion of Don­ald Trump as pres­i­dent of the Unit­ed States, you've got two choic­es. You can blame the elites or blame the peo­ple. I'm gonna go with the elites.

Many lib­er­al jour­nal­ists, how­ev­er have tak­en the oppo­site view. To para­phrase Bertolt Brecht, in the after­math of Hillary Clinton's stun­ning loss, they have demand­ed that we dis­solve the peo­ple and elect anoth­er. The Clin­ton­istas have attempt­ed to pin the blame for this fias­co on the vot­er groups they detest the most: the white work­ing class, the mil­len­ni­als, and the Left. Clin­ton sup­port­er Jill Fil­ipovic opined that Hillary was too good for us: ​"Sor­ry Amer­i­ca, you did­n't deserve her," she tweet­ed. Many oth­er Clin­tonites in the media con­curred. To Vir­ginia Hef­fer­nan, Hillary Clin­ton was not just a can­di­date. Instead, she ​"is an idea, a world-his­tor­i­cal hero­ine, light itself" who ​"did every­thing right in this cam­paign… She can­not be fault­ed, crit­i­cized, or ana­lyzed for even one more second."
What we saw was gross political malpractice on the part of Democratic Party elites generally and Team Clinton specifically.
But out­side the pro-Clin­ton media bub­ble, ordi­nary Amer­i­cans had a far less rosy view of Dear Leader Hillary.
Clin­ton came with­in strik­ing dis­tance of win­ning this thing; that much is clear. Nor­mal­ly, when, like Hillary, you begin your cam­paign with approval rat­ings that are already under water, and you're also run­ning when your own par­ty has held the White House for two con­sec­u­tive terms, I'd say it would be an uphill climb to vic­to­ry. On the oth­er hand, Hillary was run­ning against Don­ald Trump, a man who, at the time of the elec­tion, was despised by even more peo­ple than she was. Against a nor­mal Repub­li­can like McCain or Rom­ney, Hillary prob­a­bly would have lost deci­sive­ly. But against Trump, she was the odds-on favorite. The polls were tight but they almost always showed Hillary in the lead. And it end­ed up being a close, and there­fore winnable, elec­tion. The mar­gins were close enough that a com­pe­tent­ly run cam­paign could and should have put Clin­ton over the top.
What we saw instead was gross polit­i­cal mal­prac­tice on the part of Demo­c­ra­t­ic Par­ty elites gen­er­al­ly and Team Clin­ton specif­i­cal­ly. Yes, fac­tors out­side of the cam­paign's con­trol, rang­ing from the Comey let­ter to racism, sex­ism, and more, sure­ly con­tributed to her defeat. But it's also become clear that a series of fatal mis­cal­cu­la­tions and spec­tac­u­lar strate­gic blun­ders by the par­ty and the Clin­ton cam­paign is what ulti­mate­ly sealed their can­di­date's fate.
Here are some of them:
1. This one isn't so much why-Hillary-lost but why-the-Democ­rats-lost: the Clin­tons did the most thor­ough job of clear­ing the Demo­c­ra­t­ic pri­ma­ry field of any can­di­date in mod­ern his­to­ry. They threw their weight around and made cer­tain that they had endorse­ments and sup­port from just about every major donor, par­ty offi­cial, par­ty orga­ni­za­tion, and inter­est group orga­ni­za­tion (such as labor, repro­duc­tive rights groups, envi­ron­men­tal groups, etc.).
The Clin­tons have a his­to­ry of pun­ish­ing per­ceived dis­loy­al­ty, so it's easy to see why these groups knuck­led under. Every poten­tial can­di­date stayed out except Bernie, who shocked every­one when what was sup­posed to be a protest can­di­da­cy turned into a major threat. But if the pri­ma­ry process had been open and com­pet­i­tive, we almost cer­tain­ly would have end­ed up with a stronger and more pop­u­lar can­di­date. I don't know who that would have been – maybe Eliz­a­beth War­ren, maybe Joe Biden, maybe Sher­rod Brown, maybe Kirsten Gilli­brand, maybe some­one else. In any case, the par­ty, and the coun­try, would have been far bet­ter off. Demo­c­ra­t­ic Par­ty elites share the blame here, because they nev­er chal­lenged the Clin­tons' attempts to ensure a coronation.
2. Clin­ton also shot her­self in the foot by her own arro­gant behav­ior. Set­ting up the pri­vate email serv­er at the State Depart­ment, mak­ing those buck­rak­ing Wall Street speech­es, refus­ing to cut her ties to the Clin­ton Foun­da­tion (and thus avoid the appear­ance of a con­flict of inter­est) – all of those were Clin­ton's freely made choic­es, and as such they were com­plete­ly avoidable.
Yes, the email scan­dal was a load of bunk, but why in the world would she make the stu­pid deci­sion to set up a pri­vate serv­er in the first place, which gra­tu­itous­ly pro­vid­ed end­less rounds of ammu­ni­tion for her many polit­i­cal ene­mies? She knew she'd be run­ning for pres­i­dent again, and it's not like the right hasn't been hell­bent on destroy­ing her for, oh, the past quar­ter-cen­tu­ry or so. It's worth point­ing out that Pres­i­dent Oba­ma has had the dis­ci­pline and smarts to avoid that kind of self-destruc­tive behav­ior. He and his admin­is­tra­tion nev­er gave off the faintest whiff of scan­dal, which is why his ene­mies were nev­er able to bring him down, try as they might. Seri­ous­ly, what was Clinton's excuse here?
Every one of those dan­ger­ous mis­judg­ments was a self-inflict­ed wound that nev­er stopped bleed­ing, and con­firmed the well-found­ed per­cep­tion that Clin­ton was enti­tled and out of touch. That Clin­ton nev­er seemed to learn from her past was an omi­nous sign that her pres­i­den­cy would have been chock­ful of sim­i­lar mis­ad­ven­tures. After decades of Clin­ton dra­ma, the pub­lic was weary, and no wonder.
3. Relat­ed­ly, when Hillary made these fool­ish deci­sions, why did­n't the peo­ple around her stop her? And that points to anoth­er rea­son why she lost: the medi­oc­rity of her advis­ers and cam­paign staff. The Clin­tons, who seem to prize loy­al­ty over com­pe­tence, have a long and trou­bling his­to­ry of sur­round­ing them­selves with extra­or­di­nar­i­ly unsa­vory peo­ple – sleaze­balls and hacks like Mark Penn, Lan­ny Davis, and Dick Mor­ris, to name just a few. This time around, there weren't any mem­bers of Team Clin­ton who seemed quite that clown­ish, so I assumed the per­son­nel deci­sions were wis­er. From the out­side, the cam­paign look pro­fes­sion­al and com­pe­tent. But as we've been dis­cov­er­ing, that per­cep­tion belied the reality.
4. There is also abun­dant evi­dence that Clinton's cam­paign roy­al­ly screwed up its strat­e­gy and bad­ly mis­al­lo­cat­ed resources. Clin­ton won the pop­u­lar vote by over 2 mil­lion votes yet lost key Rust Belt states by razor-thin mar­gins. Clinton's much-hyped, data-dri­ven get-out-the-vote oper­a­tion was a shock­ing fail­ure. Work­ing with out­dat­ed vot­er lists, it mis­tak­en­ly tar­get­ed large num­bers of Trump vot­ers. In Michi­gan, state and local offi­cials ​"were run­ning at rough­ly one-tenth the paid can­vass­er capac­i­ty that Sen. John Ker­ry (D‑Mass.) had when he ran for pres­i­dent in 2004." In states like Ohio, Team Clinton's efforts neglect­ed tra­di­tion­al Demo­c­ra­t­ic con­stituen­cies like African-Amer­i­cans in favor of tar­get­ing far less favor­able demo­graph­ics like upscale Repub­li­can women. Clin­ton did not appear in Wis­con­sin, a state that she lost, after the pri­ma­ry in April, and nei­ther did Barack or Michelle Oba­ma. One Clin­ton offi­cial admit­ted that the cam­paign didn't do more in some states where they knew were vul­ner­a­ble because they were too busy play­ing mind games with Trump: they believed they ​"could keep Trump away — by act­ing over­ly con­fi­dent about their chances." Heck­u­va job, Team Clinton!
5. The­da Skocpol has cit­ed anoth­er fac­tor in Clinton's loss: the Democ­rats' lack of orga­ni­za­tion­al infra­struc­ture in non-urban areas. The GOP has a strong orga­ni­za­tion­al base in these regions, includ­ing get-out-the-vote efforts run by the Chris­t­ian right, the NRA, the Koch orga­ni­za­tions, and the Repub­li­can Par­ty itself. But the Dems have let their own par­ty orga­ni­za­tions with­er on the vine, and the unions which were once the Democ­rats' strong­hold in the crit­i­cal Rust Belt region have declined dra­mat­i­cal­ly. When it comes to get­ting vot­ers to the polls in rur­al areas, the Democ­rats are now at a tremen­dous struc­tur­al dis­ad­van­tage. To be sure, this a par­ty-wide, rather than a Clin­ton-only, fail­ure. But Pres­i­dents Bill Clin­ton and Barack Oba­ma bear strong respon­si­bil­i­ty here. Each them served for two terms but showed lit­tle inter­est in build­ing the party.
6. Final­ly, per­haps most con­se­quen­tial of all was the cam­paign's fail­ure to advance a strong eco­nom­ic mes­sage. Team Clinton's cen­tral strat­e­gy was not to mobi­lize the base, but to appeal to crossover vot­ers. That irre­press­ible Clin­ton instinct to tri­an­gu­late reared its ugly head one more time, and the result has been a world-his­toric cat­a­stro­phe. Clinton's ads and mes­sag­ing stressed the Trump's déclassé boor­ish­ness rather than a pop­ulist eco­nom­ic mes­sage that would have res­onat­ed with work­ing class vot­ers of all races. But the votes of Repub­li­can col­lege-edu­cat­ed women they were chas­ing nev­er mate­ri­al­ized, while turnout and Clin­ton's vote shares among African-Amer­i­cans, Lati­nos, mil­len­ni­als, and work­ing class whites were sig­nif­i­cant­ly down from Oba­ma's in 2012. In stroke of bit­ter poet­ic jus­tice, the fruits of Clin­tons' own long-ago poli­cies came back to haunt them. NAF­TA and oth­er Clin­ton ​"free" trade deals dev­as­tat­ed the Rust Belt and cre­at­ed the rav­aged com­mu­ni­ties and the despair that com­pelled many work­ing class vot­ers in those areas pull the lever for the despi­ca­ble Trump.
A post-elec­tion report by the poll­ster Stan­ley Green­berg con­firms that Clin­ton's deci­sion to shun a pro­gres­sive eco­nom­ic appeal was a fatal error. Green­berg found that ​"polls showed fair­ly resilient sup­port with white work­ing class women, until the Clin­ton cam­paign stopped talk­ing about eco­nom­ic change." When the Green­berg team test­ed a Demo­c­ra­t­ic mes­sage attack­ing Trump for his char­ac­ter vs. a mes­sage ​"demand­ing big eco­nom­ic changes" and attack­ing Trump for ​"sup­port­ing for trick­le-down and pro­tect­ing cor­po­rate spe­cial inter­ests," they found that the eco­nom­ic mes­sage ​"per­formed dra­mat­i­cal­ly bet­ter," par­tic­u­lar­ly among key vot­er groups like mil­len­ni­als, white unmar­ried women and white work­ing class women.
The elec­tion is over, and with it, so it is the Clinton's quar­ter-cen­tu­ry long dom­i­na­tion of Demo­c­ra­t­ic pol­i­tics. And so late­ly I've been think­ing about the Clin­tons' his­tor­i­cal lega­cy. It's not a pret­ty pic­ture. The neolib­er­al eco­nom­ic poli­cies of Bill Clin­ton, which Hillary strong­ly sup­port­ed – free trade, dereg­u­la­tion, the obses­sion with deficit reduc­tion – led to soar­ing lev­els of eco­nom­ic inequal­i­ty, flat or declin­ing wages for most Amer­i­cans, and record low rates of labor par­tic­i­pa­tion. The Clin­ton crime bill ruined count­less lives, espe­cial­ly black lives. Wel­fare ​"reform" immis­er­at­ed poor fam­i­lies and led to a dra­mat­ic upswing in rates of extreme pover­ty. Under the watch of Pres­i­dents Clin­ton and Oba­ma, the Demo­c­ra­t­ic par­ty at the state and local lev­el was allowed to slow­ly die away. Today, the Demo­c­ra­t­ic par­ty as an insti­tu­tion is prob­a­bly weak­er than it's ever been at any time in its long his­to­ry. The Democ­rats now con­trol none of the three branch­es of gov­ern­ment and only 18 gov­er­nor­ships and 13 state leg­is­la­tures. In the weeks lead­ing up to the elec­tion, many polit­i­cal observers were con­fi­dent­ly pre­dict­ing an his­toric Trump defeat fol­lowed by a melt­down of the GOP. But – plot twist! – it's the Demo­c­ra­t­ic par­ty that has col­lapsed into a smok­ing heap of rubble.
Team Clin­ton repeat­ed­ly reas­sured us that Hillary was the most high­ly qual­i­fied and most hyper-com­pe­tent per­son evah! to run for pres­i­dent. They pos­sessed the unshake­able con­vic­tion that they, the best and the bright­est, could not pos­si­bly fail – so much so that on elec­tion day, her aides pre­ma­ture­ly uncorked the cel­e­bra­to­ry cham­pagne. So extreme was their reck­less­ness that they actu­al­ly want­ed to run against Trump. Out of the out­ra­geous hubris, com­pla­cen­cy, and incom­pe­tence of Hillary's pres­i­den­tial cam­paign came the Clin­tons' hor­ri­fy­ing part­ing gift to Amer­i­ca: Pres­i­dent Don­ald Trump. This is where the Clin­tons led us. Trump's elec­tion, and the night­mare to which Amer­i­ca is awak­en­ing, is on them. And it is unforgivable.
I sus­pect that his­to­ry is not going to look kind­ly at Bill and Hillary Clin­ton. No, not very kind­ly at all.
Kath­leen Geier
has writ­ten for
The Nation
,
The Baf­fler
and
The New Repub­lic
. She lives in Chicago.