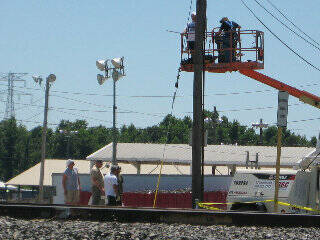 At a time of year when many work­ers are tak­ing fam­i­ly vaca­tions, ura­ni­um work­ers at Honeywell's plant in Metrop­o­lis, Ill. won't have that option. On July 27, the com­pa­ny announced a vaca­tion freeze. Unit­ed Steel­work­ers Local 7 – 669, which rep­re­sents work­ers at the plant, claims that the deci­sion is just anoth­er sal­vo in a three-year-long bat­tle by Hon­ey­well to bust the union.
Hon­ey­well is cur­rent­ly in the process of rehir­ing sev­er­al hun­dred oper­a­tions work­ers at the ura­ni­um plant who were laid off in July of 2012 when the plant shut down for earth­quake-safe­ty improve­ments request­ed by the Nuclear Reg­u­la­to­ry Commission.
Ear­li­er this year, Hon­ey­well began slow­ly rehir­ing the laid-off work­ers — both hourly union employ­ees and non-union salary employ­ees — to restart the plant. Now all but 21 of the 200 union employ­ees have been rehired as the plant moves toward full oper­a­tional­i­ty. But instead of rehir­ing the final 21 union work­ers, Hon­ey­well is pro­ceed­ing short-staffed and call­ing in work­ers on their days off to make up the gap. In order to put pres­sure on the com­pa­ny to rehire the 21 laid-off union mem­bers, some union employ­ees are refus­ing to work any over­time (and pass­ing up the time-and-half pay). In response, Hon­ey­well announced that because of the staffing short­age, no work­ers can take a vaca­tion this summer.
In a July 27, 2013 email to employ­ees, Hon­ey­well Metrop­o­lis Oper­at­ing Man­ag­er Jim Pritch­ett wrote:
Effec­tive imme­di­ate­ly, all vaca­tions are can­celled and no fur­ther vaca­tions are to be grant­ed in oper­a­tions includ­ing indi­vid­u­als' days — that includes all hourly and salaried staff. The pur­pose is to assure we are staffed to sup­port oper­a­tions and to con­tin­ue to get the remain­ing units on line so we can sup­port our cus­tomers. … I am dis­ap­point­ed it has got­ten to this but we have no choice due to employ­ees not respond­ing to call ins and tak­ing care of their respon­si­bil­i­ties…. This vaca­tion freeze will be lift­ed as soon as the busi­ness needs of the plant are being effec­tive­ly met by peo­ple com­ing when they are called.
The union spec­u­lates that Hon­ey­well has an ulte­ri­or motive for not hir­ing the remain­ing 21 work­ers: It doesn't want to rehire Local 7 – 669 Pres­i­dent Stephen Lech. Under the union con­tract, Hon­ey­well is oblig­at­ed to rehire all of the laid-off union employ­ees accord­ing to a mutu­al­ly agreed upon list devel­oped accord­ing to work­ers' qual­i­fi­ca­tions and senior­i­ty. The next per­son on the list is Lech.
​"It's direct­ly tar­get­ing me for my work as union pres­i­dent," says Lech, who thinks that Hon­ey­well is try­ing to send a mes­sage about the length that the com­pa­ny is will­ing to go to crush the union.
The union says that instead of fol­low­ing the list, Hon­ey­well has told the final 21 work­ers that they must com­pete against out­side appli­cants and reap­ply for their jobs as if they were new hires direct­ly off the street.
​"It's a vio­la­tion of the con­tract," Lech says. ​"How can Hon­ey­well do it? Well, Hon­ey­well does what­ev­er they want."
​"It will take six months before the case even gets before an arbi­tra­tor and anoth­er six months before the arbi­tra­tor rules," he says.
Work­ers are refus­ing over­time in the hopes that they can resolve the issue soon­er. Many were plan­ning fam­i­ly vaca­tions and were out­raged by the vaca­tion moratorium.
​"It's a moral­ly bank­rupt com­pa­ny that pun­ish­es their employ­ees for staffing short­ages it cre­at­ed out of spite," reads a text mes­sage to Work­ing In These Times by one Hon­ey­well employ­ee who wished to remain anony­mous for fear of being fired. ​"Two years ago we took their lousy con­tract and they're still kick­ing us."
Hon­ey­well did not respond to request for com­ment for this piece.
Lech says that despite being laid off, he is unde­terred from his work for the union.
​"This absolute­ly will not stop me from doing my job," says Lech. ​"Heck, I got more time than ever to work as union president."