How Do We Keep the BP Spill Cleanup Workers Safe?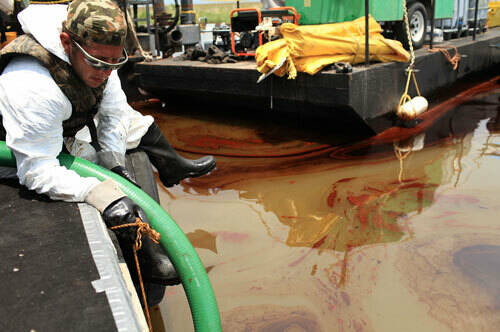 Reader donations, many as small as just $1, have kept In These Times publishing for 45 years. Once you've finished reading, please consider making a tax-deductible donation to support this work.
The House Education and Labor Committee held a hearing on Wednesday to assess worker safety in the oil industry from the rig to the shoreline. As you might expect, much of the testimony focused on safety in the burgeoning oil spill cleanup industry.
Thanks to the ongoing Deepwater Horizon disaster, over 33,000 workers are taking part in the largest environmental cleanup effort in U.S. history.
There has simply never been a spill like this one. Occupational safety experts are scrambling to bring their expertise to bear in a new context. We rely on them to answer basic questions, such as: What kind of toxins are out there? What risks do they pose to workers? What's the best way to mitigate those risks?
Dr. David Michaels, the head of the Occupational Safety and Health Administration (OSHA) briefed the committee on his agency's efforts to keep cleanup workers safe.

For one thing, OSHA doesn't trust BP to monitor the workers' exposure to toxic chemicals. Michaels testified that OSHA inspectors have been dispatched to the Gulf to monitor exposure levels independently.
OSHA is helping to establish which personal protective equipment (PPE) is necessary for each task. Some pundits have demanded respirators for all cleanup workers. That sounds good, but not everybody needs a respirator. According to Michaels, most workers are working with weathered oil, from which the volatile compounds have already evaporated. If the oil isn't giving off fumes, a respirator isn't helpful.

"[R]espirators are recommended at the source, whereas evidence does not support use of respirators in other locations and job duties," Michaels said.

Compared to toxic fumes, heat stroke is a more mundane, but more immediately lethal threat. According to Michaels, cleanup workers have already suffered over 100 heat-related injuries, some of them very serious. Workers routinely pull 12-hour shifts in the summer heat, clad in bulky personal protective equipment. Under these conditions, body temperature can rapidly rise to lethal levels. Saddling workers with unnecessary respirators could increase their risk of heat stroke.

OSHA is insisting that BP adhere to a heat injury prevention program. Every job site must have a monitor who ensures that rest and fluid protocols are being followed. The monitor is trained to pull workers off the job at the first sign of heat injury.

Dr. John Howard, director of the National Institute for Occupational Health and Safety (NIOSH), said that his agency had launched an ​"unprecedented" effort to count and survey cleanup workers. NIOSH is collecting detailed information about what each worker is doing, how long they spend on the task, what substances they've been exposed to, and whether they're wearing protective equipment. The questionnaires are available in English, Spanish, and Vietnamese. NIOSH also set up a secure website for workers to fill out the survey online.
NIOSH has already counted ("rostered") 14,000 workers. It's not the most glamorous assignment, but in the long run, this information will help to establish links between exposure to toxins and human health.
Your donation makes In These Times possible
Lindsay Beyerstein
is an award-winning investigative journalist and In These Times staff writer who writes the blog Duly Noted. Her stories have appeared in Newsweek, Salon, Slate, The Nation, Ms. Magazine, and other publications. Her photographs have been published in the Wall Street Journal and the New York Times' City Room. She also blogs at The Hillman Blog (http://​www​.hill​man​foun​da​tion​.org/​h​i​l​l​m​a​nblog), a publication of the Sidney Hillman Foundation, a non-profit that honors journalism in the public interest.