When Temp Workers Die While Being Taken to the Job, Who's Responsible?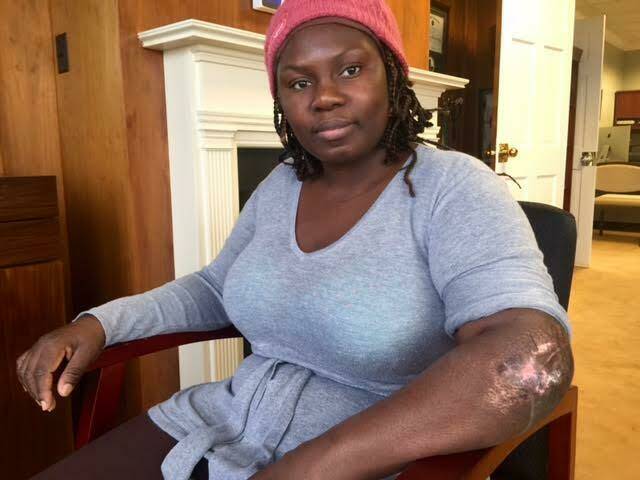 On Sep­tem­ber 24, just after 3 PM, a 36-year-old Hait­ian immi­grant named Mar­i­an­ie Sanon was sit­ting on a par­ti­cle­board bench in the back of a van over­crowd­ed with 22 oth­er Hait­ian temp work­ers on their way to the night shift at a fac­to­ry in Evans­ville, Indi­ana. She noticed that the van dri­ver seemed to be dri­ving dan­ger­ous­ly fast down Inter­state 69. Sanon had recent­ly moved from Mia­mi to Wash­ing­ton, Indi­ana, on the hope of land­ing a good job at the local branch of a temp agency called Ser­vic­eX­press. This would have been her fourth day temp­ing at a plant oper­at­ed by Ameri­Qual, an Evans­ville, Indi­ana-based man­u­fac­tur­er of prepack­aged mil­i­tary food for the Depart­ment of Defense.
The last thing Sanon remem­bers of the van ride was watch­ing the dri­ver — a 30-year-old man named James Allen who helped his father run a van ser­vice that he called ​"Hait­ian Trans­porta­tion" — attempt a high-speed, slalom-like maneu­ver to get around a truck.
Three days lat­er, Sanon emerged from a coma in a hos­pi­tal in Evans­ville, Indi­ana. She had suf­fered severe head trau­ma, had sev­er­al frac­tured ver­te­brae, a bone in her left arm had been shat­tered and she still had shards of glass still imbed­ded in her body.
The acci­dent had left two of her fel­low pas­sen­gers dead. As it tum­bled across the inter­state, the van dis­in­te­grat­ed, eject­ing Sanon onto the pave­ment and send­ing more than a dozen oth­er sur­vivors to the hos­pi­tal. As she lay in her hos­pi­tal bed and gath­ered infor­ma­tion about her co-work­ers, Sanon says she began to won­der why she had heard noth­ing from the temp agency — Ser­vic­eX­press, a sub­sidiary of Delaware-based Ser­vice Gen­er­al — that deployed her, or from AmerQual itself. Not only had there been no offer of help, but not a sin­gle per­son from either firm had checked in, called, vis­it­ed or sent a let­ter, Sanon says.
Sanon called Ser­vic­eX­press and spoke with a man­ag­er. ​"She said she was sor­ry for what hap­pened to me," Sanon told me, ​"but that she can­not do any­thing for me."
Sanon soon received a let­ter from ServiceXpress.
Dear Employ­ee,

We thank you for your time that you have been with Ser­vic­eX­press; we want to help in some way from the trau­mat­ic expe­ri­ence that you have been through. We hope this gift card and food bas­ket can help you get back on your feet. We want to wish you the best regards in every­thing you do.

Thank you,

Ser­vic­eX­press Staff
Aside from the $50 Wal­mart cred­it, Sanon says that she soon received a pay­check from Ser­vic­eX­press that came to $71.00. (She says she nev­er received the food bas­ket ref­er­enced in the let­ter and has heard noth­ing from Ameri­Qual.) Mean­while, Sanon, who was air­lift­ed from the crash site, began receiv­ing the first of her med­ical bills (many more are on their way), which quick­ly amount­ed, she says, to rough­ly $105,000.
Out of work and unable to pay rent on her apart­ment, Sanon soon became home­less. She cur­rent­ly sleeps in a women's shel­ter in down­town Evansville.
The sub­con­trac­tor maze
Steven Chan­cel­lor is the Chair­man of Ameri­Qual, accord­ing to Bloomberg. He has an ardent pas­sion for big-game hunt­ing on African safari trips and has even used his wealth and influ­ence to lob­by the Botswanan gov­ern­ment to lift its ban on lion hunt­ing. Chan­cel­lor has also proven an ener­getic Repub­li­can activist, host­ing a high-pro­file fundrais­er for Mitt Rom­ney in 2012. Before that, he report­ed­ly held a Repub­li­can fundrais­er in 2004 elec­tion of Pres­i­dent George W. Bush who, from the White House, assist­ed Chancellor's cru­sade against Botswana's lion hunt­ing ban.
Imme­di­ate­ly after the I‑69 van crash, Ameri­Qual expressed sym­pa­thy for the vic­tims but also made clear that it had enlist­ed the work­ers through Ser­vic­eX­press, which sent the temps to the fac­to­ry for $11 per hour. Yet Ser­vic­eX­press, in turn, empha­sized that the van's dri­ver worked for a dif­fer­ent busi­ness. James Allen, the van's dri­ver, was recent­ly arrest­ed for his role in the van crash and Neil Chap­man, Sanon's attor­ney, says Allen like­ly has lit­tle in assets for the crash vic­tims to draw from. (Ameri­Qual declined to pro­vide com­ment for this story.)
Since the Great Reces­sion, the tem­po­rary staffing indus­try has boomed, and temp employ­ment has account­ed for sig­nif­i­cant por­tions of rebound­ing job growth. Temps — who are employed by agen­cies and whose labor is sim­ply rent­ed out by third-par­ty busi­ness­es — have become seen as some of America's most vul­ner­a­ble work­ers. Labor advo­cates say that, in treat­ing work­ers as replace­able units of labor, the temp indus­try can over­look work­ers' most basic human needs. Through the lay­er­ing of con­trac­tors and sub­con­trac­tors, many cor­po­ra­tions who rely on temps have effec­tive­ly shield­ed them­selves from numer­ous forms of lia­bil­i­ty for temps they retain through third-par­ty agencies.
Labor advo­cates across the coun­try have iden­ti­fied the safe­ty of vans that trans­port temp work­ers to job sites as a key issue. In 2013, ProP­ub­li­ca pub­lished a dia­gram, drawn by a temp work­er, of an over­crowd­ed van said to be a typ­i­cal fea­ture of the New Jer­sey temp econ­o­my. Work­ers in New Jer­sey I spoke with this week say that they are still being trans­port­ed in woe­ful­ly over­crowd­ed conditions.
"The prob­lems with the vans from the agen­cies is that they pack them in over capac­i­ty," a Span­ish-speak­ing temp work­er in north­ern New Jer­sey told me through a trans­la­tor and labor orga­niz­er named Louis Kim­mel, the exec­u­tive direc­tor of New Labor. ​"Log­i­cal­ly when it's over capac­i­ty and no one has seat­belts on, for exam­ple — and some­times dri­vers might be dri­ving when they're still drunk — we're putting our­selves at risk just by get­ting into a full van like that."
Sanon her­self expressed sur­prise at the lack of respon­si­bil­i­ty assumed by Ameri­Qual and Ser­vic­eX­press after the crash. ​"I was like, how am in the hos­pi­tal and why am I not hear­ing from any­one?" Sanon said. ​"I'm very strong, but real­ly, I need help. I can­not do this by myself."
"A hero­ic effort"
Bam­dad Bahar, the pres­i­dent of Ser­vic­eX­press, said that his office in Indi­ana did more than just send Wal­mart cards and food bas­kets. "[O]ur team there pro­vid­ed round the clock sup­port for the employ­ees, includ­ing tak­ing fam­i­ly mem­bers to and from the var­i­ous hos­pi­tals," Bahar said in an email. ​"It was tru­ly a hero­ic effort." Bahar said that he had tak­en out life insur­ance plans that would pro­vide the fam­i­lies of each deceased work­er with a $5,000 payment.
Bahar also reit­er­at­ed that his com­pa­ny has noth­ing to do with the acci­dent. ​"I men­tioned we pro­vid­ed max­i­mum sup­port fea­si­ble. This was NOT a work­mans comp case, and was NOT an indus­tri­al acci­dent. The dri­ver and van com­pa­ny are NOT part of our com­pa­ny, and we are NOT respon­si­ble for the acci­dent, the blown tire etc." He added that he is look­ing into fil­ing a libel suit against the local news­pa­per in Indi­ana, the Evans­ville Couri­er & Press, for its cov­er­age of the acci­dent. ​"There is real­ly NO need to refer to us in rela­tion to the acci­dent," Bahar said in a sub­se­quent email. ​"I shut my oper­a­tion in Indi­ana because of all this neg­a­tive press."
After the acci­dent, Jacques Estime, who is involved in Wash­ing­ton, Indiana's Hait­ian com­mu­ni­ty, launched a fundrais­er for the vic­tims of the I‑69 rollover crash. After secur­ing enough mon­ey to pay for the funer­als of the deceased, Estime said he split the left­over mon­ey 17 ways among the injured vic­tims, who will each receive a check from Estime for $196.95.
In late Sep­tem­ber, short­ly after the van crash, Ameri­Qual announced in a Face­book post that it would launch a dona­tion dri­ve among its full-time employ­ees to com­pen­sate the injured temps. Yet Sanon has heard noth­ing about AmerQual's fundrais­er. It is unclear if the com­pa­ny gath­ered a sin­gle dona­tion. Estime said the Ser­vic­eX­press had donat­ed one thou­sand dol­lars to a funer­al fund.
Estime told me that the vic­tims are cop­ing with an array of phys­i­cal and psy­cho­log­i­cal injuries. ​"Some of them are bad­ly hurt, some of them need ther­a­py," Jacques told me. ​"Some haven't been sleep­ing well. They've been hav­ing hor­ri­ble night­mares. All they see are peo­ple dying."
In late Octo­ber, a Gib­son Coun­ty pros­e­cu­tor report­ed­ly filed 19 crim­i­nal charges against the van's dri­ver, James Allen, who had test­ed pos­i­tive for mar­i­jua­na dur­ing a blood test tak­en just after the crash. The charges against Allen range from ​"caus­ing death while oper­at­ing a vehi­cle under the influ­ence of a con­trolled sub­stance" to ​"caus­ing seri­ous bod­i­ly injury while oper­at­ing under the influ­ence," accord­ing to the Evans­ville Couri­er & Press.
Last week, Sonan's attor­ney, Neil Chap­man, filed a suit against not only James Allen and his father, Robert, who owns the van, but also against Ameri­qual and Ser­vic­eX­press. The civ­il com­plaint seeks to dis­pute any notion that the Allens' tran­sit busi­ness oper­at­ed with auton­o­my from Xpress and Ameri­Qual, and asserts that the three busi­ness­es were oper­at­ing as a joint ven­ture. ​"A prin­ci­ple moti­vat­ing fac­tor for Ameri­qual to choose Ser­vic­eX­press was because it offered a com­pet­i­tive advan­tage of oth­er tem­po­rary agen­cies: trans­porta­tion of the Hait­ian employ­ees free-of charge as a part of its adver­tised, inte­grat­ed incen­tive pack­age to its fac­to­ry clients."
Sanon told me that, before the acci­dent, she still owed $50 to a man she had paid $200 to bring her from Mia­mi to Wash­ing­ton, Indi­ana. Although the Ameri­Qual wage was mod­est, it was the best she could find, she said, and she had hoped to use the earn­ings to become debt-free. With med­ical bills that she esti­mates total over $100,000, that goal now seems impossible.
"I'm strug­gling for my life right now," Sonan said. ​"I can­not do this by myself."
Spencer Wood­man
is a jour­nal­ist based in New York. He has writ­ten on labor for
The Nation
and
The Guardian
.You can fol­low him on Twit­ter at
@spencerwoodman
and reach him via email at Contactspencerwoodman@​gmail.​com.