Mississippi Lavishes $1.3 Billion in Subsidies on Nissan as Workers Get the Shaft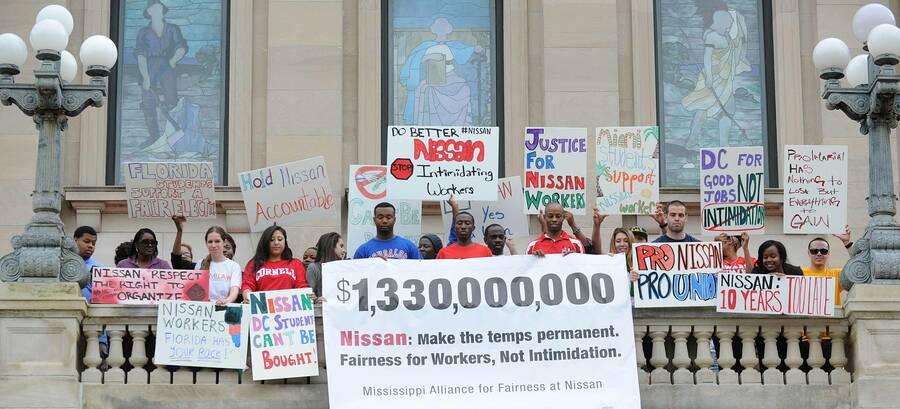 Thir­teen years after Japan-based automak­er Nis­san chose the small, impov­er­ished com­mu­ni­ty of Can­ton, Miss., as the site of a new auto-assem­bly plant, a just-released study shows that the com­pa­ny is fail­ing to deliv­er on its promise of high-wage job cre­ation in Mis­sis­sip­pi — while at the same time drain­ing the state of rev­enue used to pay for a mas­sive pack­age of subsidies.
Accord­ing to a study released on Fri­day by the Wash­ing­ton, D.C.-based research group Good Jobs First, the cit­i­zens of Mis­sis­sip­pi — which ranks dead last among U.S. states in medi­an house­hold income — are bestow­ing an esti­mat­ed $1.33 bil­lion in sub­si­dies on Nis­san over a 30-year peri­od for the priv­i­lege of host­ing the factory.
​"This is the largest incen­tive pack­age that we have encoun­tered in the auto indus­try," declared Philip Mat­tera, research direc­tor of Good Jobs First and co-author, with Good Jobs First research ana­lyst Kasia Tar­czyn­s­ka, of the report, titled ​"A Good Deal for Mis­sis­sip­pi?" (The costs of the study were financed by the Unit­ed Auto Work­ers, which is a spon­sor of In These Times.)
The Mis­sis­sip­pi sub­si­dies, as cal­cu­lat­ed by Good Jobs First, are 3.4 times as large as the $387 mil­lion fig­ure claimed by the state Eco­nom­ic Devel­op­ment Author­i­ty (EDA) in an April 4 e‑mail to Work­ing In These Times. The aver­age sub­sidy pack­age for 12 oth­er new auto-assem­bly plants across the South is $236.6 mil­lion, In These Times esti­mates (see box at bottom).
​"Our report rais­es the ques­tion of whether the Leg­is­la­ture, media and pub­lic were giv­en an accu­rate account of what the cost of the pack­age would be." Mat­tera stated.
Mean­while, the report shows that Nis­san is fail­ing to meet its end of the bar­gain with the state in pro­vid­ing high-wage jobs, even as the com­pa­ny con­tin­ues to be a high­ly prof­itable firm, earn­ing $3.3 bil­lion in 2012.
Mis­sis­sip­pi EDA offi­cials have claimed that sub­si­dies to Nis­san have result­ed in jobs and tax rev­enues for the state, and Gov. Phil Bryant dis­missed the study's results as ​"just anoth­er des­per­ate attempt by big union boss­es to scare Nissan's Can­ton employees."
But Mat­tera said that the Good Jobs First report took a much more com­pre­hen­sive look at the wide array of tax­pay­er-fund­ed ​"incen­tives" pro­vid­ed to Nis­san, and also pro­vid­ed a close-up per­spec­tive of the qual­i­ty of jobs being cre­at­ed by Nissan.
​"Mis­sis­sip­pi is pay­ing a pre­mi­um amount for jobs that are far less than pre­mi­um," he warned.
Accord­ing to the incen­tive pack­age to which Mis­sis­sip­pi and Nis­san agreed in 2000 and mod­i­fied as Nis­san added more jobs, Nis­san jobs were to start at a min­i­mum of 125 per­cent of the state or coun­ty aver­age — whichev­er was low­er — before ris­ing to 150 per­cent of the aver­age in the sur­round­ing county.
But "[s]tate audi­tor reports did not address the issue of wage rates," the Good Job First report notes crit­i­cal­ly. With no mon­i­tor­ing, Nissan's wages ini­tial­ly start­ed at $13.25 an hour for the first two years of employ­ment as pre­lim­i­nary work at the plant began in 2001, only slight­ly above the state aver­age of $12.64 or the Madi­son coun­ty aver­age of $12.88.
Pay for full-time work­ers has stag­nat­ed at around $22 an hour over the past five years, although Nis­san is promis­ing an increase lat­er this year. How­ev­er, the over­all wage aver­age is pulled down by the large con­tin­gent of part-timers mak­ing $9.25 to $12 an hour. These work­ers, hired from tem­po­rary agen­cies rather than Nis­san itself, now com­prise 35 per­cent to 40 per­cent of the Can­ton work­force, accord­ing to work­er estimates.
To be eli­gi­ble for the ​"Advan­tage Jobs" tax break which Nis­san has been enjoy­ing, Nis­san ​"should be pay­ing an aver­age of at least $19.70 an hour to work­ers who are count­ed toward qual­i­fy­ing" for the lucra­tive pro­gram, the Good Jobs First report states.
​"The report also rais­es the ques­tion of whether the sub­si­dies actu­al­ly made sense, both in what the state can afford and the kind of jobs that are being pro­vid­ed, par­tic­u­lar­ly in terms of temps," said Mat­tera. ​"Clear­ly the tem­po­rary jobs are sub-standard."
Mat­tera deliv­ered the study's pow­er­ful find­ings at a news con­fer­ence at the State Capi­tol in Jack­son attend­ed by Nis­san work­ers seek­ing rep­re­sen­ta­tion by the Unit­ed Auto Work­ers, the cler­gy-led Mis­sis­sip­pi Alliance For Fair­ness at Nis­san (MAF­FAN) and a large con­tin­gent of stu­dent lead­ers from his­tor­i­cal­ly-black col­leges across the South who were unsuc­cess­ful­ly seek­ing a meet­ing with Nis­san offi­cials in sup­port of allow­ing the UAW equal access to the work­ers inside the Can­ton plant.
The report caused rip­ples across Mis­sis­sip­pi because it comes in the midst of an unprece­dent­ed effort by the Unit­ed Auto Work­ers to orga­nize about 5,200 work­ers — about 80 per­cent of whom are African-Amer­i­can — at Nissan's assem­bly plant. The union dri­ve, draw­ing upon Dr. Mar­tin Luther King's fus­ing of labor rights and human rights, is gain­ing wide nation­al and inter­na­tion­al atten­tion through the efforts of the UAW, as well as promi­nent allies such as actor Dan­ny Glover and for­mer Brazil­ian Pres­i­dent Luis Igna­cio ​"Lula" da Silva.
Mean­while, Nis­san has been wag­ing an inten­sive anti-union cam­paign inside the Can­ton plant, even while it works con­struc­tive­ly with unions in Japan, Brazil, South Africa and many oth­er nations. For much of the work­force and sur­round­ing com­mu­ni­ty, Nissan's intran­si­gent stance against union rep­re­sen­ta­tion in Can­ton is per­ceived as yet anoth­er famil­iar form of ​"sec­ond-class" treat­ment reserved for poor and work­ing-class Mis­sis­sip­pi­ans, espe­cial­ly African Amer­i­cans. The Nis­san plant is sit­ed in a region where the dead­ly vio­lence of white seg­re­ga­tion­ists against civ­il rights activists in the 1960s, and long­stand­ing eco­nom­ic inequal­i­ty, have left the issues of eco­nom­ic and social jus­tice tight­ly intertwined.
​"The con­cern of peo­ple across Mis­sis­sip­pi," says Mat­tera, ​"is whether the state is get­ting every­thing it should be get­ting, and is Nis­san liv­ing up to its moral obligations?"
​"We are hap­py Nis­san oper­ates in Mis­sis­sip­pi," explained John C. Allen, asso­ciate min­is­ter at Canton's Buck­horn Mis­sion­ary Bap­tist Church, at MAFFAN's news con­fer­ence. ​"We aren't against sub­si­dies," pro­vid­ed that the work­ing peo­ple of Mis­sis­sip­pi gen­uine­ly ben­e­fit from high-wage jobs and the right to a fair process on union rep­re­sen­ta­tion at Nissan.
​"But we're glad this issue has come to light," Allen said. ​"This com­mu­ni­ty built Nis­san, but Nis­san does not build this community."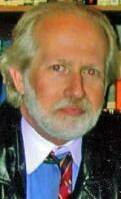 Roger Bybee

is a Mil­wau­kee-based free­lance writer and Uni­ver­si­ty of Illi­nois vis­it­ing pro­fes­sor in Labor Edu­ca­tion.Roger's work has appeared in numer­ous nation­al pub­li­ca­tions, includ­ing

Z

mag­a­zine,

Dol­lars

&

Sense, The Pro­gres­sive, Pro­gres­sive Pop­ulist, Huff­in­g­ton Post, The Amer­i­can Prospect, Yes!

and

For­eign Pol­i­cy in Focus

.More of his work can be found at

zcom​mu​ni​ca​tions​.org/​z​s​p​a​c​e​/​r​o​g​e​r​d​bybee

.