How the Left Can Stop Trump
The Right failed. It's up to us now.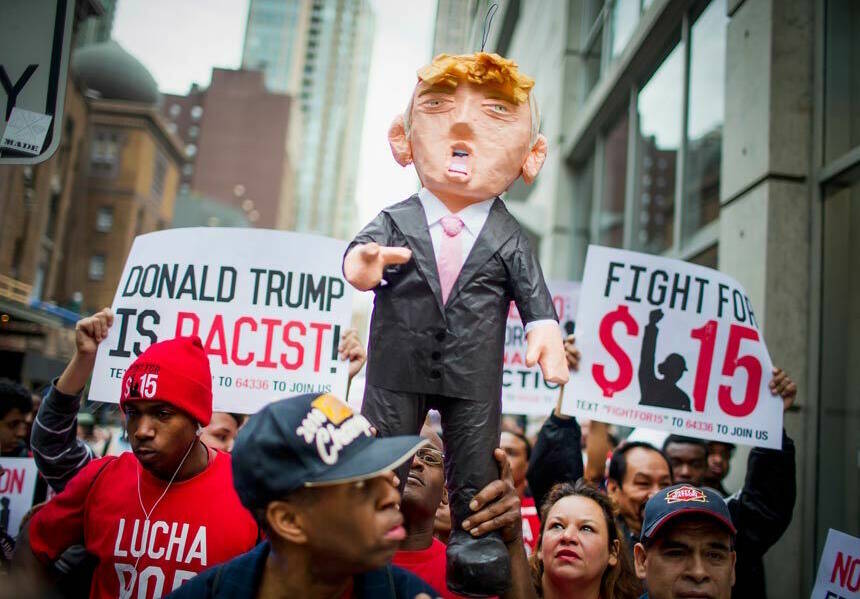 Sal­vador Seda has vot­ed for the Demo­c­rat in every pres­i­den­tial elec­tion since he first reg­is­tered in 1963. More than half a cen­tu­ry lat­er, the retiree and res­i­dent of Cleveland's work­ing-class Puri­tas-Long­mead neigh­bor­hood is end­ing his streak.
"A lot of the narrative around Trump has been, 'These are poor white folks, and how stupid are they?' There's a belief that people can't shift how they think."
"I'm going to vote for Don­ald Trump," Seda told a can­vass­er from Show­ing Up for Racial Jus­tice Action (SURJ Action) who had knocked on his door. ​"He might not know much about pol­i­tics, but he's a busi­ness­man. … In Wash­ing­ton, they have politi­cians that have been sen­a­tors for 40 and 50 years. It's time that these peo­ple get out and let some young blood in."
Leav­ing Seda's house, can­vass­er Car­o­line Meis­ter acknowl­edged the vis­it hadn't gone as planned. The recent col­lege grad­u­ate vol­un­teered a few hours on a sleepy Sat­ur­day after­noon in May to fight Trump through a tech­nique that SURJ Action, a group that orga­nizes white peo­ple for racial jus­tice, calls ​"deep can­vass­ing." SURJ Action orga­niz­ers aim to move poten­tial vot­ers left­ward by lis­ten­ing to their con­cerns and help­ing them iden­ti­fy the source of their woes. In this low-income sec­tion of Cleve­land, ser­e­nad­ed by the per­pet­u­al hum of planes from the near­by air­port, SURJ Action encour­aged can­vassers to focus on eco­nom­ic inse­cu­ri­ty. Even so, Meis­ter struggled.
She led with a ques­tion about the $15 min­i­mum wage — a pop­u­lar pro­pos­al that Trump oppos­es — but the retiree pushed back, say­ing it would hurt busi­ness own­ers. And while Seda is Puer­to Rican and his wife Mex­i­can, he reject­ed Meister's over­tures about dis­crim­i­na­tion and railed against undoc­u­ment­ed immigration.
The exchange illus­trates the chal­lenge of defeat­ing Trump and under­cut­ting the deep­er roots of his right-wing pop­ulism: Amer­i­ca is angry and Trump has a remark­able gift for chan­nel­ing that anger. In his diag­no­sis of the country's woes, the pre­sump­tive Repub­li­can nom­i­nee is blunt and unapolo­get­i­cal­ly racist: It's the fault of undoc­u­ment­ed immi­grants for bring­ing crime and of Mus­lims for mak­ing us unsafe. Walls and trav­el bans may be tough, the log­ic goes, but they're necessary.
This rhetoric scares many Amer­i­cans. ​"A Trump pres­i­den­cy rep­re­sents an exis­ten­tial threat to immi­grants in Amer­i­ca," says Lynn Tra­monte, deputy direc­tor of America's Voice, a D.C.- based immi­grant advo­ca­cy group. ​"His immi­gra­tion poli­cies are entire­ly based on expul­sion, exclu­sion and build­ing a fortress around America."
"Trump says he'll deport all undoc­u­ment­ed immi­grants with­in the first two years of his pres­i­den­cy. Take a moment to imag­ine how that gets car­ried out: agents show­ing up at homes, cart­ing away moth­ers and fathers. Raids on farms and fac­to­ries. … Imag­ine what it would feel like, as Amer­i­cans, to see this hap­pen­ing. That's why we all need to rise up and defeat him."
Doing so is made more dif­fi­cult, how­ev­er, by a near-cer­tain Demo­c­ra­t­ic nom­i­nee who some wor­ry lacks the back­ground and vision to under­cut Trump's anti-estab­lish­ment appeal. If Hillary Clin­ton can­not muster a mes­sage that speaks to alien­at­ed, dow­nand-out sec­tions of white Amer­i­ca, then it could fall on the backs of those work­ing out­side her cam­paign to stop Trump. Against that gloomy back­drop, labor and pro­gres­sive activists are gear­ing up for one of the strangest and most fright­en­ing pres­i­den­tial elec­tions in U.S. history.
The base of Trumpism
His­to­ri­ans will like­ly debate the roots of Trump's rise for decades. But the demo­graph­ics are clear enough: He's enor­mous­ly pop­u­lar with white peo­ple with­out col­lege edu­ca­tions. His sup­port­ers are more like­ly to be men, and they're like­ly to make under $50,000 a year. Trump ​"is a no bull­shit kind of guy," Bri­an Sepe, a util­i­ty work­er from Low­ell, Mass., told this reporter for a sto­ry in Inter­na­tion­al Busi­ness Times. ​"He calls it what it is."
Jeff Hes­ter, a laid-off rail­road­er and Trump sup­port­er from Ten­nessee, feels sim­i­lar­ly betrayed by Wash­ing­ton: ​"As I watched my beloved and once-proud coun­try brought to its eco­nom­ic and social knees over the last sev­en years, I have become more and more angry," he says. ​"I am cer­tain this coun­try can­not sur­vive anoth­er four years of estab­lish­ment politics."
Whether peo­ple like Sepe and Hes­ter will turn up en masse in Novem­ber is anoth­er mat­ter. As Five Thir­ty Eight's Nate Sil­ver cal­cu­lat­ed, the medi­an house­hold income of Trump vot­ers in the first 23 Repub­li­can pri­maries was a hefty $72,000 — well above the nation­al medi­an of $56,000. Poor Repub­li­cans may love Trump, but they don't turn out to vote as reli­ably as their wealth­i­er counterparts.
Of course, Trump has done more than just tap into eco­nom­ic anx­i­eties and the inabil­i­ty of Wash­ing­ton to address them. The real-estate mogul has engaged in a lev­el of race-bait­ing not seen in pres­i­den­tial pol­i­tics since at least the end of seg­re­ga­tion. From undoc­u­ment­ed Mex­i­can immi­grants to Mus­lim and Chi­nese bogey­men, Trump claims to have iden­ti­fied the true cul­prits for America's woes — and they're def­i­nite­ly not white people.
"Where the rest of the Repub­li­can Par­ty for decades has been oper­at­ing on the dog-whis­tle prin­ci­ple" — using cod­ed racist lan­guage that leaves room for plau­si­ble deni­a­bil­i­ty — "[Trump]'s dem­a­goguery about ​'scary' peo­ple who are sup­pos­ed­ly respon­si­ble for every­thing that's wrong with Amer­i­ca replaces the dog-whis­tle with a bull­horn," says Rick Perl­stein, a jour­nal­ist and his­to­ri­an of the Amer­i­can Right.
For Christo­pher Phelps, a pro­fes­sor of Amer­i­can his­to­ry at the Uni­ver­si­ty of Not­ting­ham, the ethos of Trump­ism lingers in a famous­ly cryp­tic verse from South­ern rock band Lynyrd Skynyrd's Sweet Home Alaba­ma: ​"In Birm­ing­ham they love the gov­er­nor / Now we all did what we could do / Now Water­gate does not both­er me / Does your con­science both­er you?"
The lyrics mean ​"you can dump all over the South­ern white man for vot­ing for [Alaba­ma gov­er­nor] George Wal­lace [in the 1968 and 1972 elec­tions], but we didn't elect Nixon, which is a way of say­ing, ​'We're free from the respon­si­bil­i­ty of your estab­lish­ment and its crimes,'" says Phelps. ​"And that's the endur­ing atti­tude. That's why you can say ​'Trump's a racist' and it'll sort of bounce off these peo­ple because to them, he's an alter­na­tive to cor­po­rate pol­i­tics as normal."
As they did in the pri­maries, Trump's bet­ter-heeled Repub­li­can back­ers will prob­a­bly turn up at the polls this Novem­ber. But the prospects of a Trump vic­to­ry rest on a mas­sive out­pour­ing of low-income white vot­ers. By the same token, he needs large chunks of young, minor­i­ty, female and oth­er like­ly Demo­c­ra­t­ic vot­ers to stay home.
Many find such an out­come unlike­ly: Hillary Clin­ton still leads ear­ly nation­al polls and as the New York Observ­er​'s Clis­ton Brown put it, ​"There just aren't enough ​'angry white men' out there" to put Trump in office.
Of course, stranger things have hap­pened this elec­tion cycle. And in fact, a set of May 2016 polls from Quin­nip­i­ac Uni­ver­si­ty showed Clin­ton and Trump run­ning neck-and-neck in the cru­cial swing states of Flori­da, Ohio and Penn­syl­va­nia. All three went blue in the last two elections.
The Clin­ton campaign
Bar­ring an unex­pect­ed indict­ment from the FBI or a shock out­come in California's Demo­c­ra­t­ic pri­ma­ry, Hillary Clin­ton will almost cer­tain­ly be the nom­i­nee. That's like­ly good news for Trump in his quest to ral­ly work­ing­class whites.
In Jan­u­ary, Work­ing Amer­i­ca, the polit­i­cal orga­niz­ing arm of the AFL­CIO, released a sur­vey of vot­ers in areas out­side Cleve­land and Pitts­burgh with house­hold incomes less than $75,000. Nine­ty-eight per­cent of respon­dents were white. Thir­ty-eight per­cent backed Trump, while only 22 per­cent sup­port­ed Clinton.
"She's got so many vul­ner­a­bil­i­ties pre­cise­ly to this kind of pol­i­tics, because she is the estab­lish­ment," says his­to­ri­an Christo­pher Phelps. ​"She is tied in with cor­po­rate Amer­i­ca, she does look kind of cor­rupt … and she's been in pow­er all these years."
While her defend­ers have point­ed to the absence of a clear quid pro quo, Clinton's famous­ly well-remu­ner­at­ed speech­es to Wall Street cer­tain­ly give off the whiff of cor­rup­tion. Her hawk­ish for­eign pol­i­cy views, too, may put her at odds with the Amer­i­can public.
With such titles as First Lady, U.S. Sen­a­tor and Sec­re­tary of State, Clinton's resume is as ​"estab­lish­ment" as it gets. And, in stark con­trast to her pri­ma­ry oppo­nent, Sen. Bernie Sanders of Ver­mont, Clin­ton is asso­ci­at­ed with 1990s hall­marks like NAF­TA, wel­fare reform and Wall Street dereg­u­la­tion. Each of these was cham­pi­oned by her and her hus­band, the 42nd pres­i­dent, whom she recent­ly announced would be ​"in charge of revi­tal­iz­ing the econ­o­my" should she win.
Trump has craft­ed a per­sona that res­onates with work­ing peo­ple, even if his eco­nom­ic stances often veer anti­work­er — he wants to cut tax­es on the rich, sup­ports so-called right-to-work laws and has slammed work­place safe­ty reg­u­la­tions. How­ev­er, his denun­ci­a­tions of immi­gra­tion and out­sourc­ing offer the white work­ing class a tar­get for its eco­nom­ic anger.
"You look back at all the dif­fer­ent trade agree­ments over the past 30 years, [and] it's always been to move jobs out of the coun­try," says Sepe. ​"That's got us in so much trou­ble. We don't have good jobs left in this country."
Beat­ing Trump with conversation…
These may not be ide­al cir­cum­stances under which to swing white work­ing class vot­ers against Trump. And var­i­ous ini­tia­tives to push this pop­u­la­tion left­ward stretch far back in Amer­i­can his­to­ry, from post-Civ­il War Recon­struc­tion to Oper­a­tion Dix­ie, the CIO's failed post-WWII mass union dri­ve, and have nev­er man­aged to over­come America's deep-seat­ed racism. But Erin Heaney, the nation­al orga­niz­ing direc­tor for Show­ing Up for Racial Jus­tice—the 501c3 arm of SURJ Action — remains con­fi­dent it can be done one con­ver­sa­tion at a time.
Heaney was inter­est­ed in the idea of deep can­vass­ing months before the pri­maries began. She learned about it last Decem­ber from David Fleis­ch­er, direc­tor of the Lead­er­ship LAB at the Los Ange­les LGBT Cen­ter. Fleis­ch­er and oth­ers began using the tac­tic in 2009 after vot­ers struck down gay mar­riage in Cal­i­for­nia. A study show­ing that deep can­vass­ing changed people's views on same-sex mar­riage was retract­ed, but more recent research cred­its the tech­nique with shift­ing opin­ion on trans­gen­der rights.
"In many com­mu­ni­ties, it's white folks who are the vot­ing bloc or the polit­i­cal pow­er that keeps a lot of racist poli­cies and prac­tices in place, and we need a way of engag­ing with white folks and actu­al­ly chang­ing their minds on a whole num­ber of issues," says Heaney. ​"There was a real moment after Trump won Super Tues­day where we real­ized we could use this tech­nique to under­mine sup­port for him."
SURJ Action is test­ing out the pro­gram in June and July in Cleve­land, Louisville, Min­neapo­lis-St. Paul and Vir­ginia before expand­ing to oth­er sites. Orga­niz­ers plan to deploy 30 can­vassers for rough­ly four days of door­knock­ing in each location.
"We're still exper­i­ment­ing, but part of what we're try­ing to get at the doors is: What are people's fears and pain, par­tic­u­lar­ly work­ing-class and work­ing-poor white folks?" says Heaney.
Such an approach entails lis­ten­ing to vot­ers' anx­i­eties, not mock­ing them.
"A lot of the report­ing and media cov­er­age I've seen has been pret­ty dis­mis­sive of the very real pain and aban­don­ment of poor and work­ing-class white folks," Heaney con­tin­ues. ​"A lot of the nar­ra­tive around Trump has been, ​'These are poor white folks, and how stu­pid are they?' There's a belief that peo­ple can't shift how they think."
Heaney recalls encoun­ter­ing a Trump sup­port­er who said at first, ​"I'm not going to talk to you." But Heaney and her co-can­vass­er kept ask­ing ques­tions and lis­tened to his con­cerns about immi­gra­tion and jobs. What he liked about Trump was the pro­pos­al to build a U.S.-Mexico wall.
Heaney's co-can­vass­er, a teacher, told him that Trump's anti-Mus­lim rhetoric was scar­ing her stu­dents and had prompt­ed an attack against one of them. At first, his response was, ​"Well, the stu­dents, they shouldn't be here— they're ille­gal," Heaney recalls. When the teacher told him the stu­dents were doc­u­ment­ed, that gave him pause: ​"Well, that's not good."
After 20 min­utes, he said his views on Trump hadn't changed. ​"It's one con­ver­sa­tion, so who knows," says Heaney. ​"But we def­i­nite­ly got him to think and we got him to reflect."
At the same time, SURJ Action is launch­ing a sep­a­rate ini­tia­tive called ​"Lit­tle Trumps," encour­ag­ing local chap­ters to iden­ti­fy and tar­get can­di­dates who share Trump's pol­i­tics. Orga­niz­ers hope to kick it off in July and to select 10 to 15 candidates.
"It's a way to deliv­er blows to the Trump agen­da," says Zoë Williams, a Den­ver-based orga­niz­er with SURJ Action who is head­ing the Lit­tle Trump cam­paign. ​"If we just go after Trump him­self, then we're miss­ing so much of the rip­ple effect Trump has created.
… and with protest
In the mean­time, oth­ers are storm­ing ahead with protests. From the mas­sive March ral­ly at the Uni­ver­si­ty of Illi­nois at Chica­go that cul­mi­nat­ed in the can­cel­la­tion of a Trump speech, to more recent protests in San Diego and Albu­querque, demon­stra­tions have gripped the press and brought atten­tion to Trump's sky-high unfa­vor­a­bil­i­ty. Six months out from the gen­er­al elec­tion, Trump held a whop­ping 53 per­cent ​"strong­ly unfa­vor­able" rat­ing, greater than any oth­er can­di­date in his­to­ry at this point in the race.
That's lend­ing momen­tum to plans to protest the Repub­li­can Nation­al Con­ven­tion. The orga­niz­ers are the same loose­ly tied group of rad­i­cals behind demon­stra­tions out­side pre­vi­ous GOP con­ven­tions in 2008 and 2012, in St. Paul and Tam­pa Bay.
Grand Rapids, Mich.-based activist Tom Burke, one of the lead orga­niz­ers for what's billed as the Coali­tion to March on the RNC and Dump Trump, says the protest has two aims. ​"One is it helps to build move­ments in this coun­try by tying local groups to nation­al issues. Sec­ond­ly, it has an impact on the elec­tions because the media starts to cov­er what the pro­test­ers are say­ing. We have a very dif­fer­ent agen­da than the Repub­li­can Par­ty— and this year, in particular."
Cindy Wies­ner, nation­al coor­di­na­tor of the Grass­roots Glob­al Jus­tice Alliance, a net­work of large­ly local pro­gres­sive activist groups, agrees in prin­ci­ple with anti-Trump protests. But she's still not sure about a mass mobi­liza­tion for the Repub­li­can convention.
"It's most­ly about safe­ty con­cerns, to be hon­est," says Wies­ner. ​"There's a peti­tion going around [with more than 50,000 sig­na­tures] that says, ​'We want the right to bear arms inside the con­ven­tion.' These things seemed sil­ly at one point, but they're actu­al­ly very real. There are pro-Trump sup­port­ers get­ting orga­nized to counter anti-Trump sup­port­ers at the con­ven­tion. Do we want to bring a whole bunch of poor peo­ple, work­ing-class folks and peo­ple of col­or, and put them in that situation?"
"I've been to Demo­c­ra­t­ic nation­al con­ven­tions where we've been arrest­ed and beat­en by the cops, but it's not nec­es­sar­i­ly that you fear the del­e­gates, you know," Wies­ner says, with a wry laugh. The effec­tive­ness of anti-Trump protests remains unclear. After the events in Chica­go, some pro­test­ers came away with a sense of vic­to­ry, feel­ing they had inflict­ed a blow against the can­di­date, says Toby Chow, a Chicagoan who attend­ed the ral­ly. Instead, Trump coast­ed to a string of pri­ma­ry victories.
"I had hoped at the time that it would do some­thing to punc­ture his image of brava­do, which is a huge part of his cam­paign — the fact that he's a tough guy, he's the bul­ly," says Chow, who also serves as the chair of People's Lob­by, an inde­pen­dent pro­gres­sive advo­ca­cy group. ​"But I can't say there's sol­id evi­dence of that."
Still, his­to­ri­an Rick Perl­stein says the demon­stra­tions could have a mean­ing­ful effect on the gen­er­al elec­torate. Pres­i­den­tial can­di­dates asso­ci­at­ed with protests don't have the best track record.
"In 1968 the Demo­c­ra­t­ic Par­ty and Hubert Humphrey were asso­ci­at­ed with chaos," says Perl­stein, author of Nixon­land: The Rise of a Pres­i­dent and the Frac­tur­ing of Amer­i­ca. ​"I think if the [2016] Demo­c­ra­t­ic can­di­date man­ages rhetor­i­cal­ly to tie Don­ald Trump to this sort of dis­rup­tion, that ​'this is what we have in store in a Trump pres­i­den­cy: chaos, vio­lence, rage,' then the Demo­c­ra­t­ic can­di­date will actu­al­ly be able to take advantage."
Unions: the last line of defense
Emphat­i­cal­ly pro-Clin­ton Super PACs plan to slam Trump in the com­ing months. But they'll be joined by oth­ers with more pro­gres­sive lean­ings. MoveOn​.org, which endorsed Sanders, is prepar­ing an anti-Trump cam­paign in a num­ber of swing states. Mean­while the AFL-CIO recent­ly launched a cam­paign tar­get­ing a sim­i­lar crop of vot­ers. The fed­er­a­tion has yet to make an endorse­ment but will almost cer­tain­ly back the Demo­c­ra­t­ic nominee.
More cru­cial still are labor's polit­i­cal edu­ca­tion and get-out-the-vote efforts. As In These Times report­ed in 2012, unions played an unsung role in secur­ing Pres­i­dent Barack Obama's re-elec­tion: While Mitt Rom­ney won non-union vot­ers by 4 points, Oba­ma car­ried union vot­ers by a stag­ger­ing 32 points, enough for a com­fort­able vic­to­ry, accord­ing to a Hart Research study con­duct­ed for the AFL-CIO.
The dif­fer­ence was even more pro­nounced among the white work­ing class that Trump hopes to turn out in earth-shat­ter­ing num­bers. While Rom­ney cap­tured the vote of white non-union men with­out col­lege degrees by a stun­ning 47 points in 2012, the union­ized share of this pop­u­la­tion pre­ferred Oba­ma by 9 points.
At just over 11 per­cent of U.S. work­ers, union mem­ber­ship is far from its mid-cen­tu­ry hey­day. Still, union den­si­ty remains above the nation­al aver­age in a hand­ful of the cru­cial swing states the Trump cam­paign plans to tar­get: Penn­syl­va­nia (13.3 per­cent), Ohio (12.3 per­cent), Min­neso­ta (14.2 per­cent) and Michi­gan (15.2 percent).
And when it comes to influ­enc­ing elec­tions, unions aren't just any old pro­gres­sive inter­est group.
"Unlike many oth­er pro­gres­sive orga­ni­za­tions, they have this incred­i­bly rich mem­ber­ship base that they can turn to," says Ryan Lamare, pro­fes­sor at the Uni­ver­si­ty of Illi­nois at UrbanaChampaign's School of Labor and Employ­ment Rela­tions. ​"This sep­a­rates unions from many oth­er, more lim­it­ed inter­est groups. It makes unions look more sim­i­lar in their effec­tive­ness to the way a cor­po­rate inter­est group might look on the Right."
Then there's the AFL-CIO's Work­ing Amer­i­ca. Since its found­ing in 2003, the group has focused on build­ing ties with non-union vot­ers in work­ing-class com­mu­ni­ties. Like the deep can­vassers of SURJ Action, Work­ing Amer­i­ca is com­mit­ted to defeat­ing Don­ald Trump by hav­ing con­ver­sa­tions with his base.
"The most impor­tant thing is to make a con­nec­tion," says the group's exec­u­tive direc­tor, Karen Nussbaum.
She says Work­ing America's cam­paign in 2016 will be four times larg­er than it was in 2012. Tar­get­ing 2 mil­lion swing vot­ers in states like Ohio, Penn­syl­va­nia and Flori­da, the group plans to launch its vot­er out­reach phase in August.
"Peo­ple are fed up and they are com­plete­ly cap­tured by his ​'I'm the guy who will burn the house down' atti­tude,' " says Nuss­baum. ​"I think he pos­es a real danger."
That no-holds-barred aura about Trump is exact­ly what appeals to Michael Wat­son, a high­way contractor.
from Indi­ana. ​"We don't need a con­tin­u­a­tion of what we've already had for the last eight years," he says. ​"These politi­cians, they make all kinds of promis­es and then they get up there in Wash­ing­ton, D.C., pret­ty soon they look around and they go, ​'Well now, this is gor­geous, we got to do what­ev­er we can do to stay here.' You for­get the promis­es you made."
"We think talk­ing about polit­i­cal account­abil­i­ty is actu­al­ly key to all of this," says Nuss­baum. ​"We've got to cre­ate the mech­a­nisms that restore faith in gen­uine democracy."
A bet­ter Hillary?
In the end, it's entire­ly con­ceiv­able that an unpop­u­lar, unin­spir­ing Hillary Clin­ton could defeat a pos­i­tive­ly loath­some Don­ald Trump.
But Lar­ry Han­ley, pres­i­dent of the 200,000-member Amal­ga­mat­ed Tran­sit Union, which endorsed Sanders in March, still believes a bet­ter Clin­ton is pos­si­ble. He points to the trans­for­ma­tion of Robert Kennedy after the 1963 assas­si­na­tion of his broth­er, Pres­i­dent John F. Kennedy. Five years lat­er, as he sought the Demo­c­ra­t­ic nom­i­na­tion, Robert Kennedy vis­it­ed impov­er­ished com­mu­ni­ties and tout­ed an unam­bigu­ous mes­sage of eco­nom­ic justice.
"One of the things that he did is he spent time tour­ing in poor areas and poor neigh­bor­hoods," Han­ley says. ​"That's why he made such a potent can­di­date who could cross over and get the peo­ple who would now vote for Don­ald Trump. Because he saw it, he under­stood it, and he told them about it. That's the kind of thing Hillary should do.
"It wasn't Bob­by for­mu­lat­ing some polit­i­cal strat­e­gy, and I'm not sug­gest­ing Hillary should do that either," Han­ley says. ​"It has to be for real. There are real­ly two soci­eties we live in: One is that of the very well-off and then there's every­body else, and the gap is grow­ing big­ger every day. That's the part that Hillary not only has to see but has to come to understand."
Afi Scrug­gs con­tributed report­ing to this article.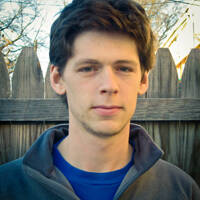 Cole Stan­gler
writes about labor and the envi­ron­ment. His report­ing has also appeared in The Nation, VICE, The New Repub­lic and Inter­na­tion­al Busi­ness Times. He lives in Paris, France. He can be reached at cole[at]inthesetimes.com. Fol­low him
@colestangler
.