How To Curb Gentrification
A new report from California housing advocates and racial justice organizers lays out a blueprint.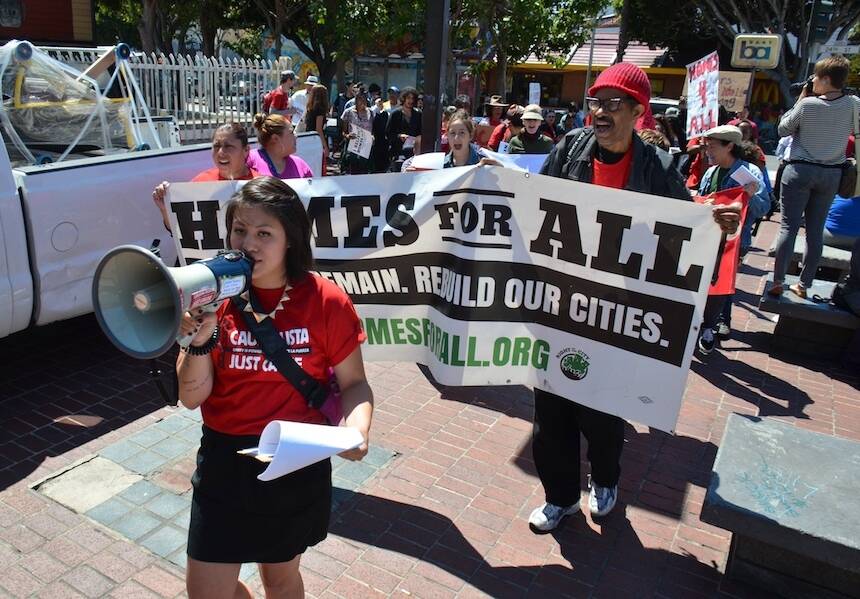 In 2011, Mustafa Solomon, a 57-year old African-Amer­i­can pho­tog­ra­ph­er, was served evic­tion papers. He'd lived in the same apart­ment in North Oak­land for more than 15 years. Now, fol­low­ing what Solomon calls a ​"small, acci­den­tal fire in the kitchen," his land­lord want­ed him out.
'For years we've had the analysis that the main driver behind the Bay Area housing crisis was the way that neoliberal politics drives displacement of working-class black and Latino communities.'
Solomon believes his land­lord had anoth­er motive: The unit he shared with his adult daugh­ter and pet dog cost $530 a month, but rents in his neigh­bor­hood had been ris­ing quick­ly due to gen­tri­fi­ca­tion. ​"If I was mov­ing in now, this apart­ment would prob­a­bly be $950 – 1,200 per month," Solomon says. ​"They were hop­ing I would go away and not come back so they could get some­one else in here."
Unwill­ing to go qui­et­ly, Solomon appealed the evic­tion to Oakland's Rent Board, the city agency tasked with medi­at­ing dis­putes between land­lords and ten­ants. Accord­ing to Solomon, the hear­ing offi­cer decreed that the evic­tion did not meet the require­ments of Oakland's ​"Just Cause" evic­tion ordi­nance, a law that lim­its a landlord's abil­i­ty to evict to a dis­crete num­ber of rea­sons, such as fail­ure to pay rent or a mate­r­i­al vio­la­tion of a tenant's lease. Solomon and his daugh­ter would have to leave the apart­ment tem­porar­i­ly, so the land­lord could com­plete repairs, but they would be allowed to move back in.
Solomon and his daugh­ter vacat­ed the apart­ment in June 2013. The repairs were esti­mat­ed to take just two months, but stretched to six. With­out any relo­ca­tion assis­tance, the only hous­ing they were able to find was in Valle­jo, 25 miles away. The cost of mov­ing, com­bined with the longer com­mute, placed severe finan­cial stress on the fam­i­ly. ​"Every­thing that I had put away for retire­ment was used up," he says. ​"Now I'm back to nothing."
In research­ing the his­to­ry of the ​"Just Cause" ordi­nance, Solomon dis­cov­ered that Causa Jus­ta :: Just Cause (CJJC), a Bay Area ten­ants' rights and racial jus­tice orga­ni­za­tion, had cam­paigned to pass the law in 2002. Today, Solomon is a CJJC mem­ber: ​"I'm a ten­ants' rights activist now. I don't want this to ever hap­pen to any­one else," he says.
But Solomon is one of the lucky ones. Accord­ing to an April report by CJJC, ​"Devel­op­ment With­out Dis­place­ment" — the result of CJJC's col­lab­o­ra­tion with Alame­da Coun­ty to study the effects of gen­tri­fi­ca­tion in Oak­land and San Fran­cis­co — the neigh­bor­hood of North Oak­land is in a late stage of gen­tri­fi­ca­tion. Medi­an rents in the for­mer­ly afford­able neigh­bor­hood are now high­er than those in his­tor­i­cal­ly afflu­ent neigh­bor­hoods of Oak­land and African-Amer­i­can home­own­er­ship has dropped from 50 per­cent to 25 per­cent. The African-Amer­i­can pop­u­la­tion of Oak­land over­all has dropped near­ly 40 per­cent since 1990.
Across the Bay, San Fran­cis­co is expe­ri­enc­ing a sim­i­lar demo­graph­ic shift. Medi­an month­ly rents in the most gen­tri­fied neigh­bor­hoods rose 40 per­cent between 1990 and 2011. Work­ing-class com­mu­ni­ties and com­mu­ni­ties of col­or are being pushed out and the two cities are becom­ing whiter and rich­er. The black pop­u­la­tion has halved, falling from 10 per­cent to just 5 per­cent of the over­all pop­u­la­tion. The num­ber of Lati­no house­holds in the his­tor­i­cal­ly Lati­no Mis­sion Dis­trict has decreased by 1,400, while the num­ber of white house­holds has shot up.
While much of the dis­course around gen­tri­fi­ca­tion has relied on qual­i­ta­tive descrip­tions of changes in neigh­bor­hoods — the appear­ance of new restau­rants and shops, cul­tur­al dif­fer­ences between new and old res­i­dents — the CJJC report applies a quan­ti­ta­tive method­ol­o­gy to the study of neigh­bor­hood change. By ana­lyz­ing demo­graph­ic, socioe­co­nom­ic and prop­er­ty data at the cen­sus tract lev­el, CJJC deter­mined how much ​"gen­tri­fi­ca­tion-relat­ed change" had occurred in his­tor­i­cal­ly divest­ed neigh­bor­hoods over two decades, and then clas­si­fied each tract as belong­ing to one of sev­en stages of gentrification.
The report found that aside from chang­ing demo­graph­ics, gen­tri­fi­ca­tion and dis­place­ment are also dam­ag­ing pub­lic health. Across the Bay Area's two biggest cities, black res­i­dents already expe­ri­ence the high­est mor­tal­i­ty rates of any group. But CJJC found that the dis­par­i­ty between black and white mor­tal­i­ty rates increas­es as gen­tri­fi­ca­tion evolves into its lat­er stages. CJJC argues that the indi­rect impacts dis­place­ment often has on com­mu­ni­ties — from finan­cial dis­tress, over­crowd­ing and sub­stan­dard hous­ing con­di­tions to the weak­en­ing of com­mu­ni­ty sup­port net­works — can dam­age indi­vid­u­als' men­tal and phys­i­cal health.
Accord­ing to Rob­bie Clark, CJJC's lead hous­ing rights cam­paign orga­niz­er, the study grew out of the group's obser­va­tion that gen­tri­fi­ca­tion was the result of ​"col­lu­sion between gov­ern­ment and pri­vate capital."
​"For years we've had the analy­sis that the main dri­ver behind the Bay Area hous­ing cri­sis was the way that neolib­er­al pol­i­tics dri­ves dis­place­ment of work­ing-class black and Lati­no com­mu­ni­ties," Clark says.
The report bore out CJJC'S obser­va­tions of the racial­ized nature of dis­place­ment. Find­ings show work­ing class com­mu­ni­ties of col­or in the two cities have fall­en vic­tim to a vicious cycle of dis­in­vest­ment, fol­lowed by dis­place­ment. Pri­vate and pub­lic sources of invest­ment (i.e. real estate devel­op­ers or pub­lic funds for infra­struc­ture work) have tend­ed to fol­low white pop­u­la­tions while avoid­ing the neigh­bor­hoods where peo­ple of col­or live. This leads to low­er prop­er­ty val­ues in neigh­bor­hoods of col­or. In peri­ods of gen­tri­fi­ca­tion, the abun­dance of cheap real estate in these same areas becomes attrac­tive to pri­vate investors hop­ing to buy low and sell high ("flip­ping" in real estate par­lance), or raise rent on the prop­er­ty by replac­ing the old res­i­dents with new (pos­si­bly rich­er) ten­ants who don't qual­i­fy for rent con­trol. The results of the process are high­er rents and ram­pant evic­tions of long­time residents.
Fol­low­ing long peri­ods of dis­in­vest­ment by cities, a major influx of funds — such as sub­si­dies for a tran­sit-ori­ent­ed devel­op­ment — can also exac­er­bate dis­place­ment, the report asserts. Tran­sit-ori­ent­ed devel­op­ments pri­or­i­tize build­ing around pub­lic tran­sit cen­ters and have gained pop­u­lar­i­ty as green­er alter­na­tive to auto-cen­tered city plan­ning. How­ev­er, the report cites research sug­gest­ing that pub­lic tran­sit invest­ment can dis­place tran­sit-depen­dent res­i­dents while attract­ing peo­ple who own cars, even­tu­al­ly pric­ing out those who stood to ben­e­fit from improved pub­lic transit.
Cru­cial­ly, CJJC's analy­sis busts the biggest ​"devel­op­ment" myth: Gen­tri­fi­ca­tion is not inevitable — it can be pre­vent­ed before it starts and stopped in neigh­bor­hoods where the process is already under­way. The report pro­pos­es a com­pre­hen­sive pol­i­cy agen­da to mit­i­gate the effects of ongo­ing gen­tri­fi­ca­tion and pre­vent fur­ther displacement.
​"Since the gov­ern­ment has tak­en such a key role in cre­at­ing gen­tri­fi­ca­tion," Clark says, ​"it can also help fight it." The pro­pos­als envi­sion a ​"move away from over­re­liance on the pri­vate mar­ket to meet the hous­ing needs of our com­mu­ni­ties." The group hopes to put an ini­tia­tive on the bal­lot in Oak­land that would ban the kind of harass­ment tech­niques land­lords use when they're try­ing to evict ten­ants, includ­ing refus­ing to per­form main­te­nance or threat­en­ing to report undoc­u­ment­ed ten­ants to Immi­gra­tion and Cus­toms Enforcement.
CJJC is also part of a coali­tion push­ing for an anti-spec­u­la­tion tax in San Fran­cis­co, which would impose a wind­fall prof­its tax on real-estate spec­u­la­tors who buy and sell prop­er­ties with­out keep­ing the build­ing for six years or more. The tax rate decreas­es each year and is designed to dis­in­cen­tivize the real estate ​"flip­ping" — buy­ing low and sell­ing high — that con­tributes to dis­place­ment in gen­tri­fy­ing neighborhoods.
​"It takes a com­bi­na­tion of pol­i­cy and com­mu­ni­ty orga­niz­ing," Clark says. ​"The report has poli­cies that will help stem the tide of dis­place­ment, but there also needs to be a shift in the way plan­ning deci­sions get made. City gov­ern­ments need to start see­ing the peo­ple who live in these neigh­bor­hoods as stake­hold­ers who should have a say."
Mustafa Solomon is ready to be part of that move­ment. ​"It's a human rights issue for peo­ple to have a place to live," he says. ​"A lot of peo­ple don't know what to do. But the most impor­tant thing to remem­ber is that there are more ten­ants than land­lords, so if we stick togeth­er, we can win this."
Julia Car­rie Wong is a free­lance jour­nal­ist liv­ing in San Fran­cis­co. You can fol­low her on Twit­ter @juliacarriew or email her at julia.carrie.wong [at] gmail​.com.