Strained Hyatt Workers Continue to Push for Fair Negotiations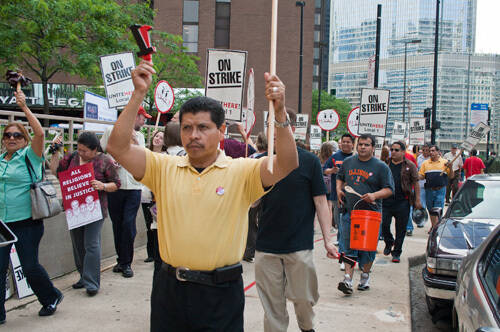 CHICA­GO — How can sev­en house­keep­ers keep up with the 2,019 rooms at the Hyatt Regency hotel dur­ing their shift? They can't — that's why they went on strike. Union cooks, bell­men, dish­wash­ers, house­keep­ers and oth­er Hyatt work­ers woke up at 4 a.m. Mon­day, June 20, to pick­et out­side three Hyatt loca­tions in a one-day strike after more than 20 months of nego­ti­a­tion with the company.
By the after­noon, they were joined on the pick­et line at the Hyatt head­quar­ters on Wack­er Dri­ve by hun­dreds of reli­gious activists and lead­ers who were in town as part of the 15th annu­al Inter­faith Work­er Jus­tice Con­fer­ence. Activists sang spir­i­tu­al hymns, chant­ed and prayed not only for Hyatt work­ers, but also for Hyatt man­age­ment, ask­ing them to see the light.
After months of bar­gain­ing, Unite Here Local 1 has won a 3‑year con­trac­tu­al agree­ment with Hilton and Star­wood hotel com­pa­nies this year. While Hyatt has indi­cat­ed sup­port for a con­tract that would match some of the set­tle­ments of Hilton and Star­wood for union employ­ees, the com­pa­ny con­tin­ues to refuse a fair bar­gain­ing process for work­ers at non-union hotels, remain­ing the last of the three largest hotel chains to do so. Anoth­er stick­ing point for Hyatt is the sub­con­tract­ing out of new work.
Work­ers have kept up the pres­sure on Hyatt through­out nego­ti­a­tions. Union mem­bers staged a one-day strike against Hyatt Regency O'Hare in Sep­tem­ber, 2010. In May of that year, work­ers walked off the job after a hotel ren­o­va­tion wors­ened work­ing conditions.
Sonia Ordonez has worked as a cook at the Hyatt Regency Chica­go for five years, two of them with­out a con­tract. She said she works 10 days in a row with only one day off, only to turn around and work anoth­er 10 days again. Often the only oth­er cowork­er in the kitchen is moved to cov­er anoth­er area where the hotel is short staffed, mak­ing her work load twice as hard, Ordonez told In These Times.
"I have a lot of cowork­ers in the kitchen who get hurt. They have a lot of pain and injuries from the hard work that they do," Ordonez said through a trans­la­tor. ​"But the com­pa­ny has no com­pas­sion for what we go through."
Ordonez was involved in the civ­il dis­obe­di­ence action with her union in 2010. ​"It was a real­ly beau­ti­ful expe­ri­ence. It was an expe­ri­ence I had nev­er had before," she said. ​"I was so ner­vous. I thought ​'oh my God I'm going to get arrested'."
House­keep­er Catali­na Alman­za has been work­ing at the Hyatt Regency for 28 years. She told In These Times that she works with only six oth­er women on the sec­ond shift of the day. ​"We go through so many rooms and there's so few of us, that I'm up and down, in the east tow­er, the west tow­er, up and down, every day that I work."
Alman­za said that many of her cowork­ers become injured from the work they do. Some of her fel­low house­keep­ers are in their 60s. She described a close friend who became too sick to work and became depressed.
​"She would cry and say ​'why doesn't the com­pa­ny want me? I've worked for so many years for this com­pa­ny so hard,' and it took her six months to feel bet­ter and be able to come back to work," Alman­za said. ​"She's back to work, but she's not com­plete­ly well."
Local 1 points to a 2010 study pub­lished in the Amer­i­can Jour­nal of Indus­tri­al Med­i­cine to show just how dan­ger­ous house­keep­ing can be. The study found Hyatt house­keep­ers had the high­est rate of injury for house­keep­ers among five hotel com­pa­nies and across 50 hotels.
The day work­ers con­tracts expired in 2009, Hyatt fired 98 work­ers from a Boston hotel and replaced them with sub­con­tract­ed employ­ees to cut costs. The tem­po­rary work­ers were paid min­i­mum wage, had no ben­e­fits, and cleaned twice as many rooms. The Boston 100, as they're now known, has spurred a nation­al boy­cott of the com­pa­ny, in which reli­gious lead­ers have played a con­sid­er­able role.
More than 250 Rab­bis signed a pledge to boy­cott the hotel in sup­port of Hyatt work­ers in 2009 after the fir­ing of the Boston 100. Hyatt is one of the only hotels to have a kosher kitchen — the own­ers are Jew­ish. This year, dur­ing the sev­en weeks between Passover and Shavuot on June 7, rab­bis, can­tors and cler­gy inter­viewed Hyatt work­ers around the nation to pro­duce a tra­di­tion­al text study for Shavuot in hon­or of Hyatt work­ers. Rab­bi Ash­er Lopatin wrote the fol­low­ing in the study:
It becomes a ​"shan­da" when the Jew­ish busi­ness is at the fore­front of low­er­ing the sta­tus of work­ers, and we, as Jews and Jew­ish lead­ers, are respon­si­ble for mak­ing sure that the Jew­ish world of busi­ness and com­merce is one that val­ues being a ​"mentsch" and treat­ing employ­ees with the decen­cy and stan­dard that soci­ety has decid­ed. Yes, they may legal­ly be able to out­source more or refuse to rec­og­nize ​"card checks", which reflect employ­ees desire to union­ize; how­ev­er, when the oth­er major hotel chains- Star­wood and Hilton- give employ­ees these rights and pro­tec­tions, Hyatt should be at the very least on par. Any­thing below this is not doing ​"what is good and straight in the eyes of God."
Can­dice Bernd
is an edi­tor and staff reporter at
Truthout
. Her work has also appeared in sev­er­al oth­er pub­li­ca­tions, includ­ing
The Nation
,
In These Times
, the
Texas Observ­er
,
Salon
, Rewire.News,
YES! Mag­a­zine
and
Earth Island Jour­nal
, as well as in
Truthout
​
'
s anthol­o­gy on police vio­lence,
Who Do You Serve, Who Do You Pro­tect?
She received two awards from the San Fran­cis­co Press Club in Novem­ber
2018
, and the Dal­las Peace and Jus­tice Cen­ter's annu­al jour­nal­ism award in Decem­ber
2016
. Fol­low her on Twit­ter:
@CandiceBernd
.