ICE Must Stop Locking Up Immigrants—Whether in Private or Public Prisons
Excising private detention centers like Corrections Corporation of America and GEO Group is just the first step.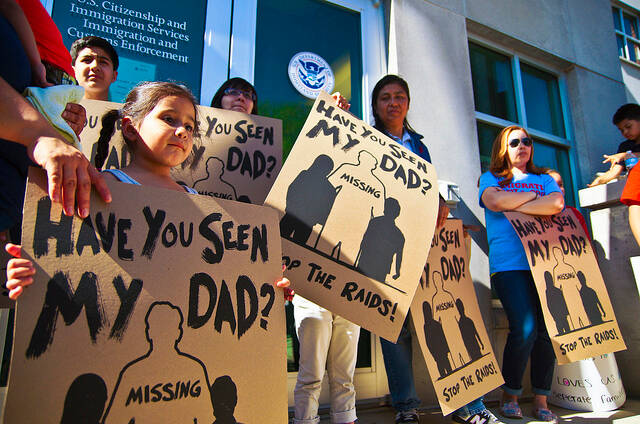 After almost two decades of over­crowd­ing, dis­gust­ing food, lack of med­ical care and deaths — and after ter­rif­ic report­ing decry­ing these abus­es (see the work of Seth Freed Wessler in The Nation and Shane Bauer in Moth­er Jones) — the Depart­ment of Jus­tice (DOJ) announced last week that the Bureau of Pris­ons (BOP) would phase out its use of pri­vate pris­ons. On Mon­day, Depart­ment of Home­land Secu­ri­ty (DHS) Sec­re­tary Jeh John­son announced that the DHS would eval­u­ate whether Immi­gra­tion and Cus­toms Enforce­ment (ICE) should also cut ties to pri­vate prison companies.
"To think that suffering in prisons will stop by eliminating reliance on private companies is to think that the whip won't sting if you change the hand that snaps it."
Of course they should. But excis­ing pri­vate deten­tion cen­ters like Cor­rec­tions Cor­po­ra­tion of Amer­i­ca (CCA) and GEO Group is just the first step.
John­son has ordered an eval­u­a­tion and inter­nal report to con­sid­er ​"all fac­tors con­cern­ing ICE's deten­tion pol­i­cy and prac­tice," due to him by Novem­ber 30. Any hon­est eval­u­a­tion won't have to scratch deep to see that the same abus­es found in the pri­vate pris­ons abound in pri­vate deten­tion cen­ters. Indeed, the two largest pri­vate prison com­pa­nies, CCA and GEO Group, oper­ate both pris­ons and deten­tion cen­ters on the same mod­el: seek­ing to increase rev­enue by cut­ting costs at every cor­ner. They scrimp by offer­ing sub­stan­dard med­ical care, cram­ming men and women into over­crowd­ed bunk rooms, feed­ing them cheap food, pro­vid­ing them with lit­tle pro­gram­ming or access to legal coun­sel, as well as under­train­ing staff — to name just a few pinch­pen­ny prac­tices that lead to decrepit and dead­ly conditions.
Not only are they run on the same mod­el, but the pri­vate pris­ons con­tract­ed by the BOP are incar­cer­at­ing prac­ti­cal­ly the same peo­ple that pri­vate deten­tion cen­ters detain. For many inmates lan­guish­ing in fed­er­al prison, their only crime was hav­ing crossed the bor­der twice. In the mid-2000s, the fed­er­al gov­ern­ment start­ed treat­ing ​"ille­gal reen­try" as a pun­ish­able crime, basi­cal­ly cre­at­ing a mar­ket for pri­vate pris­ons to lock up more immigrants.
If the DOJ's answer to years of abuse, mis­man­age­ment, upris­ings and death in these pris­ons is to stop con­tract­ing pri­vate com­pa­nies, DHS's pol­i­cy should be the same for pri­vate­ly-run deten­tion cen­ters, which are pris­ons in all but name. It would be a good first step, but it's not near­ly enough.
Even if the DOJ and DHS both shift away from the use of for-prof­it com­pa­nies, con­di­tions at gov­ern­ment-run facil­i­ties would remain dire. Women and chil­dren in the state-run Berks Fam­i­ly Res­i­den­tial Cen­ter in Penn­syl­va­nia, for exam­ple, com­plain of many of the same abus­es as those at pri­vate­ly-run facil­i­ties. The con­di­tions in Berks are so bad that some chil­dren ​"grab the chord that holds their ID cards and tight­en it around their necks, say­ing they want to die if they don't get out," accord­ing to a let­ter writ­ten by 22 women who staged a hunger strike this month.
In 2015, one young moth­er report­ed that the Karnes Res­i­den­tial Cen­ter, which is run by GEO Group and which DHS insists is ​"fam­i­ly friend­ly," was ​"killing me lit­tle by lit­tle." In response to this and many oth­er com­plaints, a fed­er­al judge ordered ICE to shut fam­i­ly deten­tion cen­ters, or let the women and chil­dren go free much soon­er. Instead, GEO Group reli­censed the facil­i­ty as a child­care cen­ter. A Texas judge blocked CCA from doing the same with its fam­i­ly deten­tion cen­ter in south­ern Texas. A hear­ing on the issue is sched­uled to take place in September.
But rebrand­ing, reli­cens­ing, or shift­ing con­trol from the pri­vate to the pub­lic sec­tor won't mat­ter to the men, women and chil­dren who suf­fer behind closed doors. All that mat­ters to them is that they are freed.
Accord­ing to a 2012 report by Deten­tion Watch Net­work: ​"There is no facil­i­ty among the approx­i­mate­ly 250 in oper­a­tion at the time of pub­li­ca­tion where Immi­gra­tions and Cus­toms Enforce­ment (ICE) reli­ably pro­tects those inside from phys­i­cal and sex­u­al abuse, assures basic med­ical care, pro­vides ade­quate nutri­tion and exer­cise, and allows suf­fi­cient access to the out­side world so that immi­grants can pre­pare their legal cas­es and pre­serve their families."
The only humane and moral move is to stop detain­ing immi­grants, asy­lum seek­ers and refugees. Indeed, treat­ing asy­lum seek­ers as pris­on­ers goes against Arti­cle 31 of the 1951 Gene­va Con­ven­tion. The vic­to­ry is not gov­ern­ment tak­ing over; the vic­to­ry will be shut­ter­ing these ware­hous­es of mis­ery. To think that suf­fer­ing in pris­ons will stop by elim­i­nat­ing reliance on pri­vate com­pa­nies is to think that the whip won't sting if you change the hand that snaps it.
In the coun­try with the largest carcer­al appa­ra­tus in the his­to­ry of the world, the only true prison reform is get­ting peo­ple out of them.