ICE Must Stop Locking Up Immigrants—Whether in Private or Public Prisons
Excising private detention centers like Corrections Corporation of America and GEO Group is just the first step.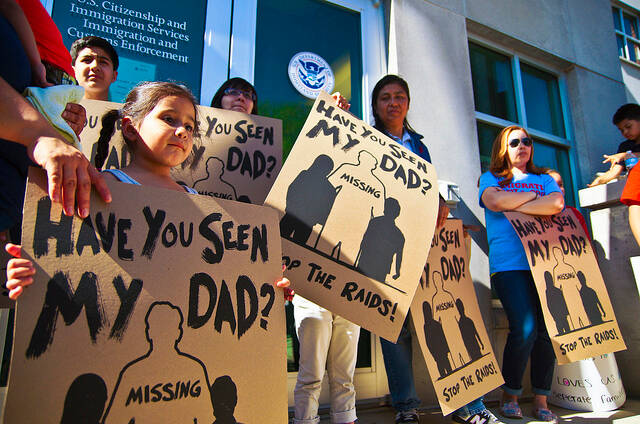 After almost two decades of overcrowding, disgusting food, lack of medical care and deaths — and after terrific reporting decrying these abuses (see the work of Seth Freed Wessler in The Nation and Shane Bauer in Mother Jones) — the Department of Justice (DOJ) announced last week that the Bureau of Prisons (BOP) would phase out its use of private prisons. On Monday, Department of Homeland Security (DHS) Secretary Jeh Johnson announced that the DHS would evaluate whether Immigration and Customs Enforcement (ICE) should also cut ties to private prison companies.
"To think that suffering in prisons will stop by eliminating reliance on private companies is to think that the whip won't sting if you change the hand that snaps it."
Of course they should. But excising private detention centers like Corrections Corporation of America (CCA) and GEO Group is just the first step.
Johnson has ordered an evaluation and internal report to consider ​"all factors concerning ICE's detention policy and practice," due to him by November 30. Any honest evaluation won't have to scratch deep to see that the same abuses found in the private prisons abound in private detention centers. Indeed, the two largest private prison companies, CCA and GEO Group, operate both prisons and detention centers on the same model: seeking to increase revenue by cutting costs at every corner. They scrimp by offering substandard medical care, cramming men and women into overcrowded bunk rooms, feeding them cheap food, providing them with little programming or access to legal counsel, as well as undertraining staff — to name just a few pinchpenny practices that lead to decrepit and deadly conditions.
Not only are they run on the same model, but the private prisons contracted by the BOP are incarcerating practically the same people that private detention centers detain. For many inmates languishing in federal prison, their only crime was having crossed the border twice. In the mid-2000s, the federal government started treating ​"illegal reentry" as a punishable crime, basically creating a market for private prisons to lock up more immigrants.
If the DOJ's answer to years of abuse, mismanagement, uprisings and death in these prisons is to stop contracting private companies, DHS's policy should be the same for privately-run detention centers, which are prisons in all but name. It would be a good first step, but it's not nearly enough.
Even if the DOJ and DHS both shift away from the use of for-profit companies, conditions at government-run facilities would remain dire. Women and children in the state-run Berks Family Residential Center in Pennsylvania, for example, complain of many of the same abuses as those at privately-run facilities. The conditions in Berks are so bad that some children ​"grab the chord that holds their ID cards and tighten it around their necks, saying they want to die if they don't get out," according to a letter written by 22 women who staged a hunger strike this month.
In 2015, one young mother reported that the Karnes Residential Center, which is run by GEO Group and which DHS insists is ​"family friendly," was ​"killing me little by little." In response to this and many other complaints, a federal judge ordered ICE to shut family detention centers, or let the women and children go free much sooner. Instead, GEO Group relicensed the facility as a childcare center. A Texas judge blocked CCA from doing the same with its family detention center in southern Texas. A hearing on the issue is scheduled to take place in September.
But rebranding, relicensing, or shifting control from the private to the public sector won't matter to the men, women and children who suffer behind closed doors. All that matters to them is that they are freed.
According to a 2012 report by Detention Watch Network: ​"There is no facility among the approximately 250 in operation at the time of publication where Immigrations and Customs Enforcement (ICE) reliably protects those inside from physical and sexual abuse, assures basic medical care, provides adequate nutrition and exercise, and allows sufficient access to the outside world so that immigrants can prepare their legal cases and preserve their families."
The only humane and moral move is to stop detaining immigrants, asylum seekers and refugees. Indeed, treating asylum seekers as prisoners goes against Article 31 of the 1951 Geneva Convention. The victory is not government taking over; the victory will be shuttering these warehouses of misery. To think that suffering in prisons will stop by eliminating reliance on private companies is to think that the whip won't sting if you change the hand that snaps it.
In the country with the largest carceral apparatus in the history of the world, the only true prison reform is getting people out of them.
Be one of the first
Help kick off the new era of In These Times! Without a media that brings people together and creates a written record of the struggles of workers, their voices will be fragmented and forgotten.
The mission of In These Times is to be that written record, and to guide and grow those movements.
We have a lot of work ahead of us, and that work starts today. Early support is the most valuable support, and that's why we're asking you to pitch in now. If you are excited for this new era of In These Times, please make a donation today.