Trump's Executive Orders on "Border Security" Are as Bad as We Expected
The president wasted no time to start targeting immigrants.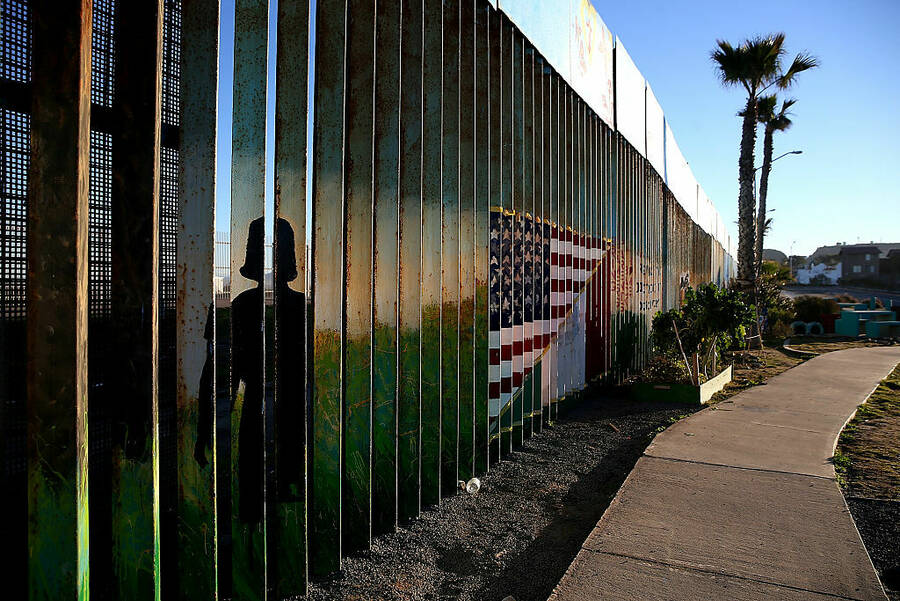 Pres­i­dent Don­ald Trump took his first steps last week toward ful­fill­ing his anti-immi­grant cam­paign promis­es to build a bor­der wall, deport undoc­u­ment­ed immi­grants and effec­tive­ly ter­ror­ize immi­grant com­mu­ni­ties. Even before the refugee ban order he signed, spark­ing con­fu­sion and protests across the coun­try, he signed two exec­u­tive orders Wednes­day, which were wide­ly con­demned by crit­ics decry­ing the poten­tial depor­ta­tion of mil­lions of immi­grants, the envi­ron­men­tal destruc­tion of bor­der­lands and the dis­in­te­gra­tion of his­toric Amer­i­can val­ues. In sum, Trump's first week in office was a scourge on immi­grants, refugees, asy­lum seek­ers and their communities.
'People and the environment will pay the ultimate price.'
Among the many con­tro­ver­sial items in the Wednes­day orders is a call for the fur­ther con­struc­tion of immi­grant deten­tion facil­i­ties. New or expand­ed facil­i­ties would like­ly be built and man­aged by pri­vate prison com­pa­nies con­tract­ed by the fed­er­al gov­ern­ment, despite the fact that many pri­vate pris­ons and deten­tion cen­ters have been accused of heinous, and some­times dead­ly, abuse.
The orders also pull fund­ing from so-called sanc­tu­ary cities, which, accord­ing to the orders, cause ​"immea­sur­able harm to Amer­i­can peo­ple and to the very fab­ric of our Repub­lic." Yet, as a new study pub­lished by the Cen­ter for Amer­i­can Progress con­cludes: ​"Crime is sta­tis­ti­cal­ly sig­nif­i­cant­ly low­er in sanc­tu­ary coun­ties com­pared to non-sanc­tu­ary coun­ties. More­over, economies are stronger in sanc­tu­ary coun­ties." May­ors in major cities across the coun­try respond­ed prompt­ly, pledg­ing to defy Trump's immi­gra­tion orders.
Anoth­er wor­ri­some impli­ca­tion, accord­ing to Jeanne Atkin­son, exec­u­tive direc­tor of Catholic Legal Immi­gra­tion Net­work (CLIN­IC), is ​"the mas­sive expan­sion of depor­ta­tion and deten­tion prac­tices." Despite Trump's hir­ing freeze of fed­er­al work­ers, his exec­u­tive orders call for the hir­ing of 5,000 new Bor­der Patrol agents and 10,000 new Immi­gra­tion and Cus­toms Enforce­ment (ICE) agents. Atkin­son notes that there is noth­ing in the orders, how­ev­er, about hir­ing new immi­gra­tion judges, which, along with the orders' direc­tive to ter­mi­nate the prac­tice of catch-and-release — under which immi­grants await­ing court hear­ings are released — could result in ​"migrants lan­guish­ing for years in deten­tion centers."
"We know well," Atkin­son said, ​"how dehu­man­iz­ing deten­tion is, how re-trau­ma­tiz­ing it is."
The orders also autho­rize state and local enforce­ment offi­cials to do the work of immi­gra­tion offi­cers. Crit­ics have long argued that such a set­up under­mines trust between com­mu­ni­ties and police and leads to less safe cities, with some res­i­dents hes­i­tant to report crimes for fear of inter­act­ing with police. John Sandweg, a for­mer ICE direc­tor, told Politi­co that Trump's order to dep­u­tize police as immi­gra­tion offi­cers is ​"going to sweep up a lot of fam­i­lies, a lot of folks who have chil­dren, a lot of folks who have been here a long time."
But it is the orders' direc­tive about the wall that has gar­nered the most atten­tion and crit­i­cism (until it was super­seded by out­rage over the refugee and Mus­lim-focused ban). The orders, which prompt­ed Mex­i­can Pres­i­dent Enrique Peña Nieto to can­cel a planned trip to the White House, direct Sec­re­tary of Home­land Secu­ri­ty John Kel­ly to ​"imme­di­ate­ly plan, design, and con­struct a phys­i­cal wall along the south­ern border."
Cal­i­for­nia Demo­c­ra­t­ic Sen. Dianne Fein­stein issued a state­ment call­ing the exec­u­tive actions ​"unclear," say­ing they ​"won't help fix our immi­gra­tion sys­tem." In 2006, how­ev­er, Fein­stein, joined by Demo­c­ra­t­ic Sens. Chuck Schumer, Hilary Clin­ton, and then-Sen. Barack Oba­ma, vot­ed for the Secure Fence Act, which Trump's order- ref­er­ences, and which autho­rized the con­struc­tion of 700 miles of new walls and fenc­ing along the U.S.-Mexico bor­der. Also, notably, the Oba­ma admin­is­tra­tion deport­ed 2.7 mil­lion people.
The lan­guage of Trump's pres­i­den­cy, as evoked by his exec­u­tive orders, is much in line with the blus­ter and ven­om of his cam­paign, except now there are actu­al — and dev­as­tat­ing — con­se­quences. The pre­am­ble to one of the orders states ​"Ille­gal immi­gra­tion presents a clear and present dan­ger to the inter­ests of the Unit­ed States." ​"Clear and present dan­ger" is a legal term used by the Supreme Court to deter­mine when it is per­mis­si­ble to lim­it free speech, and is not used to describe a kinet­ic threat (espe­cial­ly when there is none) or a rise in immigration.
The Sier­ra Club was among the many orga­ni­za­tions to oppose Trump's exec­u­tive orders, stat­ing: ​"Like a hotel with his name in gold above the door, Trump's Mex­i­can bor­der wall would be an ugly mon­u­ment to his ego. It will cost bil­lions in U.S. tax­pay­er dol­lars, while caus­ing flood­ing, and harm to bor­der com­mu­ni­ties and wildlife."
"[The] same walls that are fun­nel­ing peo­ple to their deaths are the walls that are impact­ing wildlife and pro­tect­ed land­scapes," said Dan Mil­lis, bor­der­lands pro­gram coor­di­na­tor with the Sier­ra Club's Grand Canyon Chapter.
Though the exec­u­tive orders are just a first step, GOP law­mak­ers have already sig­naled that they will autho­rize between $12 and $15 bil­lion dol­lars for wall con­struc­tion. Though con­cert­ed efforts of resis­tance could scare Trump and his admin­is­tra­tion into backpedal­ing, pro­tec­tion and advo­ca­cy net­works are dig­ging in for a pro­tract­ed fight.
"Peo­ple and the envi­ron­ment," Mil­lis said, ​"will pay the ulti­mate price."