When Prisons Are Toxic to Both Humanity and the Environment
Activists are taking aim at mass incarceration, environmental pollution and the toxic prisons where the two problems meet.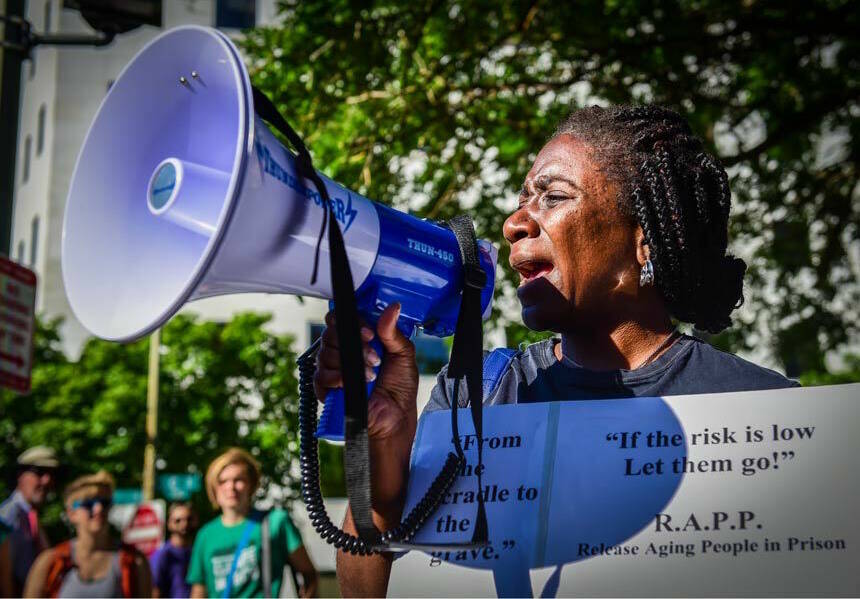 Nes­tled in the hills of Letch­er Coun­ty, Ken­tucky, the Lil­ley Cor­nett Woods are a sea of bio­di­ver­si­ty. The 554 acres are home to over 530 species of flow­er­ing plants and the endan­gered Indi­ana bat, but the sur­round­ing area has not been so hos­pitable to life. Letch­er County's coal mines have poi­soned the water of the Ken­tucky Riv­er Basin, mak­ing it unsafe not only for locals but for many who live down­stream. Now the Fed­er­al Bureau of Pris­ons has cho­sen a for­mer moun­tain­top removal strip mine as the site of a new facil­i­ty — about three miles from the valu­able Woods habi­tat. The pro­posed prison, which would hold 1,200 peo­ple and occu­py near­ly 700 acres, is opposed by both anti-prison and envi­ron­men­tal activists, who say the move would have dev­as­tat­ing con­se­quences, both eco­log­i­cal and human.
'Our future can't be built on fossil fuel industries any more than it can be built on prisons.'
On June 13, dozens of activists with the Fight Tox­ic Pris­ons move­ment marched to the Bureau of Pris­ons (BOP) head­quar­ters in Wash­ing­ton, D.C., to protest the pro­posed Letch­er Coun­ty prison. The march was the cul­mi­na­tion of a three-day con­fer­ence bring­ing togeth­er for­mer polit­i­cal pris­on­ers, activists for envi­ron­men­tal jus­tice, prison abo­li­tion­ists and others.
The con­struc­tion of pris­ons and jails on tox­ic sites is a wide­spread, but typ­i­cal­ly over­looked, prob­lem. The infa­mous jail on Rik­ers Island in New York City pro­vides an exam­ple: Since Rik­ers sits atop a land­fill, both inmates and guards are exposed to nox­ious, foul-smelling methane. Near­by pow­er plants emit nitro­gen oxide and oth­er pol­lu­tants, and the poor air qual­i­ty pos­es a seri­ous health hazard.
Bret Grote, an attor­ney with the Abo­li­tion­ist Law Cen­ter who spoke at the Fight Tox­ic Pris­ons con­fer­ence, described abom­inable con­di­tions at the State Cor­rec­tion­al Insti­tu­tion at Fayette in west­ern Penn­syl­va­nia, locat­ed in the midst of a mas­sive coal waste dump that ​"holds over 40 mil­lion tons of the foul sludge." Tests by the Cit­i­zens Coal Coun­cil in 2012 found dan­ger­ous­ly high lev­els of arsenic, boron, cobalt, iron, man­ganese and sul­fate in the sur­face and ground water near the site.
Alex Fried­mann, Asso­ciate Direc­tor of the Human Rights Defense Cen­ter and man­ag­ing edi­tor of Prison Legal News, believes the dan­ger­ous place­ment of these tox­ic pris­ons is inten­tion­al: ​"You don't acci­den­tal­ly build a prison on a land­fill, in a flood zone or in vol­cano warn­ing zones," he said at the con­ver­gence. ​"Pris­on­ers are con­sid­ered trash," he added, ​"and we dis­pose of trash by putting it" out of sight.
On June 10, con­fer­ence orga­niz­ers met with offi­cials from the Envi­ron­men­tal Pro­tec­tion Agency (EPA) to argue that pris­on­ers are a par­tic­u­lar­ly vul­ner­a­ble pop­u­la­tion that should be spe­cial­ly pro­tect­ed from envi­ron­men­tal haz­ards. Cur­rent­ly, in the EPA's Envi­ron­men­tal Jus­tice 2020 Action Agen­da—guide­lines meant to incor­po­rate envi­ron­men­tal jus­tice into the EPA's work — the agency lists ​"minor­i­ty, low-income, and vul­ner­a­ble" com­mu­ni­ties as groups that should receive spe­cial atten­tion. Despite being dis­pro­por­tion­ate­ly minor­i­ty and low-income, prison pop­u­la­tions are not men­tioned. The activists are pres­sur­ing the EPA to demand the BOP fur­ther inves­ti­gate the envi­ron­men­tal and human impact of the pro­posed facil­i­ty. The BOP did release a Draft Envi­ron­men­tal Impact State­ment in July 2015, but it did not direct­ly con­sid­er poten­tial health effects on the pris­on­ers them­selves, an over­sight that advo­cates are seek­ing to rectify.
Chris Mil­itsch­er, chief of the EPA's Nation­al Envi­ron­men­tal Pol­i­cy Act Pro­gram Office, told activists the EPA has no ​"author­i­ty to ques­tion anoth­er fed­er­al agency." Mil­itsch­er, how­ev­er, did admit that there ​"may be some envi­ron­men­tal issues still out­stand­ing that the Bureau of Pris­ons needs to address." The BOP's final deci­sion, in part based on a final envi­ron­men­tal impact state­ment, is expect­ed lat­er this sum­mer, Prison Legal News reports.
The pro­posed Letch­er Coun­ty facil­i­ty will be the fourth prison that Repub­li­can Con­gress­man Hal Rogers has built in his dis­trict. The House Appro­pri­a­tions Com­mit­tee, of which Rogers is the chair, allo­cat­ed $444 mil­lion to build the prison in what a mem­ber of a local plan­ning com­mit­tee called a ​"great Christ­mas present for Letch­er Coun­ty." But stud­ies have shown pris­ons do lit­tle to help employ­ment, and accord­ing to Tom Meagher and Christie Thomp­son, writ­ing at the Mar­shall Project, ​"research sug­gests that pris­ons rarely bring sig­nif­i­cant eco­nom­ic improve­ments to rur­al com­mu­ni­ties where they are pitched as a salvation."
The Letch­er Gov­er­nance Project (LGP), a local group formed this year in oppo­si­tion to the planned prison, argues that the $444 mil­lion allo­cat­ed to the prison could be used for more humane and effec­tive ends, and is encour­ag­ing com­mu­ni­ty mem­bers to speak out using the hash­tag #our444million. ​"Some folks talk about things like if we had a state-of-the-art drug treat­ment and rehab facil­i­ty here instead of the pro­posed prison," wrote LGP orga­niz­er Eliz­a­beth Sanders in an email to In These Times. ​"Some­thing that could employ folks, address a seri­ous prob­lem here and invest in the most vul­ner­a­ble with­in our communities."
She added, ​"The LGP knows that our future can't be built on fos­sil fuel indus­tries any more than it can be built on pris­ons," observ­ing that many of the same groups — ​"indige­nous com­mu­ni­ties, com­mu­ni­ties of col­or, and low-income com­mu­ni­ties" — are both on ​"the front­lines of cli­mate change" and the ones ​"being locked up." This link reflects ​"under­ly­ing poli­cies" and sys­temic struc­tures, she wrote. ​"It's not a coincidence."
To make mat­ters worse, loom­ing cli­mate change may make the prison-envi­ron­ment con­nec­tion even dead­lier. Some schol­ars project that a hot­ter plan­et will lead to esca­lat­ed vio­lence and mass migra­tion — and thus, there may be rea­son to expect more pris­ons, more walls and more mil­i­ta­rized bor­der secu­ri­ty in the near future. For now, Pana­gi­oti Tsolkas of the Prison Ecol­o­gy Project sug­gests that the most respon­si­ble way to pro­tect our envi­ron­ment — both social and nat­ur­al — is by mak­ing con­nec­tions among ris­ing activist move­ments and reduc­ing, in his words, both parts per mil­lion (ppm) of CO2 while ​"simul­ta­ne­ous­ly slash­ing the cpms (cops per mil­lion)" quotient.
As the world warms, activists are call­ing to pro­tect the most vul­ner­a­ble amongst us — not lock them away.