The Link Between Trump's Attacks on Immigrants and Deaths in the Desert
Trump's policies reduce people first to "illegals," then to deportation statistics, and, finally, to a scattering of bones in an arroyo.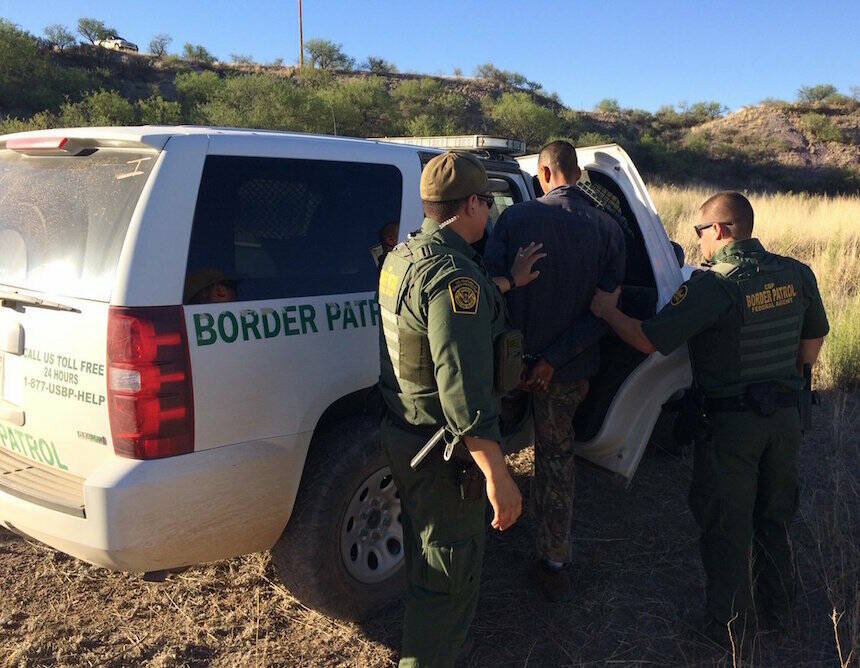 ARIVACA, ARIZ. — For three days the Border Patrol trucks sat on the horizon, watching the cluster of trailers, outbuildings and a geodesic dome that comprise one humanitarian camp and medical clinic in the desert. Agents patrolled the perimeter, gazing through binoculars, their walkie-talkies sounding throughout the night. On the first day, they set up a checkpoint to stop and search all traffic coming in and out.
The group stared down at the jawbone. Morgan-Olson says she remembers thinking: "This is somebody's father or son."
Inside, four men's lives were in peril. They were being treated for heat-related illnesses after crossing the border and walking nearly 20 miles through the mountainous and canyon-sliced desert. All four were from Mexico, ages 19 to 40, and had drunk contaminated water from a cattle tank. They were severely dehydrated. It was unclear whether Border Patrol would provide medical care if they were seized. Though Border Patrol claims it provides necessary treatment, a report published in 2011 by No More Deaths, the group that runs the aid camp, found that 86 percent of migrants in custody who needed medical attention were denied it.
With agents circling the camp, anxiety rose inside. During the night, one patient became so panicked he couldn't breathe. ​"It was not an environment where someone could receive good care and heal," says Catherine Gaffney, a longtime volunteer with No More Deaths, who was present. (Note: This writer also volunteers with the group.)
On the third day, June 15, Border Patrol got its warrant, over the objections of a doctor who insisted that the patients needed at least 24 hours of continued treatment. A helicopter swooped in to hover some 30 feet above the camp, kicking up dust, and a convoy of trucks descended, accompanied by a government film crew. Agents with rifles fanned out.
"We're not here to arrest any citizens, we're just here to take the bodies," one of the agents told the volunteers — using a common, and dehumanizing, Border Patrol term for migrants.
The inhumane treatment of migrants and the intimidation of those providing aid are nothing new. But volunteers say that under Trump, Border Patrol seems emboldened. In another raid on the camp only three weeks before, Border Patrol agents, threatening to obtain a warrant, pressured eight migrants to turn themselves in. During that raid, one of the Border Patrol agents seemed to take a cue directly from Trump's repeated (and fabricated) assertion about a flood of Mexican rapists.
"I'm just curious if you know what you're doing," the agent told a volunteer, according to her notes. ​"You know that there's an illegal that raped a 13-year-old and also a 14-year-old, how would you guys feel about that? I mean, are you serious? You know what's going on here, who you're helping?"
The camp has served for over a decade as a emergency medical facility, a staging ground from which volunteers take water, food and supplies to cache at sites along known migrant trails, and a space where migrants find some sanctuary. ​
"
It is a space of shared humanity," says Gaffney, ​
"
that is under attack."
No More Deaths and Border Patrol had a longstanding verbal agreement that the camp is off-limits. But during the siege, Border Patrol agents told volunteers that they'd tracked the four migrants for miles after they crossed the border, deciding to apprehend them once they'd entered the camp. Volunteers took this as a sign that the camp has become the real target.
Raids on medical camps not only affect the few migrants who are hounded and arrested; they deter future humanitarian efforts and push migrants into ever more remote and dangerous territory. This tactic extends a Border Patrol strategy in use since the 1990s to push migrants away from safe crossing zones, ostensibly to deter them. Decades of continued migration, however, have shown that migrants — whether seeking to reunite with family or fleeing violence, unemployment or grinding poverty — will risk death to cross the border.
In May, No More Deaths volunteers found at least nine sets of human remains. A group leaving water for migrants on the Organ Pipe Cactus National Monument, in southwestern Arizona, found the first, which looked like a tibia. The next day, volunteer Kate Morgan-Olson led a group back to the spot, where they came across a mandible, a sweatshirt and a cross stuck in a rock cairn.
The group stared down at the jawbone. Morgan-Olson says she remembers thinking: ​
"
This is somebody's father or son."
They marked the location with a GPS and continued their search, moving in and out of an arroyo. Soon, says Morgan-Olson, ​"We couldn't walk a couple yards without someone saying ​'bone.' "
Another migrant-aid group,
Aguilas del Desierto
(Eagles of the Desert), found more sets of human remains that month and more again in June, totaling about
15
in the last three months. According to official Border Patrol statistics, around
7
,
000
migrants have died while attempting to cross the U.S.-Mexico border since
1998
. According to accounts received by humanitarian groups, thousands more have disappeared without a trace.