Illinois Gov. Pat Quinn Narrowly Avoids Public Employee Strike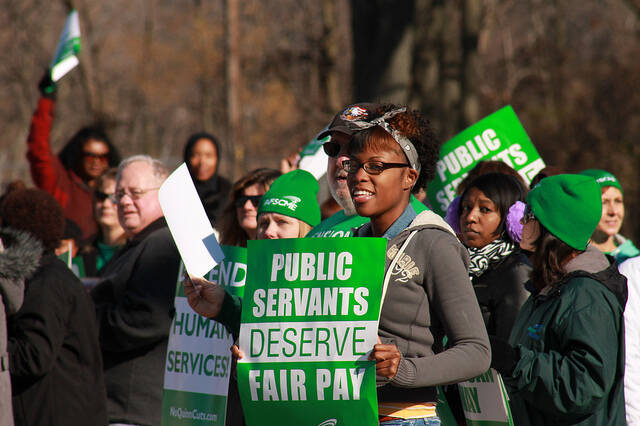 After seri­ous talk of a statewide pub­lic employ­ee strike, the Amer­i­can Fed­er­a­tion of State, Coun­ty and Munic­i­pal Employes (AFSCME) Coun­cil 31 issued an unex­pect­ed announce­ment on Thurs­day that it had reached a ten­ta­tive deal with Illi­nois Gov. Pat Quinn on a new con­tract for about 35,000 state employ­ees. The con­tract will get the green light if a major­i­ty of AFSCME mem­bers, who range from Spring­field office admin­is­tra­tors to child wel­fare case man­agers to men­tal health care providers, vote to approve it. The rat­i­fi­ca­tion process began on Mon­day, March 4.
Quinn and the AFSCME bar­gain­ing com­mit­tee will not pub­licly com­ment on the con­trac­t's terms until AFSCME mem­bers review the deal. It is also not known why the two sides sud­den­ly reached an agree­ment after 15 months of seem­ing­ly fruit­less nego­ti­a­tions, with the feud­ing between AFSCME and Illi­nois' Demo­c­ra­t­ic gov­er­nor com­pa­ra­ble to the acri­mo­ny between the Chica­go Teach­ers Union (CTU) and May­or Rahm Emanuel.
Ear­li­er last week, Anders Lin­dall, spokesman for AFSCME Coun­cil 31, called a strike a ​"very real pos­si­bil­i­ty" and said that the state was in ​"unchar­tered waters" as AFSCME had nev­er come close to a work stop­page in its 40 years bar­gain­ing with the governor's office. Local and even nation­al AFSCME lead­er­ship have pil­lo­ried Quinn for near­ly two years. In Feb­ru­ary, AFSCME Pres­i­dent Lee Saun­ders brand­ed Quinn a ​"fair-weath­er Demo­c­rat" who ​"must pay" for a ​"relent­less war on pub­lic employees."
Asked on Thurs­day what had changed, Lin­dall lim­it­ed his com­ments to thank­ing the ​"sol­i­dar­i­ty of our mem­ber­ship" and a skilled bar­gain­ing com­mit­tee ​"that pro­tects state employ­ees' stan­dard of liv­ing — even in these most chal­leng­ing of eco­nom­ic times."
​"This is a day not for look­ing back but mov­ing for­ward," Lin­dall says.
The governor's office was also tight-lipped, refer­ring back to a pub­lic state­ment that claims the deal is ​"fair to both hard-work­ing state employ­ees and all tax­pay­ers of Illinois."
The two sides were at odds over the dura­tion of a work­er wage freeze, an increase in employ­ee health care costs, and a law­suit filed by AFSCME over Quinn not pay­ing rais­es that the union says were con­trac­tu­al­ly promised in the last agree­ment. The Spring­field newslet­ter Capi­tol Fax reports that the bat­tle over these rais­es, rag­ing since Quinn scotched the pay hikes in June 2011, has been solved as part of the ten­ta­tive agree­ment. Nei­ther Quinn's office nor AFSM­CE would con­firm the Capi­tol Fax report.
These spe­cif­ic issues were part of a broad­er dis­pute about the very role of Illi­nois' main pub­lic employ­ees union. AFSCME rep­re­sents 82 per­cent of state gov­ern­ment workers.
In the past Quinn claimed AFSCME mem­bers could not receive their pay rais­es because the Illi­nois Gen­er­al Assem­bly did not appro­pri­ate the mon­ey. He also often not­ed that Illi­nois is bil­lions of dol­lars in debt and called for AFSCME mem­bers to make more sacrifices.
AFSCME coun­tered that Quinn had deceived them about the pay rais­es and had not been on the lev­el since the union mobi­lized mem­bers and mon­ey behind Quinn's razor thin 2010 guber­na­to­r­i­al elec­tion vic­to­ry. ​"He made a deal with them before the last elec­tion and then reneged on the nego­ti­at­ed rais­es," says Christo­pher Mooney, a polit­i­cal sci­ence pro­fes­sor at the Uni­ver­si­ty of Illi­nois-Spring­field. ​"The union feels betrayed."
Such feel­ings spilled over into an ulti­mate­ly unsuc­cess­ful law­suit filed by AFSCME last August to pre­vent Quinn from clos­ing state pris­ons and juve­nile jus­tice cen­ters. And sus­pi­cion from AFSCME and oth­er statewide unions are an ani­mat­ing force in Quinn's stalled efforts to revamp the state's pub­lic-employ­ee pen­sion sys­tems. Quinn says that so-called pen­sion reform is the defin­ing issue of his gov­er­nor­ship. He has called on AFSCME mem­bers to either lose their retiree health care or a siz­able part of their annu­al ben­e­fit in order to whit­tle down $96 bil­lion in unfund­ed pen­sion obligations.
Like CTU with Emanuel, or Wis­con­sin pub­lic employ­ees with Gov. Scott Walk­er, AFSCME has viewed Quin­n's calls for fis­cal aus­ter­i­ty as part of a polit­i­cal agen­da to weak­en pub­lic-sec­tor unions.
Robert Bruno, direc­tor of the labor stud­ies pro­gram at the Uni­ver­si­ty of Illi­nois at Chica­go, says that AFSCME most­ly has it right — the dis­tinc­tions between Illi­nois and, for exam­ple, Wis­con­sin, are ​"super­fi­cial" and ​"thread­bare." Bruno argues that, ​"In Indi­ana, Wis­con­sin, Michi­gan, and now in Illi­nois, state and local gov­ern­ment union­ized work­ers are ide­o­log­i­cal­ly char­ac­ter­ized as imped­i­ments to fis­cal stability."
But Mooney believes that the dis­pute has been less ide­o­log­i­cal and that Quinn is an ​"old school lib­er­al" who is often in over his head. Indeed, Quinn inher­it­ed an objec­tive­ly lousy sit­u­a­tion from the now impris­oned Rod Blago­je­vich and has spent four years tak­ing flak from all sides of the polit­i­cal aisle. A Paul Simon Pub­lic Pol­i­cy insti­tute poll released two weeks ago put the governor's statewide approval rat­ing at 33 percent.
Per­haps, though, Quinn's abil­i­ty to do with AFSCME what Emanuel could not do with CTU and avoid a mas­sive pub­lic employ­ee strike will embold­en the gov­er­nor. More impor­tant­ly, it could sig­nal a more con­struc­tive rela­tion­ship between AFSCME and the governor's office where the bar­gain­ing rights and polit­i­cal ideas of pub­lic sec­tor labor are part of Quinn's agen­da going forward.
AFSCME is a spon­sor of In These Times.
Matthew Blake
is a free­lance jour­nal­ist based in Chica­go. He has writ­ten for the
Chica­go Jour­nal, Wash­ing­ton Month­ly, Wash­ing­ton Inde­pen­dent
and
The Nation
, among oth­er publications.