IMF on the Ropes in Brazil
Brazil's decision to cut some ties with the Fund is indicative of changing times in Latin America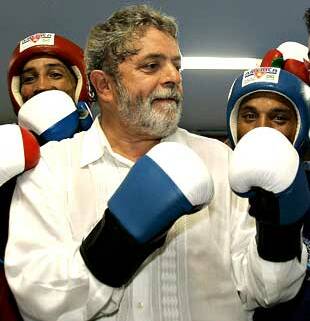 For the first time in six years, Brazil will not renew its accord with the International Monetary Fund (IMF). The accord was up for renewal March 31. However, Finance Minister Antonio Palocci, an international respected fiscal conservative, announced on March 28 that President Luiz Inacio ​"Lula" da Silva's wish to end Brazil's conflict-laden relationship with the IMF would be granted.
Since December 1998, Brazil has withdrawn $93 billion from their IMF credit line. In total, the country owes $24.6 billion by 2009. On balance, the country's economy grew zero percent between 1998 and 2003, according to the Fund's February Latin America report. Essentially, all the IMF did was keep foreign investors confident that if Brazil couldn't pay its debtors, the Fund was there to bail them out.
Brazil is the IMF's biggest debtor, and therefore its most important client. Argentina is second. (By comparison, China, India and Russia have no outstanding IMF loans and therefore are not subject to the Fund's tutelage.) Brazil's economy grew 5.2 percent in 2004. Record trade surpluses have helped Brazil accumulate the cash the government needs to service its debts to foreign and domestic lenders, including the $846 million it will pay in interest to the IMF this year.
Saying ​"goodbye" to the Fund makes political sense for Lula, who faces re-election next year. Lula's base considers the IMF the prime policy apparatus behind economic failures in Brazil and neighboring Argentina. They're not alone in this assessment. Argentina's blowout cost Brazil billions in lost trade revenue, which ultimately translated into job losses at home. Twelve percent unemployment was the norm in 2004, with 19 percent in Sao Paulo in 2002.
Those are terrible numbers for a country finding it harder and harder to ignore the needs of the poor and working class. While the IMF asserts that Brazilian poverty decreased in the mid-'90s by 10 percent, according to the World Bank more than one-third of Brazilians — 183 million people — live in wooden or brick shacks on less than $2 a day. Socioeconomic realities such as these have discredited the IMF throughout Latin America, where many consider the Fund the kingpin of a financier cartel oblivious to development and social needs.
Labor union leaders with close ties to Lula are heralding the finance minister's decision as if it ushers in a new era of social spending and cuts to the country's 19.25 percent interest rate. But industrial groups are more pessimistic, not because they will miss the IMF, but because they're certain the government will be even more draconian in raising interest rates to curb inflation — an old demand of the IMF — so as to show investors that they're not going to change course.
By severing the previous lending relationship, Lula can tell his supporters that Brazil can now get by without the IMF and didn't have to go broke to ​"cut them loose." But that's only half true. The IMF isn't going away, and it is Brazil that is inviting them back, though in a very different capacity. Under a new program that the country helped to design, Brazil will be allowed greater spending flexibility. This will allow the government to invest in infrastructure projects long ignored under IMF budget restraints.
"It's a very important achievement," says Enrique Iglesias, president of the Inter-American Development Bank. The Bank worked with the Fund and Brazil to create the pilot program. Chile once did something similar, but the Fund only allowed for public investment in oil projects that had a guaranteed investment return. The Brazilian government has chosen mostly to invest in fixing dilapidated roads, irrigation projects and chemical and biological research and development labs located in the Amazon. According to Iglesias, the IMF has no say in what Brazil chooses to invest in, only that the ​"the projects need to eventually be financially sound and cannot create a burden on public accounts." The three-year program allows Brazil $1 billion a year to play with. Not bad, but still significantly less than what they pay in debt service.
The IMF has changed its position in Latin America out of necessity: The IMF probably needs Latin America more than it needs the IMF. Latin American leaders are starting to recognize that they can have a voice within these institutions. As a result, the IMF responded positively to Brazil's decision, as did U.S. Treasury Secretary John T. Snow. Iglesias calls Argentina's recently approved plan to pay just 76 percent of its debt, ​"reasonable." With that in mind, Hugo Chávez of Venezuela, Néstor Kirchner of Argentina and Lula agreed to sign an accord in Uruguay on March 2 to negotiate their foreign debt as a bloc, rather than individually.
The IMF knows changes are afoot in Latin America. Former IMF Executive Director Vijay L. Kelkar wrote in the March issue of the IMF's magazine, Finance & Development, ​"It is time for the IMF to adapt to present needs [and] … promote globalization that would benefit all, not just one particular region or group of countries. A new debate in favor of regional monetary arrangements has emerged."
Kelkar is aware that competing capitalisms are changing the nature of the world's financial system. Argentina's foreign minister, Rafael Bielsa, put it this way in the Argentine press about his region's pressures to change the Fund: ​"There's a rebellion on the farm. The IMF is no longer a corral, and the little animals are beginning to escape."
And the perception in Brazil and the region as a whole is that since the privatization and foreign debt boom of the ​'90s, the United States has abandoned the region. Aside from immigration concerns, Washington has only to worry about competition from a more unified South America and what that could mean to the government's ultimate goal in the region — the Free Trade Area of the Americas (FTAA).
When asked by Univision TV during her Mexico visit on March 9, Secretary of State Condoleeza Rice said the new tendency to elect left-wing leaders in Latin America was fine so long as it was done within democratic structures. Rice's chief concern is likely to match that of leaders like Lula who know that booming stock markets and record trade surpluses might be enough to send the IMF packing, but are meaningless unless countries can provide essential services to the poor, reduce poverty and allow for the growth of a stable middle class.
A longtime reporter and foreign correspondent for Dow Jones and the
Wall Street Journal
,
Kenneth Rapoza
is an
In These Times
columnist who writes about the news business. His work has also appeared in
The American Prospect, The Nation
and at
Salon​.com
. He can be reached at ken@​inthesetimes.​com.