Immigrant Workers: San Fran Designer Owes Us at Least $40K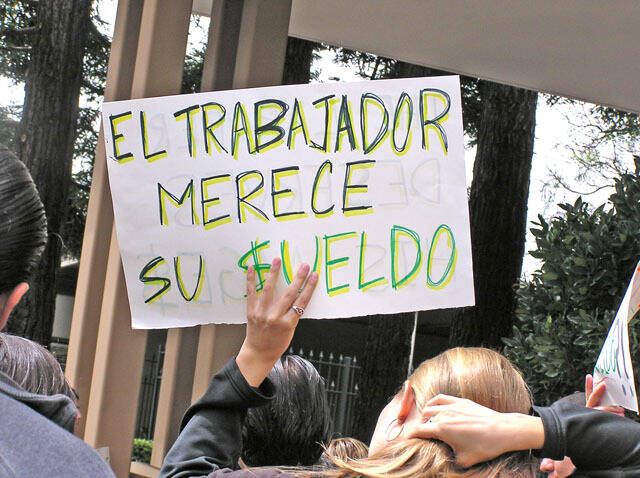 Four Latino immigrant workers claim a San Francisco-based interior designer owes them at least $40,000 in unpaid wages and penalties. The workers say Mark Sommerfield, owner of Derapage Design, Inc., has made it a practice to hire immigrant workers for carpentry and ironwork on high-end upholstery furniture, and then not pay for all their work.
On July 29, the Worker's Rights Unit of La Raza Centro Legal, a legal advocacy organization in San Francisco, community allies and workers marched to the Kansas Design Pavilion in San Francisco, which houses Sommerfield's showroom office, to try to embarrass him into paying up.
According to the workers' attorney, Rocio Avila of La Raza Centro Legal, Sommerfield has yet to respond.
It was the second time workers and allies protested in front of the pavilion. During the first protest, on July 22, Sommerfield locked his doors and left only after he was escorted by San Francisco police officers.
Sommerfield, says Avila, has made it part of his business practice to hire immigrant workers to do various kinds of work and then not pay what they are owed. Avila said that Sommerfield has ignored ​"numerous demand letters" to pay his workers. She said that he has been sued for other types of claims and seems to ignore them ​"as if he were above the law."
Attempts to reach Sommerfield for his side of the story have been unsuccessful. As of Friday, Sommerfield had not responded to the workers' attorney.
"It is unfair that during these times we are still being exploited," said one former worker. "[He] treated us badly. When I asked for my back pay he ignored me." The worker, who did not want to be identified, said that Sommerfield would pay him for half a month's work and keep stringing him along the rest of the month, always promising to pay the rest but never catching up with what he owned the worker. The worker continued on, he said, because ​"I was desperate."
This is just one example of what Avila calls the ​"epidemic of wage theft in the immigrant community." Whether it's a low-wage worker or a day laborer, she says many immigrant workers don't know they can ask for help in collecting their wages.
Wage theft occurs when workers are not paid all their wages, workers are denied overtime when they should be paid it, or workers aren't paid at all for work they've performed. Wage theft is when an employer violates the law and deprives a worker of legally mandated wages, according to Kim Bobo, author the book a href="http://www.inthesetimes.com/article/4061/the_crisis_of_wage_theft/">Wage Theft in America .
Whether workers are not paid at all or paid just a portion of what they are owed, Avila says it's a systematic problem in this country.
"The low-wage worker may be working at a poultry factory in Wisconsin or a restaurant in San Francisco or at a shop in New York with abusive conditions, but they are not standing on the corner. These guys for the most part, get something. But among day laborers, they are recruited, do the work and then the employer never picks them up the next day and they don't see them anymore."
According to the Southern Poverty Law Center, the highest incidence of wage theft is in New Orleans, where there is now a national effort underway to protect migrant day laborers from wage theft, coercion and abuse. After the Katrina disaster, hundreds of contractors hired Latino immigrants to clean up debris, repair soaked buildings and repair roofs. Hundreds of them were either underpaid what was owed or not paid at all.
"I rebuilt New Orleans after Katrina – but my employer stole thousands from me," said one member of the New Orleans Congress of Day Laborers, which is a project of the New Orleans Workers Center for Racial Justice.
"Day laborers are being hired for one or two days and not getting paid at all and this is happening across the country – there are pockets of day labor and work centers all over – it's not exclusive to the urban areas," says Avila, adding, ​"Because of the change in demographics, in places like the Midwest in the meat and poultry industry, there are these problems."
Just this past March, the U.S. Labor Department, which is supposed to enforce labor laws such as wage violations was found to be doing a very poor job. In a ​"report":http://www.inthesetimes.com/working/ entry/4682/labor_dept._fails_the_wage_theft_test/ from the Government Accountability Office (GAO), congressional auditors in a nine-month investigation found the agency's Wage and Hour Division frequently failed to respond adequately to complaints due to an ​"ineffective system that discourages wage complaints."
In June, the GAO released an updated report with some ​"recommendations":http://www.gao.gov/products/GAO-09-629 among them: extending the statute of limitations ​"while an investigation by the Division is ongoing," additional staff and upgraded research tools to investigate those under investigation, among other things.
According to the new report, all the recommendations are ​"in process."
Rose Arrieta
was born and raised in Los Angeles. She has worked in print, broadcast and radio, both mainstream and community oriented — including being a former editor of the Bay Area's independent community bilingual biweekly El Tecolote. She currently lives in San Francisco, where she is a freelance journalist writing for a variety of outlets on social justice issues.