Jewish Youth Say "Never Again" As They Protest Trump's Concentration Camps
Activists are risking arrest during two weeks of actions in Boston, Chicago, Newark and other major cities.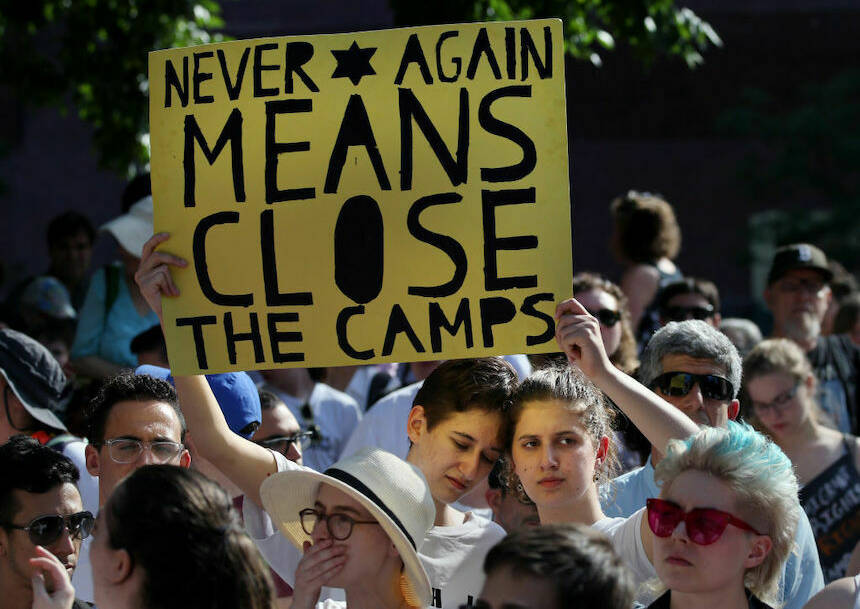 NEWARK, NEW JER­SEY — Planes on their way to the air­port fly low over a crowd of young pro­test­ers chant­i­ng ​"Racist ICE has got to go!" More than 100 Jew­ish and immi­grant activists have gath­ered out­side the Eliz­a­beth Con­tract Deten­tion Cen­ter in New Jer­sey, where Immi­gra­tion and Cus­toms Enforce­ment holds approx­i­mate­ly 300 detainees.
"The conditions of these people are due to the same hateful, racist and ignorant ideologies that caused these same things to happen to our grandparents and great-grandparents."
Rab­bi Salem Pearce leads the pro­test­ers in the Mourner's Kad­dish, a Jew­ish prayer of mourn­ing, for six immi­grant chil­dren who have died in U.S. gov­ern­ment custody.
"There are more who are not named," she says. ​"There will be more."
Peri­od­i­cal­ly, the sound of a sho­far horn ris­es above the chant­i­ng. The bugle-like instru­ment, tra­di­tion­al­ly made of a ram's horn, is blown on Rosh Hashanah (the Jew­ish New Year), and Yom Kip­pur, the day of atone­ment that fol­lows. By sound­ing it at the protest, ​"it's like we're col­lec­tive­ly repent­ing for the sins of Amer­i­ca," explains Julia Davi­dovitz, a 26-year-old preschool teacher from Boston and the descen­dent of Jew­ish refugees. Her grand­fa­ther was incar­cer­at­ed by the Nazis in the Min­sk Ghet­to, where he lost his par­ents and two sisters.
Down the road, a group of activists with a ban­ner that reads ​"Nev­er Again Means Close the Camps" links arms across the gate to the employ­ee park­ing lot, briefly block­ing employ­ees from leav­ing as they demand the facil­i­ty be shut down. Lat­er in the evening, 36 pro­test­ers are arrested.
The protest marked the begin­ning of two weeks of action orga­nized by an unof­fi­cial coali­tion of Jew­ish and immi­grant activists demand­ing an end to the deten­tion and depor­ta­tion of undoc­u­ment­ed immi­grants in the Unit­ed States. Their mes­sage: that ​"Nev­er Again" — an expres­sion used in remem­brance of the Holo­caust — means nev­er again for anyone.
Many of the pro­test­ers say they're doing what they wish non-Jew­ish Ger­mans and oth­er Euro­peans had done in the years lead­ing up to the Holo­caust: Speak up before it's too late. ​"We don't want to see what hap­pens next, in terms of where this could go," says Michaela Caplan, 23, a recent col­lege grad­u­ate who was arrest­ed in Eliz­a­beth. Her grand­moth­er was an Auschwitz survivor.
"We're not just talk­ing about what's going on at the bor­der," adds Caplan. ​"This is hap­pen­ing in everyone's back­yard, in their own com­mu­ni­ties, that peo­ple are being ter­ror­ized. There are 11 mil­lion undoc­u­ment­ed peo­ple in this coun­try liv­ing in fear."
Though they gath­ered out­side of ICE deten­tion cen­ters, the activists are protest­ing the entire U.S. immi­gra­tion and depor­ta­tion régime. That régime has long includ­ed deten­tion cen­ters, but crit­ics say it has esca­lat­ed in cru­el­ty since Don­ald Trump took office. Trump made immi­gra­tion a sig­na­ture issue on the cam­paign trail, often using racist terms to refer to undoc­u­ment­ed immi­grants, par­tic­u­lar­ly those from Latin Amer­i­ca, Africa and the Mid­dle East. His admin­is­tra­tion has made it more dif­fi­cult to cross the bor­der and increased arrests and depor­ta­tions of immi­grants already in the coun­try. ICE arrests increased 30 per­cent from 2016 to 2017, and 11 per­cent from 2017 to 2018.
After the demon­stra­tion in Eliz­a­beth, activists orga­nized sim­i­lar actions in Boston, Prov­i­dence, Los Ange­les, Philadel­phia, San Fran­cis­co, and Chicago.
The protests mark an inflec­tion point in an ongo­ing debate over Amer­i­can Jew­ish col­lec­tive iden­ti­ty. On June 17, Con­gress­woman Alexan­dria Oca­sio-Cortez set off a polit­i­cal firestorm when she said on Insta­gram ​"the Unit­ed States is run­ning con­cen­tra­tion camps on our south­ern bor­der." Her com­ments were quick­ly denounced by Repub­li­can law­mak­ers as well as sev­er­al promi­nent Jew­ish insti­tu­tions. Lead­ers of the Jew­ish Com­mu­ni­ty Rela­tions Coun­cil of New York, which claims to rep­re­sent ​"New York's diverse Jew­ish com­mu­ni­ty," wrote in an open let­ter, ​"the regret­table use of Holo­caust ter­mi­nol­o­gy to describe these con­tem­po­rary con­cerns dimin­ish­es the evil intent of the Nazis to erad­i­cate the Jew­ish peo­ple." The Unit­ed States Holo­caust Memo­r­i­al Muse­um put out a state­ment ​"unequiv­o­cal­ly reject[ing] efforts to cre­ate analo­gies between the Holo­caust and oth­er events."
But Irene Lehrer San­dalow, a board mem­ber of the Jew­ish Coun­cil on Urban Affairs who attend­ed the Chica­go protest, sees direct par­al­lels to his­to­ry: ​"I'm here because I'm a grand­child of a Holo­caust sur­vivor and I'm an immi­grant myself, from Bel­gium. We grew up talk­ing about how we nev­er want to see this hap­pen­ing again, and it's hap­pen­ing right now. I see chil­dren this age" — she ges­tures to her young son — ​"in camps."
Miles Meth, a 25-year-old union orga­niz­er and the grand­child of two Holo­caust sur­vivors, says the words ​"Nev­er Again" were a refrain in his youth. He doesn't believe the col­lec­tive trau­ma of the Holo­caust should be off-lim­its for his­tor­i­cal comparison.
"One of the facets of anti-Semi­tism is that it sep­a­rates Jews from oth­er peo­ple," he says. ​"It's impor­tant to rec­og­nize when we have the oppor­tu­ni­ty to be in sol­i­dar­i­ty with oth­er people."
Meth helped coor­di­nate the Boston action along with oth­er Jew­ish activists and mem­bers of Movimien­to Cosecha, a direct action orga­ni­za­tion ded­i­cat­ed to pro­tect­ing the rights of undoc­u­ment­ed immi­grants in the Unit­ed States.
Sarah Gratz, 21, who was among those arrest­ed in Eliz­a­beth, believes the back­lash over the use of ​"Holo­caust" is a dis­trac­tion. ​"Have we not learned any­thing?" she says. ​"It's not about the words. It's about see­ing that the con­di­tions of these peo­ple are due to the same hate­ful, racist and igno­rant ide­olo­gies that caused these same things to hap­pen to our grand­par­ents and great-grandparents."
Two days after the arrests in Eliz­a­beth, pro­test­ers gath­ered in Boston at the New Eng­land Holo­caust Memo­r­i­al and marched three miles through rush-hour traf­fic. The crowd swelled to more than a thou­sand as it moved through the streets, end­ing out­side the Suf­folk Coun­ty House of Cor­rec­tion, where detainees flashed signs in the win­dows read­ing ​"help" and ​"we love you." 18 pro­test­ers were arrested.
Jour­nal­ist Brit­ni de la Cre­taz brought her 5 year-old daugh­ter to the Boston march to teach her about polit­i­cal action and help fos­ter a sense of com­mu­ni­ty. ​"She would talk to the peo­ple march­ing with us, and say, ​'I'm Jew­ish,'" says de la Cre­taz. ​"And they would say, ​'So am I.' On the way home, she said, ​'You're right, mom, this is what Jews do.'"
"My Judaism above all is about lib­er­a­tion," de la Cre­taz says.
Anna Attie con­tributed report­ing from Chicago.
Stephanie Rus­sell-Kraft
is a Brook­lyn-based free­lance reporter cov­er­ing the inter­sec­tions of reli­gion, law and gen­der with the work­place. Her work has appeared in The Nation, The New Repub­lic and The Progressive.