Turning a KKK Bombing Ground Into an Urban Farm
A black-led cooperative movement grows pumpkins and community in Birmingham.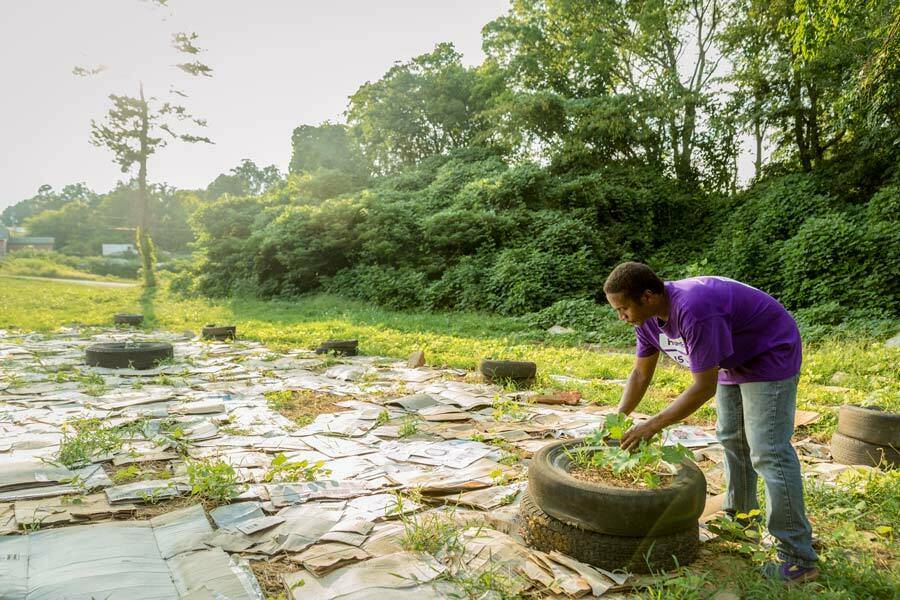 BIRM­ING­HAM, ALA. — The lot doesn't look like much: Short stacks of tires line a small rec­tan­gle of flat­tened card­board box­es, all inter­spersed with bright green vines of inva­sive kudzu.
To Rev. Maja­di Baru­ti, how­ev­er, it's a pump­kin patch and future urban farm. The tires are planters for young Sug­ar Baby pump­kins, the card­board will keep weeds down and attract worms to fer­til­ize the soil, and the kudzu will work won­ders for com­post because of its nitro­gen con­tent. Two patch­es of what looks like emp­ty soil will soon sprout flow­ers, which will then ​"bring bees and but­terf lies," says Baruti.
The pump­kins are the first sign of growth for the Dyna­mite Hill-Smith­field Com­mu­ni­ty Land Trust. The trust, found­ed in 2015 by Baruti's part­ner, Susan Diane Mitchell, has adopt­ed 2.5 acres across eight emp­ty lots in the his­tor­i­cal­ly black neigh­bor­hood named after the dozens of Ku Klux Klan bomb­ings there in the mid-1900s. The first bomb­ing took place on one of the adopt­ed plots, Baru­ti says. ​"What we're doing is try­ing to res­ur­rect and sit inside of that ances­tral spirit."
The land trust ini­tial­ly received sup­port from Mag­ic City Agri­cul­ture Project (MCAP), which has a 10-year strate­gic plan to cre­ate an autonomous coop­er­a­tive econ­o­my in Birmingham.
"We want to design a set of insti­tu­tions tai­lored to low-income, oppressed peo­ple," explains MCAP co-founder Zac Hen­son, a self-pro­claimed ​"red­neck" activist with a Berke­ley Ph.D. in envi­ron­men­tal sci­ence, pol­i­cy and management.
The Birm­ing­ham orga­niz­ers view them­selves as heirs of the civ­il rights move­ment and the black-run coop­er­a­tives in the South. MCAP is a mem­ber of the Fed­er­a­tion of South­ern Coop­er­a­tives, a net­work estab­lished by a group of 22 co-ops in 1967. They're also part of a resurg­ing co-op move­ment in small cities across the Unit­ed States, includ­ing Rich­mond, Calif. and Jack­son, Miss.
In MCAP's plan, labor would be man­aged through workerowned co-ops, cap­i­tal through cred­it unions focused on microlend­ing to small, local busi­ness­es, and land through trusts for the pub­lic ben­e­fit, like the one in Dyna­mite Hill.
Baru­ti dodges red anthills as he weaves through the pump­kin plants, check­ing each one. ​"We had chil­dren do some of the seed­ing, so you see some are huge and some are lit­tle," Baru­ti says. The seeds had not been plant­ed at uni­form depth, affect­ing their growth. ​"But it's cute."
Mitchell's vision for the land trust includes per­sis­tent­ly afford­able hous­ing and regen­er­a­tive urban agri­cul­ture — all of it owned and oper­at­ed cooperatively.
"We are going to make sure that you and your fam­i­ly are tak­en care of, and you keep your house," Baru­ti explains. In a pre­dom­i­nant­ly black city char­ac­ter­ized by pre­dom­i­nant­ly white land and busi­ness own­er­ship— and which faces mount­ing gen­tri­fi­ca­tion — the trust is both an eco­nom­ic neces­si­ty and a polit­i­cal statement.
In 2017, may­oral can­di­date Ran­dall Woodfin promised sup­port for land trusts. After he was elect­ed, his tran­si­tion team's social jus­tice com­mit­tee rec­om­mend­ed that the city allo­cate around $300,000 over two years to help the Dyna­mite Hill-Smith­field land trust get on its feet. The trust adopt­ed the Dyna­mite Hill lots from the Birm­ing­ham land bank author­i­ty, but still needs funds to pur­chase them. It also needs office space, an exec­u­tive direc­tor and resources to get the lots ready for housing.
But the bud­get pro­posed by Woodfin's tran­si­tion team has yet to mate­ri­al­ize. ​"If [the city] would just ful­fill the lit­tle bit­ty mon­ey that we asked for, we could get a good start," Baru­ti says. ​"We just want to be propped up a bit and for the city to behave with us as it behaves with oth­er cor­po­ra­tions and non-profits."
Instead, the new may­or kicked off his term by ask­ing the city coun­cil to pay $90 mil­lion for a down­town sta­di­um. ​"I can't eat a foot­ball," Baru­ti says. ​"My kids can't eat a damn football."
Sup­port for this arti­cle was pro­vid­ed by Rise Local, a project of the New Amer­i­ca Nation­al Network.
Stephanie Rus­sell-Kraft
is a Brook­lyn-based free­lance reporter cov­er­ing the inter­sec­tions of reli­gion, law and gen­der with the work­place. Her work has appeared in The Nation, The New Repub­lic and The Progressive.