Immokalee Workers and Allies 'Fast for Fair Food' in Florida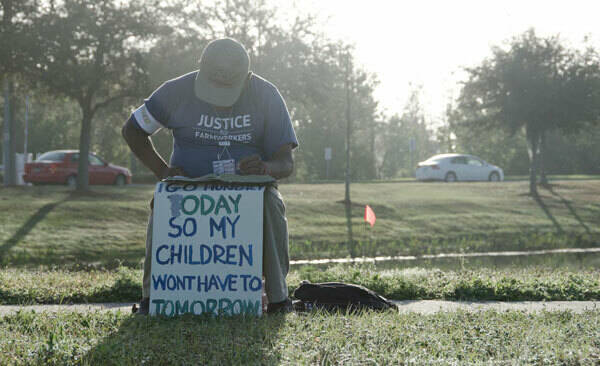 Publix supemarket chain is latest target in long-running campaign to boost tomato picker wages
Appealing to grocery giant Publix Supermarket — the largest corporation in Florida — to join the Campaign for Fair Food, tomato harvesters, religious leaders, students and consumers are now on day five of a ​"Fast for Fair Food" in Lakeland, Fla., outside the company's headquarters. Nightly vigils are taking place at various Publix supermarkets in the area. The fast will end on Saturday.
More than 50 members of the Coalition for Immokalee Workers (CIW), which launched the Campaign for Fair Food back in 2001, and their supporters began the fast outside Publix headquarters to urge supermarket executives to sign the Immolakee Worker's Coalition Fair Food Agreement. which would boost farm workers' wages. Some of the largest names in the food industry have signed agreements with CIW, including Taco Bell, Subway, McDonald's, Burger King, Whole Foods, and — most recently—Trader Joe's.
Since 2007, the supermarket executives have dug in their heels and refused to sign the accord. Meanwhile, net earnings for the company during the fourth quarter of 2011 increased 16.8 percent — to $399.5 million, compared to $342.1 million in 2010.
Companies such as Publix and Wal-Mart, which in recent years has moved into the grocery business, buy a large volume of fruits and vegetables and demand the lowest possible prices from their suppliers.
The accord would raise the farmworkers' wages one penny for each pound of food they pick. It would mean that harvesters could increase their yearly income by about $7,000 – from $10,000 to $17,000. The accord includes a health and safety program, peer-education and a complaint resolution system.
To earn $50 a day, a tomato farmworker must pick nearly two tons of tomatoes. The reason? The supply-chain model of global economics has tightened profit margins, according to a report by Oxfam America.
​"Squeezed by the buyers of their produce, growers pass on the costs and risks imposed on them to those on the lowest rung of the supply chain: the farmworkers they employ," concludes the 2004 study by Oxfam America, ​"Like Machines in the Fields: Workers without Rights in American Agriculture."
CIW is supported by an estimated 4,000 people in congregations around the nation, many of whom are made up of Mexican, Guatemalan and Haitian immigrants. ​"Theirs [Publix] is a morally indefensible position and they can't look the workers in the eye," Rev. Bernice Powell Jackson, President, World Council of Churches, said.
Florida's tomato harvesters have been some of the least protected, worst-paid workers in the nation.
​"While, for decades, there was no alternative to this structural farm labor exploitation, Publix could wash its hands of any direct accountability for the brutal working and living conditions faced by Florida's farmworkers," said CIW's Gerardo Reyes in a statement. ​"But that has changed. With the CIW's historic agreement with the Florida Tomato Growers Exchange in 2010, and the subsequent implementation of the Fair Food Program on over 90 percent of Florida's tomato farms, the opportunity exists today to right a wrong that has plagued the food industry for generations, to end Florida's Harvest of Shame."
Beyond the Campaign for Fair Food, the CIW, based in Immokalee, Fla., has assisted the Department of Justice's prosecution of six slavery operations, which resulted in freeing more than 1,000 workers.
And it continues to push farm labor reforms by pressuring large companies, who can use their power to demand fair and more humane practices from Florida tomato suppliers.
Said Reyes:
…Publix is deliberately choosing to continue to do business as if it were the last century, continuing to enrich itself at the expense of the state's most exploited workers. In other words, by turning its back on the Fair Food Program, Publix has moved from passively profiting from farmworker poverty to affirmatively perpetuating it. This is an amoral and fundamentally indefensible choice. As workers we cannot allow that choice to stand. And that is why we will be going without food.
Rose Arrieta
was born and raised in Los Angeles. She has worked in print, broadcast and radio, both mainstream and community oriented — including being a former editor of the Bay Area's independent community bilingual biweekly El Tecolote. She currently lives in San Francisco, where she is a freelance journalist writing for a variety of outlets on social justice issues.