How Chicago's Police Union Contract Ensures Abuses Remain in the Shadows
Activists are calling on the city to represent victims of police violence in upcoming contract negotiations.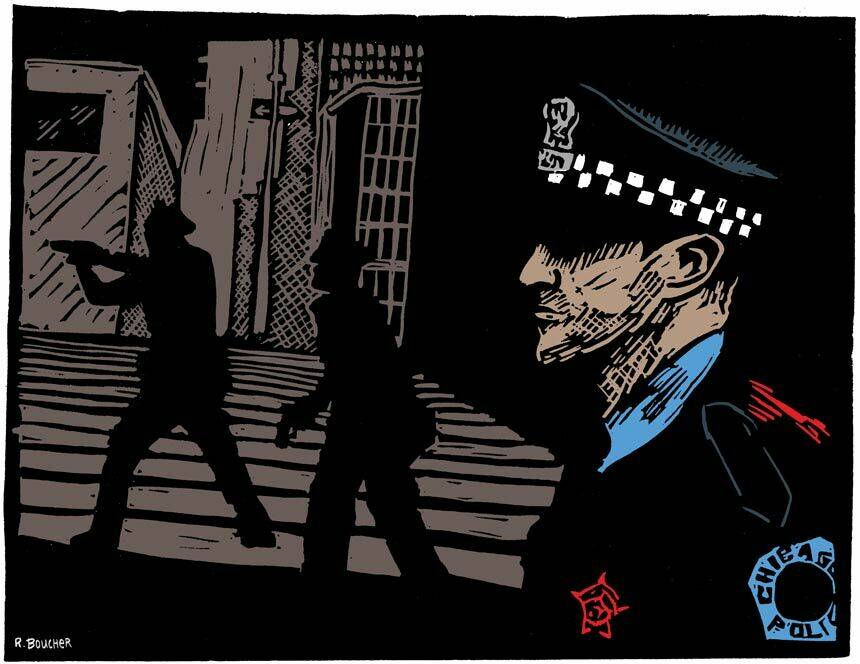 In April, Chica­go police vot­ed in a fiery new union pres­i­dent, Kevin Gra­ham, who has vowed to fight the attacks of the ​"anti-police media." Gra­ham wast­ed no time in mak­ing his agen­da clear. ​"We look for­ward to imme­di­ate­ly prepar­ing for the upcom­ing con­tract nego­ti­a­tions, fight­ing the anti-police move­ment in the city, and obtain­ing fair due process and dis­ci­pline for our mem­bers," he said in a state­ment fol­low­ing his victory.
Police allegedly spit in a coffee maker, urinated on mail and assaulted the three men, but failed to find anything illegal in the apartment.
The union con­tract between the city of Chica­go and the 8,000-member Fra­ter­nal Order of Police (FOP) expires in June. Pre­vi­ous con­tract nego­ti­a­tions have tak­en place out of the pub­lic eye, but this year, a high-pro­file fight is brewing.
A Feb­ru­ary report from the Coali­tion for Police Con­tract Account­abil­i­ty (CPCA) observes that the city's con­tract, as well as a sep­a­rate agree­ment with the sergeants' union, ​"make it too hard to iden­ti­fy police mis­con­duct, and too easy for police offi­cers to lie about and hide mis­con­duct." The coali­tion, which includes the ACLU of Illi­nois, Black Youth Project 100 (BYP100) and the Work­ers Cen­ter for Racial Jus­tice, has iden­ti­fied 14 con­tract pro­vi­sions it says impede inves­ti­ga­tions. One such pro­vi­sion allows police offi­cers to wait 24 hours to give a state­ment after shoot­ing some­one. Anoth­er pro­hibits anony­mous com­plaints against officers.
A few days before Graham's elec­tion, at Occu­py Palm Sun­day, an annu­al gath­er­ing orga­nized by Chica­go church­es, Drea Hall of CPCA read these con­tract pro­vi­sions aloud to a palm-frond-wav­ing crowd. The crowd cho­rused in response, ​"That ain't right!"
"Now's the time to put pres­sure on our may­or, to put pres­sure on our alder­men to do the right thing," she said.
Activists aren't alone in zero­ing in on police union con­tracts as a road­block to reform. A Jan­u­ary Reuters inves­ti­ga­tion exam­ined con­tracts in 82 cities and found a pat­tern of pro­tec­tions that cre­ate hur­dles for cit­i­zens in report­ing police abuse. Most con­tracts require destruc­tion of police dis­ci­pli­nary records after a cer­tain peri­od. Near­ly half allow offi­cers to view the evi­dence against them before being ques­tioned about alleged mis­con­duct. Chicago's FOP con­tract con­tains both of these provisions.
The city's Police Account­abil­i­ty Task Force, com­mis­sioned by May­or Rahm Emanuel after the release of graph­ic video show­ing the fatal police shoot­ing of black teenag­er Laquan McDon­ald, report­ed in April 2016 that col­lec­tive bar­gain­ing agree­ments (CBAs) between police and the city had ​"turned the code of silence into offi­cial pol­i­cy." And in Jan­u­ary, fol­low­ing a 13-month civ­il rights inves­ti­ga­tion, the Depart­ment of Jus­tice (DOJ) con­clud­ed that Chica­go police rou­tine­ly use unrea­son­able force against civil­ians, par­tic­u­lar­ly African Amer­i­cans, and that ​"defi­cient" account­abil­i­ty sys­tems aid and abet this behav­ior. The DOJ report specif­i­cal­ly urged the city to ​"work with the unions to address cer­tain CBA provisions."
Pri­or to Don­ald Trump's elec­tion, it was assumed that if the DOJ found a pat­tern of unlaw­ful polic­ing in Chica­go, it would impose reforms via a court-mon­i­tored agree­ment. But that's become unlike­ly, as both Trump and Attor­ney Gen­er­al Jeff Ses­sions have pledged to scale back fed­er­al over­sight of local law enforcement.
Absent help from the fed­er­al gov­ern­ment, local reform­ers must now look to the city for lever­age. Activists have allies on the City Coun­cil, where more than a dozen of the 50 alder­men have signed on to a res­o­lu­tion call­ing on May­or Emanuel to endorse the CPCA's 14 rec­om­mend­ed reforms to the FOP con­tract. In April, Alder­man and Black Cau­cus Chair­man Rod­er­ick Sawyer said that his 18-mem­ber group would vote down any con­tract that fails to include these changes.
For pro­gres­sives, this is tricky ter­rain. ​"There's a slip­pery slope when you start beat­ing up on unions," says DeAn­ge­lo Bester, exec­u­tive direc­tor of the Work­ers Cen­ter for Racial Jus­tice. ​"No one wants to join that right-wing cho­rus …try­ing to destroy pub­lic bargaining."
On the oth­er hand, police unions are ​"sep­a­rate from the larg­er labor move­ment," he says. ​"These groups out there who go and endorse peo­ple like Don­ald Trump … who then goes and appoints peo­ple who are anti-union — I would say, let's sep­a­rate them."
Bester says pro­gres­sives should not work to under­cut police wages and ben­e­fits, but go after pro­vi­sions that allow police ​"to get away with murder."
NO NAME, NO PROBLEM
One pro­vi­sion in par­tic­u­lar has emerged as a like­ly stick­ing point in the upcom­ing nego­ti­a­tions. Of the U.S. cities with the five largest police forces, only Chica­go restricts inves­ti­ga­tion of anony­mous com­plaints. In fact, the FOP con­tract requires not just a name but a sworn affi­davit. Many mis­con­duct com­plaints begin with a let­ter or phone call; an inves­ti­ga­tor must then fol­low up with the com­plainant. But if the indi­vid­ual can­not be reached again, or does not want to pro­vide a sworn state­ment, the inves­ti­ga­tion typ­i­cal­ly ends there: Accused offi­cers are not even ques­tioned. Anoth­er con­tract pro­vi­sion allows inves­ti­ga­tors to pro­ceed with­out an affi­davit in cer­tain cas­es, but they have done so just 17 times in the last five years, out of tens of thou­sands of com­plaints, accord­ing to the DOJ report.
Detec­tive Tra­cy Byer­ly, 44, works in the Chica­go Police Depart­ment (CPD) unit devot­ed to the inves­ti­ga­tion of sex crimes against chil­dren. She has been the sub­ject of just two mis­con­duct com­plaints in her 20 years on the police force, both of which came with affi­davits and nei­ther of which result­ed in dis­ci­pli­nary action. She sup­ports the affi­davit require­ment. ​"In our legal sys­tem, you have the right to con­front your accuser," she says. ​"It's the same thing for us."
Advo­cates, how­ev­er, say civil­ians report­ing police mis­con­duct have good rea­son not to want to be iden­ti­fied, let alone sign an affi­davit. For one, doing so often requires an in-per­son meet­ing with an inves­ti­ga­tor, which can be intim­i­dat­ing and com­pli­cat­ed to arrange.
"[The affi­davit require­ment] doesn't sound like it's unrea­son­able," says Tor­reya Hamil­ton, an attor­ney who defend­ed the city in police mis­con­duct cas­es before open­ing her own firm to pros­e­cute the same type of cas­es in 2006. ​"But they've cre­at­ed so many obsta­cles.… Some­times the com­plainant sim­ply can't come in because they have work or didn't have bus fare."
Beyond logis­ti­cal chal­lenges, com­plainants may also fear reprisal from police. Con­tract rules require inves­ti­ga­tors to give the name of the com­plainant to the accused offi­cer before ques­tion­ing. And in cas­es of domes­tic abuse or sex­u­al assault by police, vic­tims may be ashamed or have a per­son­al rela­tion­ship with the offender.
The union declined to com­ment for this sto­ry. ​"The FOP does not want to nego­ti­ate through the media," Vice Pres­i­dent Mar­tin Prieb wrote in an email to In These Times. But a Feb­ru­ary post on the blog of The Blue Voice, Graham's cam­paign slate, says the FOP ​"will not sur­ren­der on affi­davits," call­ing the issue ​"non-nego­tiable."
The FOP argues that affi­davits are need­ed to pre­vent a del­uge of false com­plaints. The low num­ber of sus­tained com­plaints — those that inves­ti­ga­tors deem to be sup­port­ed by enough evi­dence to jus­ti­fy dis­ci­pline — could sug­gest that many mis­con­duct alle­ga­tions are already base­less. Between 2010 and 2014, inves­ti­ga­tors sus­tained just 11 per­cent of the 7,300 com­plaints received with signed affidavits.
A Novem­ber 2016 study by Kyle Roze­ma and Max Schanzen­bach of North­west­ern Uni­ver­si­ty, how­ev­er, found that the vol­ume of civil­ian com­plaints against a Chica­go police offi­cer cor­re­lates with whether the offi­cer will even­tu­al­ly be sued for mis­con­duct, as well as the prob­a­bil­i­ty and size of a civ­il set­tle­ment. Unsworn civil­ian com­plaints were just as pre­dic­tive as those with affi­davits. ​"Civil­ian alle­ga­tions, if prop­er­ly man­aged, could play an impor­tant role in reduc­ing police offi­cer mis­con­duct and cost­ly civ­il lia­bil­i­ties," the study concludes.
Between 2004 and 2014, the city spent more than $500 mil­lion in police mis­con­duct law­suits, accord­ing to an analy­sis by the Bet­ter Gov­ern­ment Asso­ci­a­tion. Mean­while, about 40 per­cent of mis­con­duct com­plaints are closed each year because they lack affi­davits, accord­ing to the DOJ report. In These Times' review sug­gests these unex­am­ined com­plaints could have act­ed as warn­ing signs.
Over the same 10-year peri­od, the 50 most com­plained-about Chica­go offi­cers aver­aged 17 no-affi­davit com­plaints each. Draw­ing on civil­ian com­plaint data released by the city in Octo­ber 2016, as well as inves­tiga­tive files obtained through Free­dom of Infor­ma­tion Act requests, In These Times iden­ti­fied at least a dozen cas­es in which police offi­cers sued for alleged mis­con­duct — includ­ing false arrests, war­rant­less search­es and exces­sive use of force against civil­ians — had pre­vi­ous­ly racked up mul­ti­ple com­plaints describ­ing sim­i­lar types of behav­ior. But because these com­plaints lacked affi­davits, they were nev­er investigated.
Sean Camp­bell, a white police offi­cer work­ing in the city's Chica­go Lawn dis­trict, has been named in four sep­a­rate mis­con­duct law­suits that col­lec­tive­ly cost the city of Chica­go $96,000. In one 2015 case, Camp­bell and fel­low offi­cer Steven Sautkus were sued by Lashaun Duprey, a 20-year-old African Amer­i­can man who was a pas­sen­ger in a car stopped on the South­west Side of Chica­go. The offi­cers alleged­ly asked Duprey, ​"What are you mon­keys doing around here?" before pulling him out of the car, punch­ing him in the face and arrest­ing him. Duprey's fam­i­ly was unable to post bail, so he remained in jail for 10 days before the charges of resist­ing arrest and dis­obey­ing a police offi­cer were dis­missed. The city set­tled with Duprey for $30,000.
Accord­ing to the suit, which is one of sev­er­al that Tor­reya Hamilton's firm has filed against Camp­bell, he ​"often makes racist com­ments dur­ing his arrests, sug­gest­ing that he has con­trol over the peo­ple in the Eighth Dis­trict, and that non-Cau­casian peo­ple are not welcome."
Anoth­er 2015 case named not only Sautkus and Camp­bell but Campbell's wife, Emi­ly, and broth­er, Michael, who are also Chica­go police offi­cers. Jonathan Guz­man, an 18-year-old Lati­no man, accused the four offi­cers of repeat­ed harass­ment. Emi­ly Camp­bell alleged­ly threat­ened Guz­man with arrest in 2013 for pass­ing out fly­ers for his grandfather's land­scap­ing busi­ness; Campbell's rel­a­tive owned a com­pet­ing busi­ness. In anoth­er inci­dent, Sautkus and Sean Camp­bell alleged­ly pulled Guz­man over, plant­ed mar­i­jua­na on him, impound­ed his car and stole his iPhone. The case set­tled for $35,000.
Pri­or to these inci­dents, 16 com­plaints against Sean Camp­bell were closed because they lacked affi­davits, includ­ing alle­ga­tions of racial slurs, unnec­es­sary phys­i­cal con­tact and ille­gal arrest. Between 2000 and 2014, Camp­bell amassed 79 total com­plaints — among the high­est of any CPD offi­cer over that peri­od. Accord­ing to avail­able data, Camp­bell has been dis­ci­plined just once, for an off-duty DUI. Attempts to reach Camp­bell for com­ment through the CPD, FOP and city attor­neys were unsuccessful.
In March 2011, nine offi­cers raid­ed a South Side Chica­go apart­ment in search of a 30-year-old black man sus­pect­ed of pos­sess­ing crack cocaine. Police instead found Estel­la Walk­er and Ray Robin­son, a mid­dle-aged black cou­ple who had rent­ed the apart­ment the month pri­or and were watch­ing tele­vi­sion with their 24-year-old son, Ray Robin­son Jr., and a 39-year-old friend, George Gra­ham. Accord­ing to a law­suit against the nine offi­cers, police screamed obscen­i­ties at the con­fused res­i­dents, demand­ed to know where ​"the drugs" were and tore the apart­ment apart. They alleged­ly spit in a cof­fee mak­er, uri­nat­ed on mail and assault­ed the three men, but failed to find any­thing ille­gal. Lat­er, the suit claims, a sergeant entered the apart­ment, looked around and told the offi­cers present, ​"You fucked up anoth­er one."
The case set­tled for $24,000 in May 2013. All nine offi­cers had pre­vi­ous com­plaints relat­ed to ille­gal search­es that were closed because they lacked affi­davits. They have col­lec­tive­ly been named in six suits that cost the city $170,000. The DOJ inves­ti­ga­tion found that, in most such law­suits, "[the Inde­pen­dent Police Review Authority]'s par­al­lel mis­con­duct inves­ti­ga­tion was closed for lack of an affi­davit," mean­ing that offi­cers were nev­er dis­ci­plined, or even inves­ti­gat­ed, for the same inci­dent that sparked lawsuits.
In at least one case, CPD appar­ent­ly missed an oppor­tu­ni­ty to catch a sex­u­al preda­tor because of a closed mis­con­duct com­plaint. On Oct. 23, 2013, a 21-year-old woman left her uncle, off-duty police offi­cer Allen Hall, in the car with her 3‑year-old daugh­ter. When she returned, she noticed the tod­dler was now in the front seat and looked upset. Lat­er that day, the child told her moth­er that Hall had forced her to fon­dle him.
The moth­er report­ed Hall to police detec­tives. A crim­i­nal inves­ti­ga­tion revealed that Hall had abused the moth­er, as well, when she was a teenag­er. Hall was arrest­ed and pled guilty to molest­ing both the moth­er and her daugh­ter. He was even­tu­al­ly sen­tenced to four years of pro­ba­tion, evad­ing prison. The CPD put him on admin­is­tra­tive duty until he retired in Octo­ber 2014.
CPD records reveal that the depart­ment had been warned about Hall in April 2013, when, dur­ing a pre-employ­ment poly­graph test for the Cook Coun­ty Sheriff's Depart­ment, a job appli­cant dis­closed that Hall had sex­u­al­ly assault­ed her and at least two oth­er vic­tims years ear­li­er. (The vic­tims' names were redact­ed from records pro­vid­ed to In These Times. Hall declined to com­ment through his attorney.)
These alle­ga­tions were report­ed imme­di­ate­ly to the Bureau of Inter­nal Affairs, trig­ger­ing a com­plaint file. But Hall was nev­er ques­tioned. The com­plaint was closed in August 2013 — because it lacked a signed affidavit.
THE ORI­GINS OF BLUE POWER
For one long­time observ­er of the FOP, the union's role in push­ing for restric­tions to the civil­ian com­plaint process is not sur­pris­ing. ​"They have always fall­en on the side of sup­port for wrong­do­ing," says Howard Saf­fold, a U.S. Army vet and retired police offi­cer who joined the CPD in 1965. ​"I'm talk­ing about exces­sive force; I'm talk­ing about racism. That's what they've stood for as a union."
Saf­fold was an ear­ly mem­ber of the Afro-Amer­i­can Patrolmen's League (AAPL), an orga­ni­za­tion formed in 1968 to orga­nize black offi­cers around issues like dis­crim­i­na­tion in hir­ing and pro­mo­tions. They also attempt­ed to address police mis­con­duct, imple­ment­ing CPD's first com­plaint sys­tem. But when Chica­go police vot­ed to join the FOP in 1980, the union quick­ly posi­tioned itself against the racial jus­tice agen­da the AAPL was pioneering.
Accord­ing to his­to­ri­an Megan Marie Adams, this oppo­si­tion to civ­il rights was foun­da­tion­al for police unions. Until the mid-20th-cen­tu­ry, police in Chica­go were large­ly seen as ene­mies of orga­nized labor, Adams writes in her 2012 doc­tor­al dis­ser­ta­tion. But by the end of the civ­il rights era, ​"police had become con­ver­sant in the lan­guage of minor­i­ty rights and answered black pow­er crit­i­cisms of the police by iden­ti­fy­ing them­selves as a dis­crim­i­nat­ed against group." This peri­od is also when police adopt­ed the ​"blue pow­er" slo­gan, an antecedent of today's ​"Blue Lives Matter."
Thanks in part to the FOP's efforts, Illi­nois police even have their own ​"bill of rights," one of 14 such laws nation­wide. Passed in 1983, the state law enshrines many of the same pro­tec­tions con­tained in Chicago's police union con­tract, includ­ing the affi­davit require­ment. That doesn't negate Chica­go activists' cam­paign to reform the FOP con­tract: If the city suc­cess­ful­ly nego­ti­ates changes to the agree­ment, those would trump state law under Chicago's ​"home rule" author­i­ty, accord­ing to Lind­say Miller, a staff attor­ney at the ACLU of Illi­nois. Efforts are also under­way to abol­ish the state's affi­davit requirement.
In the mean­time, DeAn­ge­lo Bester says his group is plan­ning demon­stra­tions tar­get­ing the may­or, the City Coun­cil and the FOP. Orga­niz­ers have also been hold­ing teach-ins about the police union con­tract. Because the pro­vi­sions of the cur­rent agree­ment will stay in effect until a new one is rat­i­fied, Bester wor­ries that the union could stall negotiations.
"They could be sit­ting around, say­ing, ​'Why don't we wait until the ener­gy around this dies down?'" Bester says. ​"That's the biggest challenge."
Janaé Bon­su, BYP100's pub­lic pol­i­cy chair, sees the con­tract fight as just one aspect of her organization's long-term work to redi­rect pub­lic resources from polic­ing to com­mu­ni­ty-based ser­vices. She's encour­aged by the sup­port from local alder­men but knows that activists still face an uphill battle.
"If politi­cians feel that their jobs are at stake, the pow­er of that will sway their deci­sion or stance," Bon­su says. ​"I do trust the pow­er of direct pres­sure and direct action."
This sto­ry was sup­port­ed by a grant from the Leonard C. Good­man Insti­tute for Inves­tiga­tive Reporting.
Sarah Cobar­ru­bias, Tim­na Axel, Jere­my Bor­den, Joseph Bulling­ton and Reuben Unrau also con­tributed reporting.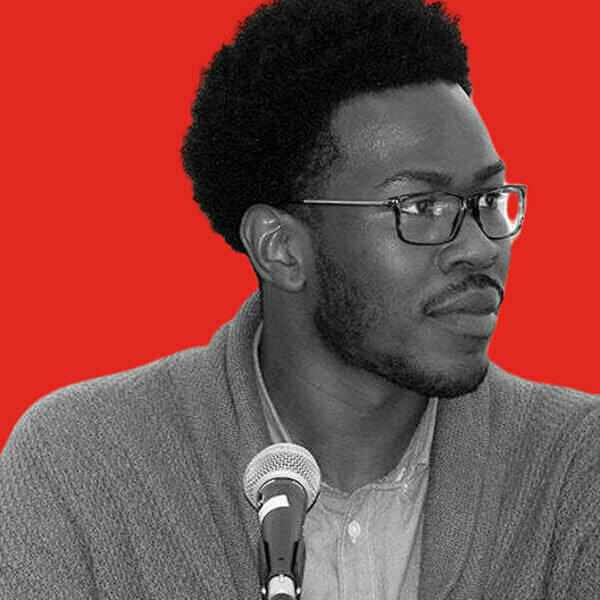 Adeshi­na Emmanuel
is an edi­tor at Injus­tice Watch, a non­prof­it jour­nal­is­tic research orga­ni­za­tion ded­i­cat­ed to expos­ing insti­tu­tion­al fail­ures that obstruct jus­tice and equal­i­ty. He is a for­mer reporter for
DNAin­fo Chica­go
, the
Chica­go Sun-Times
, the
Chica­go Reporter
and Chalkbeat.