Electing Progressive Prosecutors Isn't Enough. Now, Activists Are Holding Them Accountable.
From Kim Foxx in Chicago to Larry Krasner in Philadelphia, reform-minded prosecutors are facing pressure from organizers working to transform the criminal justice system.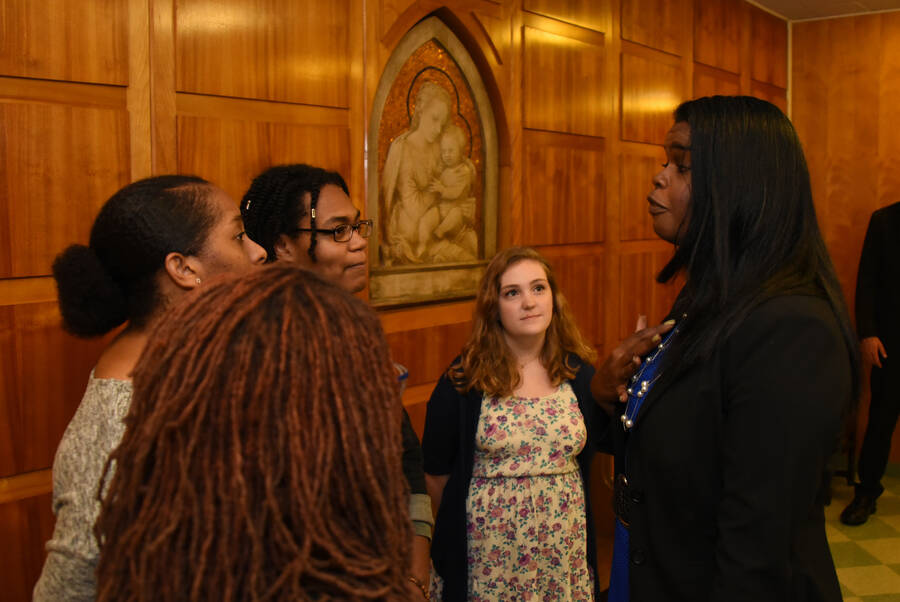 In Octo­ber 2015, Rev. Charles Straight, pas­tor of the Faith Unit­ed Methodist Church in Dolton, Illi­nois, and oth­er mem­bers of the People's Lob­by sat down with Kim Foxx to find out whether she was a wor­thy and will­ing part­ner in crim­i­nal jus­tice reform. Straight remem­bers that Foxx, who was run­ning for Cook Coun­ty State's Attor­ney, said she was com­mit­ted to coun­ter­ing the failed war on drugs and stem­ming oth­er dri­vers of mass incarceration.
Fixing a system that ravages black and brown communities takes more than just electing a prosecutor, Straight says. He explains that community organizers have to build structures to hold candidates accountable and establish a relationship in the spirit of co-governance.
"She had a stake in see­ing that the crim­i­nal jus­tice sys­tem would work for all peo­ple, par­tic­u­lar­ly peo­ple of col­or," Straight says. ​"We found that she was a part­ner we could talk to about some of these things."
The People's Lob­by, a grass­roots orga­niz­ing group, and Reclaim Chica­go, the polit­i­cal action com­mit­tee it sup­ports, are two of the pro­gres­sive orga­ni­za­tions that cam­paigned for Foxx. The two groups claimed they knocked on more than 300,000 vot­ers' doors across Chicagoland to build sup­port for Foxx in her cam­paign against embat­tled incum­bent Ani­ta Alvarez. Foxx defeat­ed Alvarez in the March 2016 Demo­c­ra­t­ic pri­ma­ry in a land­slide and cruised to vic­to­ry in the Decem­ber 2016 gen­er­al elec­tion, mak­ing her the first African-Amer­i­can woman to serve as Cook Coun­ty State's Attorney.
Orga­niz­ers cel­e­brat­ed Foxx's elec­tion as a rare oppor­tu­ni­ty to inject pro­gres­sive reforms into a bro­ken crim­i­nal jus­tice system.
But their work wasn't done.
Fix­ing a sys­tem that rav­ages black and brown com­mu­ni­ties takes more than just elect­ing a pros­e­cu­tor, Straight says. He explains that com­mu­ni­ty orga­niz­ers have to build struc­tures to hold can­di­dates account­able and estab­lish a rela­tion­ship in the spir­it of co-governance.
"This idea of get­ting politi­cians elect­ed and then let­ting them go on about their busi­ness and do what­ev­er they want to do is dead," Straight says. ​"We've got to stop that."
"A Wedge in the System"
Foxx rode into office with sup­port from African-Amer­i­can activists and pro­gres­sive orga­ni­za­tions such as Reclaim Chica­go, the People's Lob­by, South­siders Orga­nized for Uni­ty and Lib­er­a­tion and the Work­ers Cen­ter for Racial Jus­tice. Foxx also ben­e­fit­ed from the orga­niz­ing work of Black Lives Mat­ter affil­i­ate Assata's Daugh­ters and their pow­er­ful #ByeAni­ta cam­paign which urged Cook Coun­ty res­i­dents to vote against Alvarez due to her poor record on crim­i­nal jus­tice issues.
When Foxx was elect­ed in 2016 she joined a wave of reform-mind­ed pros­e­cu­tors who have risen to pow­er in recent years across the coun­try. Their ranks include Kim Ogg, the first open­ly gay dis­trict attor­ney in Har­ris Coun­ty, Texas, and Aramis Ayala, Florida's first African-Amer­i­can state attor­ney in the state's 9th Judi­cial Cir­cuit Court. In Novem­ber 2017, long­time New York pros­e­cu­tor Eric Gon­za­lez won his bid to become Brooklyn's first Lati­no dis­trict attor­ney. That same month, Lar­ry Kras­ner, a civ­il rights attor­ney who had rep­re­sent­ed Occu­py Wall Street and Black Lives Mat­ter activists, was elect­ed Philadelphia's dis­trict attorney
Rather than sim­ply work­ing out­side of the sys­tem, many activists are turn­ing to elect­ing pros­e­cu­tors they believe will push pro­gres­sive crim­i­nal jus­tice poli­cies and do less harm than their pre­de­ces­sors. But hold­ing pros­e­cu­tors account­able once they're in office is not as straight­for­ward as it can be for oth­er elect­ed offi­cials. City coun­cil mem­bers, gov­er­nors and sen­a­tors intro­duce leg­is­la­tion through pub­lic chan­nels, vote on-the-record regard­ing poten­tial laws and allo­cate dol­lars in pub­li­cized bud­get­ing processes.
But a pros­e­cu­tor isn't a tra­di­tion­al elect­ed offi­cial. Pros­e­cu­tors can choose not to seek bail in par­tic­u­lar cas­es or drop charges. They can rec­om­mend that judges com­mit offend­ers to alter­na­tives to jail or prison. They can announce poli­cies that aim to be ​"tough" on crime. But pros­e­cu­tors don't con­trol gov­ern­ment cof­fers that fund their pol­i­cy agen­da. Pros­e­cu­to­r­i­al dis­cre­tion is not the same as pass­ing a law. And it takes watch­ing the courts in real time to doc­u­ment when, how, and for whom pros­e­cu­tors exer­cise dis­cre­tion, as well as what judges ulti­mate­ly decide.
Straight says local orga­niz­ers have put into prac­tice a mod­el aimed at hold­ing Foxx account­able, based on four key practices:
Orga­niz­ers use their plat­forms to keep the con­ver­sa­tion around crim­i­nal jus­tice reform in the pub­lic eye.
Orga­niz­ers hold small quar­ter­ly meet­ings with Foxx where she reports how her reform agen­da has progressed.
Orga­niz­ers hold pub­lic forums where Foxx talks with com­mu­ni­ty mem­bers about her crim­i­nal jus­tice reform efforts.
Orga­niz­ers don't just take Foxx's word for it: they gath­er their own research and pub­lish reports that praise Foxx's tri­umphs, call out her short­com­ings and assess how her pros­e­cu­tors are using their dis­cre­tion in the courtroom.
In Decem­ber 2017, The People's Lob­by, Reclaim Chica­go, and pol­i­cy advo­ca­cy group Apple­seed Chica­go pub­lished a report titled ​"In Pur­suit of Jus­tice for All: An Eval­u­a­tion of Kim Foxx's First Year in Office."
The report gave Foxx high marks for advanc­ing bail reform, being more forth­com­ing with the office's data than her pre­de­ces­sor, and enact­ing guide­lines meant to keep cer­tain low-lev­el non­vi­o­lent offend­ers out of jail and out of court. In Decem­ber 2016, Foxx declared her office would not charge shoplifters with a felony unless they stole at least $1,000 in mer­chan­dise or had 10 pri­or felony con­vic­tions. The pre­vi­ous thresh­old for felony shoplift­ing was $300. Last sum­mer, Foxx announced her office would no longer pros­e­cute peo­ple for dri­ving with a sus­pend­ed license if the under­ly­ing rea­son for the sus­pen­sion is finan­cial, such as fail­ure to pay park­ing tick­ets or child sup­port, revers­ing a pol­i­cy the report says ​"was one of the most direct ways that pre­vi­ous Cook Coun­ty State's Attor­neys crim­i­nal­ized poverty."
But on oth­er issues, the report accus­es Foxx of mov­ing too slow­ly or not doing enough. She was crit­i­cized heav­i­ly for fail­ing to insti­tute poli­cies that com­bat the war on drugs or to pro­tect undoc­u­ment­ed immi­grants called to the court as defen­dants or vic­tims who fear con­se­quences as a result of their immi­gra­tion status.
"[Foxx] is not a per­fect part­ner," Straight says. ​"But a part­ner nevertheless."
Oth­er activists around the coun­try have tak­en an approach sim­i­lar to the Chica­go mod­el of pros­e­cu­to­r­i­al accountability.
In Philadel­phia, activists are watch­ing Kras­ner, who won his office with heavy back­ing from African-Amer­i­cans and young peo­ple. After his elec­tion, the Philadel­phia Coali­tion for a Just Dis­trict Attor­ney, a group of civ­il rights and com­mu­ni­ty orga­ni­za­tions, gath­ered out­side Krasner's office and announced a list of demands for his first 100 days.
Racial jus­tice group Col­or of Change is a mem­ber group in the coali­tion, and its crim­i­nal jus­tice cam­paign direc­tor Clarise McCants says orga­ni­za­tions with the coali­tion have been meet­ing with Kras­ner reg­u­lar­ly to dis­cuss their demands.
As in Chica­go, these orga­ni­za­tions are work­ing to build a close rela­tion­ship with the dis­trict attorney's office and keep­ing a close eye on whether Kras­ner ful­fills his cam­paign promises.
"Even with some­body as rad­i­cal as he is, there are real­i­ties around the fact that he has a wide array of peo­ple to answer to," McCants says, not­ing staunch oppo­si­tion to Kras­ner from the local police union.
Alyssa Aguil­era is the polit­i­cal direc­tor of VOCAL- NY, a grass­roots orga­niz­ing group work­ing to keep the pres­sure on both new Brook­lyn DA Her­nan­dez as well as incum­bent Man­hat­tan DA Cy Vance Jr.
"We need to cre­ate moments for them to prove they are real­ly hold­ing true to their promis­es and are imple­ment­ing the poli­cies that they're say­ing behind podi­ums and in their press releas­es," she says.
Aguil­era says she is impressed by efforts in Cook Coun­ty to quan­ti­fy what Foxx's pros­e­cu­tors do and don't do in the court­rooms through the Com­mu­ni­ty Court­watch­ing Initiative.
The ini­tia­tive is admin­is­tered by the Coali­tion to End Mon­ey Bond, which formed in May 2016 with mem­ber orga­ni­za­tions includ­ing South­siders Orga­nized for Uni­ty and Lib­er­a­tion, Chica­go Apple­seed, The People's Lob­by and oth­ers. The coali­tion trains com­mu­ni­ty mem­bers to attend bond court hear­ings, gath­er infor­ma­tion about defen­dants and how pros­e­cu­tors are using their dis­cre­tion, and doc­u­ment what judges are decid­ing in cases.
In Feb­ru­ary, the coali­tion issued a mas­sive report shar­ing data and analy­sis from its court watch­ing ini­tia­tive that high­light­ed the progress and short­com­ings of var­i­ous reform mea­sures. In an exam­ple of an area where Foxx did not per­form up to expec­ta­tions, the report assessed the impact of a pol­i­cy she announced in June 2017 that ordered pros­e­cu­tors to proac­tive­ly rec­om­mend pre­tri­al release through I‑Bonds, or no-cash bonds, for some defen­dants charged with mis­de­meanors and cer­tain low-lev­el felonies such as retail theft, dam­age to pub­lic prop­er­ty or use of con­trolled substances.
"While this mea­sure from the Cook Coun­ty State's Attor­ney Kim Foxx is well-inten­tioned and cre­ates an unlike­ly ally and advo­cate for pre­tri­al release by hav­ing pros­e­cu­tors voice sup­port for I‑Bonds, the pol­i­cy only applies to a small per­cent­age of peo­ple in bond court: 8 per­cent at the high­est peri­od observed," the report notes.
In late Feb­ru­ary, Aguil­era says New York groups launched a sim­i­lar court mon­i­tor­ing oper­a­tion called Court Watch NYC, inspired by what's hap­pen­ing in Cook Coun­ty. Court Watch NYC is a col­lab­o­ra­tion between her group VOCAL-NY, the Brook­lyn Com­mu­ni­ty Bail Fund, a non-prof­it orga­ni­za­tion that helps pay bail for New York­ers who can't afford it, and 5 Boro Defend­ers, a coali­tion of pub­lic defend­ers who orga­nize to reform the crim­i­nal jus­tice system.
Aguil­era says Vance and Gon­za­lez ​"have been lift­ed up across the coun­try for hav­ing more pro­gres­sive poli­cies and mak­ing moves toward decarceration."
Yet Aguil­era strug­gles with the idea of a pro­gres­sive pros­e­cu­tor. Her goal ​"is not to make mass incar­cer­a­tion a lit­tle bet­ter, a lit­tle kinder, a lit­tle less vio­lent, but to com­plete­ly upend the sys­tem." ​"I think that [pro­gres­sive pros­e­cu­tor] is a bit of an oxy­moron," Aguil­era says. ​"The job in and of itself is to con­vict peo­ple and send peo­ple to jails and pris­ons. It will con­tin­ue to be that for the fore­see­able future."
McCants doesn't know that any pros­e­cu­tor would be able to com­plete­ly trans­form the sys­tem, because they ulti­mate­ly have to oper­ate with­in it. ​"But they are extreme­ly pow­er­ful deci­sion mak­ers and they hold a lot of the pow­er," she says.
Kras­ner, like Foxx, cam­paigned to end mass incar­cer­a­tion, reform the bail sys­tem, treat addic­tion as a med­ical issue rather than a crime and oth­er pro­gres­sive poli­cies. But Kras­ner, a for­mer civ­il rights attor­ney, comes from a much dif­fer­ent pipeline than Foxx, a polit­i­cal pro­tégé of Cook Demo­c­ra­t­ic estab­lish­ment stal­wart Cook Coun­ty Board Pres­i­dent Toni Preck­win­kle whose resume includes a stint as an assis­tant state's attorney.
In Feb­ru­ary, Kras­ner announced his pros­e­cu­tors would no longer bring to tri­al sim­ple mar­i­jua­na pos­ses­sion, and would not seek cash bail for peo­ple charged in about two dozen mis­de­meanors and non­vi­o­lent felonies such as dri­ving under the influ­ence, resist­ing arrest and prostitution.
"The fact that thou­sands of peo­ple are not going to be locked up because they're not going to be seek­ing bail in these cas­es is not the full mea­sure of dis­man­tling the sys­tem. But peo­ple aren't going to be sit­ting in jail," McCants says.
Activist and writer Shaun King is also prais­ing Kras­ner. In a March 21 sto­ry in The Inter­cept, King notes that talk­ing about crim­i­nal jus­tice reform has got­ten a lot of pros­e­cu­tors elect­ed around the coun­try, and ​"once in office, their reforms have often been painful­ly slow and dis­ap­point­ing," but Kras­ner so far has been a dif­fer­ent case.
"Kras­ner was the first can­di­date elect­ed who pub­licly com­mit­ted not just to inter­mit­tent changes, but a rad­i­cal over­haul. … So far, hav­ing been in office less than three months, he has exceed­ed expec­ta­tions. He's doing some­thing I've nev­er quite seen before in present-day pol­i­tics: Lar­ry Krasner's keep­ing his word — and it's a sight to behold." King writes.
In his first three months in office, Kras­ner has fired at least 31 pros­e­cu­tors from his office who lacked a com­mit­ment to his reform agen­da; com­plied with a court order to release a list of 29 offi­cers deemed unre­li­able as wit­ness­es because of crimes or mis­con­duct, includ­ing lying to inves­ti­ga­tors and fil­ing false reports; and sig­naled that he wouldn't fight rap­per Meek Mill's release on bail. King goes on to praise an ​"essen­tial and rev­o­lu­tion­ary" five-page inter­nal memo Kras­ner sent his staff of lawyers on Feb­ru­ary 15 that orders them to fol­low poli­cies that ​"are an effort to end mass incar­cer­a­tion and bring bal­ance back to sentencing."
McCants says pros­e­cu­tors such as Kras­ner are crit­i­cal because they can reduce harm in com­mu­ni­ties of col­or in the short term and help trans­form the jus­tice sys­tem in the long term.
She sees pros­e­cu­tors who engage with reform­ers as ​"a wedge in the sys­tem," to inch the door open for more rad­i­cal changes down the line.
"I am not the sil­ver bullet"
Many of the same pro­gres­sives who helped Foxx win her elec­tion argue that she hasn't done enough to help end the drug war in Cook Coun­ty. They want to see her fos­ter the trans­for­ma­tion from a law-and-order approach to the pub­lic health approach she cham­pi­oned when vol­un­teers were knock­ing on thou­sands of doors and mak­ing calls to get her elected.
Shar­lyn Grace, senior crim­i­nal jus­tice pol­i­cy ana­lyst and staff attor­ney at Chica­go Apple­seed, says Foxx ran on a plat­form premised on the belief that peo­ple don't belong in the crim­i­nal jus­tice sys­tem because they use or are addict­ed to drugs.
"These are thou­sands of peo­ples' lives unnec­es­sar­i­ly and coun­ter­pro­duc­tive­ly being fun­neled into the sys­tem," Grace says.
In Sep­tem­ber 2014, a Chica­go Reporter inves­ti­ga­tion by Angela Caputo found that since 2006, indi­vid­u­als had been processed at Cook Coun­ty Jail and released more than 100,000 times for drug pos­ses­sion. The inves­ti­ga­tion also found that drug pos­ses­sion was the num­ber one rea­son peo­ple find them­selves behind bars at Cook Coun­ty Jail.
In that same span, tax­pay­ers spent $778 mil­lion ​"jail­ing peo­ple on the low­est-lev­el pos­ses­sion charges," and about one in three of the cas­es were dis­missed. Caputo wrote that when Alvarez was still in office, ​"many users are released from a cost­ly stay in jail with­out treat­ment, only to come back weeks or months later."
"But the office is con­tin­u­ing as of now to pros­e­cute them in the same way that Alvarez's office did," Grace says.
Foxx main­tains her belief that a pub­lic health approach is vital. How­ev­er, she insists that mean­ing­ful move­ment to end the drug war won't come from her office alone. It will require coop­er­a­tion from police depart­ments, judges, law­mak­ers and pub­lic health officials.
Foxx says she can use her plat­form to push the polit­i­cal con­ver­sa­tion toward crim­i­nal jus­tice reform and the dire need to treat drug use as a pub­lic health issue. She says she can also push pros­e­cu­tors to use more dis­cre­tion in crim­i­nal cas­es against drug users, but that she alone isn't enough to change the tra­jec­to­ry of the system.
"I am not the sil­ver bul­let," Foxx says. ​"We will have impact, but if we want long-term sus­tain­able impact, that is a col­lec­tive, col­lab­o­ra­tive effort. "
Foxx explains that the state's attorney's office can lob­by for more drug offend­ers to be put in court-ordered drug treat­ment or oth­er diver­sion pro­grams meant to avoid crim­i­nal pros­e­cu­tions. But there have to be treat­ment options on the table with enough capacity.
"Hav­ing peo­ple not pros­e­cut­ed but still addict­ed and engag­ing in oth­er things to feed that addic­tion isn't going to help," she says.
Accord­ing to Foxx, a pub­lic health approach to drug use also requires that judges rec­og­nize that ​"addic­tion means some­times peo­ple fall off the wag­on and we can't just throw them in jail" if they slip up while in diver­sion pro­grams. Grace points out that we still have laws in the Illi­nois Crim­i­nal Code that make it the job of police to haul drug users to jail in the first place, and that leaves cit­i­zens at the mer­cy of pros­e­cu­tors and judges.
"That's why we need laws that are less about dis­cre­tion and more about lim­it­ing pow­er in ways to reduce impact on com­mu­ni­ties," Grace says.
How­ev­er, Foxx isn't a law­mak­er. She's a law enforcer. What she can do to help fos­ter leg­isla­tive change, she says, is use her plat­form ​"to con­vene those con­ver­sa­tions and move things."
Foxx also faces oth­er seri­ous obsta­cles to her reform agen­da. She says it's a strug­gle to get pros­e­cu­tors to shift away from the idea that a high con­vic­tion rate is the mark­er of suc­cess. Most of the attor­neys under Foxx were hired by her pre­de­ces­sor or pre­vi­ous states attor­neys. Accord­ing to Foxx's office, about 135 assis­tant states' attor­neys have left since Foxx began her term on on Dec. 1, 2016: Nine retired, 25 were fired, and 101 resigned, includ­ing many attor­neys who knew they were on the chop­ping block. Foxx has hired 56 new attor­neys since then.
She also has to deal with oth­er play­ers in the crim­i­nal jus­tice sys­tem that are less com­mit­ted to reform, includ­ing judges. In August, a judge in Cook Coun­ty threat­ened one of her attor­neys with con­tempt of court for demand­ing that a preg­nant woman forced to give birth in jail be released. The woman had been held with­out bail on retail theft and traf­fic charges.
In Novem­ber, Foxx's Con­vic­tion Integri­ty Unit vacat­ed 18 con­vic­tions for 15 defen­dants in cas­es tied to for­mer police sergeant Ronald Watts and offi­cers under his com­mand who showed a pat­tern of mak­ing bogus drug arrests and engag­ing in mis­con­duct that raised doubts about the valid­i­ty of their inves­ti­ga­tions. In Novem­ber, Foxx also dropped charges against Jose Maysonet after five for­mer cops said they would stay silent and plead the fifth rather than tes­ti­fy in his retri­al. Maysonet, behind bars for 27 years, had accused retired detec­tive Rey­nal­do Gue­vara of beat­ing a false con­fes­sion out of him in 1990 that led to a 1995 mur­der con­vic­tion. Fra­ter­nal Order of Police Pres­i­dent Kevin Gra­ham wrote a let­ter to the Chica­go Sun-Times accus­ing Foxx of ​"vil­i­fy­ing police officers."
DeAn­ge­lo Bester, exec­u­tive direc­tor of the Work­ers Cen­ter for Racial Jus­tice, which stumped for Foxx with the People's Lob­by, knows that Foxx faces a tough road ahead. That doesn't mean he's giv­ing her a pass.
"We under­stand how pol­i­tics goes," Bester says. ​"But at the end of the day, we're going on 30, 40 years of the war on drugs, which is a war on black peo­ple. We feel we're in a moment now where it's time for things to actu­al­ly change."
Bester says Foxx's real test will come in 2020, when she's up for re-election.
"If things con­tin­ue down this road with her kind of slow walk­ing the process, there won't be the same swell of ener­gy behind her cam­paign," he says.
Yet even the most pro­gres­sive pros­e­cu­tor can't stop police from racial­ly pro­fil­ing, force law­mak­ers to pass leg­is­la­tion that ensures peo­ple con­vict­ed of low-lev­el offens­es aren't at the mer­cy of a pros­e­cu­tor or judge's dis­cre­tion, or change how peo­ple of col­or affect­ed by the crim­i­nal jus­tice sys­tem are often deprived of the com­pas­sion they deserve. It takes more than a reform-mind­ed pros­e­cu­tor to con­vince peo­ple that a person's drug use doesn't make them a hor­ri­ble human being who deserves to have their life, career and future dis­rupt­ed by a prison stint.
But the thou­sands of top pros­e­cu­tors lead­ing coun­ties across the coun­try do deter­mine how laws mate­ri­al­ly impact people's lives, and through the deci­sions they make wield a tremen­dous amount of pow­er in the crim­i­nal jus­tice sys­tem. Accord­ing to activists, the days of them fly­ing under the radar of vot­ers and com­mu­ni­ty orga­niz­ers has to end, and move­ments can and should hold their feet to the fire. Foxx, Kras­ner, Vance, Her­nan­dez, and oth­er reform-mind­ed pros­e­cu­tors are only a small frac­tion of the account­abil­i­ty picture.
"One thing we all can rec­og­nize," says Aguil­era, ​"is that pros­e­cu­tors hold an immense amount of pow­er and are large­ly going unchecked by peo­ple who elect­ed them."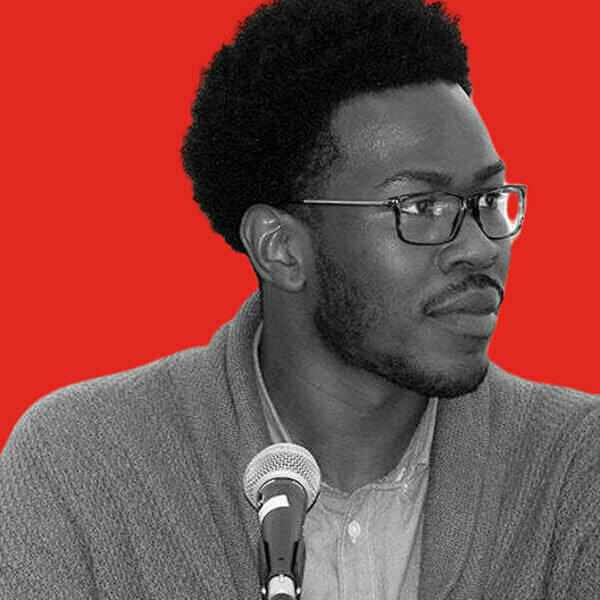 Adeshi­na Emmanuel
is an edi­tor at Injus­tice Watch, a non­prof­it jour­nal­is­tic research orga­ni­za­tion ded­i­cat­ed to expos­ing insti­tu­tion­al fail­ures that obstruct jus­tice and equal­i­ty. He is a for­mer reporter for
DNAin­fo Chica­go
, the
Chica­go Sun-Times
, the
Chica­go Reporter
and Chalkbeat.