So the Battle Over Legalization Has Come Down to This: A Duel Between Weed and Booze
Drug reformers say marijuana is a far less harmful substance than alcohol—and are willing to go "hit for shot" to prove it.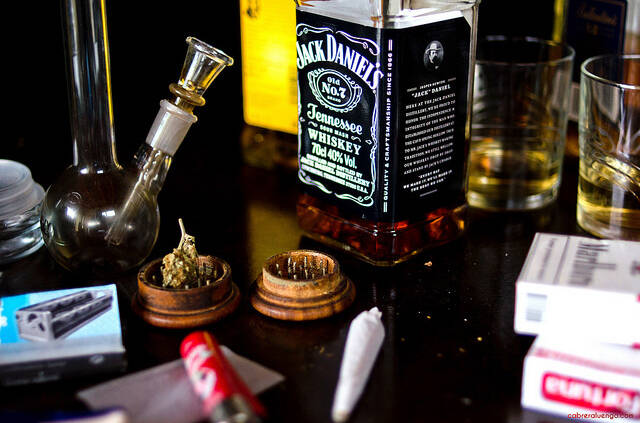 When Col­orado vot­ers in 2012 approved a bal­lot mea­sure legal­iz­ing mar­i­jua­na, the state not only broke new ground in the ongo­ing bat­tle over nar­cotics pol­i­cy, it also val­i­dat­ed an inno­v­a­tive new polit­i­cal mes­sage — one that com­pares cannabis to alco­hol. Two years lat­er, that com­par­i­son is being deployed in key mar­i­jua­na-relat­ed elec­tions through­out the coun­try, and drug reform advo­cates are so sure mar­i­jua­na is safer than alco­hol, they are now chal­leng­ing police to a ​"drug duel" to prove their point.
Boyer has challenged the police chief to a "hit for shot" duel - for every shot of alcohol Googins takes, Boyer would take a toke of marijuana, and the public would be able to see who is in worse physical condition in the end.
The pro­pos­al for the duel from David Boy­er, an offi­cial with the Mar­i­jua­na Pol­i­cy Project, came after South Port­land Police Chief Edward Goo­gins announced his oppo­si­tion to a munic­i­pal ref­er­en­dum to legal­ize mar­i­jua­na possession.
"Claims that mar­i­jua­na is safer than alco­hol are so bogus it's not even fun­ny," Goo­gins told a local newspaper.
In response, Boy­er has chal­lenged the police chief to a ​"hit for shot" duel — for every shot of alco­hol Goo­gins takes, Boy­er would take a toke of mar­i­jua­na, and the pub­lic would be able to see who is in worse phys­i­cal con­di­tion in the end.
"We have done every­thing in our pow­er to high­light the dan­ger asso­ci­at­ed with laws that steer adults toward drink­ing by threat­en­ing to pun­ish them if they make the safer choice to use mar­i­jua­na," Boy­er said in a press release promis­ing to bring ​"enough alco­hol to kill a man" to the duel. ​"Enough is enough. Per­haps this dra­mat­ic demon­stra­tion of the rel­a­tive harms of each sub­stance will final­ly get the point across."
The ​"drug duel" con­cept — and the larg­er com­par­i­son between cannabis and alco­hol — is the brain­child of MPP offi­cials Steve Fox and Mason Tvert. In the years lead­ing up to Col­orado's his­toric legal­iza­tion vote, Tvert slammed politi­cians like John Hick­en­loop­er and Pete Coors for oppos­ing mar­i­jua­na legal­iza­tion even though they made their per­son­al for­tunes sell­ing alco­hol. He famous­ly chal­lenged both of them to drug duels.
Fol­low­ing unsuc­cess­ful legal­iza­tion cam­paigns in Neva­da and Cal­i­for­nia, Tvert and Fox con­vinced advo­cates in Col­orado to explic­it­ly frame the 2012 cam­paign around the alco­hol-mar­i­jua­na com­par­i­son. Ulti­mate­ly, the bal­lot ini­tia­tive was called the Reg­u­late Mar­i­jua­na Like Alco­hol Act of 2012.
Tvert says that in a state with a beer brew­er gov­er­nor, a bur­geon­ing craft beer indus­try, and a pro­fes­sion­al base­ball sta­di­um named after an alco­hol brand, the strat­e­gy gave vot­ers a famil­iar prod­uct to which they could com­pare cannabis.
"The mes­sage is sim­ple: If we can reg­u­late alco­hol we can reg­u­late a far less harm­ful sub­stance," he said. ​"Mar­i­jua­na has been ille­gal because too many peo­ple think it is too dan­ger­ous to allow adults to use, when in fact it is less harm­ful than alcohol."
From crime research to hos­pi­tal data to mor­bid­i­ty sta­tis­tics, there is plen­ty of evi­dence to sup­port that asser­tion. And since the Col­orado vote, the mes­sage has gained polit­i­cal traction.
In Jan­u­ary, for instance, the New York­er report­ed that Pres­i­dent Oba­ma said, ​"I don't think [mar­i­jua­na] is more dan­ger­ous than alco­hol." A few months lat­er, a Pew Research Cen­ter poll showed that 69 per­cent of Amer­i­cans say alco­hol is more harm­ful to people's health than marijuana.

In this elec­tion, the alco­hol-mar­i­jua­na com­par­i­son is defin­ing legal­iza­tion cam­paigns not only in South Port­land, but also in Alas­ka. There, drug reform­ers call their effort the Cam­paign to Reg­u­late Mar­i­jua­na Like Alco­hol. They have spon­sored bus ads pro­mot­ing mar­i­jua­na as a safer drug than alcohol.

Addi­tion­al­ly, though much of the legal­iza­tion cam­paign hap­pen­ing in Ore­gon has been about pub­lic safe­ty, activists designed that ini­tia­tive to invoke the alco­hol com­par­i­son. Specif­i­cal­ly, their pro­pos­al would have the Ore­gon Liquor Con­trol Com­mis­sion expand its reg­u­la­to­ry over­sight to marijuana.

​"Every­one rec­og­nizes that alco­hol pro­hi­bi­tion was a huge fail­ure," Tvert says. ​"Our point is that mar­i­jua­na pro­hi­bi­tion has been just as big of a disaster."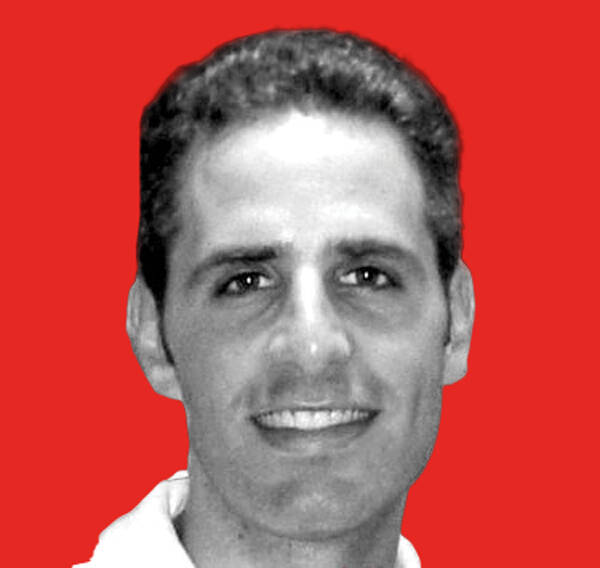 David Siro­ta
is an award­win­ning inves­tiga­tive jour­nal­ist and an
In These Times
senior edi­tor. He served as speech writer for Bernie Sanders'
2020
cam­paign. Fol­low him on Twit­ter @davidsirota.