In Politics, Comedy is Central
Comedy is a rising medium for political satire and critique.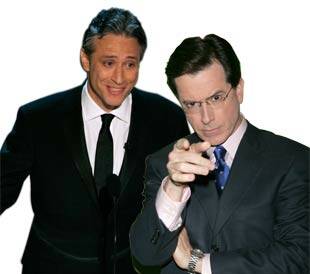 Lewis Black is irate. ​"The last year and a half is by far the toughest time I've ever spent as a comedian," he confides to the audience in his HBO special, ​"Red, White and Screwed."
"It used to be easy – one or two things might happen in a week. And now, something will happen, and I'll read about something and I go ​'I'm going to make that funny,' and then" – here he starts to yell and pace – ​"the next day, 30 other things would fucking happen! Who can keep track of this shit? I don't even have a ports of Dubai joke, and we're on to immigration." The audience hoots in sympathy.
Perhaps this abundance of absurdities helps explain the recent boom in political humor. In May, the Washington Post reported that the number of Bush jokes on the late-night network shows had doubled, hitting Clinton/Lewinsky-era levels. Explicitly progressive comedy is also on the rise – from the cheery vitriol showcased on Air America, to a host of viral videos, to the recent national tour of a new stand-up troupe, Laughing Liberally. At the same time, Comedy Central satirists Stephen Colbert and Jon Stewart have become the era's most effective media critics, drawing distinguished guests from left, right and center, and providing a spirited space for public debate.
This evolution of political comedy has everything to do with the collapse of public trust in our truth-telling institutions, hastened by the right's sustained attack on what one GOP insider dismissed as the ​"reality-based community." ("Reality," quips Colbert in full conservative drag, ​"has a well-known liberal bias.")
We now routinely watch the mainstream media with the expectation that we're being spun, but when did we start watching comedy for the real deal?
According to Boston College professor Paul Lewis, author of the forthcoming Cracking Up: American Humor in a Time of Conflict, the role of comedy in public culture has been on the rise since the ​'80s.
"These are tough, competitive, complex times in U.S. humor production and consumption," Lewis writes, ​"times in which the significance and nature of jokes is a matter of debate and in which the effort to shape public opinion by way of ridicule and satire has become a serious project."
In his book, Lewis examines how conservative media figures like Rush Limbaugh and Ann Coulter have effectively dismissed and diminished progressive ideas and politicians by making them the ​"butt" of taunts. Such derisive humor works in tandem with serious policy initiatives to sandbag losers in what Lewis earnestly terms ​"butt wars."
This project of attacking liberals has unified a diverse and contentious coalition of fundamentalists, free marketeers and career Republicans in ways that little else could. ​"Bugging liberals, you see, being bugged by liberals, is not incidental to conservative culture, but rather is constitutive of it," writes historian Rick Perlstein in a recent New Republic article.
Now, the tables are turning. Bush was spared much mockery in the wake of 9/11, but with his popularity tanking, the ​"butt-in-chief" is again fair game. Bush-bashing has become a cottage industry. And a new book by Air America's Sam Seder and Stephen Sherrill, F.U.B.A.R.: America's Right-Wing Nightmare extends the trend, launching a wholesale attack on the conservative brand.
Katie Halper, a founder of Laughing Liberally, dismisses charges that partisan humor is ​"preaching to the choir." Instead, it serves the political purpose of rallying the progressive troops. ​"It's very cathartic," says Halper. ​"Besides, people who are doing pavement-pounding work deserve their own spaces."
In addition to drawing progressive applause, the Laughing Liberally tour has succeeded in bugging conservatives. ​"Over the course of the show," complained David Finnigan on National Review Online, ​"eight comics spent about two hours repeating tired complaints about President Bush, punctuated by at least 105 profane words."
While the partisans tally swear words and sling mud, Stewart and Colbert are busy making the news good again. They mock the Republicans plenty, but they're capturing larger audiences precisely because they're not just bashing Bush. Instead, they're tapping into the growing public realization that mainstream journalism has become a joke.
Their smarty-pants shows serve up multilayered satire that matches our multitasking moment. Watching Colbert navigate both the challenges of his O'Reilly-esque persona and the news of the day entertains even the most ADD-addled viewer. Their performances engage us on a visceral level while simultaneously pointing out the devices mainstream media use to hook viewers.
So, how do these Comedy Central send-ups impact politics? A study by two East Carolina University political scientists recently set off some alarm bells. They sat college students down in front of ​'04 campaign coverage from either CBS News or ​"The Daily Show," and then asked the students to judge the candidates. After watching Stewart, students were harder on candidates and expressed less trust in the electoral system.
On June 23, Washington Post columnist Richard Morin fretted that the study was ​"particularly dismaying news because the show is hugely popular among college students, many of whom already don't bother to cast ballots." TNR television critic Lee Siegel piled on, ​"Constant ridicule seems to have the effect of turning the political system into one gigantic self-parodying freak show."
A freak show? No kidding …
Print journalists' doleful hand-wringing prompted flames of derision from progressive bloggers. ​"This is a woefully misleading representation of the study," wrote Matt Stoller of MyDD. ​"First of all, the authors of the study concluded that we don't know what the effect of ​'The Daily Show' is on voting patterns. They mused that it could be positive, or it could be negative. And indeed, turnout among youth actually went way up in 2004."
Besides, isn't skepticism a sane response to the Bush administration lies and corruption? ​"My enthusiasm for Stewart correlates to the hope for a new group of progressive politicians," says Lewis.
Responses like these reveal the serious role political humorists now play. They serve up truth in the guise of Colbert's ​"truthiness." Rather than foster debilitating cynicism, these comedians-cum-newscasters reflect a contemporary mode of communication in which irony is not antithetical to – but synonymous with – authenticity. We have moved beyond the much-heralded (and lamented) GenX cynicism of the late ​'90s. Sarcasm, doubt and distance have become default positions, havens in a world of fundamentalisms, false promises and lies.
Colbert, who pointedly skewers the absurdities of conservative newscasters, displayed satire's hopeful promise at the Knox College commencement in June. ​"Don't be afraid to be a fool," he told the students, recalling how his early improv training in Chicago had stressed the value of saying ​"yes" in order to move a scene along.
"Young people who pretend to be wise to the ways of the world are mostly just cynics. Cynicism masquerades as wisdom, but it is the farthest thing from it," he said. ​"Cynicism is a self-imposed blindness, a rejection of the world because we are afraid it will hurt us or disappoint us. Cynics always say no. But saying ​'yes' begins things. Saying ​'yes' is how things grow. … ​'Yes' is for young people. So for as long as you have the strength to, say ​'yes.' "
Truthier words were never spoken. Maybe the new comedy will not only make us laugh, but help us rescue ourselves from the tragedy of today's politics.
Jessica Clark
is a writer, editor and researcher, with more than
15
years of experience spanning commercial, educational, independent and public media production. Currently she is the Research Director for American University's Center for Social Media. She also writes a monthly column for PBS' MediaShift on new directions in public media. She is the author, with Tracy Van Slyke, of Beyond the Echo Chamber: Reshaping Politics Through Networked Progressive Media (
2010
, New Press).