Suicides Spark Eviction Resistance
In the face of tragedy, Spain's housing movement is gathering steam.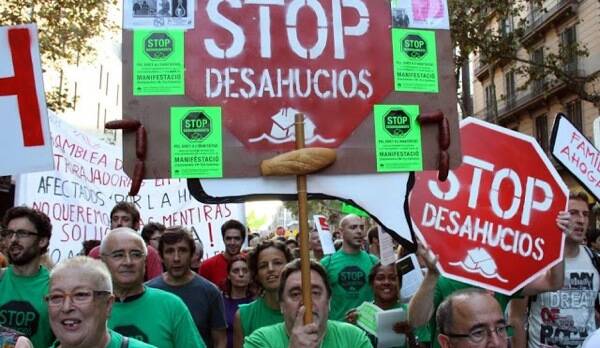 Since 2008, Spain has faced a mount­ing hous­ing cri­sis not unlike the one that has wracked the Unit­ed States. An esti­mat­ed 350,000 Span­ish fam­i­lies (and pos­si­bly more) have been evict­ed from their homes, and the aver­age house price has fall­en by more than one-third.
Attendance is swelling at the weekly meetings of activist group Platform for Mortgage Victims, and mass demonstrations outside of foreclosing banks have become commonplace.
But Spain's under­wa­ter home­own­ers find them­selves in an espe­cial­ly pre­car­i­ous posi­tion due to a puni­tive mort­gage law dat­ing back to 1909. The law allows banks to begin repos­sess­ing a house after just one missed mort­gage pay­ment and to seek full loan repay­ment even after repos­ses­sion. Fur­ther­more, nei­ther bank­rupt­cy nor death can erase mort­gage debt.
In the face of this law, com­mu­ni­ties are find­ing their own ways to fight back. Atten­dance is swelling at the week­ly meet­ings of activist group Plat­form for Mort­gage Vic­tims (PAH), and mass demon­stra­tions out­side of fore­clos­ing banks have become com­mon­place. Fol­low­ing a string of evic­tion-relat­ed sui­cides in the past year, pub­lic sup­port for the pro­test­ers has surged. The coun­try's Unit­ed Police Union even announced that it will back offi­cers who refuse to car­ry out evictions.
Hous­ing activists won a par­tial vic­to­ry in Novem­ber when the Span­ish gov­ern­ment announced that it would halt evic­tions for two years for those deemed most finan­cial­ly needy. But the move was met with skep­ti­cism because the mora­to­ri­um applies only to fam­i­lies mak­ing less than 19,200 euros a year. More­over, accord­ing to a state­ment from PAH, ​"This mea­sure would not affect fore­clo­sures under way and so leave out hun­dreds of thou­sands of fam­i­lies still swamped by proceedings."
What's need­ed, activists believe, is a change to the coun­try's mort­gage law. They came one step clos­er in Feb­ru­ary, when, in response to a peti­tion cre­at­ed by anti-evic­tion activists that col­lect­ed near­ly 1.5 mil­lion sig­na­tures, the Span­ish par­lia­ment agreed to debate a cit­i­zens' motion that would put a stop to evic­tions already under­way and pre­vent banks from try­ing to col­lect on mort­gage debts after t hey've repos­sessed a home. The activists may be helped by a rul­ing from the Euro­pean Court in March that found that Spain's mort­gage law vio­lates Euro­pean Union law.
Just how much Spain's mort­gage law will change remains to be seen. But as Spain's hous­ing move­ment gath­ers strength, it's becom­ing hard­er to enforce the poli­cies that leave home­own­ers out in the cold.