In Zero Sum Game, Rick Perry Courts Illinois Businesses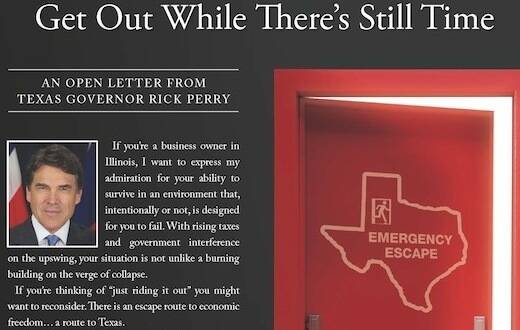 Texas Gov. Rick Per­ry rode into Chica­go this week in an effort to las­so Illi­nois-based busi­ness­es and herd them to the Lone Star State.
At a press con­fer­ence on Mon­day, Chica­go May­or Rahm Emanuel met the vis­it with deri­sion. ​"I hope when he comes he remem­bers all three of his rea­sons," joked the may­or, ref­er­enc­ing Per­ry's 2012 debate gaffe, in which the gov­er­nor could­n't list the three gov­ern­ment depart­ments he was plan­ning to axe.
Indeed, the efforts by Per­ry, best known for his wild­ly unsuc­cess­ful 2012 pres­i­den­tial run, are easy to mock. An ad in Crain's Chica­go Busi­ness bankrolled by Per­ry's office por­trays Texas as an emer­gency exit door for Illi­nois busi­ness­es. An accom­pa­ny­ing let­ter from Per­ry solemn­ly warns Illi­nois com­pa­nies that ​"your sit­u­a­tion is not unlike a burn­ing build­ing on the verge of collapse."
The burn­ing build­ing is evi­dent­ly a metaphor for not only Illi­nois' major bud­get deficit, but also the state's above aver­age union­iza­tion rate, cor­po­rate income tax and fourth high­est hourly min­i­mum wage in the coun­try, at $8.25. In con­trast, Texas boasts the low­est pos­si­ble min­i­mum wage, $7.25, and ties with Mis­sis­sip­pi for the high­est pro­por­tion of work­ers earn­ing the minimum.
Illi­nois is used to the cor­po­rate raid­ing efforts of Repub­li­can gov­er­nors from less work­er-friend­ly states. If efforts to lure busi­ness­es across bor­ders con­sti­tute a ​"Sec­ond War Between the States," as Busi­ness Week announced back in 1976, the Prairie State is one of the biggest bat­tle­grounds. After Illi­nois passed tem­po­rary per­son­al and cor­po­rate income tax increas­es in 2011, Wis­con­sin Gov. Scott Walk­er penned a Chica­go Tri­bune op-ed urg­ing Illi­nois com­pa­nies to move north of the bor­der. Indi­ana Gov. Mitch Daniels also chimed in after the tax increase, com­par­ing Illi­nois to ​"the dys­func­tion­al fam­i­ly down the block."
Brooke Ander­son, spokes­woman for Illi­nois Gov. Pat Quinn, says the ​"pub­lic­i­ty stunt" from Per­ry is the same old ​"rodeo."
Perry's stunt, though, could have seri­ous con­se­quences for Illi­nois – in the form of juicy tax breaks down the road for Illi­nois corporations.
Busi­ness­es did not leave Illi­nois after the advances of Walk­er and Daniels, but Quinn and the Demo­c­ra­t­ic-con­trolled leg­is­la­ture spent hun­dreds of mil­lions of dol­lars just to be sure they stayed.
Indeed, accord­ing to a study released in Jan­u­ary by the Wash­ing­ton, D.C.-based insti­tute Good Jobs First, Illi­nois has some of the nation's high­est relo­ca­tion sub­si­dies. These are indi­vid­ual cor­po­rate tax incen­tives that states use to lure com­pa­nies, but Illi­nois uses them not to attract new com­pa­nies, as Per­ry is try­ing to do, but to keep cur­rent ones.
For exam­ple, the state forked over $275 mil­lion to Sears Hold­ing Corp. in Decem­ber of 2011, because Sears made noise about mov­ing to a more favor­able tax envi­ron­ment. Then in Feb­ru­ary of 2012, Sears gave pink slips to 100 employ­ees at its head­quar­ters in Hoff­man Estates, lay­offs that did not the vio­late terms of the tax break.
Per­haps the most noto­ri­ous cor­po­rate hand­out by Illi­nois came when the state revised its tax code in 2011 in order to save lucra­tive finan­cial exchange CME Group, Inc. about $60 – 80 mil­lion each year in tax­es. Fol­low­ing the deal, advo­ca­cy group Stand Up! Chica­go cer­e­mo­ni­ous­ly placed a ​"gold­en toi­let" in front of CME's Chica­go headquarters.
In some instances, the mere threat of a com­pa­ny leav­ing is enough for a tax deal. The Illi­nois Eco­nom­ic Devel­op­ment for a Grow­ing Econ­o­my—or EDGE—tax cred­it pro­gram says that Illi­nois com­pa­nies may qual­i­fy for a tax break so long as there is ​"active con­sid­er­a­tion" of mov­ing to anoth­er state and ​"doc­u­men­ta­tion" that anoth­er state wants the company.
​"Illi­nois is a state that is cur­rent­ly being pirat­ed," says Good Jobs First Exec­u­tive Direc­tor Greg LeRoy.
Texas, mean­while, spends more on busi­ness tax incen­tives than any state, as the New York Times report­ed on last Decem­ber, even as its per-pupil edu­ca­tion spend­ing is abnor­mal­ly low and its pover­ty rate is extra­or­di­nar­i­ly high.
In 2003, Per­ry cre­at­ed the Texas Enter­prise Fund, essen­tial­ly a pot of mon­ey the gov­er­nor uses to attract new com­pa­nies. Whether the fund has brought eco­nom­ic rewards is unclear: Per­ry has claimed 54,000 new jobs linked to approx­i­mate­ly $410 mil­lion in incen­tives over the last eight years. But the Good Jobs First report shows that only 28,375 relo­cat­ed jobs—just 0.23 per­cent of the 12.2 mil­lion jobs Texas had in 2003—actu­al­ly mate­ri­al­ized in that span of time, the impli­ca­tion being that Texas spends much too much time and mon­ey on cor­po­rate raiding.
Pro­grams like the Enter­prise Fund cre­ate a domi­no effect or ​"race to the bot­tom," in the opin­ion of LeRoy, where a state is either a ​"preda­tor" like Texas, over­ly focused on attract­ing busi­ness­es, or ​"prey," like Illi­nois, reac­tive­ly spend­ing mon­ey to retain businesses.
State Rep. Jack Franks, a Demo­c­rat from Wood­stock, who wrote a law last year enhanc­ing dis­clo­sure of the EDGE pro­gram, says the new data ​"brings to light that the gov­er­nor does not have a cohe­sive struc­ture in terms of job reten­tion and growth," Franks says.
That's a chal­lenge when the likes of Per­ry, Walk­er, Daniels and Kasich are just around the corner.
Matthew Blake
is a free­lance jour­nal­ist based in Chica­go. He has writ­ten for the
Chica­go Jour­nal, Wash­ing­ton Month­ly, Wash­ing­ton Inde­pen­dent
and
The Nation
, among oth­er publications.