Indecent Exposure: Farmworkers Breathe Risky Air in Calif. Fields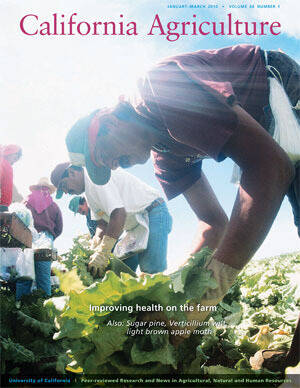 California farmworkers at risk for various respiratory illnesses, study says, due to very poor air quality
If you've ever driven through California's Central Valley on Highway 5 or 99, you've probably seen the gray haze over the area and experienced the thick and smelly air.
For the 1 million agricultural workers who labor in the fields and large dairies prevalent in the area, the air is more than just an irritating byproduct of working outside. New research points to a potential link between poor air quality and agriculture-related health problems, according to a study published in the current journal California Agriculture.
Shipping trucks, pesticides, farm machines, field burning, manure, and the increasingly traveled Interstate-5 and 99 corridor are just a few of the things that belch forth the fumes that makes this air among the country's worst. Air particulate levels in the San Joaquin Valley are the highest recorded in the United States.
Scientists with the UC Western Center for Agricultural Health and Safety at University of California, Davis, released original research finding a possible environmental connection between pesticide and air pollution exposure and poor health.
"Hired farmworkers provide the majority of the workforce for California's labor-intensive agricultural sector, and they also suffer the greatest health burden," UC Western Center Director Marc Schenker said.
These workers face high risks of asthma and bronchitis and other respiratory illnesses: diabetes, and stress-related mental problems.
The research comes at the same time a battle is being waged by Kettleman City residents to stop expansion of the state's largest toxic landfill, and a call by Senators Barbara Boxer and Dianne Feinstein for an investigation into birth defects in that farmworker community and a clean-up of the city's polluted drinking water.
The air pollution that plagues the San Joaquin Valley comes in the form of ​"particulate matter," which is coarse, fine and ultrafine. The smallest particles — fine and ultrafine — are capable of deeply penetrating the respiratory tract. Breathing in the coarser particles is especially worrisome to elders because those particles can increase cardiopulmonary problems.
Diesel emissions from agricultural operations and agriculture crop waste burning, for example, produce the coarser particles. Ammonia that comes from fertilizer and livestock can mix with vehicle exhaust to form both coarse and ultrafine particles.
"California's hired farm workers face increased risks of morbidity and mortality from respiratory disease, musculoskeletal problems, infectious diseases, stress-related mental health disorders and lifestyle-related diseases such as obesity," Schenker said.
In the farming community of Parlier, Calif., scientists exposed lab animals to three days of various levels of particulate matter for six hours a day for three days. They came up with their findings after observing how inhaling the ambient air at different levels affected the animals. The research team had a mobile field unit with a special breathing test system, and particle monitoring.
San Joaquin Valley extends about 250 miles from San Joaquin County in the north to Kern County in the south.
Rose Arrieta
was born and raised in Los Angeles. She has worked in print, broadcast and radio, both mainstream and community oriented — including being a former editor of the Bay Area's independent community bilingual biweekly El Tecolote. She currently lives in San Francisco, where she is a freelance journalist writing for a variety of outlets on social justice issues.