Don't Be Fooled by the Limelight on Lifestyle as a Cancer Risk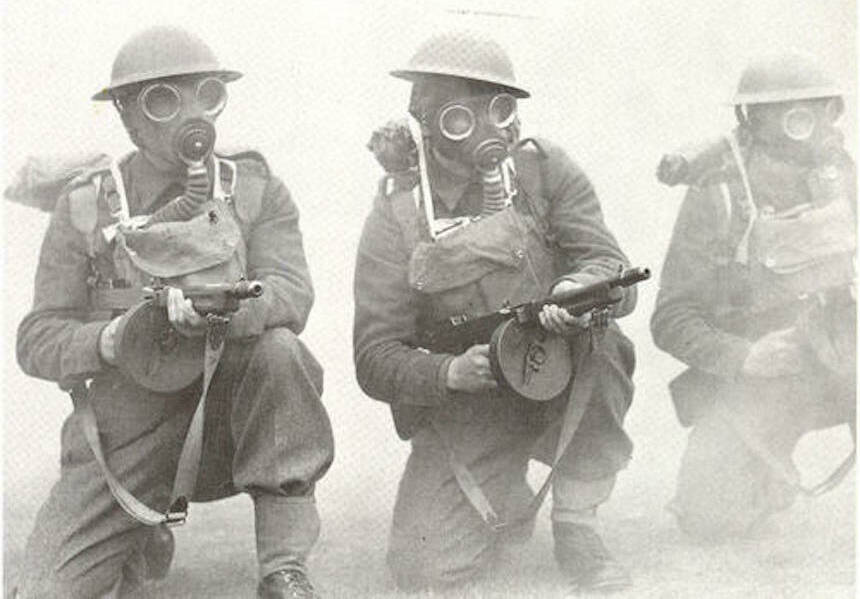 Chem­i­cal com­pounds that inca­pac­i­tate or kill, like phos­gene, chlo­rine and sul­fur mus­tard, were put into Ger­man artillery shells and deliv­ered by how­itzers on the front­lines in World War I. The diam­e­ter of the shells was 5.9 inch­es, prompt­ing British sol­diers to call them ​"five-nines." By the end of the war, both sides were lob­bing them. Whether or not a five-nine loaded with a chem­i­cal weapon land­ed in your trench had noth­ing to do with luck or lifestyle. War cre­at­ed the con­di­tions for the expo­sure to the chemicals.
By the end of World War II, chem­i­cal man­u­fac­tur­ers like DuPont, Shell and Mon­san­to shift­ed their mil­i­tary pro­duc­tion to the domes­tic ​"war on pests." At the Rocky Moun­tain Arse­nal out­side of Den­ver, the U.S. Army's Chem­i­cal Corps made chem­i­cal weapons along­side pri­vate chem­i­cal com­pa­nies like Shell Oil Com­pa­ny, which leased Army facil­i­ties at RMA to make pesticides.
Today the U.S. chem­i­cal man­u­fac­tur­ing indus­try is an $800 bil­lion busi­ness that has reg­is­tered over 80,000 chem­i­cals for use in the Unit­ed States, with 2,000 new ones intro­duced each year. You and I are repos­i­to­ries for these chem­i­cals. Toss your cig­a­rettes in the trash bin, but you're still breath­ing ben­zene from vehi­cle exhaust and indus­tri­al emis­sions. The Cen­ters for Dis­ease Control's Fourth Nation­al Report on Human Expo­sure to Envi­ron­men­tal Chem­i­cals, issued in 2009 with updat­ed data in 2017, looked for 308 syn­thet­ic chem­i­cals in the blood or urine of Amer­i­cans. Most were wide­ly detected.
Some, like per­chlo­rate, which can cause endocrine sys­tem and repro­duc­tive prob­lems and is con­sid­ered by the EPA to be a ​"like­ly human car­cino­gen," was found in the urine of every­one test­ed. With unavoid­able expo­sures to tox­i­cants at every stage of life, stop­ping the sys­temic poi­son­ing of our food, water, air, and soil is fun­da­men­tal to giv­ing indi­vid­u­als a decent chance to opti­mize their own health.
In 2017, more than 1.6 mil­lion peo­ple will be diag­nosed with can­cer in the Unit­ed States. A small per­cent­age of these can­cers can be attrib­uted to genet­ic trou­bles, where­as the remain­ing 90-to-95 per­cent of can­cers are from influ­ences out­side the body that change what hap­pens inside — some of which you can con­trol and some you can­not. Those that we are told we can con­trol, such as cig­a­rette smok­ing, diet, alco­hol, sun expo­sure, stress, obe­si­ty, and phys­i­cal inac­tiv­i­ty, are labeled ​"lifestyle fac­tors," or lifestyle for short.
An indi­vid­ual through their actions can help man­age cancer's progress or low­er the risk of get­ting can­cer in the first place; assum­ing one has the time, mon­ey, edu­ca­tion and job options that allow one to make choic­es and know what choic­es to make.
Yet an empha­sis on lifestyle always seems to come at the expense of mean­ing­ful pub­lic pol­i­cy dis­cus­sions. It diverts pub­lic atten­tion from the col­lec­tive prob­lem solv­ing and soci­etal deci­sion-mak­ing process­es about how chem­i­cals can, and under what con­di­tions, cause harm, and what to do about it.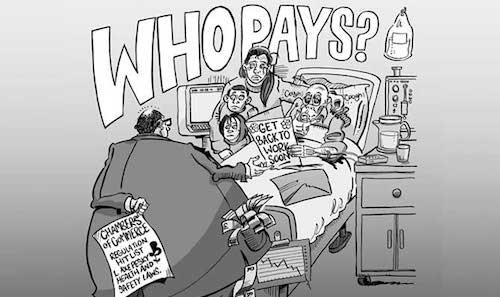 (Illus­tra­tion: Haz­ards Mag­a­zine)
A 2015 Cal­i­for­nia study that con­sist­ed of a 54-year fol­low-up of 20,754 preg­nan­cies showed that women exposed in the womb to high lev­els of the pes­ti­cide DDT have a near­ly four­fold increased risk of devel­op­ing breast can­cer. At its peak use in 1962, over 85,000 tons of the pes­ti­cide were used. A child in her moth­er's womb exposed to the chem­i­cal had no choice in the mat­ter. It is the respon­si­bil­i­ty of soci­ety, not the indi­vid­ual, to con­trol can­cer-caus­ing chem­i­cals.
So here we are, 100 years after World War I, and every Amer­i­can lacks pro­tec­tions from chem­i­cals man­u­fac­tured or used by U.S. cor­po­ra­tions that degrade human health. Rory O'Neill, a pro­fes­sor of occu­pa­tion­al and envi­ron­men­tal health pol­i­cy at the Uni­ver­si­ty of Stir­ling, Scot­land, who is an edi­tor of Haz­ards Mag­a­zine and the Work Can­cer Haz­ards blog, tells us not to be fooled by the lime­light on lifestyle for can­cer risk. In the fol­low­ing post, slight­ly edit­ed, he writes:
There are sev­er­al prob­lems with the empha­sis on lifestyle, for a slew of chron­ic dis­or­ders, from can­cer, to dia­betes, to car­dio­vas­cu­lar dis­ease, to neu­ro­log­i­cal dis­ease, to…. Heck, all of them, and you can add in men­tal ill­ness and sui­cide on top. This is not because the lifestyle effects are not real, but because:

It's a smoke­screen 1: Where research shows gen­uine con­cerns about occu­pa­tion­al and envi­ron­men­tal risks, the find­ings are ques­tioned regard­less of the strength of the evi­dence, and there is a cook­ie cut­ter response that says lifestyle is the real prob­lem. This is dri­ven by a berserk­ly well-resourced can­cer indus­try sell­ing this line, a process described well by Devra Davis, Janette Sher­man, Joe LaDou and a noble suc­ces­sion of others

It's a smoke­screen 2: Where research ques­tions a link, there is a cho­rus of let's put this occu­pa­tion­al and envi­ron­men­tal red her­ring behind us, and there is a cook­ie cut­ter response that says lifestyle is the real prob­lem. Wit­ness what hap­pened with the recent (and woe­ful) Oxford Uni­ver­si­ty paper dis­miss­ing the night work and breast can­cer risk. This was wide­ly and uncrit­i­cal­ly report­ed in the media. A BBC head­line blared ​"Breast can­cer risk ​'not increased' by night shifts." When pos­i­tive find­ings are pub­lished, link­ing a chem­i­cal or work­place to can­cer, this nev­er hap­pens — the lifestyl­ists are wait­ing in the wings with their rebut­tal every time. (For more infor­ma­tion about night shifts and breast can­cer, and a crit­i­cal review of the Oxford Uni­ver­si­ty paper, see this sto­ry.

It's your fault. When chang­ing lifestyle is invoked as the key to pre­ven­tion, the tone is gen­er­al­ly one of blame — you have the wrong diet, you drink too much alco­hol, you smoke, you don't exer­cise. But these are con­se­quences, not caus­es. Low wages, bad jobs, under-employ­ment, unem­ploy­ment, inse­cu­ri­ty, and being born into and trapped in the low­er socioe­co­nom­ic stra­ta are the prob­lems that need address­ing. These cir­cum­stances dri­ve bad habits by remov­ing pos­i­tive choic­es. For exam­ple, you may have to ​"choose" processed, sug­ar-laden foods if your bud­get and your long hours in mul­ti­ple min­i­mum wage or less jobs may the alter­na­tive prac­ti­cal­ly impossible.

Over­loaded, stressed work­ers smoke and are more like­ly to demon­strate all the oth­er bad habits. Put them on the night shift with no access to decent food and no prospect of decent sleep pat­terns and you soup up the effect. Add in prej­u­dice based on gen­der or race, and you ampli­fy these effects. With­out look­ing at the socioe­co­nom­ic dri­vers of peo­ples' ​"choic­es," blam­ing lifestyle just adds insult to injury.

Sci­ence is biased: Pub­licly fund­ed inde­pen­dent occu­pa­tion­al and envi­ron­men­tal health sci­ence — by either aca­d­e­mics or statu­to­ry agen­cies — is becom­ing rare. Research is increas­ing­ly (and fre­quent­ly covert­ly) fund­ed by indus­tries moti­vat­ed by con­cerns about the legal impli­ca­tions of med­ical research and not con­cerns about pub­lic health. Wit­ness the 40-year wait for the new U.S. beryl­li­um stan­dard, which was intro­duced in March 2016; the res­pirable sil­i­ca stan­dard; the ​"sci­ence-fraud" and ongo­ing defense of chrysotile asbestos use (only just banned in Cana­da, and thanks to indus­try lob­by­ing still legal in the Unit­ed States); denial of low lev­el ben­zene expo­sures caus­ing can­cers (thanks ACS — Amer­i­can Can­cer Soci­ety); the links between Parkin­sons and man­ganese; lack of reg­u­la­tion of endocrine dis­rupt­ing chem­i­cals; and the list goes on.

The tobac­co industry's play­book gets bounced from one indus­try to the next, with the high­ly remu­ner­a­tive process of seed­ing doubt enough to per­pet­u­ate anoth­er gen­er­a­tion of expo­sures and anoth­er decade or two of profits.

The issue is not whether or not we own up to the real role that lifestyle fac­tors play in caus­ing can­cer. It is that we under­stand how the lifestyle excuse is used to dimin­ish or deny the role played by indus­try, by social prej­u­dice and by eco­nom­ic dis­ad­van­tage in per­pet­u­at­ing the cir­cum­stances that lead to many can­cers and that influ­ence can­cer sur­vival rates. Yet when we raise these issues we are shout­ed down and we are finan­cial­ly out-gunned by the same cor­po­rate inter­ests that ben­e­fit from the can­cer sta­tus quo.
"It's your choice, red tape or bloody ban­dages." — Rory O'Neill, edi­tor of Haz­ard Mag­a­zine, talks com­pla­cent gov­ern­ment, health and safe­ty, labor and exploita­tion at a con­fer­ence in 2013. (Video: Phillip Lewis / YouTube)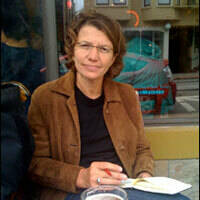 Lau­ra Orlan­do
is a mem­ber of the Rur­al Amer­i­ca In These Times Board of Edi­tors. She is a civ­il engi­neer and teach­es in the envi­ron­men­tal health depart­ment at the Boston Uni­ver­si­ty School of Pub­lic Health. Lau­ra grew up on a farm near Ben­ton Har­bor, Michi­gan. She is a grad­u­ate of the Uni­ver­si­ty of Michi­gan and the Har­vard Kennedy School of Government.