It's Time to Talk (Again) about Sewage Sludge on Farmland
The ​"land application" of sewage sludge has been promoted by the Environmental Protection Agency (EPA) since 1993 as the preferred method for the disposal of this by-product of municipal wastewater treatment. Millions of tons of hazardous sewage sludge have subsequently been spread on farmland and public parks in the United States. Sometimes it is bagged and sold as ​"organic" fertilizer and compost in garden supply stores. No matter how it is processed or how slick it is marketed as a fertilizer or soil amendment, putting sewage sludge on land is a health and environmental disaster.
Has sewage sludge caused any farm damage? Once the sludge leaves the wastewater treatment plant, it is not tracked; there's no national system for reporting sludge-related health or environmental problems; and farmers are not known for having deep pockets, which is what it would take to bring the issue of damages to U.S. courts.
Nevertheless, in February 2008, the McElmurrays, dairy farmers from Georgia, received an order and judgment issued by Federal Judge Anthony Alaimo of the 11th Circuit Court. The order addresses and confirms that there have been decades of deceit by the EPA and finds against the USDA and the EPA. The court acknowledges that the sludge applications on the McElmurrays' farm were responsible for killing hundreds of dairy cattle and contaminating the milk supplies in several states. This case allowed subsidies previously only awarded for crop failures due to bad weather or natural disasters to include the injurious affects of land applied sewage sludge. In his ruling, Judge Alaimo said, ​"senior EPA officials took extraordinary steps to quash scientific dissent and any questioning of EPA's biosolids program." (United States District Court Southern District of Georgia, McElmurray v. U.S. Department of Agriculture, Case 1:05-cv-00159-AAA-WLB Document 67, Filed 02/25/2008.)
What is sludge?
Isn't sludge just treated feces and urine? No, it is whatever goes into the sewer system and emerges as solids from municipal wastewater treatment plants. Sludge can be (its exact composition varies and is not knowable) any of the 80,000 synthetic chemicals used by industry; new chemicals created from combining two or more of those 80,000; bacteria and viruses; hospital waste; runoff from roads; pharmaceuticals and over-the-counter drugs; detergents and chemicals that are put down drains in residences; and, of course, urine and feces flushed down toilets.
Sludge that is heat dried, anaerobically digested, composted, limed or otherwise stabilized is called ​"biosolids" — a made-up euphemism for sewage sludge that makes it no safer. In addition to toxic metals, pathogenic viruses and bacteria, some hazardous materials in ​"biosolids" include: endocrine disruptors like brominated flame retardants (PBDEs, which are a lot like PCBs), phthalates like DEHP (a reproductive and developmental toxin), persistent and toxic ingredients in personal care products (e.g., triclosan and galaxolide) and pharmaceuticals that the human body excretes in feces or urine (hormones from birth control pills, etc.).
The Targeted National Sewage Sludge Survey, a 2009 EPA study, concluded that all sewage sludge contains toxic and hazardous materials, including large numbers of endocrine disruptors (chemicals that cause trouble to the hormonal system).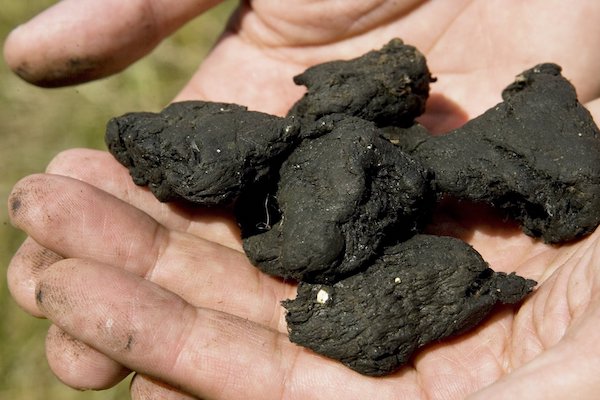 In 2015, in Northhampton County, Penn., Upper Mount Bethal Township residents organized as Sludge Free UMBT and challenged the Department of Environmental Protection's approval for Synagro Mid-Atlantic Inc. to apply the biosolids fertilizer on the Potomac, Sunrise and Stone Church farms. (Image: Sewage Sludge Action Network)
Why dump sludge on land?
It is the least expensive way for municipalities to get rid of the semi-solid, mud-like material to make room for more. Also, the ​"land application" of sewage sludge can also be called ​"recycling," which helps fool the public and satisfies state and local policy mandates for reducing landfill volumes. And there's also lobbying from the sludge haulers—corporations that sign contracts with municipal authorities to remove the toxic sludge from the wastewater treatment plant. They do not want policy changes that will squeeze them out of a revenue stream. Hence, corporations and corporate surrogates' constantly and aggressively pressure communities, politicians, and environmentalists to maintain the sewage sludge status quo.
Changing federal policy could end this systematic contamination of our food supply and the degradation of our health from sewage sludge. But that raises the question: What to do with it? Keep it off our food, gardens, yards, parks, and fields: keep sewage sludge out of life cycles.
In the coming months, Rural America In These Times will take a closer at the agricultural affects of sewage sludge's use as a fertilizer and soil amendment and its impact on land, water and community health. But Crapshoot: The Gamble with our Wastes—a 2003 film directed by Jeff Mckay and embedded below — offers a compelling introduction to the world of toxic sludge.
Crapshoot: The Gamble with our Wastes, directed by Jeff McKay. (Film: National Film Board of Canada)
For more information check out slud​ge​news​.org and the Sewage Sludge Action Network.
For a limited time:
Donate $20 or more to In These Times and we'll send you a copy of Let This Radicalize You.
In this new book, longtime organizers and movement educators Mariame Kaba and Kelly Hayes examine the political lessons of the Covid-19 pandemic and its aftermath, including the convergence of mass protest and mass formations of mutual aid. Let This Radicalize You answers the urgent question: What fuels and sustains activism and organizing when it feels like our worlds are collapsing?
We've partnered with the publisher, Haymarket Books, and 100% of your donation will go towards supporting In These Times.
Laura Orlando
is a member of the Rural America In These Times Board of Editors. She is a civil engineer and teaches in the environmental health department at the Boston University School of Public Health. Laura grew up on a farm near Benton Harbor, Michigan. She is a graduate of the University of Michigan and the Harvard Kennedy School of Government.