Heart of Whiteness: The Stories Western Philanthropists Tell Themselves
Why do Western efforts to help the environment and Africa so often fail?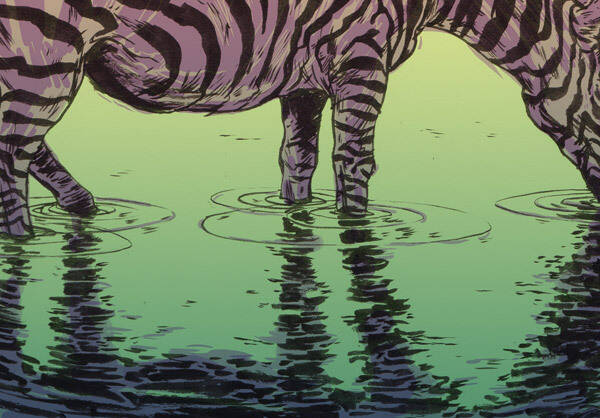 INTER­NA­TION­AL DEVEL­OP­MENT DIVIDES THE WORLD INTO OBJECTS AND IDEAS. The objects (chil­dren, ele­phants, forests) are saved by ideas (West­ern). Stephanie Hanes' bril­liant first book focus­es on one object of devel­op­ment, the Goron­gosa Nation­al Park in Mozam­bique, and holds it up so that we can see the many hands shap­ing its sto­ry. She describes her effort as ​"a safari of sorts through our African sto­ries, a voy­age into how we got here and what we do now." Though it could eas­i­ly fall into the cat­e­go­ry of envi­ron­men­tal writ­ing or devel­op­ment stud­ies, this book is a page-turn­er root­ed in inves­tiga­tive journalism.
Hanes' most direct cri­tique of devel­op­ment is saved for the book's title, White Man's Game: Sav­ing Ani­mals, Rebuild­ing Eden and Oth­er Myths of Con­ser­va­tion in Africa. She resists cyn­i­cism through­out, stick­ing to her cen­tral ques­tion: Why do West­ern efforts to help the envi­ron­ment and Africa so often fail? "[It] is not because of bad plan­ning or poor invest­ment strate­gies," she writes. ​"We fail — although we almost nev­er admit it — because we are stuck in our own men­tal frame­work. We can­not see the oth­er nar­ra­tives, even when they active­ly clash with our own."
Goron­gosa Nation­al Park is part of a spec­tac­u­lar­ly beau­ti­ful but war-bat­tered ecosys­tem in cen­tral Mozam­bique. At its heart, both geo­graph­i­cal­ly and spir­i­tu­al­ly, is Mount Goron­gosa, a heav­i­ly forest­ed moun­tain that cre­ates the con­di­tions for the year-round water that feeds the park's floodplain.
In the mid-2000s, Gre­go­ry Carr, an Amer­i­can with mil­lions of dol­lars of extra mon­ey to put into phil­an­thropic enter­pris­es, wit­nessed Mozambique's beau­ty and decid­ed it was the country's ​"secret weapon," Hanes writes. ​"Per­haps, he thought, he could take part of this stun­ning land­scape and turn it into a devel­op­ment engine." Carr became Gorongosa's cham­pi­on and de fac­to own­er. He shaped its bound­aries and defined its narrative.
Hanes effort­less­ly eas­es us into dis­cur­sive analy­sis, not with Michel Fou­cault, but with the sim­ple struc­ture of a five-act play. She explains this tidy narrative's util­i­ty to a phil­an­thropist like Greg Carr: He can con­trol the plot line. His five-act play, she says, goes like this: Act 1 is the back­sto­ry. Peo­ple who care about Goron­gosa — Por­tuguese colonists — estab­lish an exclu­sive hunt­ing reserve in Goron­gosa in the 1920s. Its con­ser­va­tion begins. Act 2 is the ris­ing action. Nation­al park sta­tus is des­ig­nat­ed in 1960, hunt­ing is banned, and thou­sands of buf­fa­lo, zebra, hip­pos, ante­lope and oth­er ani­mals thrive. The rich and famous come to see its beau­ty for them­selves. Act 3 is the cli­max. The park clos­es in 1981 because of war. Sol­diers and poach­ers kill near­ly all the ani­mals. Local peo­ple con­tin­ue to kill what ani­mals remain and defor­est the moun­tain­side. Act 4 intro­duces the pro­tag­o­nist. Carr and his foun­da­tion come to the res­cue. Act 5, the res­o­lu­tion — still to come — is what Carr calls, ​"Hap­pi­ly Ever After."
Hanes con­tests each of these acts not by chal­leng­ing their facts, but by show­ing what is left out. Con­sid­er the park's efforts to stop con­trolled burn­ing, the use of fire to pre­pare land for crops, and poach­ing, the killing of park ani­mals for their meat.
At last count, 150,000 peo­ple live in the offi­cial ​"buffer zone" around the park bor­der. ​"Almost all of them either worked for the park, poached from the park or lived with some­one who did one of those two things," Hanes reports. She intro­duces us to one young man, Tomás Jere­mias, who lives a half day's walk from the park and was employed there for a year. After that tem­po­rary job end­ed, he resumed poach­ing to sup­port his wife and three chil­dren. The park man­agers thought salaries, even short term, would endear local peo­ple to their con­ser­va­tion mis­sion. They were wrong. Polit­i­cal sta­bil­i­ty, land secu­ri­ty and food sov­er­eign­ty stop poach­ing. The rest is wish­ful think­ing, like ​"hap­pi­ly ever after." We deny the right of oth­er sto­ries to exist. We find them threat­en­ing and offen­sive. We want to build a pow­er­ful alliance to destroy or at least dis­cred­it them.
What about fires? Sure­ly light­ing up Mount Goron­gosa can't be good for bio­di­ver­si­ty. That idea seems straight­for­ward enough until Hanes gives an account of the work of Har­vard researcher Hei­di Gen­gen­bach, who lived on the moun­tain and learned that ​"agri­cul­tur­al fire use in Goron­gosa was in fact stun­ning­ly sophis­ti­cat­ed." Gengenbach's research con­vinced Hanes that ​"the ecol­o­gy of Goron­gosa was still as rich as it was not despite these peas­ants, but because of them."
Hanes warns that the devel­op­ment approach ​"leaves us decid­ed­ly unpre­pared to rec­og­nize the real­i­ties that oth­er peo­ple inhab­it. We have become so good at recit­ing our own par­tic­u­lar script that, on some lev­el, we rec­og­nize only those actions and plot points that fit with­in it."
Hanes her­self only gets boxed into a nar­ra­tive once. She describes post-civ­il war Mozam­bique ​"work­ing dili­gent­ly with the World Bank and the IMF to make the struc­tur­al changes they rec­om­mend­ed for pulling the coun­try out of pover­ty." But anoth­er way to tell this sto­ry is to say Mozam­bique had tak­en out loans from the inter­na­tion­al banks and let them man­age its econ­o­my, result­ing in a debt bur­den that it can­not escape. As Hanes would say, there's nev­er one true sto­ry. She is not wrong when she describes the country's fast eco­nom­ic growth from for­eign invest­ment. There are some win­ners, but the losers are a mil­lion­fold. The coun­try pays more to ser­vice its debt, which now is 100 per­cent of GDP, than it spends on health­care and edu­ca­tion. Here is yet anoth­er exam­ple of sto­ries with­in the story.
After the book went to press, Carr attacked Hanes. He and his sur­ro­gates sent sev­er­al let­ters to her and her pub­lish­er and began a coor­di­nat­ed cam­paign against the book. She ded­i­cates its after­word to an account of how she respond­ed to these attacks (with grace). ​"We live in a time of shout­ing," she writes. ​"And so, although I was tak­en aback at first by the reac­tion to this book from peo­ple who had not read it, I soon rec­og­nized that it was just a micro­cosm of what is hap­pen­ing in our larg­er soci­ety. We deny the right of oth­er sto­ries to exist. We find them threat­en­ing and offen­sive. We want to build a pow­er­ful alliance to destroy or at least dis­cred­it them. But this doesn't move us toward any solu­tions. For real change, we need to grap­ple with oth­ers' view­points, how­ev­er uncom­fort­able they may be."
Who doesn't want zebra, ele­phants, hip­pos and rhi­nos to live undis­turbed in a trop­i­cal par­adise? The author does, and in rec­og­niz­ing the coun­ternar­ra­tives to Carr's five-act play, she weaves a vision for the park that includes the poor and their strug­gles, a phil­an­thropist and his goals, and a nation step­ping out of the long shad­ow of colonialism.
"West­ern con­ser­va­tion­ists and the local pop­u­la­tion actu­al­ly had quite a bit in com­mon," Hanes writes. ​"Most impor­tant, they shared a deep love and appre­ci­a­tion for the land and all the species it sup­port­ed." Hanes cau­tions that we begin by lis­ten­ing, not doing. ​"What would have hap­pened if the whole project had start­ed dif­fer­ent­ly: if at some point, well before com­mit­ting to work there, Greg Carr (or whichev­er phil­an­thropist or group was involved) had start­ed to learn the sto­ries of cen­tral Mozam­bique, and had inter­act­ed with the peo­ple who lived there, not only to fig­ure out how to help, but also whether to help?"
Hanes con­fides, ​"Our sto­ries are both the foun­da­tion and the scaf­fold­ing upon which we con­struct our worlds. So my goal is not sim­ply to tell my ver­sion of Goron­gosa, but to reveal the hid­den con­flict that is play­ing out among the var­i­ous tales." Goal accom­plished, to the delight of her readers.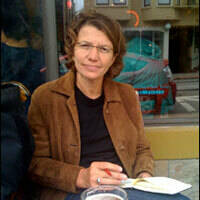 Lau­ra Orlan­do
is a mem­ber of the Rur­al Amer­i­ca In These Times Board of Edi­tors. She is a civ­il engi­neer and teach­es in the envi­ron­men­tal health depart­ment at the Boston Uni­ver­si­ty School of Pub­lic Health. Lau­ra grew up on a farm near Ben­ton Har­bor, Michi­gan. She is a grad­u­ate of the Uni­ver­si­ty of Michi­gan and the Har­vard Kennedy School of Government.