Is Gentrification Inevitable?
Some activists are trying to beat back the tide of the market.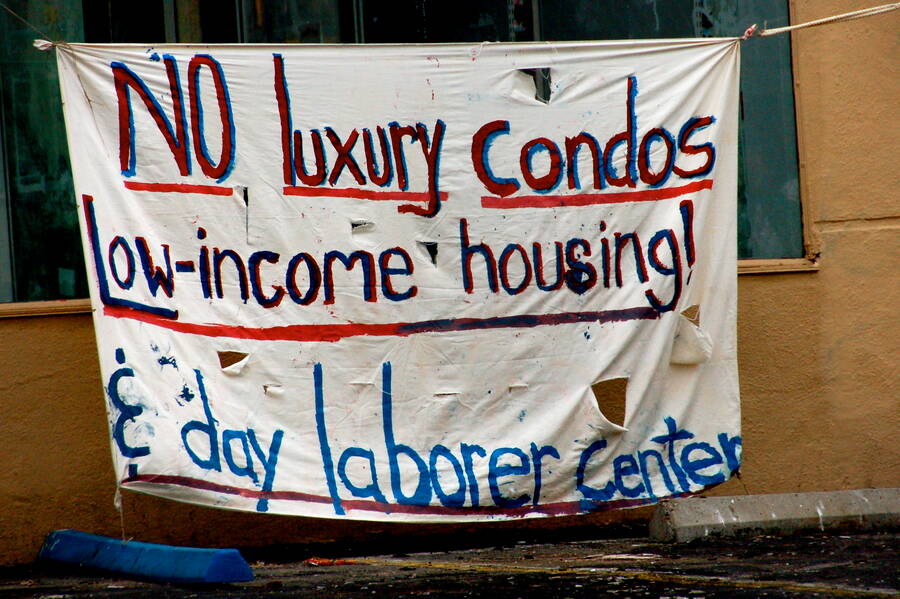 Dur­ing a lec­ture in Brook­lyn in Feb­ru­ary, direc­tor and native New York­er Spike Lee took up the issue of gen­tri­fi­ca­tion. ​"You can't just come in when peo­ple have a cul­ture that's been laid down for gen­er­a­tions," said Lee. ​"You come in and now shit got­ta change because you're here?" Lee skew­ered the changes hap­pen­ing in his Brook­lyn neigh­bor­hood of Fort Greene and count­less oth­er urban spaces across Amer­i­ca as devel­op­ment dri­ves up rents and push­es out long-time res­i­dents, often low-income peo­ple of color.
Can affluent white urbanites be ethical gentrifiers? Can a community retain its cultural history and affordable rents, and still thrive economically and expect to have its trash picked up?
Lee is not the only one riled up. In San Fran­cis­co, where medi­an rental hous­ing prices in gen­tri­fy­ing neigh­bor­hoods have increased 40 per­cent since 1990, low-wage work­ers say they are being forced to move far­ther and far­ther from their jobs in the city — mak­ing com­mutes sig­nif­i­cant­ly longer and some­times pro­hib­i­tive­ly expen­sive. Crit­ics also decry the loss of cul­tur­al mem­o­ry as gen­tri­fi­ca­tion breaks up com­mu­ni­ties that have long labored and lived in a neigh­bor­hood, and local busi­ness­es are replaced by boutiques.
On the flip side, some argue that gen­tri­fi­ca­tion pro­vides a much-need­ed infu­sion of cul­tur­al cap­i­tal in cities like the once-strug­gling Des Moines, Iowa, now billed as the new play­ground for hip­ster mil­len­ni­als. And as pri­vate invest­ment and white new­com­ers flood in, pub­lic ser­vices fol­low — as Lee notes, ​"Garbage wasn't picked up every moth­er­fuckin' day when I was liv­ing in 165 Wash­ing­ton Park."
For those who live in neigh­bor­hoods with chang­ing demo­graph­ics, the imme­di­ate ques­tion is whether any­thing can be done. Can afflu­ent white urban­ites be eth­i­cal gen­tri­fiers? Can a com­mu­ni­ty retain its cul­tur­al his­to­ry and afford­able rents, and still thrive eco­nom­i­cal­ly and expect to have its trash picked up?
Since the 1930s, pol­i­cy­mak­ers have fum­bled in their attempts to pro­vide equi­table and afford­able hous­ing. The his­to­ry of the last cen­tu­ry is one of fail­ures: Large-scale pub­lic hous­ing was aban­doned by city gov­ern­ments in the 1990s amid neglect and ris­ing urban pover­ty, few cities have attempt­ed to impose strict rent con­trol and, most recent­ly, lit­tle has been done to meet the need for afford­able rental hous­ing for seniors.
In These Times brought togeth­er four peo­ple with dif­fer­ent angles on the debate to dis­cuss whether gen­tri­fi­ca­tion can — or should — be stopped: Rose­mary Ndubuizu of ONE D.C., a city-wide orga­niz­ing group; Britt Julious, a Chica­go-based cul­tur­al crit­ic; Ade­laide Mey­ers, an activist with the Chica­go hous­ing group ONE North­side who was her­self dis­placed by ris­ing rents; and Steve Conn, a pro­fes­sor at Ohio State Uni­ver­si­ty who teach­es urban his­to­ry.
Let's start at the begin­ning. What is gentrification?
Ade­laide: It's when devel­op­ers come in and sys­tem­at­i­cal­ly push peo­ple out of a neigh­bor­hood that's most­ly poor eth­nic minorities.
Britt: Gen­tri­fi­ca­tion starts even before devel­op­ers, with the chang­ing of the cul­tur­al iden­ti­ty of the neigh­bor­hood. Artists, writ­ers, peo­ple like that will move into spe­cif­ic neigh­bor­hoods. And their pres­ence goes about chang­ing the neighborhood.
Rose­mary: Actu­al­ly, gen­tri­fi­ca­tion starts with the gov­ern­ment, which is always try­ing to fig­ure out ways to dri­ve resources back into cities. Gov­ern­ments will invest in things like a sub­way or oth­er trans­porta­tion or a par­tic­u­lar build­ing, or pro­vide tax incen­tives, in order to cre­ate cap­i­tal accu­mu­la­tion in urban spaces, while turn­ing a blind eye to how it has a domi­no effect on displacement.
Is gen­tri­fi­ca­tion always a bad thing?
Britt: I often­times feel the peo­ple who are most upset about gen­tri­fi­ca­tion tend to be the sort of peo­ple who moved into a neigh­bor­hood after it had already been gen­tri­fied. Their biggest com­plaints tend to revolve around the sec­ond wave or third wave of gen­tri­fi­ca­tion mak­ing the neigh­bor­hood more expen­sive. Long­time res­i­dents who own a home may ben­e­fit from the neigh­bor­hood around them chang­ing. I would nev­er say that they're wrong for that.
Steve: I think that there are all kinds of ben­e­fits that come from rein­vest­ing in urban neigh­bor­hoods. Across most of the old man­u­fac­tur­ing cen­ters, the oppo­site of gen­tri­fi­ca­tion has been sys­tem­at­ic dis­in­vest­ment. I think that pit­ting new arrivals against res­i­dents who are already there is also a kind of false dichoto­my. The prob­lem of hous­ing in cities is not a prob­lem cre­at­ed because some artists moved into SoHo ware­hous­es in the 1970s and that neigh­bor­hood began to change. The prob­lem of hous­ing is about a whole vari­ety of ways in which we've dis­in­vest­ed from mid­dle-income and low­er-income hous­ing since the mid-1970s.
Ade­laide: I was one of the peo­ple sys­tem­at­i­cal­ly pushed out because I have a dis­abil­i­ty and I am low-income. The devel­op­ers in Uptown in Chica­go are buy­ing all these Sin­gle Room Occu­pan­cy (SRO) build­ings — includ­ing the one I used to live in and clos­ing them down. If you're going to invest in a neigh­bor­hood, it's more eth­i­cal to ben­e­fit the peo­ple who are already liv­ing there.
Is gen­tri­fi­ca­tion racist? Classist?
Ade­laide: I do believe that race and pover­ty are fac­tors. African Amer­i­cans, Lati­nos and poor peo­ple are basi­cal­ly dehu­man­ized because we see them as ​"oth­er," so we push them out of their homes to make money.
Steve: I want to take you up and down Spruce Street and Pine Street of Philadel­phia between about 5th and 20th Streets. The neigh­bor­hood was built ear­ly in the 19th cen­tu­ry and housed most­ly work­ing-class Irish dock work­ers. By 1900, the neigh­bor­hood had changed entire­ly from white to black— that's W.E.B. Du Bois' Sev­enth Ward in his study of the Philadel­phia Negro. By the 1950s, that neigh­bor­hood was being qui­et­ly referred to as the ​"gay­ber­hood" because it's where gay men, most­ly, had begun to move in. So, is this gen­tri­fi­ca­tion, or is this the chang­ing dynam­ics of city neigh­bor­hoods through a his­tor­i­cal lens? Harlem wasn't black, orig­i­nal­ly. We all know that.
Rose­mary: With­in any cap­i­tal­ist struc­ture, neigh­bor­hoods do change. But we can't ignore the fact that there are some very clear adverse con­se­quences for cer­tain groups. ONE D.C. believes there's a racist ide­ol­o­gy about poor peo­ple of col­or in urban spaces that allows the gov­ern­ment to push gen­tri­fi­ca­tion and pro-mar­ket poli­cies, often at the expense of poor black residents.
Let's talk solu­tions. Are indi­vid­u­als respon­si­ble for mit­i­gat­ing some of the neg­a­tive effects of gentrification?
Britt: I don't nec­es­sar­i­ly know if there's any one thing an indi­vid­ual can do to alle­vi­ate some­thing that is far larg­er and more com­pli­cat­ed. Maybe the task of the indi­vid­ual is to find oth­er like-mind­ed peo­ple who are also inter­est­ed in alle­vi­at­ing the effects of gen­tri­fi­ca­tion — peo­ple who can work togeth­er and come up with minor action plans that will at least ensure some of the pop­u­la­tion can stay.
Ade­laide: There wasn't much that I could do as an indi­vid­ual. But now that I've joined forces with oth­er peo­ple, I've found there is some­thing I can do. In Chica­go, we've intro­duced an ordi­nance in the City Coun­cil that gives non­prof­its, or even the ten­ants them­selves, the option to buy an SRO build­ing first and make sure vul­ner­a­ble peo­ple can still live in it.
What about oth­er com­mu­nal solu­tions, like rent con­trol or com­mu­ni­ty own­er­ship of land, which are being pro­posed in San Francisco?
Rose­mary: Rent con­trol has its prob­lems. In Wash­ing­ton, D.C., rent in rent-con­trolled apart­ments is allowed to go up a cer­tain amount each year — 2 per-cent plus infla­tion. After awhile, it ends up being pret­ty unaffordable.
Ade­laide: Rent con­trol would not nec­es­sar­i­ly be a sil­ver bul­let, but I think it would help. We need to have poli­cies in place that lock in afford­able hous­ing and let cur­rent res­i­dents ben­e­fit from new investment.
Rose­mary: Instead of rent con­trol, we believe that it's impor­tant for us to col­lec­tive­ly con­trol our resources through struc­tur­al alter­na­tives like hous­ing coop­er­a­tives, work­er coop­er­a­tives and work­er cen­ters. These alter­na­tives let us bet­ter con­trol what hap­pens in our com­mu­ni­ty, as opposed to let­ting the avalanche of gen­tri­fi­ca­tion and third-par­ty opin­ions dic­tate where and how peo­ple live.
Steven: There's a long, long tra­di­tion in this coun­try of some­how think­ing that we can solve all our social prob­lems through hous­ing. Eco­nom­ic issues like wage stag­na­tion aren't going to be solved by hous­ing. Hous­ing is the con­se­quence, not the cause. What we need is a dif­fer­ent set of eco­nom­ic arrange­ments where­by the work­ing class is no longer the work­ing poor.
Yana Kuni­choff
is a Chica­go-based inves­tiga­tive jour­nal­ist and doc­u­men­tary pro­duc­er. Her work has appeared in the Guardian, Pacif­ic Stan­dard and the Chica­go Read­er, among oth­ers. She can be reached at yanaku­ni­choff at gmail​.com.