The Demise of Labor Papers is a Crisis—Is It Also an Opportunity?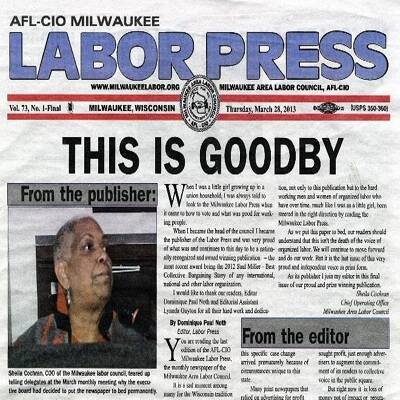 We wanted to make sure you didn't miss the announcement of our new Sustainer program. Once you've finished reading, take a moment to check out the new program, as well as all the benefits of becoming a Sustainer.

The Milwaukee Labor Press has become the latest labor newspaper to fall victim to major declines in union membership, ending publication after 73 years as the tribune of working people in what had been, until recently, a massive labor community.
The paper's circulation had fallen from a peak of 150,000 in the mid-'50's to 44,000 subscribers for the last issue, with the impact from Republican Gov. Scott Walker's Act 10 restricting public-sector unions likely to drive it down to 38,000, according to former editor Dominique Noth.
The paper's following began to erode as deindustrialization sent jobs to the anti-union South, says Noth, the editor for the past decade. ​"The drop in manufacturing began to show up in the 1960's," he says. The unraveling of Milwaukee's industrial base unraveled even faster from 1970 to 2000, despite the highly skilled workforce that had earned the city the nickname of ​"Machine Tool Capital of the World." Between 1977 and 2002, Milwaukee lost 80% of its manufacturing jobs. Home-grown firms like Briggs & Stratton, Master Lock (see here and here), Allen-Bradley (later Rockwell), AO Smith/​Tower Automotive (see here, here, and here) and Johnson Controls abandoned the workers whose labor had created their wealth and headed off to Mexico, China and other low-wage, high-repression sites.
The paper tried to adapt financially by becoming a monthly publication in the 1970s, but the loss of unionized jobs continued with more firms heading to low-wage countries overseas while state and county levels of government increasingly converted family-sustaining public-sector jobs into privatized work with pitiful pay and benefits.
Noth worries most about the loss of labor's political cohesiveness, as the Milwaukee Labor Press helped to forge and sustain a high level of class and political awareness. ​"The labor community still has the best grassroots effort of any sector in society, and as a result 70% to 75% of union households vote," he says. ​"We were an important factor in the 2012 victory of Obama, as 79% of the city voted for him. So maintaining that without the labor paper is a big worry."
In future elections, ​"Labor will have a much harder row to hoe, especially in bringing in younger voters," Noth predicts. Meanwhile, the merger of the liberal Milwaukee Journal (for which Noth worked 30 years) and the conservative Milwaukee Sentinel has spawned a paper that is distinctly right-wing and provides little insight into the anti-worker, pro-corporate agenda of Gov. Walker and the Republican-dominated Legislature, nor the maneuvers of neoliberal Democratic County Executive Chris Abele. While trying to cater to its conservative readers in the suburbs, Noth says, ​"The Milwaukee Journal Sentinel has abandoned its connection to the community."
The closing of the Milwaukee Labor Press brought back many of the same wrenching feelings that I experienced in 2002 when the weekly (later biweekly) Racine Labor closed in after a 61-year-history. I edited The Racine Labor for 14 years from 1979 to 1993, which was often a 24/7 job for me. I not only got to tell the story of workers in 50 union locals (9), but was also inspired to get deeply involved in organizing rallies and issue campaigns. Thought it took seemingly endless work, The Racine Labor clearly had an impact, with 25,000 subscribers in a class-conscious city of about 81,000.
The paper was thus able to play a central role in mobilizing the community on critical issues. For example, our incessant efforts to publicize corporate abandonment of the workers and the community — who created their wealth as they expanded in Racine — helped to stop four announced plant closings in the early 1980's. But The Racine Labor was weakened through the years by the same trends toward globalization and privatization that hit the Milwaukee Labor Press.
There are still a handful of labor papers surviving, most notably the St. Louis Labor Tribune. But many labor communities, unable to afford newspapers, are trying to reach members and supporters through websites and social media like Facebook and Twitter, according to David Katzman, president of the AFL-CIO's International Labor Communications Association. But unlike the labor newspapers that arrived weekly in members' mailboxes, websites seem to attract only those who are already the most interested and aware. While editing Milwaukee Labor Press, Noth says he put as much effort into the website as he did into the monthly printed edition, but that the website was viewed regularly by only 4,000 or so people, about a tenth of the print readership.
Furthermore, most websites have another key limitation: Readers expect brevity, which usually translates into an absence of depth. ​"As much I love the Internet, you can't write anything over 800 words and expect people to read it," Noth says. ​"So you wind up providing more information but less depth."
During this period of fierce anti-union attacks — with the new Wisconsin laws limiting public-sector unionism and the passage of ​"right-to-work" laws in Indiana and Michigan that prohibit unions from charging fees for the services that they're obligated to provide to all workers — the need to communicate to union members and the public is more urgent than ever. ​"Under these circumstances, the need for communications online becomes increasing and pressing," says Katzman. But, he adds, with union membership at its lowest point in nearly eight decades, it is difficult to find the resources for communication. ​"The need is increasing at a time when resources are under great pressure."
Finally, Katzman notes, ​"The social and cultural environment has changed, with sharply diminished unionization and the growing separation of residence and workplace. The labor movement and the labor press rode on top of the dense, interweaving of social ties," during past eras when workers often lived in neighborhoods surrounding the factories where they worked.
But Katzman disagrees with Noth on how effective labor can be when mostly communicating over the Internet. Working with Transit Union Local 100 in New York City, Katzman says his union relies on a quarterly publication and the use of social media like Facebook, Twitter, e‑mail bulletins and text messaging. When the union launched a ​"Stand Back" campaign for more safety measures in the New York City subway system — with the Transportation authority opposing the union's proposals — the union's social media campaign managed to inspire a story in the city's largest daily and extensive reporting on the top radio station.
While acknowledging that the growing use of websites and social media tends to attract only the most active union members, Katzman thinks it can also ripple out and reach huge audiences of previously uninvolved people. ​"When the New York State AFL-CIO waged a campaign against the abolition of overtime rules, it garnered thousands and thousands of signatures on petitions," Katzman says.
But if websites and social media are to succeed as in the cases cited by Katzman, labor must devote resources for the creation and maintenance of these critical communication tools. In the past, labor often failed to see the value of mass communication, providing limited financial support for its newspapers and often ignoring the need for a media strategy and message development.
In the current climate with the Right and much of corporate America intent on exterminating unions in America, labor must take communications seriously or it will cease to exist.
Be a Sustainer
We surveyed thousands of readers and asked what they would like to see in a monthly giving program. Now, for the first time, we're offering three different levels of support, with rewards at each level, including a magazine subscription, books, tote bags, events and more—all starting at less than 17 cents a day. Check out the new Sustainer program.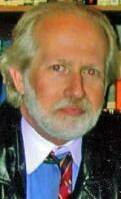 Roger Bybee

is a Milwaukee-based freelance writer and University of Illinois visiting professor in Labor Education.Roger's work has appeared in numerous national publications, including

Z

magazine,

Dollars

&

Sense, The Progressive, Progressive Populist, Huffington Post, The American Prospect, Yes!

and

Foreign Policy in Focus

.More of his work can be found at

zcom​mu​ni​ca​tions​.org/​z​s​p​a​c​e​/​r​o​g​e​r​d​bybee

.