Jews Without Money: Toward a Class Politics of Anti-Zionism
Zionism began as class-oriented project within the Jewish community. Opposing it requires a class analysis of who benefits from Zionism within that community.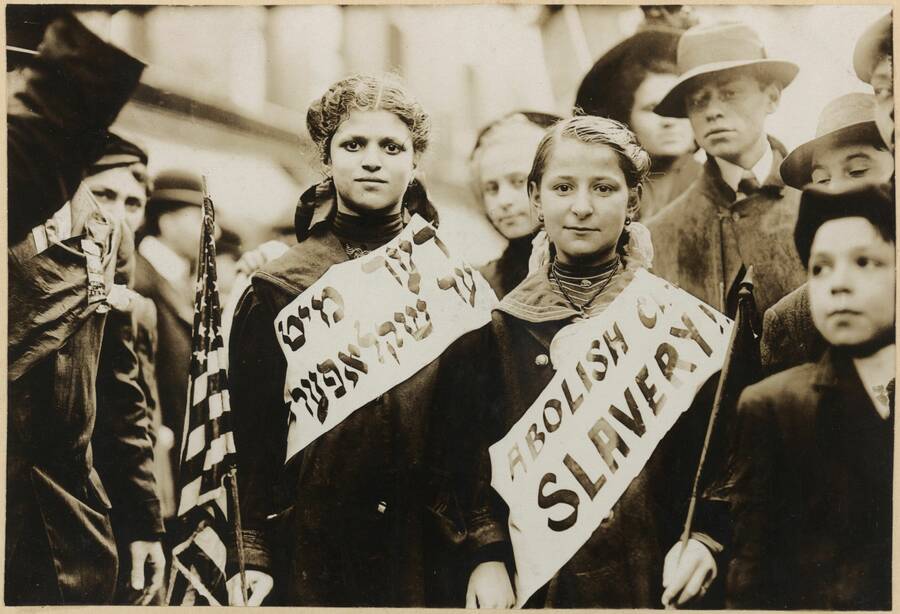 At the recent protest against the Jew­ish Nation­al Fund's Chica­go meet­ing orga­nized by Jew­ish Voice for Peace, I was imme­di­ate­ly struck by the stark dif­fer­ences between the crowd of pro­test­ers assem­bled for a prayer vig­il and the donors cross­ing Ran­dolph Avenue for a catered recep­tion. Both crowds were near­ly all Jews; the vig­il sang Shavua Tov and many of the donors wore kip­pot—both sides appar­ent­ly locked in a cul­tur­al arms race for who most rep­re­sent­ed authen­tic Jew­ish life.
Jews should oppose Zionism out of a sense of solidarity with Palestinians, and out of a recognition that the Palestinian struggle is part of a larger global struggle against racial violence and indigenous land-displacement.
Yet for all the Hebed-out dis­play, what struck me was not our shared cul­ture, but rather the imme­di­ate­ly appar­ent cul­tur­al dif­fer­ences. The JNF donors arrived in lim­ou­sines and taxis (despite the con­fer­ence hotel being only blocks away); they wore fur and expen­sive cock­tail dress­es; they sport­ed the kind of even tans one wears as a fall acces­so­ry at a sub­ur­ban coun­try club. The crowd of singing Jew­ish pro­test­ers, by con­trast, looked like social ser­vice work­ers, teach­ers, stu­dents — the ordi­nary, if edu­cat­ed, mid­dle class.
This per­cep­tion only inten­si­fied as I sat in the lob­by of the con­fer­ence hotel the next day, peo­ple-watch­ing before the large demo. I over­heard con­ver­sa­tions about expen­sive vaca­tions, and mem­ber­ships on the boards of var­i­ous non-prof­its. And saw pearls. Real, hon­est-to-God pearls.
Observ­ing this divi­sion between the two crowds led me to won­der if per­haps we've missed an impor­tant ele­ment of the inter­nal strug­gle with­in the U.S. Jew­ish com­mu­ni­ty over Zion­ism. While a recent Pew study not­ed that Jew­ish Amer­i­can feel­ings about Israel change dra­mat­i­cal­ly based on age and reli­gios­i­ty (younger and less reli­gious Jews tend to iden­ti­fy less with Zion­ism), no cor­re­la­tions were made between one's income lev­el and their views on Israel. Yet a recent Gallup poll at least leaned toward such an analy­sis, not­ing that white peo­ple with advanced degrees tend­ed far more strong­ly to view Israel's bomb­ing of Gaza as ​"jus­ti­fied" at a ratio of 2 – 1 com­pared with less well edu­cat­ed peo­ple, espe­cial­ly younger peo­ple of color.
While edu­ca­tion, race and class are not objec­tive cor­rel­a­tives, they do at least have strong lay­ers of cor­re­spon­dence. We may like to imag­ine most peo­ple with MAs and PhDs are Eng­lish pro­fes­sors and artists, but they are more like­ly engi­neers and MBAs work­ing with­in indus­try and finance — if not the rul­ing elite, at least the top 1%. And this 1% seems far, far more like­ly to iden­ti­fy with even the most egre­gious and mil­i­taris­tic expres­sions of Zionism.
The idea of Zion­ism hav­ing a dis­tinct class char­ac­ter is not by any means new. The Yid­dishkeit revival­ist Daniel Kahn recent­ly trans­lat­ed and per­formed the 1930s song ​"O You Fool­ish Lit­tle Zion­ists," in which a Jew­ish Bundist invites Zion­ist ​"fools" to ​"go down to the fac­to­ry / and see the work­ers' real­i­ty," as the imme­di­ate needs of Jew­ish work­ers would pre­sum­ably cure the mid­dle class Zion­ist of their nation­al­is­tic, utopi­an schemes. Rad­i­cal Jew­ish writer Abram Leon, short­ly before his mur­der by Nazis in the mid-1940s, argued that Zion­ism is a move­ment com­prised by the Jew­ish ​"petite bour­geoisie" who refuse to see the con­nec­tions between mod­ern anti-Semi­tism and the cri­sis of West­ern cap­i­tal­ism. Pos­ing anti-Semi­tism as a tran­scen­dent his­tor­i­cal fact, rather than a prod­uct of Euro­pean moder­ni­ty, these small Jew­ish ren­tiers and busi­ness peo­ple can only respond with the ​"ide­o­log­i­cal fan­tasies" of their class.
And of course, there is the class nature of Israeli soci­ety itself. Far from being the class­less utopia of the Kib­butz­im, accord­ing an OECD report, Israel is one of the most unequal soci­eties in the West­ern world, even among Jews. As Moshe Machover notes in his famous 1969 essay ​"The Class Char­ac­ter of Israel," many of these class divi­sions with­in Israeli soci­ety are masked by both set­tler-colo­nial nation­al­ism, as well as the exter­nal­ized and racial­ized nature of the ​"threat" fac­ing Israeli work­ers. Since the 1990s, this trend has been exac­er­bat­ed by the shift­ing the already lim­it­ed social wel­fare pro­vi­sion of Israeli soci­ety to the project of build­ing more set­tle­ments — both export­ing class divi­sions to the ter­ri­to­ries as well as sharp­en­ing the con­flict between Jew­ish Israelis and Palestinians.
Yet the class nature of Israeli soci­ety does not alone explain why there might be a class divi­sion among Amer­i­can Jews along the lines of Zion­ism and anti-Zion­ism. As one can observe through­out the 20th cen­tu­ry, anti-impe­ri­al­ist pol­i­tics in the U.S. are decid­ed­ly domes­tic pol­i­tics, from glob­al analo­gies between anti-colo­nial­ism and Jim Crow in the Cold War era, to the link­ing of anti-fas­cism to anti-impe­ri­al­ism dur­ing the 1930s and 1940s, to the more present con­nec­tions between neolib­er­al­ism and neo­con­ser­v­a­tive for­eign pol­i­cy. As econ­o­mist Ger­ald Epstein argues in his 2003 paper, ​"Do U.S. Work­ers Gain from U.S. Impe­ri­al­ism," U.S. work­ers face high­er and more regres­sive tax­es — as well as a shrink­ing social safe­ty net — to pay for wars abroad, and U.S. work­ers lose dou­bly from lost jobs as a result of glob­al­iza­tion. Epstein argues this was­n't always the case — U.S. work­ers in the 1950s and 1960s could expect high­er wages from glob­al­ized firms that still employed a large num­ber of union­ized U.S. work­ers, and the tax bur­den of the mil­i­tary state fell more even­ly on the shoul­ders of the elite, who paid a far high­er mar­gin­al tax rate.
Israel is of course intri­cate­ly and nec­es­sar­i­ly tied to the project of U.S. impe­ri­al­ism, both ide­o­log­i­cal­ly and prac­ti­cal­ly. Whether run­ning weapons to the Con­tras in Nicaragua, bomb­ing Syr­i­an nuclear reac­tors or assas­si­nat­ing Islam­ic rad­i­cals, Israel's mil­i­tary aid from the Unit­ed States and their place with­in the cal­cu­la­tions of the U.S. mil­i­tary go beyond just the nor­mal tit-for-tat of a client state. Even the right-wing Zion­ist group FLAME now runs ads in The Nation mag­a­zine boast­ing of how Israel is the Unit­ed States' ​"unsink­able air­craft carrier."
In oth­er words, Israel may be — and may have always been — the project large­ly of a Jew­ish elite. Yet Israel's mil­i­tarism and gen­er­al sup­port for U.S. impe­r­i­al projects rep­re­sents the ongo­ing class project of U.S. empire abroad.
In the ear­ly 1930s, Mike Gold issued a chal­lenge to U.S. Jews in his now-clas­sic nov­el of the East Side ten­e­ment, Jews With­out Mon­ey. It was not only issued as a cor­rec­tive to the per­ni­cious stereo­type of the Jew­ish financier; it was also a call to Jews to align their inter­ests with the grow­ing labor move­ment of the 1930s. I would sug­gest pro­gres­sive Jew­ish groups like Jew­ish Voice for Peace might also take a page from Gold's call: Jews should oppose Zion­ism out of a sense of sol­i­dar­i­ty with Pales­tini­ans, and out of a recog­ni­tion that the Pales­tin­ian strug­gle is part of a larg­er glob­al strug­gle against racial vio­lence and indige­nous land-displacement.
Yet there is also a class pol­i­tics to this strug­gle. As teach­ers, social work­ers, as an eth­nic group who has seen their rise to the mid­dle-class coin­cide with — even depend on — the growth of the pub­lic sec­tor in both edu­ca­tion and social ser­vices, mid­dle-class and work­ing-class Jews have a mate­r­i­al invest­ment in not only cut­ting aid to Israel, but also chal­leng­ing the mil­i­taris­tic impe­ri­al­ism for which it stands. And while Judith But­ler revives the sec­u­lar dias­poric, anti-Zion­ist writ­ings of Wal­ter Ben­jamin and Han­nah Arendt, it's impor­tant to be remind­ed that mes­sian­ic nar­ra­tives only take us so far in com­pre­hend­ing how and for whom pow­er works. Zion­ism began as class-ori­ent­ed project with­in the Jew­ish com­mu­ni­ty, and oppos­ing it requires a class analy­sis of who ben­e­fits from Zion­ism with­in that community.
At the end of the protest against the JNF this last week, I had sud­den uncan­ny feel­ing that the anti-Zion­ist move­ment was more like oth­er protests I'd attend­ed as a labor orga­niz­er in years' past: we saw a small elite defend­ing its priv­i­lege from a diverse group of work­ing and mid­dle class peo­ple tak­ing to the streets. As edu­ca­tion, social ser­vices, wages, and social secu­ri­ty are slashed to pay for ever more wars in the Mid­dle East, we must acknowl­edge that it is our moral duty to oppose the Israeli occu­pa­tion — and it is also in our mate­r­i­al interest.
Ben­jamin Balthas­er
is asso­ciate pro­fes­sor of mul­ti-eth­nic U.S. lit­er­a­ture at Indi­ana Uni­ver­si­ty, South Bend. His book,
Anti-Impe­ri­al­ist Mod­ernism: Race and Transna­tion­al Rad­i­cal Cul­ture
, was pub­lished from Uni­ver­si­ty of Michi­gan Press in Decem­ber,
2015
. His crit­i­cal and cre­ative writ­ing has also appeared in
Amer­i­can Quar­ter­ly
,
The Mass­a­chu­setts Review
Crit­i­cism
and else­where. He is an active mem­ber of Jew­ish Voice for Peace-Chicago.