Japan's Disaster and the Question of Charity Work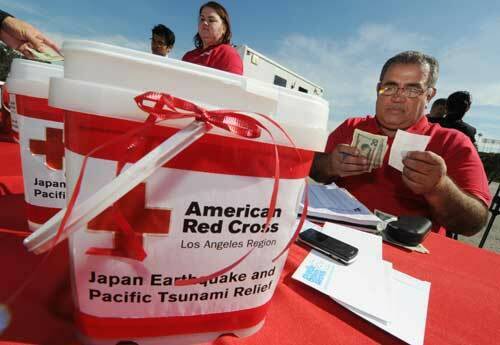 The International Red Cross is known for providing disaster relief, community service and volunteerism. Its army of workers deals with the human factor in the aftermath of natural disasters like hurricanes, major earthquakes and devastating fires. After last week's tsunami in Japan, Red Cross workers are counseling the traumatized and helping people who need medication and offering shelter to the thousands of displaced people.
"It's a monumental task," Patrick Fuller of the Red Cross's International Federation told the Daily Telegraph, while in the devastated town of Otsuchi on the northeast coast of Japan. ​"People can't live in these conditions for long." Red Cross teams from around the world have descended on Japan.
Questions, however, are arising over the money being raised by charitable organizations for the victims of Japan's disasters. A study by the New York Times notes that the Red Cross keeps 9 percent of any money it raises.
But even though Japan has said repeatedly it did not need funds, the American Red Cross keeps using the disaster to raise funds and said it would gladly accept the money — all in the name of Japan's disaster victims. So far, the organization has sent $10 million to that country — but has already raised $34 million for Japan's disaster survivors.
Japan has its own strong Red Cross with 2 million members and a well-defined role in Japan's emergency plans. The stricken country's Red Cross workers are working side-by-side with 100,000 Japanese soldiers in the rubble that is in northeast Japan.
The Japanese Red Cross has 2,400 nurses trained in giving trauma counseling to orphaned children and people who have lost their family members and their homes; and 700 medical staff is dealing with people who need medication.
Saundra Schimmelpfennig, a former international aid worker told the New York Times that Japan is working almost exclusively with other governments and not with international charities. She writes the blog Good Intentions Are Not Enough. More than 100 countries have offered to assist. (Since the days following the earthquake the American Red Cross has sent over 100 emergency response teams to help.)
It seems charities are springing up aggressively to solicit donations around the disaster. The NYT spoke with Holden Karnofsky, who founded GiveWell, a site that researches charities.
He told the Times: ​"Charities are aggressively soliciting donations around this disaster, and I don't believe these donations necessarily are going to be used for relief or recovery in Japan because they aren't needed for that.The Japanese government has made it clear it has the resources it needs for this disaster."
-

13

,

000

dead and missing
-

10

,

000

people unaccounted for in the port town of Minamisanriku
-

10

,

000

likely missing in coastal town of Ishinomaki in Miyagi, Kyodo News reported.
-

2

,

285

people injured
-

530

,

000

people displaced, staying in

2

,

500

evacuation centres, such as schools and public halls
-

55

,

380

homes and other buildings destroyed or damaged
Rose Arrieta
was born and raised in Los Angeles. She has worked in print, broadcast and radio, both mainstream and community oriented — including being a former editor of the Bay Area's independent community bilingual biweekly El Tecolote. She currently lives in San Francisco, where she is a freelance journalist writing for a variety of outlets on social justice issues.