Jeff Sessions Is Trump's Nominee to Head the DOJ. Is Police Reform Doomed?
Trump's DOJ could halt federal efforts to reform police departments, but activists vow to continue the fight at the local level.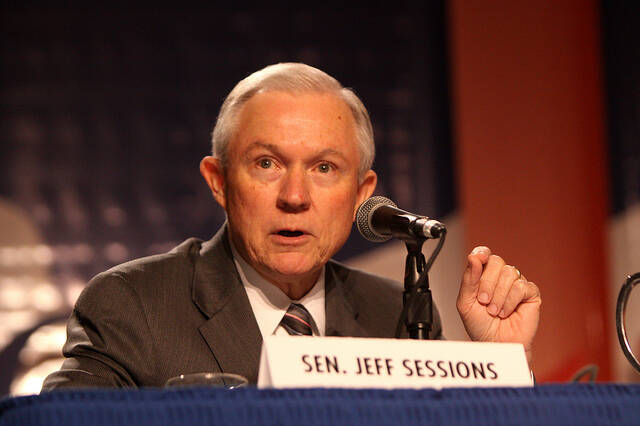 It's offi­cial: Pres­i­dent-elect Don­ald Trump has nom­i­nat­ed Sen­a­tor Jeff Ses­sions (R – AL), a long­time ally, to become his attor­ney gen­er­al. Ses­sions is known as an immi­gra­tion hard-lin­er with an alleged his­to­ry of racist remarks and actions, spark­ing fears that his con­fir­ma­tion could mean major changes at the Depart­ment of Jus­tice (DOJ) — espe­cial­ly as it relates to com­mu­ni­ties of color.
"I would hope the folks who have been activists around police reform, who have built an important and effective movement, will see this as a moment where that movement needs to get bigger," says Smith.
As the nation's top law enforce­ment agency, the DOJ over­sees oth­er fed­er­al agen­cies like the FBI, the Drug Enforce­ment Agency and the Bureau of Alco­hol, Tobac­co and Firearms. It is also tasked with address­ing pub­lic safe­ty threats and enforc­ing fed­er­al laws, includ­ing those con­cern­ing civ­il rights. A DOJ led by Ses­sions might well drop legal chal­lenges to the state-lev­el vot­er ID laws that oppo­nents say dis­en­fran­chise poor and minor­i­ty vot­ers, or per­mit widen­ing police sur­veil­lance of Mus­lim com­mu­ni­ties. The DOJ also reviews many of the inter­nal poli­cies relat­ed to drone and sur­veil­lance pro­grams, and Pres­i­dent Trump could also alter those rules, as For­eign Pol­i­cy reported.
Uphold­ing civ­il rights and defend­ing minor­i­ty com­mu­ni­ties have gen­er­al­ly been regard­ed as pri­or­i­ties under cur­rent AG Loret­ta Lynch and her pre­de­ces­sor Eric Hold­er, the sec­ond and first black attor­ney gen­er­als in U.S. his­to­ry, respec­tive­ly. Ses­sions' record on these issues is deeply con­cern­ing to crit­ics. In 1986, his nom­i­na­tion for a fed­er­al judge­ship was reject­ed by the Sen­ate Judi­cia­ry Com­mit­tee, in large part because of alle­ga­tions that sur­faced dur­ing his con­fir­ma­tion hear­ing. For­mer col­leagues said that Ses­sions had referred to civ­il rights groups like the South­ern Chris­t­ian Lead­er­ship Con­fer­ence and N.A.A.C.P. as ​"Com­mu­nist-inspired" and ​"un-Amer­i­can," as well as jok­ing that the Klu Klux Klan was ​"okay … until I found out they smoked pot." The year before his failed con­fir­ma­tion, Ses­sions also led a failed pros­e­cu­tion of civ­il rights work­ers reg­is­ter­ing black vot­ers in the South, accus­ing them of vot­er fraud in a case that was thrown out, as the New Repub­lic reported.
One of the first changes the new DOJ may make is a dra­mat­ic reduc­tion in the fed­er­al gov­ern­men­t's role in over­see­ing local police agen­cies. In the wake of high-pro­file police killings, Barack Obama's admin­is­tra­tion has relied heav­i­ly on a 1994 law that allows the DOJ to inves­ti­gate poten­tial civ­il rights vio­la­tions at local police depart­ments. If the DOJ doc­u­ments a ​"pat­tern or prac­tice" of such vio­la­tions, the fed­er­al gov­ern­ment can com­pel cities to reform with the threat of lit­i­ga­tion. Under Oba­ma, the DOJ has ini­ti­at­ed inves­ti­ga­tions in Bal­ti­more, Chica­go and 21 oth­er cities. The depart­ment has reached court-mon­i­tored agree­ments, known as con­sent decrees, with 11 local depart­ments — more than under any oth­er admin­is­tra­tion. From the first day of Trump's admin­is­tra­tion, he and his attor­ney gen­er­al could influ­ence whether the DOJ con­tin­ues launch­ing such inves­ti­ga­tions and how thor­ough­ly it imple­ments them.
What does this mean for cities like Chica­go and Bal­ti­more, where fed­er­al efforts to reform police depart­ments are ongo­ing? The DOJ civ­il rights divi­sion could not imme­di­ate­ly be reached for com­ment. But Jonathan Smith, a for­mer top offi­cial, tells In These Times that regard­less of who was com­ing in under the new admin­is­tra­tion, DOJ offi­cials would be like­ly to fin­ish their probes this year. ​"It is not the kind of thing they would leave undone," he says. But he also believes there's a real dan­ger that under a Trump DOJ, the result­ing reform agree­ments will lack teeth.
Trump's state­ments to police unions and law enforce­ment orga­ni­za­tions, which often bris­tle at fed­er­al over­sight, give fur­ther cre­dence to this con­cern. Trump was endorsed by the Fra­ter­nal Order of Police (FOP), the biggest police union in the coun­try, and won sup­port from sim­i­lar groups fol­low­ing rebukes of Black Lives Mat­ter pro­tes­tors and calls for an end to ​"the war on our police."
In August, the Inter­na­tion­al Asso­ci­a­tion of Chiefs of Police issued a ques­tion­naire ask­ing pres­i­den­tial can­di­dates about their pol­i­cy posi­tions. One ques­tion asked, ​"How would you respond to an inci­dent involv­ing law enforce­ment, such as a police-involved shoot­ing or use-of-force inci­dent that has gained nation­al atten­tion?" Trump's respond­ed, ​"Nation­al atten­tion does not mean nation­al involve­ment of the fed­er­al government…local issues should remain local." He reit­er­at­ed sim­i­lar posi­tions in a ques­tion­naire from the FOP that Hillary Clin­ton report­ed­ly declined to fill out.
Union lead­er­ship isn't uni­ver­sal in its sup­port of Trump. Sean Smoot, direc­tor and chief legal coun­sel for the Police Benev­o­lent and Pro­tec­tive Asso­ci­a­tion of Illi­nois, says he did­n't vote for the pres­i­dent-elect, though he sup­ports com­ments from Trump about peo­ple need­ing to show cops more respect. Smoot said he does­n't back oth­er state­ments Trump has made sug­gest­ing that stop-and-frisk is a solu­tion to curb crime giv­en ques­tions about its con­sti­tu­tion­al­i­ty and real impact on crime rates, and he does­n't see the polic­ing strat­e­gy as an effec­tive piece of the police reform puz­zle going forward.
It's impor­tant to note that many advo­cates for police reform ques­tion whether fed­er­al reform efforts were get­ting the job done in the first place. Clout-heavy police unions have often been able to impede fed­er­al efforts, par­tic­u­lar­ly when col­lec­tive bar­gain­ing agree­ments con­tra­dict pro­posed civ­il rights reforms. Though the DOJ has the might of the fed­er­al gov­ern­ment behind it, it has tend­ed to avoid clash­es with unions rather than wade into poten­tial­ly lengthy and cost­ly legal battles.
Saman­tha Mas­ter, a Bal­ti­more-area orga­niz­er with the Black Youth Project 100, says that the move­ment has nev­er put much faith in fed­er­al author­i­ties. ​"We have nev­er relied on DOJ inter­ven­tion to actu­al­ize our demands for black lib­er­a­tion," she notes. ​"We see the DOJ as an enti­ty that has a cer­tain amount of pow­er and author­i­ty to do things like demil­i­ta­rize the police … [and] rescind the Safe Cops pro­gram, which has nev­er done a good job of keep­ing our peo­ple safe. So the DOJ will remain a tar­get, but they have nev­er been cen­tral to our strat­e­gy or how we organize."
Smith notes that activists, attor­neys and advo­cates can still pres­sure local police depart­ments and elect­ed offi­cials to imple­ment changes that address police misconduct.
"I would hope the folks who have been activists around police reform, who have built an impor­tant and effec­tive move­ment, will see this as a moment where that move­ment needs to get big­ger," he says.
Activists con­cur, but not just because of the poten­tial shifts in the DOJ. Mas­ter notes that Trump's pres­i­den­cy has embold­ened pro­po­nents of white suprema­cy, xeno­pho­bia, homo­pho­bia, trans­pho­bia and anti-Mus­lim sen­ti­ments in the U.S. She says that means activists from mar­gin­al­ized groups have to change their approach, bol­ster their bases and col­lab­o­rate more with one another.
"Trump's régime … doesn't stop our work," she says. ​"It makes it more pressing."
Like­wise, while Chica­go is still wait­ing for the out­come of a DOJ inves­ti­ga­tion, Ed Yohn­ka of the ACLU of Illi­nois acknowl­edges, ​"We can expect that police reform in Chica­go is going to come through local advo­ca­cy and local solutions."
"This is real­ly going to be about the com­mu­ni­ty com­ing togeth­er to demand account­abil­i­ty and trans­paren­cy from CPD," he says. ​"That was always going to be an ele­ment of what­ev­er hap­pened, but I think that's real­ly going to be the main thrust of what reform looks like going forward."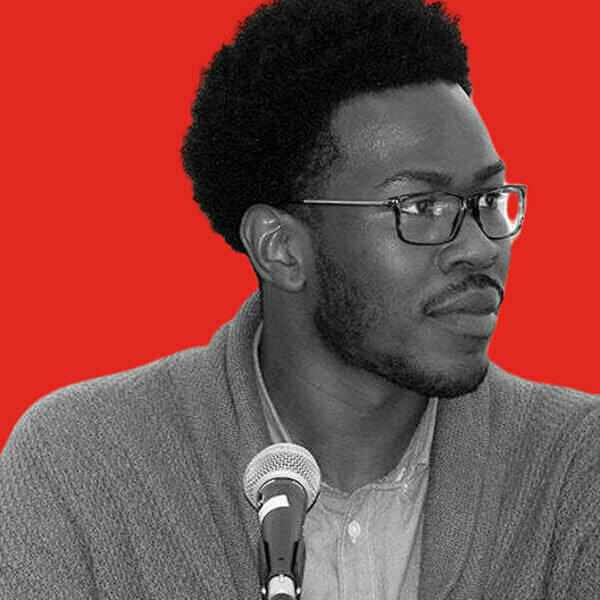 Adeshi­na Emmanuel
is an edi­tor at Injus­tice Watch, a non­prof­it jour­nal­is­tic research orga­ni­za­tion ded­i­cat­ed to expos­ing insti­tu­tion­al fail­ures that obstruct jus­tice and equal­i­ty. He is a for­mer reporter for
DNAin­fo Chica­go
, the
Chica­go Sun-Times
, the
Chica­go Reporter
and Chalkbeat.